By: Jonathan Kwan
March 17, 2007
The emergence of Windows Vista on the 30th of January this year proved to change the PC industry by an amount greater than any prior versions of Windows from Microsoft. Although many current computers will be able to run the OS without issues, older computers or more budget oriented systems utilizing integrated graphics may not run Aero as well as systems with higher performance and dedicated graphics. How will users looking for upgrade in regards to improving the unique Vista graphics experience, but not interested in playing the latest 3D games, upgrade their computers? Cost is the primary factor here -- and today we will take a close look at PowerColor's offer of a budget friendly ATI Radeon X1550 based graphics card.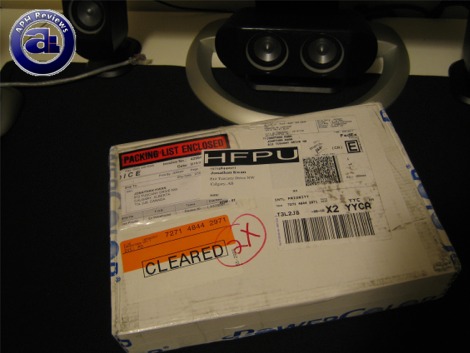 Our review unit came from Powercolor's USA office using FedEx International Priority. Surprisingly, I did not get a delivery notice from FedEx when it arrived -- and I had to contact PowerColor for an updated tracking number (The original one had a typo) to discover that it has been at the local FedEx facility for almost a week already. I quickly drove there and picked up the package. That was close!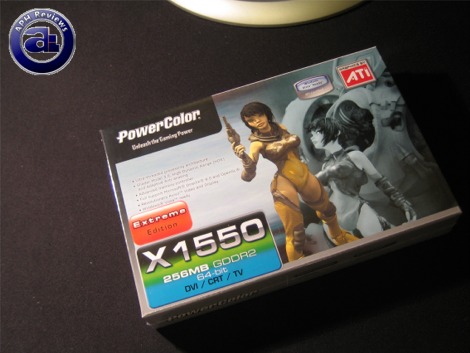 Inside the box filled with styrofoam packing peanuts is a retail package of PowerColor's X1550 graphics card. The PowerColor X1550 comes in five variants from this company; our unit is the PowerColor X1550 256/64 DDR2. Other models include PowerColor X1550 128/64 DDR2, PowerColor X1550 512MB DDR2, PowerColor X1550 256MB SCS, and PowerColor X1550 512MB SCS. The SCS stands for 'Silent Cooling System' (PowerColor's name for utilization of a passive cooler), while unless specified, the cards are all 128 bit. Our PowerColor X1550 256/64 means it has 256MB of onboard memory with a 64 bit bus width.
The box is small and simple -- with a logo across the top to emphasize its Windows Vista Aero certification. Enclosing flaps are on both sides of the box in order to allow for the internal contents to slide out.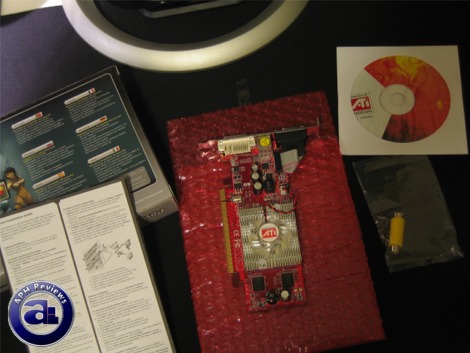 Out of the small retail package, you will get a manual, driver CD, S-Video to Composite adapter, and of course, the card itself in red bubble packaging. There's nothing else; but personally I think that's all you need anyways. Quite reasonable for a budget oriented product and we will make no complaints here.
Before we move on, let's take a look at the specifications, as obtained from PowerColor's website:
High Definition 3D Performance & Image Quality to Your PC!
Step-up to serious 3D performance and high-definition image quality with ATI's new Radeon® X1550. For enhanced visuals and graphic performance the Radeon X1550 combines a new ultra-threaded core architecture with ATI's revolutionary AvivoTM video and display technology. Radeon X1550 delivers exceptional visual performance for PC entertainment and productivity.
Brilliant New Avivo™ Video and Display Technology
With ATI's Avivo™ technology the Radeon® X1550 connects to home entertainment devices and allows you to view your digital media and play games with vibrant colors, ultra sharp images, true-to-life image reproduction, and the smoothest video playback ever offered by ATI.
A New Era of 3D Gaming
Enjoy smooth texture rich gaming with advanced 3D features including: a 90-nanometer GPU, ultra-threaded processing architecture, and an advanced memory controller.
Opening Doors to Visual Realism and True-to-life image Graphic Animation
With industry leading 90-nanometer process technology and ultra-threaded shader core the Radeon® X1550 is optimized for Shader Model 3.0 to deliver new high dynamic range visual effects, enhanced adaptive anti-aliasing realism and lightening fast performance.
Part Number: X1550 256MB 64Bit DDR2
2nd Part Number: 47125050 20754
Memory & Bus Width: 256 MB DDR2/64 bit
Core Speed: 600 MHz
Memory Speed: 400 MHz (DDR 800MHz)
Output: DVI/VGA/S-Video
Interface: PCIe x16
Pixel Pipelines: 4
DirectX Support: 9.0
TV Connector: S-Video
---
Page Index
1. Introduction, Specifications, Bundle
2.
A Closer Look
3.
Test System, Benchmark: Half Life 2: Lost Coast
4.
Benchmark: FEAR
5.
Benchmark: Prey
6.
Benchmark: Quake 4
7.
Benchmark: CS:S cs_militia
8.
Benchmark: 3DMark06
9.
Power Usage, Overclocking
10.
Noise Factor and Conclusion