By: Jonathan Kwan
June 25, 2007
After all, the idea of computer component cooling is not just about performance. It's also about the amount of noise generation -- what this means is that there are people looking for the best performance regardless of all, while another group prefers quietness while retaining an adequate amount of heat dissipation. For those wanting their computer as quiet as possible (To an extent, I am one of them), it's about the process of elimination -- removing noise sources, one by one. How about using heatsinks only, without the fans? Now look at this: How about a relatively powerful graphics card with a passive heatsink? No, I am not dreaming -- or should I say, the Arctic Cooling Accelero S1 is a passive graphics card cooler that makes our dream come true. The Accelero S1 is so good at heat dissipation that it relies solely on your case fans for airflow, so it does not need any fans by itself. On the other hand, since it's already so good without a dedicated fan, how about installing fans over it to make performance even better while sacrificing some silence? Today, we'll see how good the Accelero S1 really is, and how much the Turbo Module fan addon improves performance. We'll also examine the Turbo Module so to see if it will really sacrifice the silence.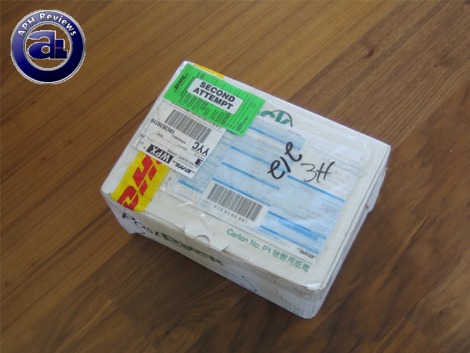 Our review unit came in a cardboard box using DHL, from Arctic Cooling's office in Hong Kong. Contents inside were packed nicely by Arctic Cooling; and everything arrived in mint condition for our review today.
Arctic Cooling provided us their new Turbo Module in addition to the Accelero S1 graphics cooler. The Arctic Cooling Turbo Module is a fan add-on for the company's Accelero S1 and S2 passive heatsinks; its main purpose is to improve cooling performance by changing their passive heatsinks into active coolers. We'll check out how big of a difference it will make shortly!
Both review units came in retail packages. Because of its clear plastic enclosure, I initially thought they were blister packs -- until I took a closer look at the edges. The clamshell is held together by primarily friction with small real binding spots; creating an easily openable package without boxcutter utilization.
In general, packaging isn't bad at all -- clear plastic packages will allow the potential consumer at a retail store to take a physical look at the products. And the Accelero S1 definitely isn't a bad choice for this regard. It's huge!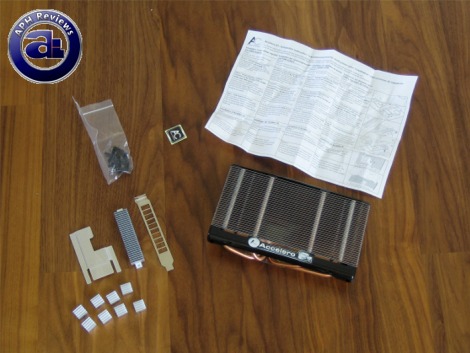 Out of the box, an addition of accessories is included besides the Arctic Cooling Accelero S1 heatsink itself. 2 different graphics VRM (Voltage regulator module) coolers are included to accommodate different graphics cards (For example, the one used with an X1950XTX differs from the one designed for an X1950 Pro), a total of 8 memory heatsinks, and a PCI backplate opening grill. Mounting accessories are also included -- 6 screws and washers, as well as a pair of black plastic clip sets.
Speaking of which, the Arctic Cooling Accelero S1 is compatible with ATI X1950, X1900, X1800 series based cards, and NVIDIA 7950, 7900, 7800, 6800 series based cards (except 7X00 GS AGP).
Update: Arctic Cooling also claims compatibility with ATI Radeon HD 3870 and NVIDIA GeForce 8800GT. We've confirmed that it works fine with the 8800GT (Our testing board is the Asus EN8800GT TOP 512MB, a pre-overclocked board) without additional VRM cooling.
An installation guide and Arctic Cooling case sticker comes right out of the package as well.
For the Arctic Cooling Accelero S1/S2 Turbo Module package (Not shown), a 3-pin to 4-pin Molex adapter is included. Also from the package are an installation guide, Arctic Cooling case sticker, and the fan module itself ... obviously! :)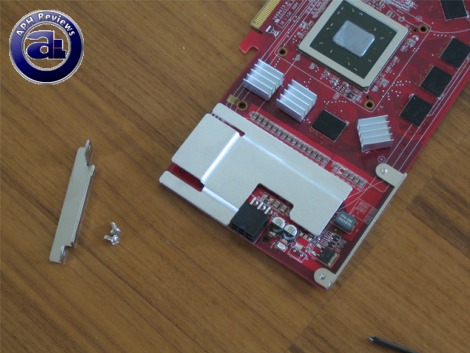 The Arctic Cooling Accelero S1 is just not a GPU cooler -- it's pretty much a complete cooling solution for your graphics card. 8 ramsinks are included with a self adhesive surface on one side for memory attachment. However, it seems to me that the adhesives on the ramsinks aren't very effective, because they will fall off under minimal impact. Personally, I believe they should stick better -- but during regular usage after installation, I experienced no issues regarding this.
I used an Asus X1950 Pro for the tests. There is a VRM heatsink designed and included out of the box to accommodate this card; in which it attaches by a self-adhesive strip as well. It sticks on quite nicely, but I had to remove a piece of metal off the side of my graphics card in order to accommodate this heat spreader.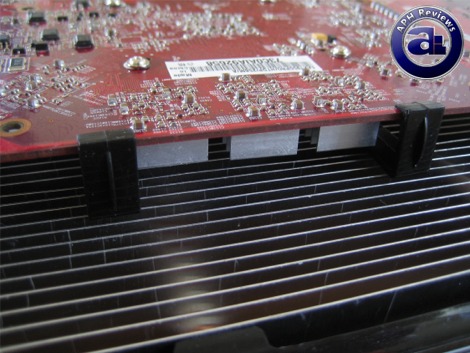 Due to the large physical size of this heatsink, Arctic Cooling made an extra effort in making sure that the weight is distributed and prevent all the stress from residing with the four mounting screws at the top. This also ensures proper installation; in which two clips can be placed and attached between the fins, as well as clipped onto the edge of the graphics card's PCB.
On the positive side, the heatsink is physically very large -- but there's 'only' 32 fins with lots of space (3.5mm) in between each aluminum fin -- resulting in a surprisingly lightweight passive heat dissipation device. Through this design, it will lower the concentration of heat and allow air to flow through in between to bring the heat away instead of packing it in. It will also permit the excellent weightlessness of the Arctic Cooling Accelero S1.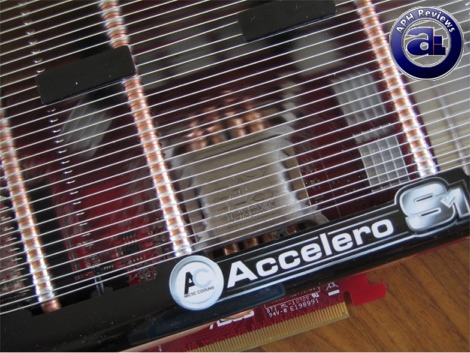 Two more clips are attached at the bottom; corresponding to the attachment clips at the top, in order to hold it in place. All clips are made of plastic, and bends quite easily -- therefore the top attachment clips will require a screwdriver (Or something that can reach in there) to assist it in order for the male and female clips to lock into place. This process can be very tricky.
The GPU cooling block's bottom is pre-applied with Arctic Cooling's MX-1 paste. This is the same thermal interface used with their Arctic Cooling Freezer 64 Pro; in which I had been informed that they are a high end Shinestu paste specifically designed for [Arctic Cooling] coolers to provide optimum performance.
However, we've removed the thermal paste off the GPU cooling block afterwards. The surface of the contact area has clear machine marks; and we feel that the lapping job can definitely be improved.
The top of the GPU cooling block has Arctic Cooling's logo and text engraved on. A total of four copper heatpipes lead away from the GPU cooling block -- but then again, I believe that the a better/cleaner job in welding can be achieved.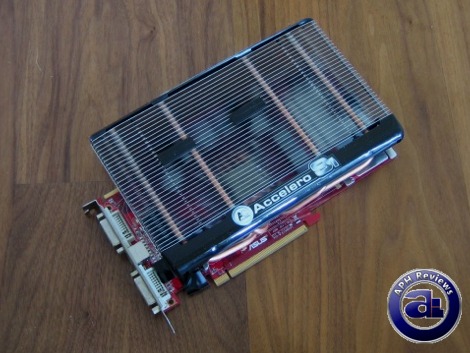 The finished product. Now that you think about it, the Asus X1950 Pro is quite a large card -- but the Arctic Cooling Accelero S1 covers the whole thing and beyond. What I mean that it's roughly half a centimeter longer and several centimeters wider. There goes a couple more SATA ports on my Asus P5K-Deluxe ;)
As you can see in our photo above, four heatpipes run through the aluminum fins on the Accelero S1. A wider gap between the second and third heatpipe is implemented likely due to the location of the GPU -- and through this, it can bring concentration of heat farther away from the source of heat.
With the Accelero S1 installed, it will occupy the slot directly under your card (What doesn't nowadays anyway? :P ). With the included PCI backplate air grill installed, the Accelero S1 will rely on the natural airflow inside your case to take advantage of negative air pressure generated inside -- and air will flow through the PCI opening into your case due to this effect. During this process, air will pass through the fins in an aligned and parallel fashion, allowing the Accelero S1 to release heat collect on its aluminum fins. Therefore it is optimal to use the Accelero S1 in a case with side panel closed.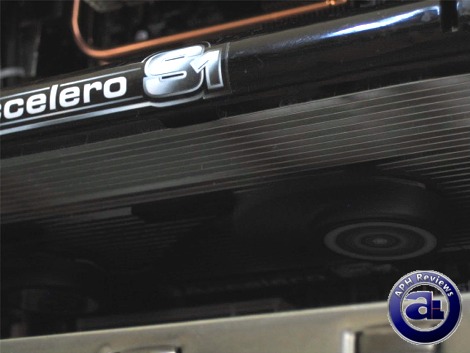 I'll go a little over the Arctic Cooling Turbo Module. It's basically two fans, attached by a wire in between, and designed for the Accelero S1 and S2. There are clips located on both fans to allow it to simply clip onto virtually any place on the Accelero S1/S2 (It attaches to the fins). The cables leading into the fans are designed to go between the fins to prevent the fans from hitting it, but it proves to be not that easy -- I actually needed to use a screwdriver to pin parts of the cable into the fin gaps.
I placed the first fan between the first and second heatpipe, and the second fan between the third and fourth, to bring in more airflow to areas where concentration of heat is higher. The fans plugs into a motherboard 3-pin header via a single cable, but it can also obtain power from a 4-pin Molex with the included adapter.
---
The Tests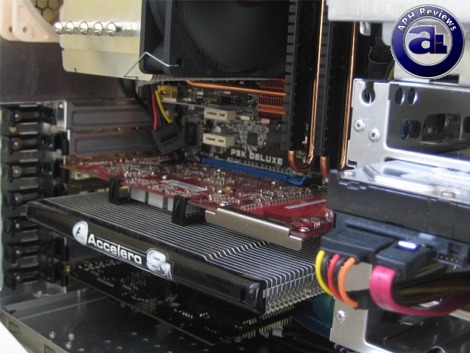 Test System
CPU: Intel Core 2 Duo E6300 @ 3.36GHz (480MHz*7)
CPU Cooling: Scythe Infinity
Motherboard Asus P5K-Deluxe
RAM: OCZ Reaper HPC PC2-8500 2x1GB
Power: Seasonic M12 500W
Graphics: Asus EAX1950PRO 256MB
Optical Drive: NEC AD-7170A 18X DVD+/-RW
Hard Drive: Seagate 7200.10 320GB 16MB SATA2
Case: Thermaltake Aguila
Case Fans: Noctua NF-S12-800 (Back), Noctua NF-S12-1200 ULNA @ 600rpm (Front)
Operating System: Microsoft Windows XP Professional SP2
Compared Coolers and Configuration
- Asus Stock Cooler
- Arctic Cooling Accelero S1
- Arctic Cooling Accelero S1 w/Turbo Module
With my Asus X1950 Pro, the Asus stock cooler cools the GPU's sensor to report an idle temperature of 53c. However, with the Accelero S1 installed -- it was a full 11c cooler -- without a fan. Wow that is pretty gosh darn impressive.
Adding the Turbo Module onto the Accelero S1 further brings the temperature down to 37c; meaning a 5 degree lower temperature than the Accelero S1 without a fan. That's very good, because my case temps are quite high (Hard disk reports a temperature of 34c). Low RPM fans with move less air than regular case fans, and I am a big fan of quiet computing. Maybe that's why I am so enthusiastic about this cooler.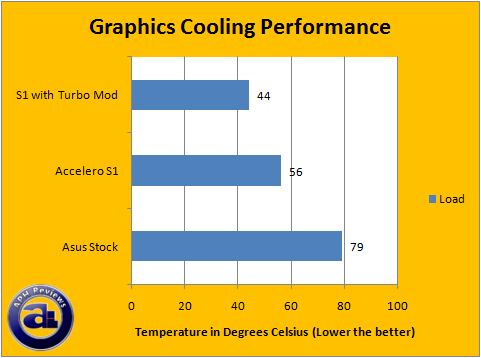 The truth is revealed as the card is put under load. The Asus stock cooled X1950 Pro resulted in 79c (+26c from idle). The Accelero S1 came to 56c (+14c), and with the Turbo Module the load temp adds 7 degrees to the idle temperature (44c under load).
Performance is incredible with or without fan.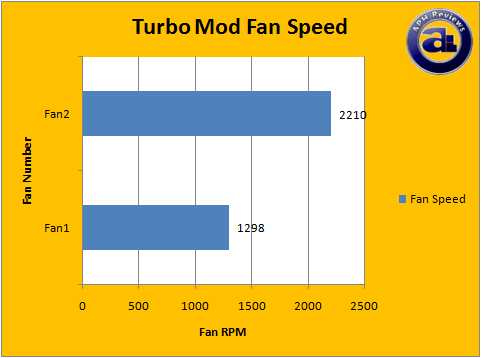 With the Arctic Cooling Turbo Module installed and plugged into a motherboard fan header, somehow it reports two fan speeds. I'll post both results anyway, but it is more likely that the actual fan RPM is for Fan1 only -- it's probably a motherboard reporting error or a program error (Since I have no other fans connected via motherboard fan header other than my CPU fan). Specifications indicate that the Turbo Module is 1500rpm, but Patrick over at Arctic Cooling informed me that ~1700rpm is tested in their company labs at 12V.
Anyhow, the Turbo Module definitely adds to the performance -- but I can clearly hear the whooshing sound when it's active. It's not really that loud; but if you are very picky on noise, the Turbo Module will definitely generate its share. However, if you want peak performance, then you will get it -- it's quite a combination.
---
I am most definitely impressed by the Arctic Cooling Accelero S1. Even without a fan, the performance is incredible -- I couldn't believe my eyes when I saw the results. I mean, we all know that fanless means a sacrifice for higher temperatures, right? Nope, not with the Accelero S1 -- it means zero noise cooling, and great cooling performance. Plus, it not only cools the GPU -- you will get a VRM cooler for your card out of the box as well. Installation is a bit tricky, especially when it comes to putting the clips into place -- and I kept knocking out ramsinks while attempting to put the cooler into place. Ramsinks are nice, but they really need better adhesives. Build quality can also be improved.
On the positive side, despite its large size, the Arctic Cooling Accelero S1 is extremely light and efficient at cooling.
As far as the Turbo Module goes, it makes it nice for enhanced cooling. However, you might want to weigh it out to see if the 10 degrees or so is worth it for the extra noise. Minor airflow is good enough for the Accelero S1 -- and I know that, because that's exactly what our test environment is. The Accelero S1 passed with flying colors -- with no fan and no noise! At MSRP of $29 USD, it's absolutely a steal.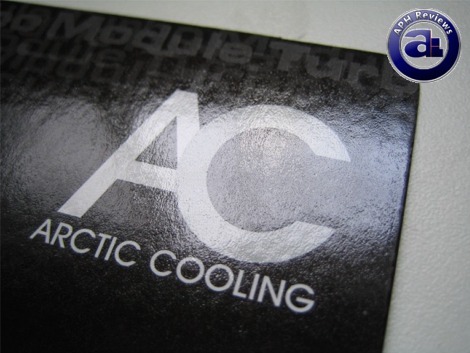 Special thanks to Patrick over at Arctic Cooling for making this review possible.
Arctic Cooling Accelero S1

APH Review Focus Summary:
8/10 means Definitely a very good product with drawbacks that aren't likely going to matter to the end user.
7/10 means Great product with many advantages and certain insignificant drawbacks; but should be considered before purchasing.
-- Final APH Numeric Rating is 7.8/10
Please note that the APH Numeric Rating system is based off our proprietary guidelines in the Review Focus, and should not be compared to other sites.
Arctic Cooling Turbo Module
APH Review Focus Summary:
6/10 means A product with its advantages, but drawbacks should not be ignored before purchasing.
-- Final APH Numeric Rating is 6.0/10
Please note that the APH Numeric Rating system is based off our proprietary guidelines in the Review Focus, and should not be compared to other sites.
Do you have any comments or questions about the Arctic Cooling Accelero S1 and Turbo Module? Drop by our Forums. Registration is free, and it only takes a minute!