By: Jonathan Kwan
November 3, 2007
It's been ages since we've last reviewed some RAM. Memory modules are always interesting products to review -- and from that sense we actually have two RAM reviews in addition to this one coming up within the next month or so; in which one is provided by A-DATA and the second one coming from Super Talent. That aside, what's important is that we'll be taking a look at OCZ's Platinum PC3-12800 Enhanced Bandwidth Edition 2x1GB DDR3 memory (Long name, isn't it?). Yes, that's right -- our first spotlight review on next-generation DDR3 RAM. Last month, we compared the DDR3 Asus P5K3-Deluxe against its DDR2 counterpart, the Asus P5K-Deluxe, as well as benchmarks done on this very pair of RAM in our Asus P5E3-Deluxe/WiFi-AP@n motherboard review last week. Needless to say, we've got tons of experience with these OCZ modules -- and today we'll tell you everything we know about it. Hardware attributes, benchmarks, overclocking, you name it!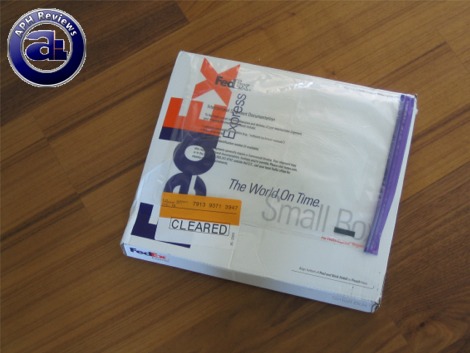 Our review unit of... okay, shortening the name, from OCZ Platinum PC3-12800 2x1GB Enhanced Bandwidth Edition 2x1GB to OCZ Platinum PC3-12800 EB (Which saves a handful of typing, for real!), our DDR3 memory came in a FedEx box using FedEx International Priority from OCZ's headquarters in Sunnyvale, California. Filled with tons of packaging and an army of packing peanuts, everything arrived in absolutely perfect condition. Surprisingly, FedEx left this package at our doorstep without our prior consent -- thankfully, $600 RAM remained outside until I retrieved it excitedly at the end of the day. Excitedly, my friend. Months of anticipation and DDR3 RAM is finally in our hands!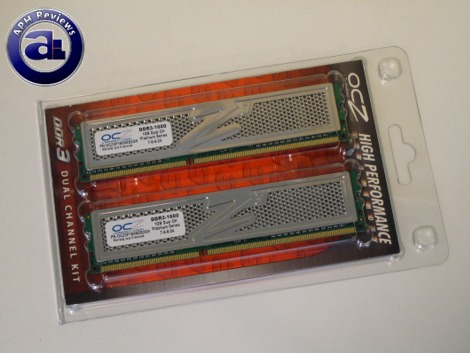 As usual and expected, our review unit of the OCZ Platinum PC3-12800 EB came in retail packaging. The typical clamshell package is simple and held closed together at the top by two friction buttons at the top; no blister pack techniques were used in this case -- which is truly excellent in my opinion. The background insert sheet demonstrates a brown and orange gradient color scheme with white text, and the RAM modules are placed vertically beside each other and are displayed in front in all its glory with OCZ's XTC heatspreaders.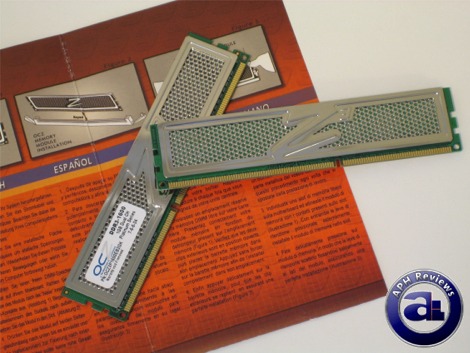 The insert sheet can be unfolded to display installation instructions in various languages with a common step-by-step diagram. Most users who purchase memory in this category at this time would probably know what they are doing -- hopefully, anyway -- but it's nice to see OCZ taking an extra step in providing installation instructions for those who are, temporarily stuck, I guess, haha.
Anyways, before we move on, let's take a look at the specifications of OCZ's Platinum PC3-12800 RAM, as obtained from OCZ's product page:
Specifications
- 1600MHz DDR3
- CL 7-6-6-20 (CAS-TRCD-TRP-TRAS)
- Available in 1GB and 2GB Modules
- Unbuffered
- Platinum Z3 XTC Heatspreader*
- Lifetime Warranty
- 1.9Volts
- 240 Pin DIMM
- Optimized for ASUS boards
Special Features
- 1.95V EVP**
* XTC (Xtreme Thermal Convection) heatspreaders optimize the thermal management of memory modules by promoting greater airflow by means of micro-convection throughout what is usually the dead air space inside conventional heatspreader designs. In this manner, build-up of heat is avoided and thermal dissipation of the memory components is offloaded more efficiently through the honeycomb design. At the same time, mechanical stability is maintained.
**OCZ EVP (Extended Voltage Protection) is a feature that allows performance enthusiasts to use a VDIMM of 1.95V without invalidating their OCZ Lifetime Warranty.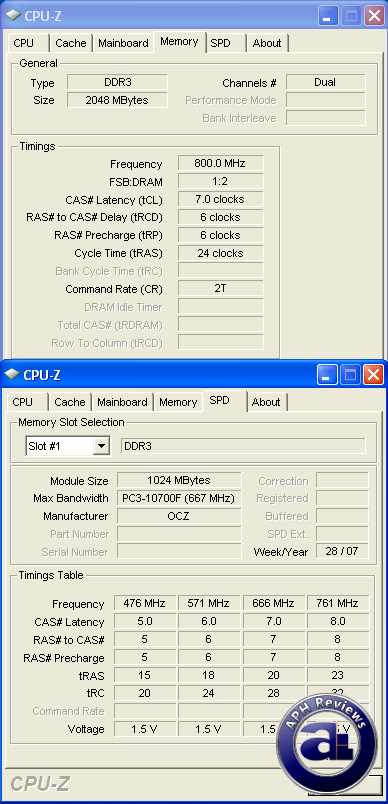 A CPU-Z screenshot of the memory tabs. I took the screenshot with latency settings at 7-6-6-24 as displayed on the label on the RAM itself, but I've followed timings on OCZ's website at 7-6-6-20 with zero problems on the Asus P5K3-Deluxe. Our Asus P5E3-Deluxe correctly detected the timings in the BIOS as 7-6-6-20 as well.
I changed the command rate to 1T in the BIOS, but somehow it still shows 2T in CPU-Z 1.41.
---
Page Index
Page 1 - Introduction, Packaging, Specifications
Page 2 - A Closer Look, Installation, Test System
Page 3 - Benchmark: 3DMark06
Page 4 - Benchmark: PCMark05
Page 5 - Benchmark: EVEREST CPU
Page 6 - Benchmark: EVEREST FPU
Page 7 - Benchmark: EVEREST Memory
Page 8 - Benchmark: SuperPI, Cinebench 9.5, EVEREST Memory Latency
Page 9 - Overclocking Results and Conclusion