Page 2 - A Closer Look, Installation, Test System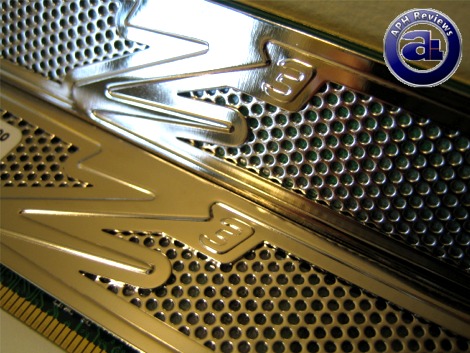 OCZ has taken more of a conservative approach to cooling in their first series of DDR3 products. The highly polished Gold and Platinum series continues the tradition of OCZ's sharp and shiny XTC heatspreaders, while a Flex XLC version that was released shortly after the availability of these RAM reflects OCZ's more aggressive approach in heatsink design.
The heatspreaders are tightly glued on with thermal conducting adhesives, and remain well fastened to the memory modules at all times. The honeycomb design of the XTC headspreader is designed to allow better airflow for greater efficiency in heat dissipation. Memory modules originally used solid headspreaders as first introduced, and OCZ's aim for the honeycomb design is to prevent heat from being trapped inside.
The distinguishing difference between the DDR2 series and DDR3 series in heatspreader comes down to OCZ's trademark "Z" on both sides of the modules. Above the "Z" is a small "3" for DDR3; located in the middle of OCZ's Z3 XTC heatspreaders.
If you take a closer look at our photos above, one of the RAM module's heatspreader has no ICs behind it; only a green PCB. We can see that the 1GB modules of OCZ's DDR3 RAM have ICs on one side; leaving room for 2GB versions for double sided placement of memory chips on the modules. Regardless, OCZ implemented heatspreaders on both sides to create a more balanced look.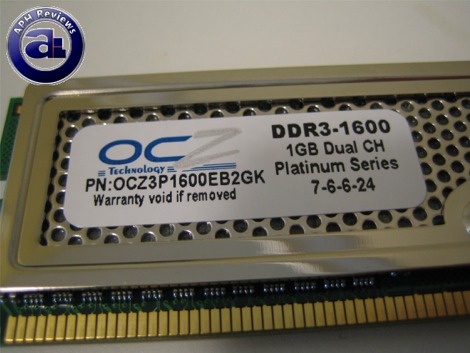 RAM information is printed on a label applied to every OCZ memory product; and the OCZ Platinum PC3-12800 EB is at no exception. Information includes product number, rated speed, model, capacity, as well as timings. There are two versions of OCZ's Platinum PC3-12800 RAM; the 'vanilla' version comes at 7-7-7 timings while our Enhanced Bandwidth Edition we are testing today arrives at rated at 7-6-6 timings. While this may pose a small performance gains at stock, especially on Intel platforms benefits less from lower latencies, this may factor in greatly when it comes to overclocking potential due to ICs that are cream of the crop or are simply better ICs.
Beneath the heatspreaders are Micron's excellent D9GTR ICs, something that's already been gaining a lot of attention from the enthusiast and overclocking community for performance DDR3 chips; similar to the reputation of Micron D9GMH in the DDR2 world.
What's confusing is while OCZ prints 7-6-6-24 timings on the label, OCZ's site (And our motherboards that support it) defines it as 7-6-6-20 for latency ratings. Being that, all our DDR3 motherboards can handle the OCZ Platinum PC3-12800 EB at 7-6-6-20 latencies at stock voltage, so we'll assume the labels are simply a printing mistake. Regardless, taking up 7-6-6-20 at DDR3-1600 speeds is definitely no joke.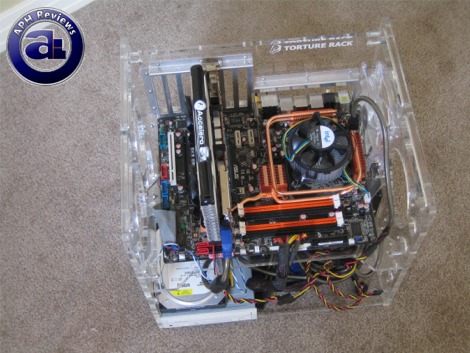 Originally, I planned to test the OCZ Platinum PC3-12800 EB RAM using the Asus P5E3-Deluxe/WiFi-AP@n for better utilization of DDR3 RAM. Unfortunately, I can't seem to manage much overclocking, so for accuracy purposes we'll test with Asus' tried-and-true Asus P5K3-Deluxe. Oh well, at least we've finally implemented our test platform!
Installation and compatibility is not a big issue; since the XTC headspreaders are of standard height and width -- it is not prone to any type of clearing or physical interference with any motherboard. Therefore, if your motherboard takes DDR3 RAM, it doesn't really matter -- this RAM will fit nicely in there for sure!
Our test system specifications as follows:
CPU: Intel Core 2 Duo E6300 @ 2.80GHz (400MHz*7)
Motherboard: Asus P5K3-Deluxe/WiFi-AP
Chassis: Danger Den Torture Rack (1x Thermaltake 120mm LED Fan)
Power: Tagan TurboJet 1100W
Graphics: Asus Radeon X1950 Pro 256MB
Graphics Cooler: Arctic Cooling Accelero S1, with Turbo Module
Sound: Integrated ADI SoundMAX 1988B
Optical Drive: Liteon 52X CD-ROM
Hard Drive: Western Digital Caviar 7200RPM 80GB 8MB Cache
Operating System: Microsoft Windows XP Professional SP2
Compared Hardware
- Super Talent Project X DDR3-1800 2x1GB @ DDR3-1600/PC3-14400 7-6-6-18
- OCZ Platinum PC3-12800 Enhanced Bandwidth 2x1GB @ DDR3-1600/PC3-12800 7-6-6-20
The Super Talent Project X RAM are DDR3-1800 RAM downclocked to DDR3-1600; we've chosen 7-6-6-18 latencies because the DDR3-1600 model of Super Talent's Project X RAM runs at those specific latencies -- therefore we've used those settings to simulate the DDR3-1600 Super Talent Project X.
---
Page Index
Page 1 - Introduction, Packaging, Specifications
Page 2 - A Closer Look, Installation, Test System
Page 3 - Benchmark: 3DMark06
Page 4 - Benchmark: PCMark05
Page 5 - Benchmark: EVEREST CPU
Page 6 - Benchmark: EVEREST FPU
Page 7 - Benchmark: EVEREST Memory
Page 8 - Benchmark: SuperPI, Cinebench 9.5, EVEREST Memory Latency
Page 9 - Overclocking Results and Conclusion