By: Jonathan Kwan
Previewed on July 10, 2007
Completed on August 1, 2007
Thermal paste is an interesting category of products to review. Whether you want to call it overlooked or under-looked, enthusiasts whose attention focuses on performance and overclocking will want their heat generating components running as cool as possible. Being that, the last thing anyone wants is poor thermal transfer from one medium to another due to insufficient contact. Theoretically, metal-to-metal is the most optimum and efficient method of thermal conduction. However, no two surfaces are completely flat -- while it gets pretty close, microscopic valleys do exist at a certain level. Regarding this, a thermal interface material such as a paste is used. The most popular product in this area is Arctic Silver 5 non-conductive polysynthetic silver and has been dominating the market for years. Today, Arctic Cooling is up to challenge the best with their MX-2 thermal compound. Will it gain the title of being the best? Let's find out!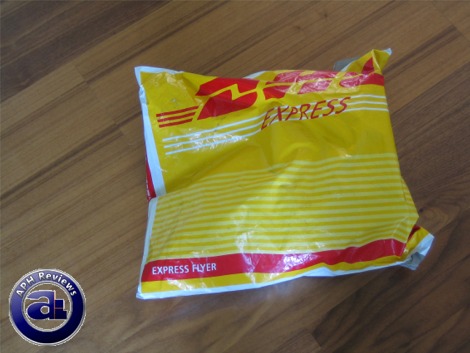 Our review units of Arctic Cooling's MX-2 thermal compound arrived in a plastic DHL envelope from Arctic Cooling's offices in Hong Kong on the same day it was announced on July 10th, 2007. Thankfully, everything arrived in perfect condition -- even the box inside that Arctic Cooling used as an extra layer of protection.
After all, we needed a few extra weeks to test it and make sure the thermal compound reaches its required break time for optimum performance.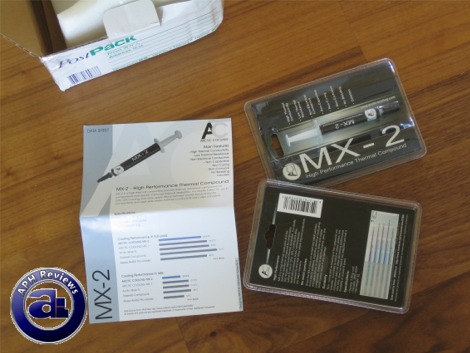 We were sent two retail packs of Arctic Cooling's MX-2 thermal paste. The blister packs looks pretty hard to open; but one could argue that these are the standard for making retail packages of thermal pastes. After all, I don't see why anyone would use a box for this purpose!
I've been told numerous times that the Arctic Cooling MX-2 does not contain any metal particles; thus safe to use around electrical components. The ultimate goal of Arctic Cooling's MX-2 is to provide high thermal conductivity with low thermal resistance, without containing metal particles yet retaining its performance over long periods of time. While competing product Arctic Silver 5 is a polysynthetic silver based thermal compound, specification indicates that it is also non-conductive.
The tube looks like quite a large tube for application -- the syringe tube also appears to be fairly convenient in terms of use. This aspect seems to be quite similar to Cooler Master's NanoFusion thermal compound we've examined last year.
Features:
* High Thermal Conductivity
* Low Thermal Resistance
* Non-Electrical Conductive
* Non-Capacitive
* Non-Curing
* Non-Corrosive
* No Bleeding
* Odorless
Specifications
Density: 3.68 g/cm3
Viscosity: 2850 poise
Net Weight: 4g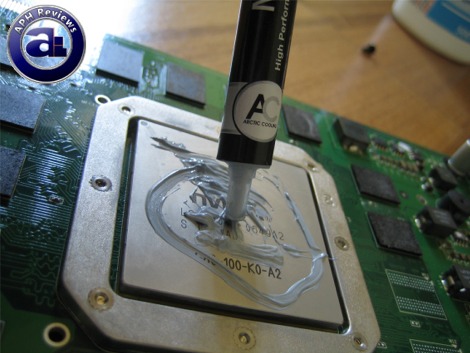 Contrary to typical thermal paste reviews of testing with a CPU, we decided to try it on something that really needs better thermal conduction -- an NVIDIA 8800GTS based Asus EN8800GTS 320MB we reviewed a few days ago. With a GPU diode that idles at 84c and full load at 95c, why not give it a try?
One of the part I'd always like taking into account is how easy it is to apply. While Cooler Master's NanoFusion was 'good enough' paste, it was dry and think; therefore very hard to apply. Arctic Silver 5 is smooth and thin enough to work with, making it very easy to apply.
As far as Arctic Cooling's MX-2 goes, the paste flows through the tip of the syringe as you compress the top -- but you will need to spread it otherwise. Although Arctic Cooling recommends you to apply some and then use the pressure of the cooler to spread it, I would prefer inclusion of either with a credit card or toothpick -- it's your choice. It is not as smooth as Arctic Silver 5, but it is certainly easy enough to work with and flows nicely when you smoothen it up but still retaining a non-runny state. I would appreciate a card-type spreader included out of the box for easy/guaranteed spreading and application though.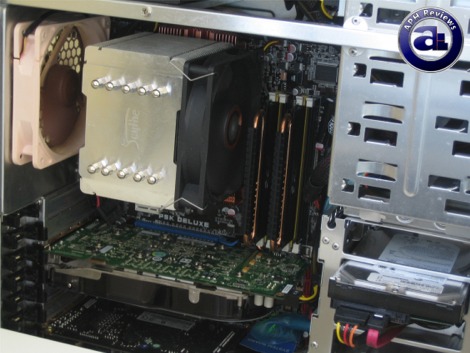 Moving onto our tests, we obtained our results under the following conditions:
- All pastes were given an adequate amount of time to settle. (Break time - Arctic Silver 5 and Arctic Cooling MX-2 both has an approximate break time of 200 hours)
- Because tests were run on different days due to the reason listed above, we found several days having mornings with an outside temperature of roughly the same. The room is air conditioned to maintain a temperature of approximately 23c.
- The computer was tested in the exact same location and position throughout all our tests.
- Both the CPU and heatsink base were cleaned off thoroughly with no residue using Arctic Silver's ArctiClean thermal paste remover and surface purifier.
- Our computer was turned on and idling for a minimum of 30 minutes to obtain idle tests. No resource hogging background tasks were running.
- High GPU load results were obtained using Futuremark's 3DMark06 Professional tests for maximum heat, ran for a minimum of 15 minutes.
The tests were completed using computer with the following specifications:
CPU: Intel Core 2 Duo E6300 @ 2.80GHz (400MHz*7)
CPU Cooling: Scythe Infinity
Motherboard: Asus P5K-Deluxe/WiFi-AP
RAM: OCZ Reaper HPC PC2-8500 2x1GB @ PC2-8000 5-5-5-15 4:5 with CPU
Case: Thermaltake Aguila (Noctua NF-S12-800 - Front / Noctua NF-S12-1200 Asus Q-Fan - Back)
Power: Seasonic M12 500W
Graphics: Asus EN8800GTS 320MB (Stock Cooled)
Sound: Creative X-Fi XtremeMusic
Optical Drive: NEC AD-7170A 18X DVD+/-RW
Hard Drive: Seagate 7200.10 320GB 16MB SATA2
Operating System: Microsoft Windows XP Professional SP2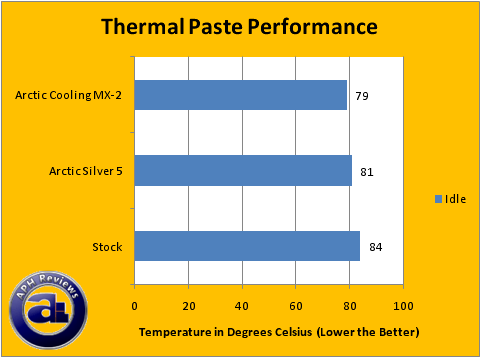 Please note that we are measuring the GPU diode temperature.
Using the stock Asus EN8800GTS 320MB heatsink, we've compared three different thermal compounds. The stock paste results in the NVIDIA 8800GTS idling at 84c, while Arctic Silver 5 brought the temperatures down to 81c -- a three degree difference. However, the Arctic Cooling MX-2 performed even better -- at 79c, it is a total 5c difference from the original paste.
Please note that appropriate break time will be required for the paste to fully settle and achieve its full potential. When we first applied the MX-2, the idle temperatures of the GPU diode were at 86c.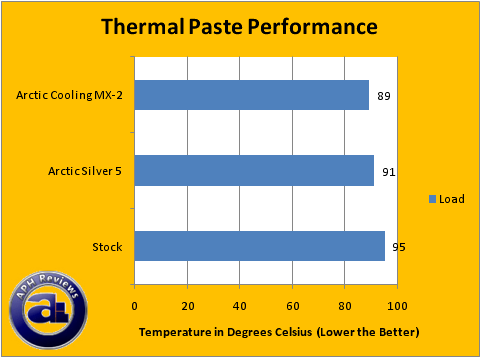 As far as loading conditions go, the driver will instruct the card's fan to spin up. Regardless, we took the maximum recorded temperature with programs polling in the background to get the best results. While stock paste gives 95c, Arctic Silver 5 reduces the temperature to 91c (4c difference), and the MX-2 brought it all the way down to 89c (6c difference from original; 2c difference when compared to Arctic Silver 5).
How is it possible to have a huge difference from the stock paste? We discovered that our review unit of Asus' EN8800GTS 320MB had its paste poorly applied in the beginning. It was thick, bleeding over the edge, and quite unevenly distributed thus contributing to the high temperatures. The stock thermal compound on the Asus EN8800GTS 320MB probably isn't bad, but more likely the way that it was applied contributed to its poor performance on our charts.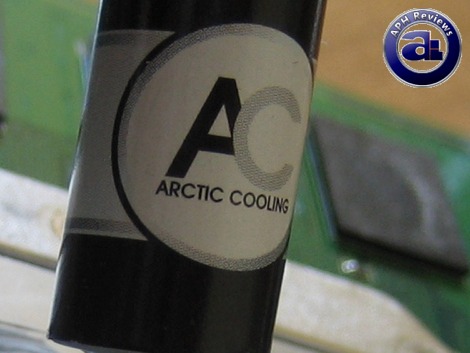 Special thanks to Patrick over at Arctic Cooling for making this review possible.

APH Review Focus Summary:
9/10 means Excellent product with very minor drawbacks that does not affect the overall product.
8/10 means Definitely a very good product with drawbacks that aren't likely going to matter to the end user.
-- Final APH Numeric Rating is 8.1/10
Please note that the APH Numeric Rating system is based off our proprietary guidelines in the Review Focus, and should not be compared to other sites.
Excellent thermal paste -- at $7.95 MSRP per 4g tube, it is not cheaper than the average Arctic Silver 5. However, it certainly provides the best performance out of all. The only things I see that it could improve upon is inclusion of a medium to spread the paste (Such as a plastic card), and if the paste was just a little smoother for easier application!
Do you have any comments or questions about the Arctic Cooling MX-2? Drop by our Forums. Registration is free, and it only takes a minute!