By: Jonathan Kwan
June 17, 2006
It has been many years since we've heard any news in the thermal paste industry. Ever since products rolling off Arctic Silver's production lines has become "the" -- with a huge emphasis on the -- standard of thermal pastes among computer enthusiasts (especially overclockers), there isn't any real competition out there in the market. Why? For best heat conductivity, everyone knows Arctic Silver compounds are "the" best.
Living in the continent where capitalism and market economy exists, competition-free business occurs very rarely. While Arctic Silver may be a true exception for many consecutive years, we've finally seen something promising arriving from thermal solutions giant Cooler Master.
For the fact that everyone uses and recommends Arctic Silver pastes, with Cooler Master's new compound looking really promising, that arises three questions that we ought to answer today. Is Arctic Silver 5 really that great? Will Cooler Master's NanoFusion compound knock Arctic Silver's flagship Arctic Silver 5 out of its throne? How about those stuff on AMD's stock heatsink -- how good are they when stepped up against commercial aftermarket thermal compounds? As a reviewer, there are always opportunities to dig into these interesting issues. And that's exactly what we are going to investigate into today.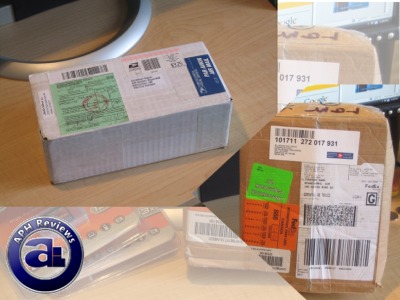 We got both Cooler Master and Arctic Silver to provide us with their flagship thermal compounds. Our Arctic Silver 5 came in a USPS Air Mail box while our Cooler Master NanoFusion paste came in a pretty beat up package using FedEx ground. The good news is, both are very well packaged with filled with packing peanuts, therefore no damage were caused to our review units inside.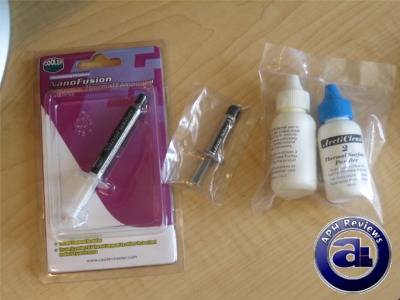 Out of our Cooler Master shipping box, we got a retail clamshell package of Cooler Master's NanoFusion paste. With our second box, Colin over at Arctic Silver was kind enough to provide us a set of ArctiClean thermal paste removers along with a tube of Arctic Silver 5 in OEM packaging.
Speaking of packaging, Cooler Master used their flagship purple and white color scheme with their NanoFusion packaging. While it looked blister pack at first, I am glad that locations where it's hot glued is minimal and easily opened without too much effort required.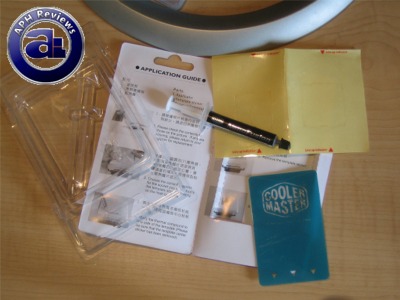 While there isn't too much to say about what's included with Arctic Silver 5 besides a tube of the paste itself, I am pleasantly surprised that Cooler Master included a set of accessories tagging along with their tube (Hey, they didn't package it like this for no reason). While most people may not find it useful, at least its there: two pieces of stickers (One for Intel, another for AMD) to guide where you apply NanoFusion to your heatsink. Apparently, it will typically work only with stock heatsinks from either AMD or Intel, and not aftermarket heatsinks like the Arctic Cooling Freezer 64 Pro we've reviewed a while back.
Also included with the NanoFusion is a piece of plastic used as a thermal compound spreader. It's definitely better solution than a credit card that I've seen so many people use to spread Arctic Silver 5. During my application of Cooler Master NanoFusion on our heatsink, however, I found the paste much 'dryer' and thicker, therefore harder to work with than Arctic Silver 5 that we've all gotten a lot used to. In comparison, Arctic Silver 5 is much 'smoother' and easier to apply and spread to me.
Before we move onto the tests, let's have a look at specifications and other relevant information from the manufacturers.
Cooler Master NanoFusion

Color: Gray
Specific Gravity @ 25: 3.25
Thermal Conductivity: 7.8 Watts/meter?
Volume Resistivity: 7.5 x 109 ohm-cm
Thermal Resistance: 0.065 ?-cm2 /W@40psi
BLT (Bond Line Thickness): 0.019 mm
Volatile content: <0.05%
Shelf Life: 24 months from DOM

Arctic Silver 5

Thermal Conductance:
>350,000W/m2 °C (0.001 inch layer)
Thermal Resistance:
<0.0045°C-in2/Watt (0.001 inch layer)
Average Particle Size:
<0.49 microns <0.000020 inch
Extended Temperature Limits:
Peak: –50°C to >180°C Long-Term: –50°C to 130°C
Performance:
3 to 12 degrees Celsius lower CPU full load core temperatures than standard thermal compounds or thermal pads when measured with a calibrated thermal diode imbedded in the CPU core.
Coverage Area:
Arctic Silver 5 is sold in 3.5 gram and 12 gram tubes. The 3.5 gram tube contains enough compound to cover at least 15 to 25 small CPU cores, or 6 to 10 large CPU cores, or 2 to 5 heat plates. At a layer 0.003" thick, the 3.5 gram tube will cover approximately 16 square inches.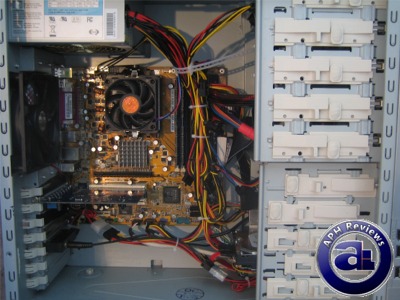 Moving onto our tests, we obtained our results under the following conditions:
- All pastes were given an adequate amount of time to settle.
- Because tests were ran on different days due to the reason listed above, we found several days having mornings with an outside temperature of 12c as well as maintaining our room at approximately 22c.
- The computer was tested in the exact same location and position throughout all our tests.
- Both the CPU and heatsink base were cleaned off thoroughly with no residue using Arctic Silver's ArctiClean thermal paste remover and surface purifier.
- Our computer was turned on and idling for a minimum of 30 minutes to obtain idle tests. A fresh version of Windows XP Home Edition was installed with no non-system tasks running in the background.
- High CPU load results were obtained using Prime95's large FFTs torture tests for maximum heat, ran for a minimum of 30 minutes.
- Fan speed on the CPU heatsink was directly connected to our motherboard. Throughout our tests, fan speed hovers between 3054 RPM to 3183 RPM, +/- 5%.
The tests were completed using computer with the following specifications:
- AMD Athlon 64 3200+ Venice @ stock (Cool & Quiet ENABLED)
- Asus A8N-VM/CSM nForce4 with integrated nVidia Geforce 6150 (32MB shared memory enabled)
- Corsair 2x512MB PC3200 @ 2.5-3-3-8 1T (Dual Channel)
- Cooler Master Cavalier 1 (1x80mm front, 1x120mm back)
- Antec TruePower 2.0 430W (1x120mm bottom)
- Seagate 7200.9 250GB SATA2 8MB 7200RPM
- BenQ DW1655
- Mitsumi 7-in-1 Flash/Floppy
- M-Audio Revolution 5.1
A brand new, unused stock heatsink that came with our AMD Athlon 64 3200+ Venice were used in our tests. All of the parts in our test system were brand new and unused prior to our review.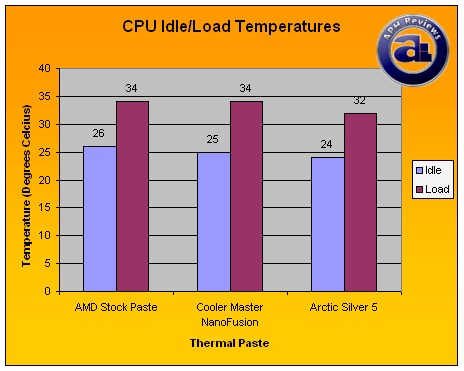 At idle, the AMD stock paste pulled a 26c while Cooler Master's NanoFusion and Arctic Silver 5 had an obtained result of 25c and 24c, respectively. That's a 2 degree Celsius difference between Arctic Silver 5 and AMD's stock paste, but Cooler Master's NanoFusion gave a single degree improvement over what AMD has to offer with their stock heatsink.
Putting our Athlon 64 3200+ Venice to full load, Arctic Silver 5 showed the rest who's daddy: again 2 degree Celsius lower than the AMD stock paste; surprisingly Cooler Master's NanoFusion came in with a tie for highest temperature at 34c.
With the three questions we've came up earlier, our tests indicates the answers. Is Arctic Silver 5 really that great? For now, it still is "the" thermal paste among computer enthusiasts. Will, or did, Cooler Master's NanoFusion knock Arctic Silver 5 off its throne it's been sitting on for years and years? With some improvement to their compound, sure, it has potential. I would appreciate it if it was easier to apply though. AMD's stock paste that comes with their heatsink -- are they any good against aftermarket products such as Arctic Silver 5 and Cooler Master NanoFusion? The answer is -- yes, it is! With very close performance to Cooler Master's NanoFusion, I can confidently say that, if you are sticking with your AMD stock heatsink, stick with the stock paste. However, if you are looking to purchase an aftermarket compound for your aftermarket heatsink, Arctic Silver 5 yields the best temperatures, but Cooler Master's NanoFusion is a bit cheaper due to more quantity per package.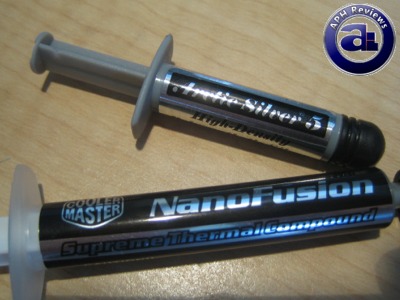 Special thanks to Yolanda over at Cooler Master for providing us the NanoFusion for this review.
Special thanks to Colin over at Arctic Silver for providing us with Arctic Silver 5 and ArtiClean.
Note: The number ratings below has been adjusted accordingly to comply with our new Number Rating System.
Arctic Silver 5



Pros: Paste smooth and easy to apply, offers best temperature.
Cons: Long break time of 200 hours.
Rating: 8/10 | APH Recommended
What do these ratings mean?
Cooler Master NanoFusion
Pros: Larger tube for about the same price as Arctic Silver 5. Good amount of application accessories included.
Cons: Paste relatively hard to work with.
Rating: 6.5/10
What do these ratings mean?