By: Jonathan Kwan
January 1, 2008
After discussing our ideal Christmas gift, it's now time for the first review published in 2008 (Although we did start writing on December 27, 2007, just in case you were wondering. What took so long? Obviously all the partying!) -- the Noctua NF-P12 high pressure cooling fan. I've been looking for a new fan for my heatsink for quite a while now. When Noctua, well known for their high quality, high performance, and low noise fans released their NF-P12 fan designed specifically for applications with high air resistance such as heatsinks, it got me quite excited. How well would this fan perform, and how quiet is it really? As a self-proclaimed quiet PC enthusiast, let's take a look at the Noctua NF-P12 today and see if it's by any chance what we have been looking for for quite a while.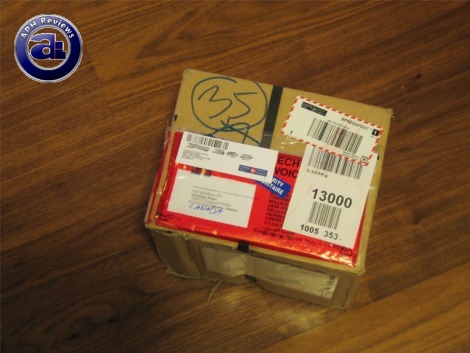 Our review unit of Noctua's NF-P12 came in a relatively large cardboard box all the way from Austria. I conveniently picked it up from the postal outlet on the way home after receiving my delivery notification. Surprisingly, the outer box actually arrived quite beat up and crushed from all sides. Thankfully, it was packaged pretty well and everything inside arrived in perfect condition.
Like other Noctua fans we've reviewed in the past, the Noctua NF-P12's retail packaging retains the same physical attributes, as well as its distinct burgundy, white, blue, and black color scheme. A custom shaped window is shown in front revealing parts of the fan itself, along with one of the four included vibration dampeners. Model information and company logo along with Noctua's website is printed in front as well.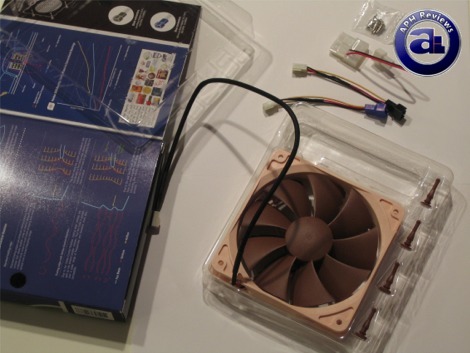 Out of the box, the slide out clear plastic tray with cover contains a unit of the Noctua NF-P12 fan itself, along with two resistor cables; each with different resistances to control voltage. Also included are four vibration dampeners, 3-pin to 4-pin Molex converter, along with four mounting screws.
The biggest difference observed with Noctua's NF-P12 packaging is that the back actually has a flap (It's held closed by Velcro pieces, too) to reveal additional information regarding the Noctua NF-P12. It elaborates, with diagrams and descriptions, on aspects such as the Noctua NF-P12's nine blade design, vortex control notches, Smooth Commutation Drive, and SSO bearing technology. All this information can be found on Noctua's website as well.
Before we move on, let's take a look at the specifications of the Noctua NF-P12, as obtained from Noctua's website:
Size: 120x120x25 mm
Bearing: SSO-Bearing
Blade Geometry: Nine Blade Design with VCN
Rotational Speed (+/- 10%): 1300 RPM
Rotational Speed with L.N.A. (+/- 10%): 1100 RPM
Rotational Speed with U.L.N.A. (+/- 10%): 900 RPM
Airflow: 92.3 m³/h
Airflow with L.N.A.: 78.5 m³/h
Airflow with U.L.N.A.: 63,4 m³/h
Acoustical Noise: 19,8 dB(A)
Acoustical Noise with L.N.A.: 16.9 dB(A)
Acoustical Noise with U.L.N.A.: 12.6 dB(A)
Static Pressure: 1.68 mm H2O
Static Pressure with L.N.A.: 1.43 mm H2O
Static Pressure with U.L.N.A.: 1.21 mm H2O
Input Power: 1.08 W
Input Current: 0.09 A
Voltage Range: 12 V
MTBF: >150,000 h
Warranty: 6 years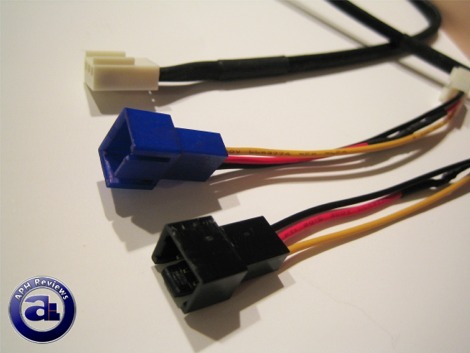 With two 3-pin resistor cables included, it allows the user to control the maximum rotational speed on the Noctua NF-P12. Each cable is color coded; the one with the blue connector is the one with the highest resistance -- limiting it to 900rpm (ULNA), while the black connector sets the maximum speed to 1100rpm (LNA). Personally I found the LNA adapter obtains the best noise to airflow ratio.
The Noctua NF-P12, like other Noctua fans, is conveniently 3-pin fans with Molex converters. This allows easy fan speed control via the motherboard, as well as appropriately reporting fan speed. The fan cable itself is sleeved, however the resistor cables are not.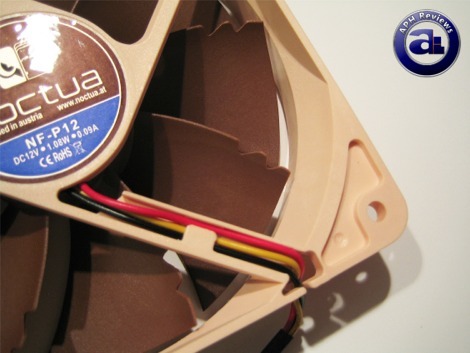 The Noctua NF-P12 incorporates standard Noctua's color scheme of, say, peach and burgundy/brown? (Sorry, I'm a guy) Anyway, while this is a demonstration of consistency among the whole Noctua fans product line, as well as a trademark Noctua design, stylistically this color scheme may not appeal to everyone. It sure stands out in many windowed cases -- whether positive or negative -- but it would be excellent if Noctua offered different color combinations, such as utilizing the tried and true black.
The 'trailing edge with vortex control notches' (As Noctua puts them) is quite a unique application in the fan blades. After all, those bumps in each of the nine blades are there for a reason. As we can see with the fan itself, the nine thick, tight blades 'look' like it will move a lot of air -- but usually noise is not just generated by the motor of the fan itself, but also turbulence noise as we've discussed in our PC Power & Cooling Silencer 610W article last week. Noctua has taken this into account with the P12; if you look closely even the relative position of the cut in the edges are slightly different in each blade of the fan. This is done to break up trailing edge vortices into smaller vortices and increase the range of noise frequencies, making it more pleasant sounding to the ear. Additionally, different locations of the fan implements smooth versus textured also adds to the bill -- both in combination to reduce noise due to turbulence without the sacrifice of airflow, which is quite interesting in my opinion. Noctua has a whole page with diagrams on this design -- it's on the flip out section on the back of the retail package as well. What matters to me, however, is whether it works or not, and let me tell you this -- it does.
Another chemical that Noctua adds to the formula is what the company calls the "Smooth Commutation Drive" in which an approach designed to stream a more constant amount of power to the fan's motor and minimizing irregular noise in the transition. Torque is more constant in the DC brushless motor, and current switching is more consistent to reduce acoustical noise. Also, it can produce approximately 200 lb-ft of torque @ 1300rpm, which is some pretty darn good low end torque without running it to the redline. In addition, I made the previous sentence up completely. ;)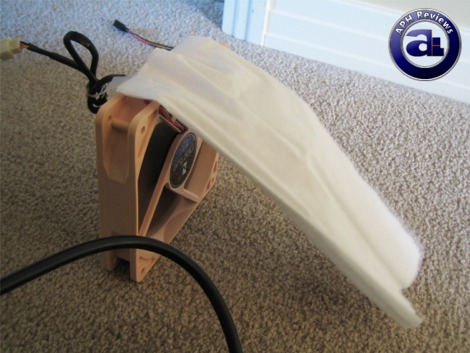 Anyways, back on topic, in our relatively "tried-and-true" scientific method of fan testing we've previously utilized, the tissue we utilized is an indicator to show the characteristic of air movement with the fans. Previously, we noticed fans such as Noctua's NF-S12-1200 producing very consistent airflow by floating the tissue in the air constantly. With the Noctua NF-P12, one characteristic we noticed is that the part of the tissue close to the fan gets pushed up nice and high, but the parts farther away are not pushed up as much. Airflow is still very consistent throughout with minimum fluttering noticed in the attached tissue paper. Through this, we can see that the Noctua NF-P12 applies high air pressure over a short distance, rather than shooting it fast and far like the NF-P12-1200. This is an optimal design for high resistance applications such as heatsinks -- in which Noctua themselves specified -- so score one for that.
The Noctua NF-P12 is generally very quiet, from an acoustic and subjective scale from 0-10 where 0 is silent and 10 being the loudest, I would rate the Noctua NF-P12 a 2.0 to 2.5/10 with Noctua LNA adapter. Slight clicking noise can still be heard during operation if you listen very closely (Both physically and figuratively speaking), but normally you will not be able to hear it in use.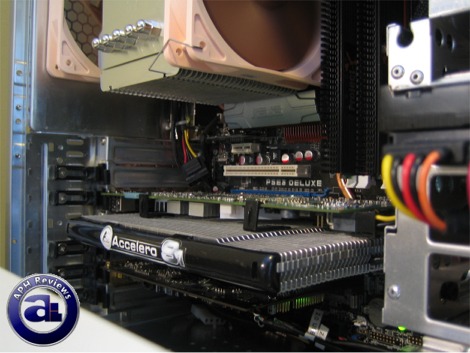 As a self-proclaimed silent PC obsessed person, I installed the Noctua NF-P12 over my Scythe Infinity partially because I found that the stock fan on the Infinity was kind of 'loud' compared to the rest of the components I own. What I have installed is a Noctua NF-S12-1200 at the back of the case, as you can see in the photo above. I did find this fan pretty loud at full speed, so it's plugged into my motherboard and controlled in the BIOS with Asus Q-Fan enabled to run at a nominal speed of 800rpm.
The front intake fan is a Noctua NF-S12-800 which is very quiet by default. On top of the heatsink is a Seasonic M12 500W power supply; a power supply well known for its silence. Along with that is my Asus EN8800GT TOP 512MB (NVIDIA GeForce 8800GT 512MB, factory overclocked) passively cooled by an Arctic Cooling Accelero S1. Coming down to that, obviously the loudest component is my Seagate 7200.10 hard drive with a relatively higher pitch hum of the motor even without disk activity.
Being that, my final configuration is a Noctua NF-P12 on the Infinity with the Noctua LNA adapter to run it at a maximum 1100rpm. In reality, it could run a bit above 1100rpm but I found that the performance of the Noctua NF-P12 is slightly better than the stock fan by a degree or two even at a lower RPM -- acoustically speaking, this strikes the balance between noise to airflow ratio. 900rpm is too low for my likings; and full 1300rpm is audible to an extent.
---
The Noctua NF-P12 is a well thought product -- with its application taken into account, Noctua has approached the design of such a simple product in appearance very seriously. The abundance of included voltage resistors are there for the user to cap maximum fan speed to their preference, and with the usual Noctua implementations such as native 3-pin connector with sleeved cable as well as a 4-pin Molex adapter makes this a flawless design. The only thing I could possibly complain about is that the Noctua NF-P12's color scheme may not appeal everyone. And maybe if it moved more air... but then, you can always say that for any fan because it could never be enough. After all, it's a quiet fan, and Noctua's done pretty darn well at making it a reality. You got a heatsink that uses a 120mm fan? The Noctua NF-P12 is something that you don't want to miss out on.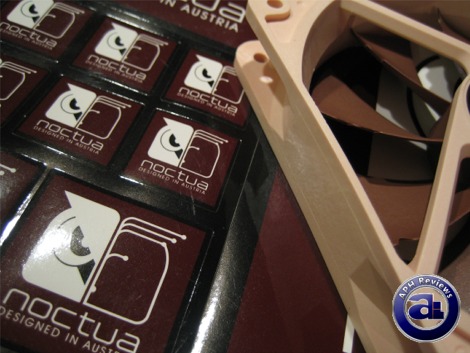 Special thanks to Jakob over at Noctua for making this review possible.

APH Recommended Award | APH Review Focus Summary:
8/10 means Definitely a very good product with drawbacks that aren't likely going to matter to the end user.
7/10 means Great product with many advantages and certain insignificant drawbacks; but should be considered before purchasing.
-- Final APH Numeric Rating is 7.9/10
Please note that the APH Numeric Rating system is based off our proprietary guidelines in the Review Focus, and should not be compared to other sites.
The Noctua NF-P12 takes on quite a unique application -- this fan is very quiet even seated behind a heatsink; with minimum turbulence noise. Very consistent airflow makes the Noctua NF-P12 a winner for silent PC enthusiasts looking for a fan to mount on their heatsink.