By: Jonathan Kwan
January 28, 2010
Back in the days, when AMD's Athlon 64 ruled the enthusiast market and single core processors were still the norm, South Korean-based computer cooling manufacturer Zalman manufactured some of the most popular CPU heatsink/fans around. Their signature flower design, in conjunction with a very generous use of copper, demonstrated groundbreaking performance across the board at every review website. When I bought my first -- and to be honest, only -- Zalman cooler from a popular online retailer to go with my Athlon 64 for the purpose of replacing my loud-but-not-so-proud (Literally; no puns intended haha) stock heatsink, I was amazed by how large it was compared to the one that came with my processor. Soon, engineers realized that, by combining elements such as mounting the 120mm fans sideways on tall heatsinks, implementing heatpipe arrays, as well as creative uses of different materials for durability, weight, and performance, CPU cooling performance could be taken to entirely new heights. Of which some notable examples include famed heatsinks such as the Scythe Infinity, Noctua NH-U12P, and Thermalright Ultra 120. Stop there for a moment. Just when you thought those heatsinks were large enough, I have something here on hand today that would simply dwarf all of its predecessors. Let's welcome the Noctua NH-D14: a wonderfully, amazingly, comically, and almost ridiculously, large heatsink/fan that is pretty much a combination of two heatsinks into one for the latest and greatest in CPU cooling.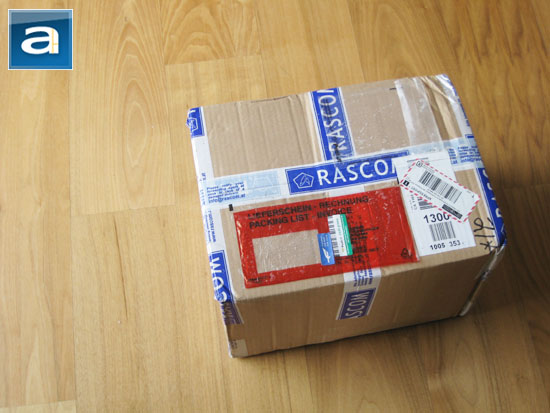 Our Noctua NH-D14 review unit came in a large, brown corrugated cardboard box from Noctua's headquarters in Austria. After traveling half way around the world, it was transferred to Canada Post using the XpressPost service when it arrived on Canadian soil. As usual, a delivery note was left in my mailbox, and I went to a local postal outlet around one minute drive away to pick it up. Everything arrived in reasonably good condition, and Noctua installed an appropriate amount of packing material inside the shipping box to ensure everything arrives safely. When I first received the box, I was extremely surprised by the sheer size of the packaging -- unaware of the size of the heatsink itself before I received it, I was almost convinced that there was something more than just the NH-D14 inside, haha.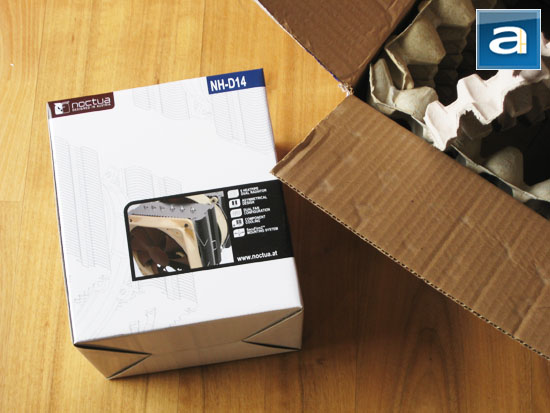 Noctua has taken a fresh new approach to their packaging design with the NH-D14's retail box. While it has retained the fundamental burgundy-based color scheme the company has used in the past, the corrugated cardboard retail box is much more modern and clean. The background color of the box is now white, with vector diagrams of the heatsink itself tiled as the background pattern. Tabs that are integrated across adjacent sides of the box are used to denote the Noctua brand logo in the top left corner, model number at the top right corner, and a sleek cropped color photo of the heatsink at bottom center right of the front face, as seen in our photo above. Meanwhile, specifications, features, and highlights are listed in consistent design with the box on the remaining sides of the retail package. Generally speaking, I really enjoyed Noctua's new design -- it retains the company's signature color scheme, but managed to make it cleaner and more attractively modern.
Before we move on, let's take a look at the specifications of Noctua's NH-D14 heatsink, as obtained from the manufacturer's website:
Heatsink Specifications
Socket compatibility: Intel LGA1366, LGA1156, LGA775 & AMD AM2, AM2+, AM3 (backplate required)
Height (without fan): 160 mm
Width (without fan): 140 mm
Depth (without fan): 130 mm
Height (with fan): 160 mm
Width (with fan): 140 mm
Depth (with fan): 158 mm
Weight (without fan): 900 g
Weight (with fan): 1070/1240* g
Material: Copper (base and heat-pipes), aluminium (cooling fins), soldered joints & nickel plating
Fan compatibility: 140x140x25 & 120x120x25mm
- Scope of Delivery: 1x NF-P14 premium fan
- 1x NF-P12 premium fan
- 2x Ultra-Low-Noise Adaptor (U.L.N.A.)
- Y-Split Cable
- 4x Vibration-Compensators (for using NF-P12 as case fan)
- 4x Fan screws (for using NF-P12 as case fan)
- NT-H1 high-grade thermal compound
- SecuFirm2™ Mounting Kits
- Noctua Metal Case-Badge
Warranty: 6 Years
Fan specifications
Model: Noctua NF-P14 & Noctua NF-P12
Bearing: SSO-Bearing
Rotational Speed (+/- 10%): 1200 / 1300 RPM
Rotational Speed with U.L.N.A. (+/- 10%): 900 / 900 RPM
Airflow: 110,3 / 92,3 m³/h
Airflow with U.L.N.A.: 83,7 / 63,4 m³/h
Acoustical Noise: 19,6 / 19,8 dB(A)
Acoustical Noise with U.L.N.A.: 13,2 / 12,6 dB(A)
Input Power: 1,2 / 1,08 W
Voltage Range: 12 V
MTBF: > 150.000 h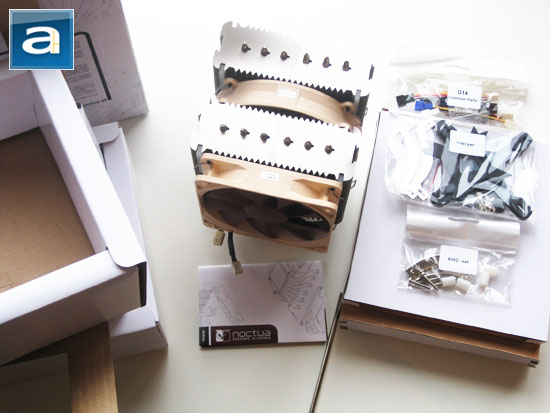 Out of the box, you will find three more boxes. All boxes are plain white in color; two of them are thin to different degrees, plus one large box clipped between two large cardboard brackets. The two smaller boxes hold the included accessories, while the large white box clipped between two cardboard brackets contains the NH-D14 heatsink itself. The Noctua NH-D14 heatsink already has a NF-P14 fan pre-installed at the center, as well as a NF-P12 fan pre-installed at the front. Both fans can be easily removed. Three individually packaged accessory bags are labeled "Intel set", "AMD set", and "Common parts", respectively. The 'Intel set' and 'AMD set' are mounting accessories for their respective platforms -- the SecuFirm2 mounting kits allows the Noctua NH-D14 to work with Intel's LGA1366, LGA1156, and LGA775 sockets, as well as AMD's AM2, AM2+, and AM3 sockets. Included accessories are two Ultra-Low-Noise Adapters (ULNA), an angular Philips-head screwdriver for some reason, one fan Y-split cable, and a Noctua case badge. Noctua also includes four vibration compensators and fan screws for using the NF-P12 as a regular case fan. Not only that -- the NH-D14 also ships with Noctua's excellent NT-H1 thermal compound, which we had reviewed back in our August 2008 shootout.
The manual is separated into two sections -- one section each for Intel and AMD, and folds out to reveal a large installation poster. The instructions are concise and clear. With the accessories very cleanly distinguished for each application as aforementioned, it makes life just that much easier.
As we've said in the past with the Noctua NH-U12P review, Noctua's NH-D14 is quite a package -- but now, to a whole different level. It's not just about the heatsink itself, it's also about the included excellent removable high performance fans and 'stock' thermal paste. Cooling fans such as the Noctua NF-P12 aren't exactly cheap when you buy them separately in retail, and you get one out of the box. It's interesting to note that the NH-D14 doesn't really need the NF-P12 -- and I actually prefer to be without it -- so you are free to use it elsewhere in your case. We'll discuss this in detail later on in this review.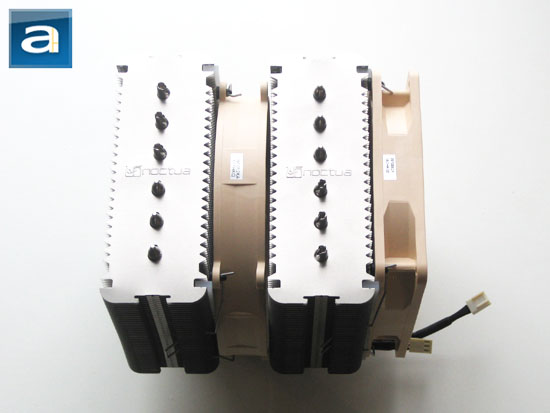 A view from the top of the heatsink. Noctua took elements of what they've done right with its predecessor, and further optimized it on the Noctua NH-D14. As far as engineering and implementation goes, both fans are mounted on using two clips each. These wire clips are evidently improved from the previous generation, because they are easier to attach and remove in a uniform fashion. As usual, rubber strips acting as vibrational dampeners reside between the fan and the fins of the heatsink to reduce mechanical noise emissions during operation, as seen in our photo above. The two fin arrays are placed 28mm apart, with the NF-P14 140mm fan placed at the center, and the NF-P12 120mm fan mounted at the front by default.
The edges of the heatsink fins have also been modified in the NH-D14. Instead of having straight step angled edges towards the center as seen in the Noctua NH-U12P, the NH-D14 now features a constant array of jagged zig-zag edges over a flat plane. By doing this, Noctua attempts to maximize its ability to permit airflow between the fins with minimal resistance and turbulence noise -- all with a negligible decrease in heatsink surface area. There are 42 aluminum plates in each radiator spaced 2.5mm apart. From my calculations, the total surface area of all the cooling fins combined is actually approximately 1.20 square meters!
Combined with Noctua's excellent P-series fans that are specifically designed for heatsinks with a high amount of static pressure, everything looks great on paper as far as cooling performance and noise levels are concerned. A word of warning, however: The edges are indeed quite sharp. So try to avoid running your hands over the Noctua NH-D14, haha.
Aesthetically speaking from this point of view, I believe it could use some enhancement with regards to the finish of the heatpipes -- the end could definitely use a secondary cap over the raw welded finishing seal. It's not a big issue, but it is something I would expect from something at this price range. The Noctua logo is engraved onto both sides of the two top fins horizontally, so it's easy to tell which way to install the heatsink, if it's not already clear.
As aforementioned, the fans are now easier to dismount from the heatsink itself, thanks to its updated fan clip design. Normally, you won't need to replace the otherwise excellent fans on the Noctua NH-D14, but the center fan needs to be removed during installation -- and users may find better use for the front NF-P12 fan elsewhere in their computer. From the angle denoted by our photo above, we can see that the clips are mounting over a recessed ledge integrated into the heatsink fin design. Because the wire clip retention length is reduced to a balanced level rather than spanning the entire height of the heatsink as we have seen in the past, attachment stability is not compromised -- but the newfound advantage is obvious. It is now easier to remove the fans with tabs in the wire, and the clips can also be removed uniformly. This also allows more flexibility in fan-heatsink location alignment for the user.
The photo above also clearly demonstrates the asymmetrical design of the heatsink -- while it is generally symmetrical, the only reason why it is classified as 'asymmetrical' comes down to the fact that the radiators are shifted slightly to the left in relation to the CPU base, as seen in our photo above. Regardless, it is still possible to mount the front 120mm fan at the back to pull air instead of pushing air. All it requires is a simple relocation of its rubber vibration dampening strips; the mounting method is otherwise identical.
It's safe to say that Noctua's NH-D14 is basically two heatsinks combined into one, haha. Six continuous U-shaped heatpipes lead away from the CPU contact base in two opposing directions for twelve effective heatpipes. Those heatpipes then go through the two radiators to dissipate the heat into the surrounding environment. Theoretically, the heatpipes are supposed to efficiently lead the heat away from its source due to the low heat of vaporization (Phase change energy) of alcohol. The heatpipes are aligned in a straight line rather than alternately like the NH-U12P. On one end, six virtual heatpipes lead into the first set of fins, while the remaining six virtual heatpipes extends into the second set of fins. The Noctua NF-P14 140m fan resides between the 'two' heatsinks -- making the NH-D14 quite a giant as far as dimensions are concerned. Its height is 160mm with width at 140mm, which is nothing too out of the ordinary nowadays -- but its length is the one that shocks most people. With the fans mounted, it comes in at a whopping 158mm end to end! Thankfully, surface area and cooling ability are usually directly related, and it doesn't take a genius to figure out that the Noctua NH-D14 indeed has a massive surface area for heat dissipation.
Thanks to a relatively high clearance between the heatsink contact base and the bottom of the fin array, its center 140mm fan can extend partially into this area with no physical obstruction in the proximity of its natural airflow pattern. This reduces heat congestion directly above the processor to improve cooling performance, as well as letting the heatpipes do their job by removing the heat as far from the processor as possible before releasing said heat over a large surface area. Increasing airflow here also helps cool down motherboard components that are not normally addressed by large tower heatsinks, as they may rely on side flowing air provided by stock coolers. Additionally, because the Noctua NH-D14 is so large, it may actually interfere with the nearby RAM on your motherboard -- having higher clearance will potentially not render those memory slots completely useless. If you have memory modules with tall heatsinks, however, you may be required to remove them. You have been warned!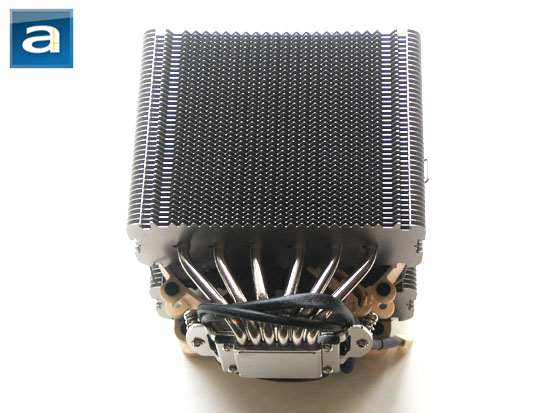 A shot of the back of the Noctua NH-D14 CPU heatsink. The photo above shows the configuration of the heatpipes more clearly in relation to the base leading into the fin array. As aforementioned, the user can choose to mount the front 120mm fan here at the back instead with a couple quick modifications.
As with the sheer size of the fan, you may be wondering about its weight, haha. The weight of the heatsink comes in at 900g without the fan -- it tips 1kg with the NF-P14, and exceeds 1.2kg with both fans mounted! While it is indeed heavy in magnitude, don't forget how large the heatsink is physically. In that regard, the average weight isn't actually so bad after all, thanks to Noctua's creative and excellent use of material composition.
Like the Noctua NH-U12P, the Noctua NH-D14 is a copper/aluminum hybrid heatsink electroplated with nickel. The vital parts such as the base and heatpipes are built using copper for best heat transfer ability with a thermal conductivity of 401 W/mK. The heatsink fins utilize aluminum as its material due to its lightweight properties as juxtaposed to copper -- this is to allow the construction of larger heatsinks without stressing too much on the motherboard due to weight. Aluminum has a thermal conductivity of 237 W/mK which is not as optimal for heat transfer as it retains more thermal energy.
While this is all quite interesting information, visually speaking the NH-D14 from Noctua has none of the copper color with its copper heatpipes and base. According to the specifications, the Noctua NH-D14 is electroplated with nickel on top of its copper -- which has a thermal conductivity of only 90.9 W/mK. While nickel has a lower thermal conductivity than copper which may limit heat transfer, the electroplated layer is very thin and should not directly affect performance to a significant degree -- but it is likely related to the corrosion allowance factor. Nickel and nickel-base alloys generally have desirable properties that can withstand corrosive environments and high temperatures -- which is especially beneficial for a heat dissipation device. The contact base in the Noctua NH-D14 has a generally clean and flat finish for optimal performance.
The reason why nickel has such a property is because of nickel's ductility and toughness all the way up to the melting point of 1455°c measured at non-standard pressure. Nickel's face-centered cube crystal structure is virtually unaltered all the way up to that temperature. Nickel, like titanium, is highly resistant to corrosion therefore corroded material won't build up on the surface in the long run. It's surely a good sign because the NH-D14 will be less prone to losing its cooling performance over time as juxtaposed to a corroded copper surface.
Additionally, all the joints are cleanly soldered at the base, as well as the fact that the heatpipes are soldered to the fins so that it does not lose contact over time. Lower quality heatsinks offer high initial performance, but degrades over time as contact between metals decreases due to thermal expansion and contraption. Overall, the Noctua NH-D14 appears to be built very solidly. Reliability should also be excellent as I have seen with the Noctua NH-U12P, which retains performance very well. I still have that heatsink in one of our computers around here, and it's been used on a daily basis for nearly two years!
-----------------------------------------
Installation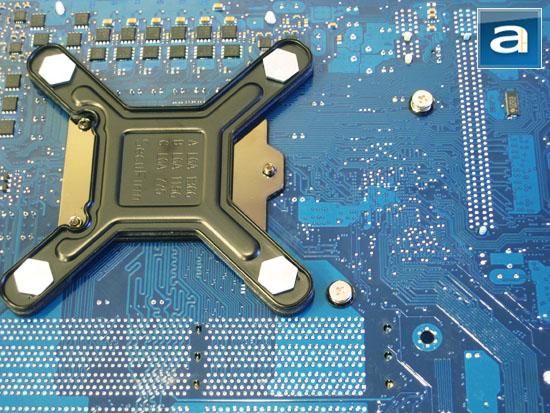 Installation proves to be very simple. Noctua packaged each set of installation accessories individually for excellent organization; along with the clear and concise setup poster, setup was a breeze. I installed my Noctua NH-D14 on my Gigabyte GA-P55A-UD6 with an Intel Core i5-750. The Securfirm 2 mounting system on the Intel platform utilizes a proprietary backplate supplied by Noctua that installs over the stock plate for optimal weight distribution -- the inertia of the 1.2kg heatsink is really something that needs to be addressed accordingly, otherwise it may simply fall out, or otherwise cause excess stress on the motherboard.
Simply align the two cuts on the supplied backplate with the screws of the motherboard's stock backplate, and place the four bolts -- one at each corner -- through the appropriate A, B, or C openings (For LGA 1366, LGA 1156, or LGA 775, respectively) and corresponding motherboard mounting holes. Hold the bolts in place, as they are not fixed at the moment, and flip the motherboard around.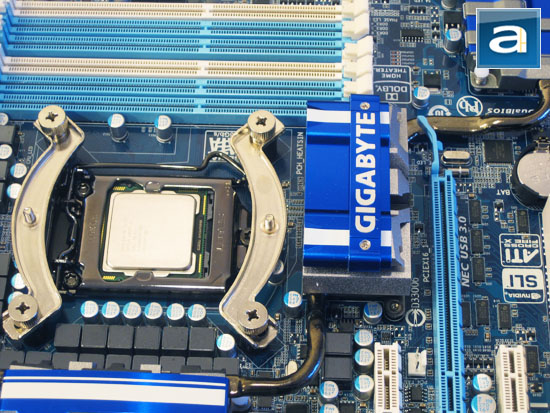 Two mounting bars are included for attaching the heatsink to the motherboard. First, put the plastic spacers onto each bolt. The user then has the choice of either aligning the mounting bars according to the final desired orientation of the cooler, as the NH-D14 can be installed either horizontally or vertically. Our photo above shows the alignment of the mounting bars for horizontal installation. Tighten the screw caps over the bolts, and you're good to go.
Fastening the heatsink over the CPU socket proves to be a simple job. Remove the center fan to gain access to the two screws located on the NH-D14 heatsink itself. Align the heatsink with the screw threads on the mounting bars, and tighten the screws alternately until they stop. Overall, installation is straightforward, and Noctua's mounting system is very secure as well as distributing weight very well for such a large and heavy heatsink.
One thing you should take note when installing the Noctua NH-D14 is that, because it is so large, it is very likely to interfere with adjacent slots. In the subsequent photo, you can see that the Noctua NH-D14 installed horizontally on our Gigabyte GA-P55-DQ6 with the front fan extended over all but one RAM slot. If you have memory modules with tall heatspreaders, you may be required to remove them if you want to retain the NF-P12 in front.
-----------------------------------------
The Tests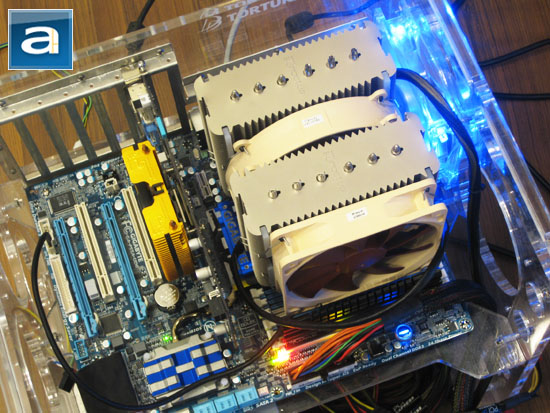 Yes, that's a standard sized Gigabyte GA-P55A-DQ6 ATX motherboard. No joke.
Our test setup as follows:
CPU: Intel Core i5-750 (Stock settings; Intel SpeedStep and Turbo Mode enabled)
Motherboard: Gigabyte GA-P55A-UD6
Graphics: Gigabyte GeForce 8800GT TurboForce
Memory: G.SKILL F3-17600CL7D-4GBPIS 4GB (2x2GB) @ DDR3-1333 7-7-7-18 2T
Chassis: Danger Den Torture Rack (1x Thermaltake 120mm LED Fan)
Power: OCZ EliteXStream 800W
Sound: Integrated (Motherboard)
Optical Drive: Liteon 16X DVD-ROM
Hard Drive: Western Digital Caviar 7200RPM 80GB 8MB Cache
Operating System: Microsoft Windows 7 Professional x64
All tests were run in our custom built test platform, and run in open configuration for uncapped heatsink performance. The computer remained in the same location in the same room throughout all tests. The room temperature in our testing lab is around 20c. Stock thermal paste respective to both coolers were used to rate its performance; all pastes were given a proper amount of time for them to fully settle. This means that Noctua's NT-H1 thermal paste was used for the NH-D14, while preapplied paste was used for the Intel stock cooler. The fans on all heatsinks were directly connected to the motherboard's 4-pin connector. Computer was turned on and idling for at least one hour for the idling tests. High CPU load results were obtained using the Prime95 in-place large FFTs test with four worker threads for a minimum of 30 minutes.
I did not compare this heatsink against a bunch of other heatsinks because in my opinion, a heatsink is important in areas such as engineering, build, noise and performance in relation to idle/load. It's hard to simulate the exact two scenarios -- the same amount of paste, application pressure, and other temperature influential factors -- including time of day, airflow and circulation of room, as well as maintaining a constant temperature. For careful representation, we have spent a lot of time to carefully simulate the exact same scenario in each case to ensure accurate temperature measurement when be compared this heatsink against the Intel stock cooler as a reference result.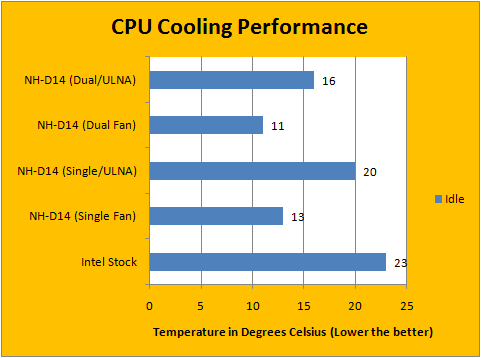 Your first reaction may question the idle temperature readings, and so did I, haha. Our recent review of the Intel Core i5-750 shows that the processor only uses 2W in idle state, so the amount of heat generated is very little. These readings are taken from Core Temp to obtain the core temperature of the processor from the Digital Thermal Sensor, and the temperature of the highest core is recorded. The results are cross-checked with Real Temp and EVEREST Ultimate Edition with correct Tjunction Max values. These results is generally much more accurate than the motherboard sensor. Is it actually possible for air cooling to actually go below room temperature? Technically no; but the NH-D14 relies on a serious array of heatpipes that works on the principle of continuous evaporation and condensation of a liquid to make this a possibility. For example, your skin can actually reach below room temperature due to perspiration. Additionally, I made sure that the entire heatsink is heated properly beforehand to verify the idle state temperature after a full load cycle. Combined with the huge surface area for heat dissipation, our results above show very clearly what the Noctua NH-D14 is capable of doing, relative to each other. When combined, the heatpipe array and large surface area is beyond capable of transferring the heat away from the processor faster than the net 2W power consumption is able to generate. I also physically felt the heatsink when the CPU is idling and under load to get a rough verification of the heat dissipation effect of the Noctua NH-D14.
At full speed with two fans, the temperature drops to an impressive 11 degrees Celsius. Take off the front fan, and the temperature rises two degrees to 13 degrees Celsius during idle. When both fans are capped with the ULNA resistor to lower noise levels, it still hold an impressive 16 degree Celsius reading. With the lowest noise level setting in the smallest physical configuration possible, the NH-D14 still holds a very respectable temperature reading of 20 degrees Celsius with only the 140mm fan capped at 900rpm. For reference, the stock Intel heatsink makes its plot at 23 degrees.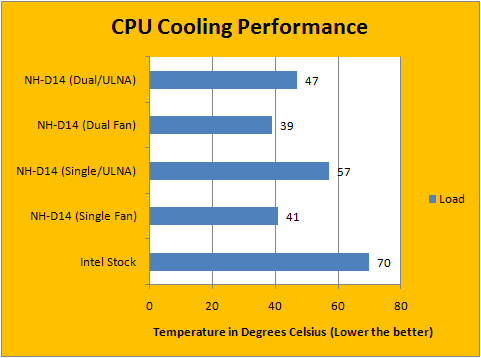 Results are equally impressive under load, and there's no reason to question these readings at all. In fact, even with a single Noctua NF-P14 fan capped at 900rpm, I couldn't even get any core on the processor to go above 57 degrees, no matter what I tried. Once you install an extra NF-P12 fan in front, again, capped to 900rpm, the temperature drops 10 degrees, as seen in our graph above. The difference between having a single fan and dual fans at full speed isn't that much, however. With a single 140mm fan running at full speed, the full load temperature is 41 degrees. An extra fan only reduces that value by 2 units. Again, for your reference, the Intel stock cooler shot all the way up to an unacceptable 70 degrees Celsius in the same testing conditions.
As we have had always expected from Noctua, the NH-D14 is capable of being nearly silent. While perceived loudness is very subjective and varies from person to person, I am quite a picky person on noise and the loudest component in my entire system is pretty much my hard disk. On a scale from 0-10, where 0 is silent and 10 is the loudest, I would rate the Noctua NH-D14 with two fans at full RPM to be 4.5/10. The Noctua NH-D14 with a single fan would be 4.0/10 in my books. I can't distinctively hear the difference between having two fans and one fan with ULNA, so I would give it both a 1.5/10 in terms of noise -- excellent and very impressive!
-----------------------------------------
I feel that Noctua really needs a come up with a more substantial name for the heatsink, haha. For something as ridiculously large as we have seen, and as expected, that performs so well in our tests, "NH-D14" doesn't really have the kind of connotation. It just sounds too... tame, to say the least, for what it is. There are many good names that Noctua could have obtained inspiration from, such as Megatron, Corsair Dominator, OCZ Colossus, or heck, even the Prolimatech Megahalem (Although I really had a hard time remembering or spelling the latter lol). That said, the Noctua NH-D14 is something that I definitely have great things to say about. From the incredibly organized packaging, the excellent included fans and thermal paste, the flexibility of configuration, the excellent attention to detail and construction quality, the amount of noise (Or lack thereof), and most importantly, to the performance, the Noctua NH-D14 certainly did not fail to impress in all regards. I'll let our results speak for themselves above. Although not necessarily a complaint, the nature of this heatsink may pose a problem for many users -- you will need to sacrifice compatibility to an extent, simply due to the sheer size of the Noctua NH-D14. It's a great thing that the Noctua NH-D14 is very flexible with regards to user configuration, so you can easily set it for a smaller size, lower noise levels, or maximum performance. If you are willing to cough up about a hundred bucks for the ultimate balance in high end air cooling with low noise emissions, the Noctua NH-D14 will certainly not disappoint!
Special thanks to Jakob over at Noctua for making this review possible.

APH Recommended Award | APH Review Focus Summary:
8/10 means Definitely a very good product with drawbacks that aren't likely going to matter to the end user.
9/10 means Excellent product with very minor drawbacks that does not affect the overall product.
-- Final APH Numeric Rating is 8.2/10
Please note that the APH Numeric Rating system is based off our proprietary guidelines in the Review Focus, and should not be compared to other sites.
The Noctua NH-D14 is really the biggest and baddest heatsink on air.