By: Jonathan Kwan
January 21, 2010
A few years ago, owning a dual core processor was something to be particularly proud of. "Bring on the dual cores", we used to say, and joke around referring to the amount of power we could pack under the hood with AMD Socket 939 based Athlon X2 processors in Shuttle XPCs. We then lit up with a faint sense of superiority at the mentioning of then-nonexistent quad core CPUs for mainstream computing. But times have changed. With practically every computer on the market today equipped with ridiculously high performing dual core CPUs at bargain basement prices, Intel came around and continued the cycle of introducing a new generation of even higher performing processors -- first the flagship Core i7 CPUs code named "Bloomfield" on LGA1366, then came the more mainstream-oriented Core i7 and i5 "Lynnfield" processors on the LGA1156 socket. And here's the thing: For around $200 USD retail at press time, the Intel Core i5-750 promises to deliver excellent performance at mainstream pricing. That being a quad core, too. With clock speed specified at 2.66GHz, 4x256KB L2 and 8MB L3 cache, a controller for dual channel DDR3 memory, and an excellent reputation for incredible overclocking potential, how well does this product based on Intel's 45nm Nehalem architecture fare against the once flagship Intel Core 2 Extreme QX9650 of the last generation? Read on to find out!
Our review unit of Intel's Core i5-750 microprocessor came in a small brown corrugated cardboard box from Intel's headquarters in Santa Clara, California. Using UPS Saver, it was delivered quickly and safely to our doorstep for our review today. With a high level of enthusiasm, I cracked open the package, and we were off to some benchmarking and overclocking fun.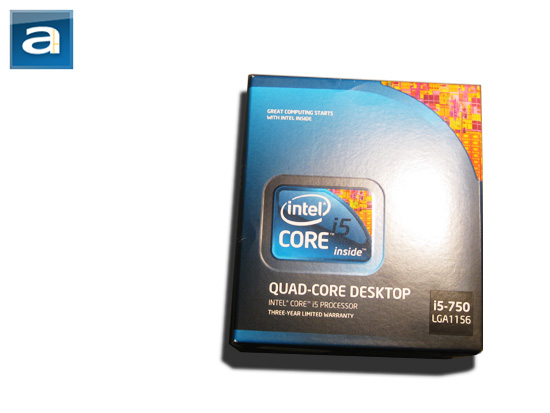 Much to my surprise, Intel included a retail box Core i5-750 rather than an Engineering Sample, which reviewers like myself are accustomed to receiving from the microprocessor giant in the past. However, we're glad to point out that the packaging is sealed, and identical to what regular consumers are able to buy at retail locations. Our particular Intel Core i5-750 has FPO/Batch number L927B337 as marked on both the retail box and chip itself. This means that the CPU was made in Malaysia in the 27th week of 2009, lot number B337.
As always, Intel's retail box design is clean and attractive, and especially captivating for the geeks who happen to walk by a retail store and see a wall of Intel retail box processors placed adjacent to each other. Designed with a teal/blue gradient consistently throughout the box, a magnified, orange-colored overlaid chip internal circuitry clip is placed at the top right corner on both the Core i5 logo and the retail box itself. The overall effect makes it undeniably modern and high-tech. The white font is sharp and easy to read, so it won't take five minutes of digging to see what's inside the box -- it's clear that we have a Core i5-750 quad core processor for LGA1156 socket at first glance, as shown in the photo above. A window is placed at the top of the package, so individuals can take a look at the processor itself (Mainly for the information printed on it, may be crucial to its overclocking potential down the road) even without opening it.
Before we move on, let's take a look at the specifications of Intel's Core i5-750, as obtained from the manufacturer's website:
Essentials
Status: Launched
Launch Date: Q3'09
Processor Number: i5-750
# of Cores: 4
# of Threads: 4
Processor Base Frequency: 2.66 GHz
Max Turbo Frequency: 3.2 GHz
Intel® Smart Cache: 8 MB
Bus/Core Ratio: 20
DMI: 2.5 GT/s
Instruction Set: 64-bit
Instruction Set Extensions: SSE4.2
Embedded: Yes
Supplemental SKU: No
Processing Die Lithography: 45 nm
Max TDP: 95 W
1ku Bulk Budgetary Price: $196.00
Memory Specifications
Max Memory Size (dependent on memory type): 16 GB
Memory Types: DDR3-1066/1333
# of Memory Channels: 2
Max Memory Bandwidth: 21 GB/s
Physical Address Extensions: 36-bit
ECC Memory Supported: No
Package Specifications
Max CPU Configuration: 1
Package Size: 37.5mm x 37.5mm
Processing Die Lithography: 45 nm
Processing Die Size: 296 mm2
# of Processing Die Transistors: 774 million
Sockets Supported: LGA1156
Halogen Free Options Available: Yes
Advanced Technologies
Intel® Turbo Boost Technology: Yes
Intel® Hyper-Threading Technology: No
Intel® Virtualization Technology (VT-x): Yes
Intel® Virtualization Technology for Directed I/O (VT-d): No
Intel® Trusted Execution Technology: No
AES New Instructions: No
Intel® 64: Yes
Idle States: Yes
Enhanced Intel® Speedstep Technology: Yes
Intel® Demand Based Switching: No
Thermal Monitoring Technologies: No
Execute Disable Bit: Yes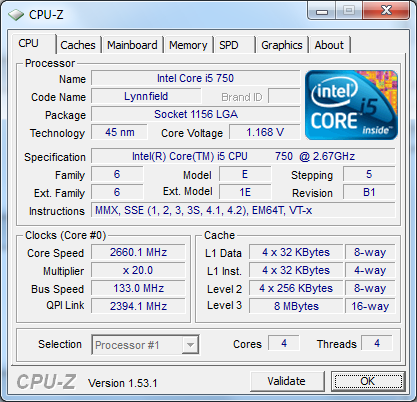 CPU-Z screenshot of the Intel Core i5-750 processor, running at stock speeds. This is a non-engineering sample unit.
---
Page Index
1. Introduction and Specifications
2.
Intel Core i5-750 Architecture; Test System
3.
Benchmark: EVEREST CPU
4.
Benchmark: EVEREST FPU
5.
Benchmark: EVEREST Memory
6.
Benchmark: PCMark Vantage
7.
Benchmark: 3DMark06 Professional
8.
Benchmark: PassMark PerformanceTest 6.1
9.
Benchmark: SuperPI 1M, Cinebench R10
10.
Overclocking, Power Consumption, and Conclusion