Page 6 - Benchmark: PCMark Vantage
About PCMark Vantage
PCMark Vantage is a PC benchmark suite designed for Windows Vista offering one-click simplicity for casual users and detailed, professional grade testing for industry, press and enthusiasts.
A PCMark score is a measure of your computer's performance across a variety of common tasks such as viewing and editing photos, video, music and other media, gaming, communications, productivity and security. From desktops and laptops to workstations and gaming rigs, by comparing your PCMark Vantage score with other similar systems you can find the hardware and software bottlenecks that stop you getting more from your PC.
PCMark Consumer Scenarios
- Digital Memories 1 & 2
- TV and Movies 1 & 2
- Gaming 1 & 2
- Music 1 & 2
- Communication 1 & 2
- Productivity 1 & 2
From: Developer's Page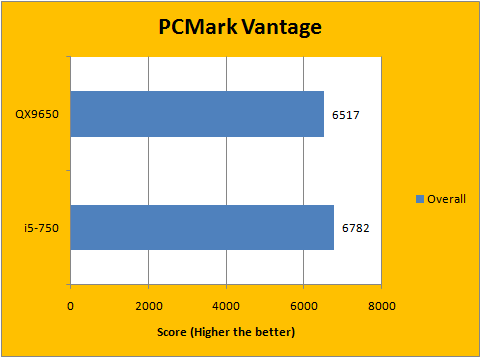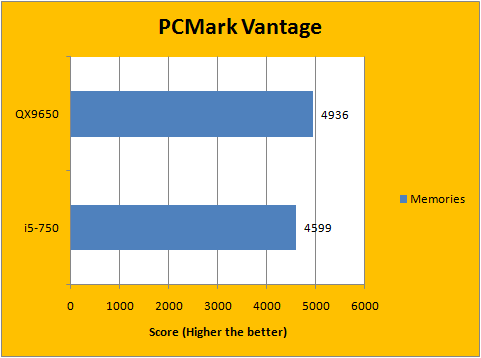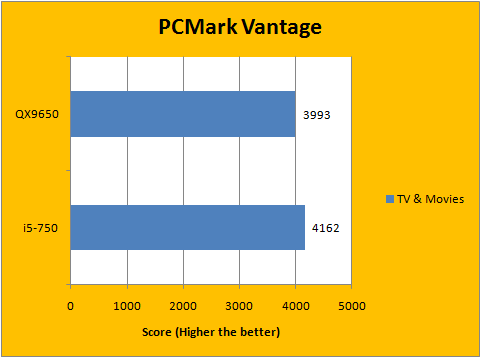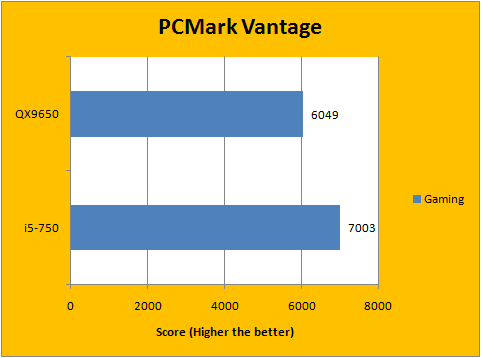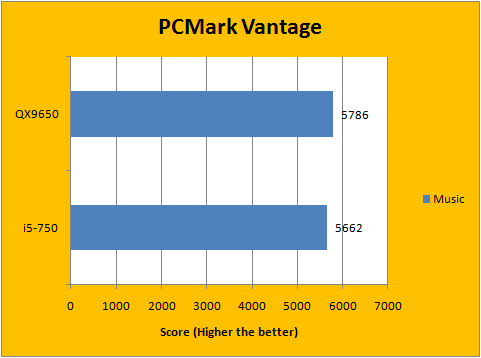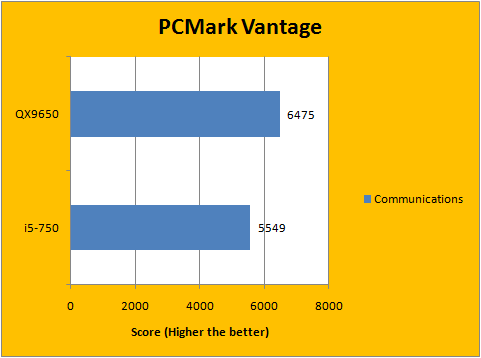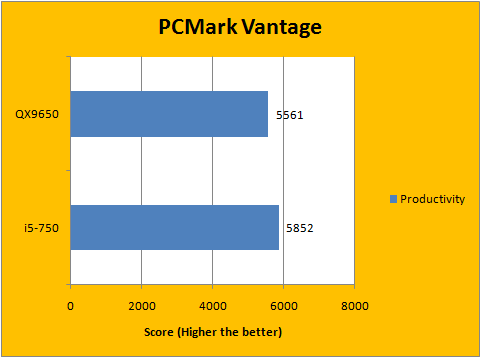 Our Futuremark PCMark Vantage results further demonstrated the excellent capabilities of the Core i5-750 against its predecessor, the once performance-monster Core 2 Extreme. The Core i5-750 actually led in four out of seven results -- very impressive. Starting from TV & Movies, the Core i5-750 had a 4.23% advantage, followed by Gaming and Productivity at 15.8% and 5.23%, respectively. For the ones the Core 2 Extreme QX9650 led in, it scored 7.3%, 2.2%, and 16.7% for Memories, Music, and Communications, respectively. Overall, the Core i5-750 scored 4.1% better than the QX9650, according to PCMark Vantage.
---
Page Index
1.
Introduction and Specifications
2.
Intel Core i5-750 Architecture; Test System
3.
Benchmark: EVEREST CPU
4.
Benchmark: EVEREST FPU
5.
Benchmark: EVEREST Memory
6. Benchmark: PCMark Vantage
7.
Benchmark: 3DMark06 Professional
8.
Benchmark: PassMark PerformanceTest 6.1
9.
Benchmark: SuperPI 1M, Cinebench R10
10.
Overclocking, Power Consumption, and Conclusion