Page 10 - Overclocking, Power Consumption, and Conclusion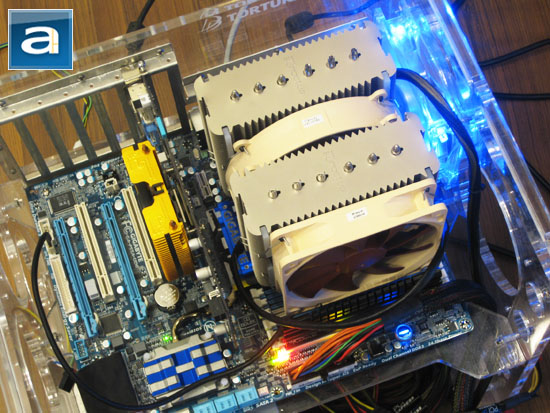 As mentioned on Page 2 of this review, because of the integrated PCI Express controller, overclocking at stock voltage didn't prove very successful. Therefore, we went ahead and ran 1.400V through the Intel Core i5-750 at standard Intel-spec vdroop, and began testing for the maximum attainable frequency with Turbo Mode disabled.
Using the lowest unclock multiplier and memory frequency, as well as a slight voltage boost to various associated components, I went ahead and made sure that external variables would not serve as an overclocking bottleneck. The low profile stock Intel cooler was also replaced by Noctua's NH-D14 heatsink to ensure it would operate within a safe temperature range.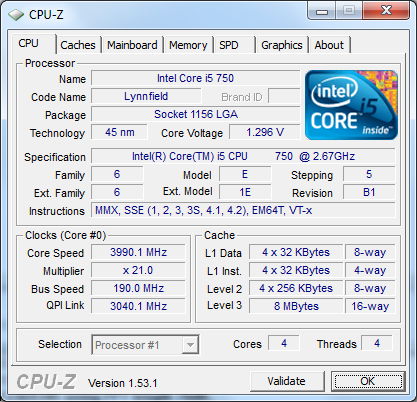 The maximum overclock I was able to attain was 3.99GHz with base clock at 195MHz times 21x multiplier, as seen in the CPU-Z screenshot above. Prime95 was run on all four cores for an extended period of time to ensure stability. That's quite an impressive overclock in my opinion -- a 50% increase over stock on a Nehalem based quad core processor simply delivers incredible performance. For two hundred bucks! It is not only very impressive, it also didn't involve much fiddling around to attain -- a quick two minute BIOS visit and changing the values was all it took. To be honest, I was able to take it a bit beyond 4GHz, but it's not Prime95 stable. It will run a good bunch of benchmarks without problems, however.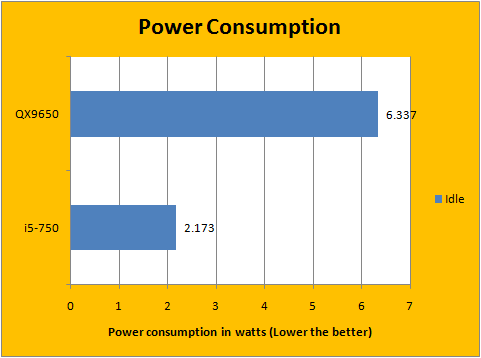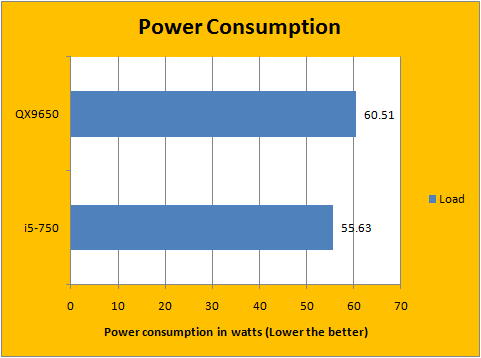 We took our measurements with Intel SpeedStep enabled for both processors running at stock voltages and configuration. Note that Turbo Mode is enabled for the Core i5-750. As seen in our results above, Intel's Core i5-750 power consumption has been improved over its predecessor -- during idle, the Core i5-750 only uses 2.173W of power -- compared to the Core 2 Extreme at 6.337W. Meanwhile, under load, the Core 2 Extreme tipped the meter at 60.51W, while the Core i5-750 came in slightly lower at 55.63W at full throttle.
------------------------------------------
I am very impressed by the performance and capabilities of Intel's Lynnfield core processors. Our particular example of Intel's Nehalem microarchitecture based CPU comes at a relatively affordable price of entry, yet still manages to deliver a level of performance that is very comparable against a previous generation flagship Core 2 Extreme processor. Without Turbo Mode on. That's not to mention that our Intel Core 2 Extreme QX9650 processor easily cost over $1000 when it was new, too! Advancements in microprocessor technology also allow Intel to deliver superior power management in conjunction with excellent performance delivery as aforementioned. The results speak for themselves. In the end, I had to say that while many things may seem great on paper, it may or may not translate beneficially to the end user in practical sense. The Intel Core i5-750 is a very good example of a product that not only looks great on paper, but also performs as such in real life. Combined with its excellent overclocking potential as evidently demonstrated by our retail box processor in this review, as well as being renowned for the very same reason by many enthusiasts around the web, there is absolutely no reason to be not impressed by the amount of performance you get (And can possibly go beyond) from the Intel Core i5-750 -- especially for its price!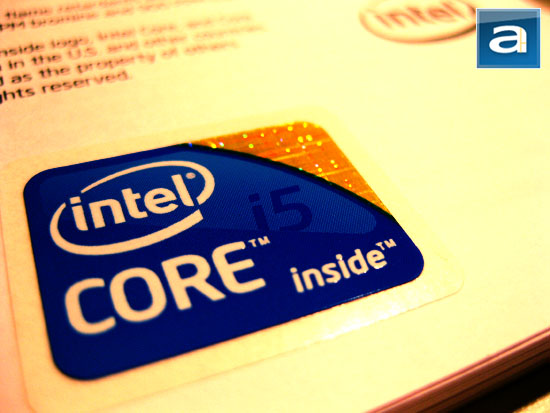 Special thanks to Daniel over at Intel for making this review possible.

APH equal.balance Award
Starting from April 30, 2007, Number Ratings have been dropped for all CPU, motherboards, RAM, and graphics cards. This is to ensure the most appropriate ratings reflected without the limits of using numbers. Everything else will continue using the Number Rating System.
More information in our Review Focus.
The Intel Core i5-750 quad core processor delivers consistently excellent performance for $200.
Do you have any comments or questions about the Intel Core i5-750? Drop by our Forums. Registration is free, and it only takes a minute!
---
Page Index
1.
Introduction and Specifications
2.
Intel Core i5-750 Architecture; Test System
3.
Benchmark: EVEREST CPU
4.
Benchmark: EVEREST FPU
5.
Benchmark: EVEREST Memory
6.
Benchmark: PCMark Vantage
7.
Benchmark: 3DMark06 Professional
8.
Benchmark: PassMark PerformanceTest 6.1
9.
Benchmark: SuperPI 1M, Cinebench R10
10. Overclocking, Power Consumption, and Conclusion