By: Jonathan Kwan
April 26, 2008
While NVIDIA's 65nm G92 core is an optimized derivative of NVIDIA's original 90nm G80 core to a certain extent, cards based on the G92 like the 8800GT and 8800GTS 512MB is nothing but a success amongst performance enthusiasts -- and there's a good reason why. Our previous review of the Asus 8800GT TOP back in January showed that, in general, the 8800GT is not only a very capable card in terms of 3D performance and comes at a great price depending on the board manufacturer and retailer you are purchasing from, but are also very power efficient for what it offers. Last month, we got another variation of the 8800GT for our review -- this time, from Gigabyte. The Gigabyte GeForce 8800GT TurboForce 512MB is not just about great performance, however. Utilizing a shorter, unique signature Gigabyte-blue non-reference PCB, along with a Zalman copper cooler, combined with Gigabyte's custom overclocking and overvolting software to squeeze the heck out of this card, how does it step up against the rest? Let's check this card out and run it through our set of benchmarks. And of course -- overclocking.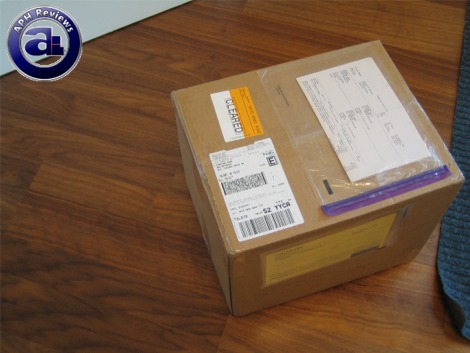 Our review unit of the Gigabyte GeForce 8800GT TurboForce graphics card arrived in a large, almost cubic, corrugated cardboard box from Gigabyte's offices in City of Industry, California. Using FedEx International Economy, everything -- including the box -- arrived in perfect condition. That's the same package that we received the Gigabyte X48T-DQ6 motherboard we've reviewed earlier this month.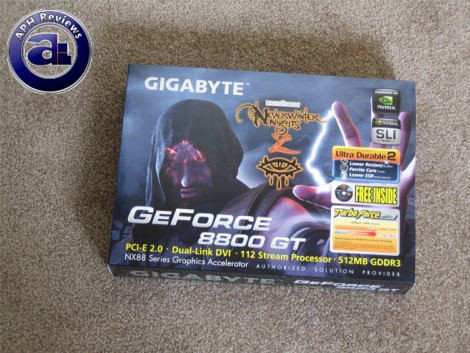 The retail box of the Gigabyte GeForce 8800GT TurboForce graphics card is featured in a relatively small package -- it's nothing excessive in terms of size in relation to what's contained inside. The front of the box heavily promotes Neverwinter Nights 2 with game graphics covering this entire side; along with standard information such as Gigabyte's logo at the top left corner, and the GPU model in large bold text at the opposite end. A short highlight of specifications are printed underneath the GeForce 8800GT text, which is quite interesting when it comes to the mix of standard and more technical data. An array of icons and highlights are placed along the right side of the box; specifications and elaboration of feature highlights such as Gigabyte's Ultra Durable 2 implementations are printed at the back with pretty icons and pictures.
Before we move on, let's take a look at the brief specifications from Gigabyte's website. We'll go into detail about the GPU on the next page:
Chipset: NVIDIA GeForce 8800GT
Memory: 512MB
Memory Bus: 256 bit
Memory Type: GDDR3
Card dimension: ATX
Bus Type: PCI-E 2.0
Bus Speed: 16
D-SUB: Y (By Adapter)
TV-OUT: Y
DVI Port: Y (DVI-I)
VIVO: N
Multi View: Y
The model of our unit is the GV-NX88T512HPV1, apparently "Type B" according to Gigabyte's product page. Users report that this is the better variant of the card -- "Type A" is the one that has certain issues associated with it.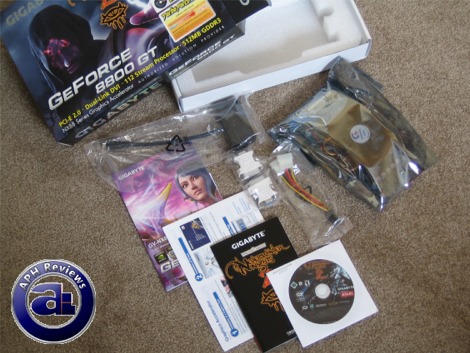 Inside the outer packaging is a thick, white cardboard flap box to protect and accommodate the actual contents. Fitted with a Styrofoam block that has a custom shaped pit to hold the graphics card, along with a compartment on the side that holds the accessories, everything is carefully packaged and ensured to be in the right order when the Gigabyte 8800GT TurboForce arrives in the hands of the customer. Out of the box, you will receive the following:
1x Gigabyte GeForce 8800GT TurboForce 512MB
2x VGA to DVI adapter
1x Molex to 6-pin PCIe adapter
1x Composite/S-Video adapter block
1x Installation poster
1x User manual (English/Traditional Chinese)
1x Neverwinter Nights 2 Manual
1x Driver/Software CD
1x Neverwinter Nights 2 game DVD
It's nice to see that Gigabyte included a manual for Neverwinter Nights 2, since it's quite rare to see a game manual included with a video card bundled game.
---
Page Index
1. Introduction, Specifications, Bundle
2.
NVIDIA 8800GT Architecture
3.
A Closer Look, Test System
4.
Benchmark: FEAR
5.
Benchmark: Prey
6.
Benchmark: Half Life 2: Lost Coast
7.
Benchmark: CS:Source HDR
8.
Benchmark: 3DMark06
9.
Power Usage, Overclocking
10.
Noise Factor and Conclusion