Page 3 - A Closer Look, Test System
The Gigabyte GeForce 8800GT TurboForce features a unique blue PCB -- much to our surprise, as its relatively short board length really distinguishes itself from reference 8800GT boards. As you can see in our photo above, we compared the custom Gigabyte 8800GT to two other graphics cards -- on the left is a reference 8800GT from Asus, and to the right is a Asus 9600GT TOP 512MB. Both the reference 8800GT and 9600GT has board lengths of approximately 23cm. The custom Gigabyte 8800GT TurboForce PCB has a measured length of 19.5cm, which is the shortest 8800GT we've seen to date -- since majority of NVIDIA 8800GT cards today are based off the NVIDIA reference design.
The Gigabyte 8800GT TurboForce includes a preinstalled Zalman VF-830 aftermarket heatsink/fan. This heatsink/fan is a lightweight aluminum unit with two copper heatpipes; on top of it is an 80mm fan. It primarily cools the GPU through direct contact, with its flower-shaped design bringing airflow over most of the board itself.
At the back of Gigabyte's 8800GT TurboForce are two DVI ports and a video out connector in standard configuration -- a DVI port is specifically colored blue, although Gigabyte did not specifically state any HDMI passthrough capabilities, therefore we cannot confirm that for you. It does support HDCP over DVI though. Composite, component, and S-Video out are offered by the provided Gigabyte A/V connector block. On the side of the card is an SLI connector with a plastic cap attached by default for protection. Four spring loaded screws with clear plastic washers are located on top of the board for heatsink attachment.
Flipping the card around reveals more on components residing on Gigabyte's 8800GT TurboForce video card. Again, Gigabyte is big on highlighting its MOFSETs and low choke ferrite cores. As usual that we've seen on majority of today's graphics cards, the PCIe 6-pin power connector is located on the outer edge of the end of the board. While it's more preferable in terms of cabling to have the connector in the middle rather than the outer edge, majority of the graphics cards we've reviewed in the past have it in this particular location.
A quick count shows the Gigabyte 8800GT TurboForce 512MB to have a four-phase power design, which is an improvement from reference NVIDIA board that requires a minimum of two-phase power design -- for more consistent power delivery, the more the better.
The Zalman flower shaped heatsink brings airflow well to all components of the board in addition to directly cooling the G92 core. We were quite surprised to see that the memory chips aren't cooled though, since Gigabyte heavily promotes overclocking capabilities of the 8800GT TurboForce. The Zalman heatsink/fan brings a considerable amount of airflow over the memory chips; but having ramsinks would definitely be beneficial.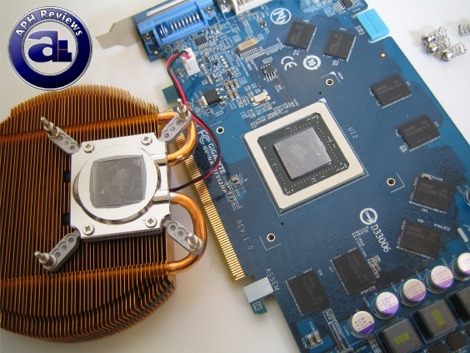 After removing the four screws at the top of the Gigabyte 8800GT, the heatsink didn't come off automatically -- in fact, it was stuck on. A bit of prying effort was required to detach the heatsink from the GPU core, since the thermal interface material Gigabyte decided to use on the 8800GT TurboForce had a little too much adhesive property to it.
The base of the heatsink has a shiny aluminum finish to it, with the two heatpipes leading away from the base to more evenly spread heat throughout the heatsink fins to be more evident in our photo above. The heatsink fan is connected to a two-pin fan connector on the 8800GT TurboForce. Notice that there's no fan RPM monitoring on this card; it also lacks the circuitry on the board for automatic fan control -- meaning that the fan runs at a constant high RPM at all times. We found the Gigabyte 8800GT TurboForce to be quite loud even under idle conditions. (Thanks Jimmi for the tip - email as quoted below.)
Like the reviewer, I quickly found that the fan was quite loud even when the GPU was idle. I searched various online forums and even emailed Gigabyte directly looking for a solution. The bottom line is that the card lacks the circuitry required for automatic fan speed control. Even editing its BIOS won't enable this. You'll also notice that the third wire, used for RPM monitoring, is missing. Some have volt-modded the fan to run slower both under load and when idle, others are using third party fan controllers to manually adjust the fan speed.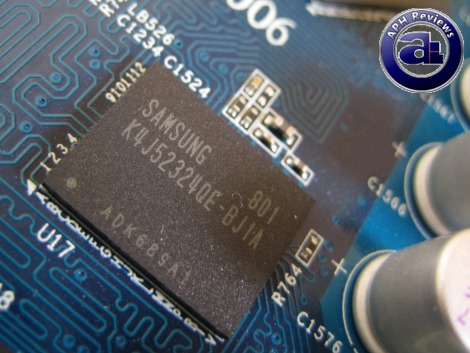 A total of eight Samsung K4J52324QE-BJ1A memory chips are implemented on the Gigabyte 8800GT TurboForce for a combined 512MB video memory. More information on these memory chips can be found on Samsung's website. These memory chips operate at stock 1.9V at maximum frequency of 1GHz -- we were actually quite surprised that Gigabyte actually downclocked these chips by 80MHz out of the box. The original Type A 8800GT TurboForces were clocked at 950MHz, but Gigabyte had issues with Type A cards -- our Type B unit is downclocked to 920MHz as we can see. We have had no problems running the memory at much higher frequencies though.
Again, it would be nice if there's heatsinks over the RAM chips on the Gigabyte 8800GT TurboForce.
Trivia: Look closely at the photo above to find the mismatch with the specs below. ;)
CPU: Intel Core 2 Duo E6300 @ 2.80GHz (400MHz*7 - 1600MHz FSB QDR)
CPU Cooling: Asus Arctic Square
Motherboard: Asus P5K-Deluxe/WiFi-AP
Memory: OCZ Reaper HPC PC2-8500 2x1GB
Chassis: Danger Den Torture Rack (1x Thermaltake 120mm LED Fan)
Power: Tagan TurboJet 1100W
Sound: Integrated ADI SoundMAX 1988B
Optical Drive: Liteon 16X DVD-ROM
Hard Drive: Western Digital Caviar 7200RPM 80GB 8MB Cache
Operating System: Microsoft Windows XP Professional SP2
Compared graphics cards:
- ATI Radeon X1950 Pro 256MB
- NVIDIA GeForce 8800GTS 320MB
- Asus EN8800GT TOP 512MB (NVIDIA GeForce 8800GT 512MB @ 700/1000)
- Asus EN8800GTS TOP 512MB (NVIDIA GeForce 8800GTS 512MB @ 740/1035)
- Asus EAH3870 TOP 512MB (ATI Radeon HD 3870 512MB @ 851/1140)
- Asus EN9600GT TOP 512MB (NVIDIA GeForce 9600GT 512MB @ 740/1000)
- Gigabyte GeForce 8800GT TurboForce 512MB (NVIDIA GeForce 8800GT 512MB @ 700/920)
---
Page Index
1.
Introduction, Specifications, Bundle
2.
NVIDIA 8800GT Architecture
3. A Closer Look, Test System
4.
Benchmark: FEAR
5.
Benchmark: Prey
6.
Benchmark: Half Life 2: Lost Coast
7.
Benchmark: CS:Source HDR
8.
Benchmark: 3DMark06
9.
Power Usage, Overclocking
10.
Noise Factor and Conclusion