By: Jonathan Kwan
March 29, 2008
It's mostly been like this: This generation's performance graphics cards are next generation's midrange series. For NVIDIA, it has been like that for the NVIDIA GeForce 6600GT, 7600GT, well, and less so for the 8600GT and 8600GTS; and so to say today we'll be looking at the successor to the less than appreciated 8600 series -- the 9600GT. NVIDIA's 9600GT has been launched for more than a couple weeks now, and we've finally gotten our hands on Asus' newly modified version of the 9600GT -- the Asus EN9600GT TOP 512MB with a special cooler. As usual, the 'TOP' suffix from Asus signifies that it's overclocked (Usually pretty aggressively too) out of the box. How well will the 9600GT step up against the ATI Radeon 3870 and NVIDIA's own 8800GT? Better yet, we've even got all the fastest factory overclocked cards to test against each other in our review today. Let's get right to it and see if the 9600GT takes the midrange performance crown and how much bang you get for your buck.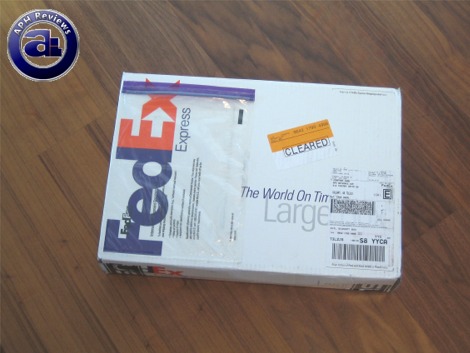 Our review unit of the Asus EN9600GT TOP 512MB came in a large FedEx branded box using FedEx International Priority, from Asus' offices in Fremont, California. We were actually quite surprised as we've never seen Asus use FedEx boxes to ship, which made me wonder for a moment what exactly was inside.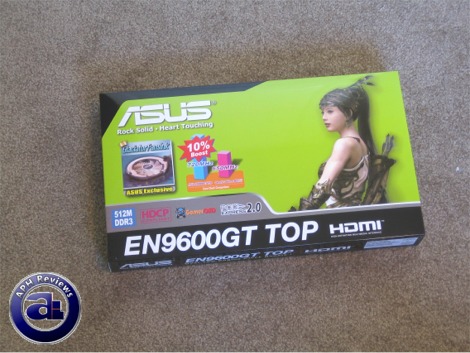 Ripping the seals of the box apart, and removing the paper fillings reveals a retail package of the Asus EN9600GT TOP video card. While it retains a good portion of Asus' design scheme of text and graphics placement, this box is significantly smaller than the super large boxes we've came to be accustomed to from Asus -- whether it is the 8800GT, 8800GTS (G80 and G92), or the 3870 -- no wonder it fit inside the FedEx box, haha. But anyways, the simple box design incorporates a green background with Asus' female mascot and highlights of the Asus Glaciator heatsink/fan as well as the factory overclock. The product's model name is printed at the bottom as usual. Since no games are included out of the box, the Asus EN9600GT TOP package promotes no particular game.
Before we move on, let's take a look at the specifications of this product, as obtained from Asus' website:
Graphics Engine: NVIDIA GeForce 9600GT
Bus Standard: PCI Express 2.0
Video Memory: DDR3 512MB
Engine Clock: 720 MHz
Shader Clock: 1800 MHz
Memory Clock: 2GHz effective (1 GHz DDR3)
Memory Interface: 256-bit
DVI Max Resolution: 2560 x 1600
D-Sub Output: Yes x 1 (via DVI to D-Sub adapter x 1)
DVI Output: Yes x 2 (DVI-I)
HDMI Output: Yes x 1 (via DVI to HDMI adapter x 1)
HDTV Output (YPbPr): Yes
HDCP Support: Yes
TV Output: Yes (S-Video to Composite)
Software Bundled: ASUS Utilities & Driver
Note: To enable HDMI audio out function, a motherboard with internal S/PDIF header and the correct connection of S/PDIF cable with graphics card and motherboard are needed.
Dimensions: The card size is 4.376 inches x 9 inches
Out of the box, you will receive the following:
- Asus EN9600GT TOP 512MB with Asus Glaciator heatsink
- Molex to 6-pin PCIe power adapter
- DVI to VGA adapter
- DVI to HDMI adapter
- Component video cable
- S/PDIF cable
- Manuals and driver/utility discs
---
Page Index
1. Introduction, Specifications, Bundle
2.
NVIDIA 9600GT Architecture
3.
A Closer Look, Test System
4.
Benchmark: FEAR
5.
Benchmark: Prey
6.
Benchmark: Half Life 2: Lost Coast
7.
Benchmark: CS:Source HDR
8.
Benchmark: 3DMark06
9.
Power Usage, Overclocking
10.
Noise Factor and Conclusion