Page 3 - A Closer Look, Test System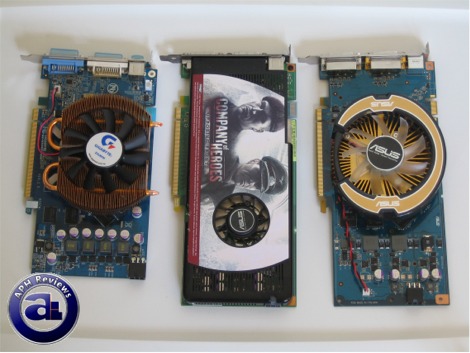 From the left is a Gigabyte GeForce 8800GT TurboForce 512MB, Asus EN8800GT TOP 512MB, and finally the Asus EN9600GT TOP 512MB we are reviewing today. While the Gigabyte card uses a shorter non-reference design, the 9600GT offered by Asus is 23cm in length -- standard for many of today's video cards, like the Asus 8800GT. The Asus 9600GT TOP is built on a blue colored PCB with Asus' own Glaciator aluminum heatsink/fan, which blows air directly over GPU cooling fins -- as well as bringing airflow over nearby components such as RAM and VRMs (But does not necessarily cool them directly). The heatsink will occupy one slot below the PCIe slot the card is connected to.
As you can see above, the 9600GT's PCB is actually very light and simple -- half the board has absolutely nothing on it. Personally, I think it is definitely possible to build a smaller board -- considering how the 3870 is like five times as complicated when it comes to board components and has the same board size.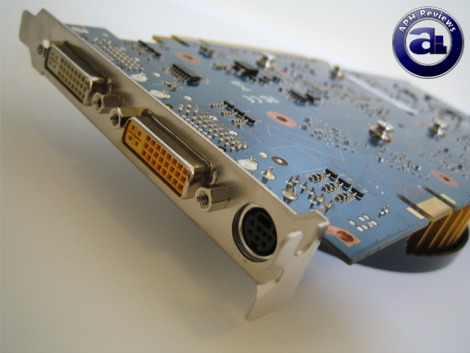 As standard configuration goes, the Asus 9600GT TOP has two dual-link DVI ports as well as a video out connector. One of the DVI ports are colored orange to distinguish from the other one to indicate its HDMI audio passthrough capability. The back only occupies one rear bracket as there's no direct heat exhaust system built in.
The SLI connector is built into the standard spot of the reference PCB; however instead of using a cooler that covers the entire card, four standard NVIDIA spring loaded screws are placed on the four screw holes nearby the NVIDIA GPU to attach the Glaciator heatsink.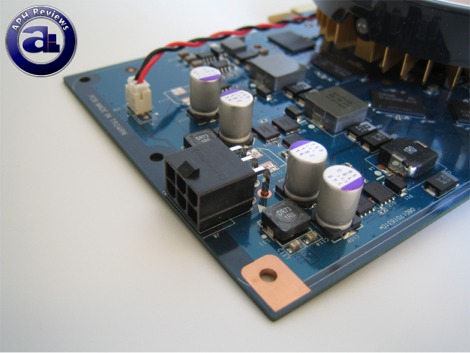 At the opposite end of the board is the 6-pin PCIe connector, facing outwards towards your hard drive cage if installed in a standard environment. This is what I like: It's slid a bit inwards instead of being placed right at the edge of the PCB. This would make cabling a bit neater looking.
As you can see in our picture above, VRMs and memory are not cooled by the GPU cooler. During our tests, it seems that they don't run hot at all; and how the Asus Glaciator heatsink distributes air to all nearby components seems to be quite adequate for this purpose.
On removing the cooler to see what's behind, it seems that Asus has used some odd adhesive type of thermal interface material on the EN9600GT TOP.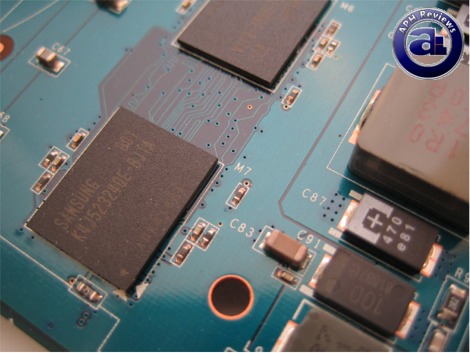 The Asus 9600GT TOP's memory chips are fully exposed as they aren't cooled directly by a heatsink. They use Samsung K4J52324QE chips, which runs at 1000MHz (2000MHz effective) according to the datasheet on Samsung's website. A standard NVIDIA 9600GT's RAM runs at 900MHz, so Asus didn't necessarily overclock the memory on the 9600GT TOP before shipping -- 1000MHz is stock for the onboard chips. We'll see how it overclocks shortly.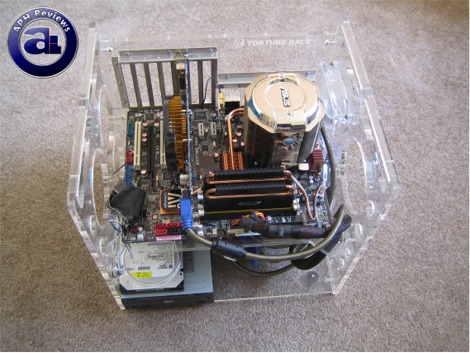 Our test platform showing the Asus EN9600GT TOP 512MB loaded up for our benchmarking and other tests.
CPU: Intel Core 2 Duo E6300 @ 2.80GHz (400MHz*7 - 1600MHz FSB QDR)
CPU Cooling: Asus Arctic Square
Motherboard: Asus P5K-Deluxe/WiFi-AP
Chassis: Danger Den Torture Rack (1x Thermaltake 120mm LED Fan)
Power: Tagan TurboJet 1100W
Sound: Integrated ADI SoundMAX 1988B
Optical Drive: Liteon 16X DVD-ROM
Hard Drive: Western Digital Caviar 7200RPM 80GB 8MB Cache
Operating System: Microsoft Windows XP Professional SP2
Compared graphics cards:
- ATI Radeon X1950 Pro 256MB
- NVIDIA GeForce 8800GTS 320MB
- Asus EN8800GT TOP 512MB (NVIDIA GeForce 8800GT 512MB @ 700/1000)
- Asus EN8800GTS TOP 512MB (NVIDIA GeForce 8800GTS 512MB @ 740/1035)
- Asus EAH3870 TOP 512MB (ATI Radeon HD 3870 512MB @ 851/1140)
- Asus EN9600GT TOP (NVIDIA GeForce 9600GT 512MB @ 740/1000)
---
Page Index
1.
Introduction, Specifications, Bundle
2.
NVIDIA 9600GT Architecture
3. A Closer Look, Test System
4.
Benchmark: FEAR
5.
Benchmark: Prey
6.
Benchmark: Half Life 2: Lost Coast
7.
Benchmark: CS:Source HDR
8.
Benchmark: 3DMark06
9.
Power Usage, Overclocking
10.
Noise Factor and Conclusion