By: Jonathan Kwan
May 14, 2007
If you take a look at Asus' website, you may notice one very interesting observation: They make, like, everything. Right off my head, I can already check off motherboards, graphics cards, cases, PDAs, laptops, optical drives, networking products... what's next, a sound card (Oh wait, remember the Xonar D2 and D2X at CeBIT earlier this year)? Anyway, when it comes to thermal solutions and component cooling, Asus probably isn't the first thing that comes to mind. Roughly two weeks ago, Asus contacted me and asked me if I wanted to take a look at their latest CPU cooling solution -- the Asus Arctic Square. I am always enthusiastic to try new things, but I must confess, right at that moment... I vaguely remember thinking that, in straightforward terms -- it'll probably be a disappointment (Sorry, I was just being honest!). But after going through some testing, I discovered that my initial thoughts regarding Asus' Arctic Square is quite far from the truth. And let me tell you why.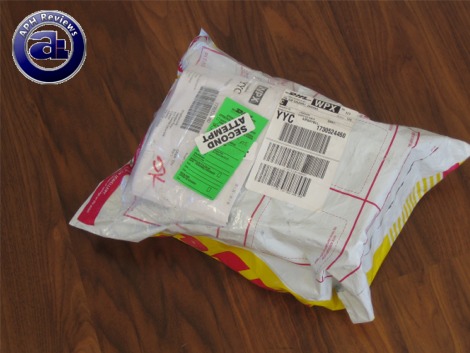 Our review unit came in a thin film plastic material like thingy envelope, speaking of great grammar (Editor: coming from Jonathan Kwan?)-- from Asus' offices in Taiwan using DHL Express.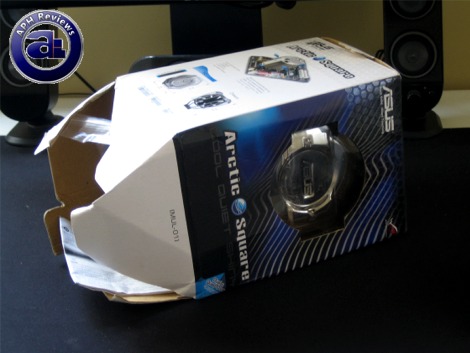 Upon opening the DHL package, our review unit of Asus' Arctic Square came in a retail box. Seems like the guys over at DHL thought Asus made soccer balls too ;)
Don't mind my cheap shots; please take the above as a joke, harhar. Some Background info here, here, and here (I, by no means, hate DHL. Seriously!).
Despite the fact that the retail box is out of shape, all components inside remained intact and undamaged (It really wasn't Asus' fault). It was nicely done and protection was included within the retail box, and which means it could probably take even more of a beating than this. Plus, no blister packs and excessive clear plastic packaging; always a great sign to us consumers.
The retail box displays photos as well as features of the Asus Arctic Square with printing on all four sides.
Before we move on, let's examine the specifications of this product; as obtained from Asus' product page of the Asus Arctic Square:
CPU Support
Intel® Core™2 Extreme / Intel® Core™2 Quad
Intel® Core™2 Duo / Pentium® processor family
AMD Athlon™ 64 X2/ FX
AMD Athlon™ 64/ Sempron™
Heatsink
Dimension (mm): 108 x 106 x 135
Material: Copper Base + Aluminum Fin + 4 Copper Heat Pipes
Clip Type: Universal Clip
Net Weight(g): 666g
Fan
Dimension (mm): 92 x 92 x 25
Bearing Type: Vapo (Long Life Sleeve)
Speed: 2300 rpm ± 10% with PWM control
Max. Airflow: 36.5 CFM
Max. Air Pressure: 2.8 mm-H2O
Certification: CE, TUV, UL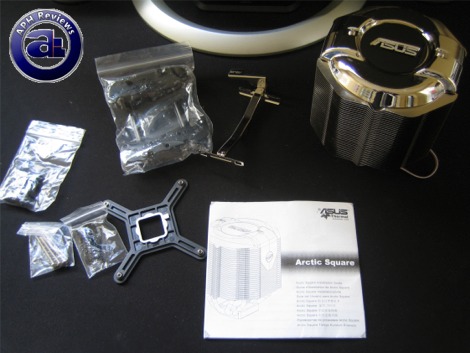 Out of the retail box, you will get the Asus Arctic Square heatsink itself, along with necessary mounting accessories (Bracket, screws, backplate), as well as an installation poster.
What this means is that you will need to remove your motherboard in order to attach the backplate, at least on Intel LGA775. It's not a bad thing; because after using Scythe heatsinks such as the Scythe Infinity, I discovered after a while that it is not all that glorious to use stock Intel mounting holes. It's really hard to install and uninstall with such a large heatsink, and in order to obtain a tight fit, it's best to install it when the motherboard is not inside the case yet -- with my equipment and case anyway. I'll go over installation of the Asus Arctic Square in just a moment.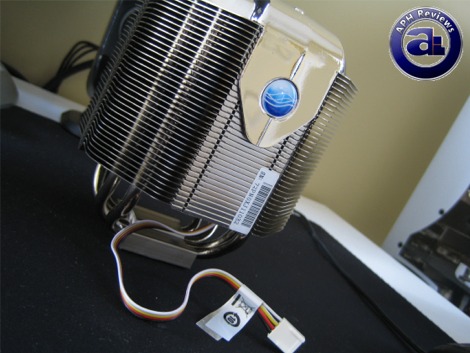 The Asus Arctic Square is definitely unique in its own sense. While typical heatsinks have the fan on top of the heatsink, in front of the heatsink, behind it, or whatever, Asus implemented the 92mm fan inside the Arctic Square. Quite unique? It is in my opinion -- you don't really see the fan at all.
The unique design also allows the Asus Arctic Square to bring air over VRMs as well as components near the heatsink; including airflow over northbridge. Probably a great choice for NVIDIA chipset based boards haha.
The fins of Asus' Arctic Square consists of primarily aluminum, weighing at 666g (I think they are trying to tell you something here...*wink* <-- That was Herbs, thanks Mr Editor). Because you can't really see the fan in the Asus Arctic Square, labels are engraved onto the heatsink displaying direction of air flow. On both sides there is the same circular icon with a blue and white color scheme to portray a sense of arctic feel.
With regards to the Asus Arctic Square, it features a 4-pin PWM connector for newer motherboards.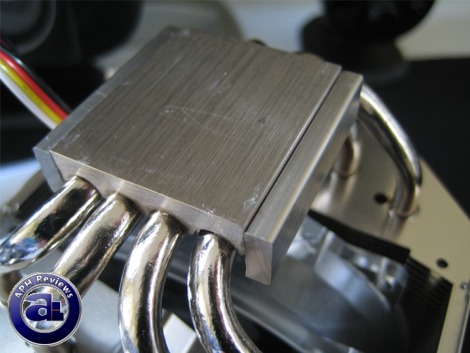 A closer look at the base of this heatsink. Asus claims that this is a copper base with four copper heatpipes; although, well, it is not the color of copper. Four heatpipes lead in both directions for a complete 'U' design.
One thing I noticed about Asus Arctic Square's base is that the lapping job is not quite up to the standard. Machine marks are clearly noticeable; and definitely no shine to it. Asus could have done a much better job in smoothing out the base to increase heatsink performance.
Otherwise, welding job and metal joints are done pretty well on this heatsink.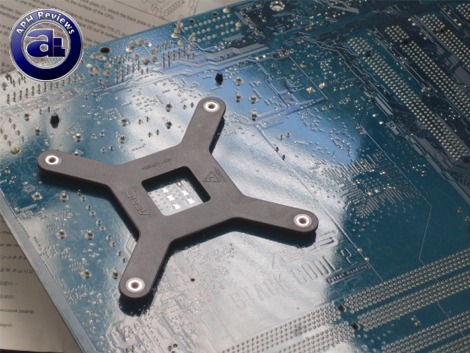 After peeling off an adhesive cover, the perimeter of a square with adhesives to it is revealed. This is to assist in attachment to your motherboard, although it will only hold it temporarily in its place; it is not strong enough to do so when attaching the screws later on -- you will need to reach your hand behind the motherboard to keep it in its place when putting the screws in.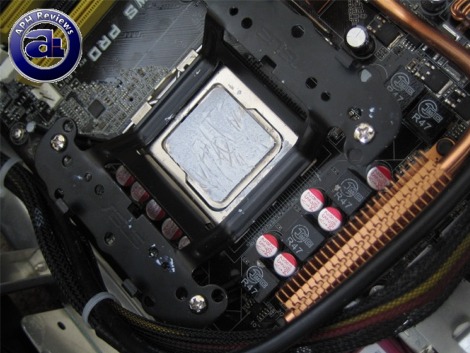 The Arctic Square installation bracket goes over LGA775 socket cover bracket, and is attached by four long screws. Unfortunately, if you need to swap CPUs, you will need to remove the bracket -- meaning that with the screws removed, you will need to somehow keep the backplate in its place during the uninstallation and reinstallation routine.
However, usage of screws and a retention clip through the Arctic Square will guarantee a tight fit, all without issues of stock mounting holes with Intel's LGA775.
---
The Tests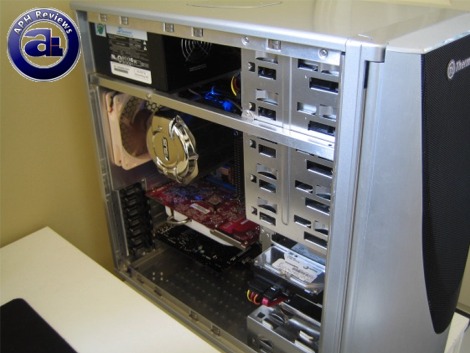 Neat cabling FTW!
CPU: Intel Core 2 Duo E6300 @ 2.80GHz (400MHz*7)
Motherboard: Asus P5W64-WS Professional
RAM: OCZ Flex XLC PC2-6400 2x1GB @ 4-4-4-10, 1:1 with CPU
Graphics: Asus EAX1950PRO 256MB
Case: Thermaltake Aguila (Noctua NF-S12-1200 @ 600RPM - Front; NF-S12-800 - Back)
Power: Seasonic M12 500W
Sound: Creative X-Fi XtremeMusic
Optical Drive: NEC AD-7170A 18X DVD+/-RW
Hard Drive: Seagate 7200.10 320GB 16MB SATA2
Operating System: Microsoft Windows XP Professional SP2
All tests were run with the computer in an upright position, case door closed, in order to achieve the most accurate and real-life results. The computer remained in the same location in the same room throughout all tests. The room temperature is around 24c. Arctic Silver's Ambrosia HT thermal paste was used for its 30-minute minimum break time; all pastes were given a proper amount of time for them to fully settle. The fan on the Asus Arctic Square will be directly connected to the motherboard's 4-pin connector. Computer is turned on and idling for at least 1 hour for the idling tests. High CPU load results were obtained using Orthos multithreaded large FFTs test for a minimum of 30 minutes.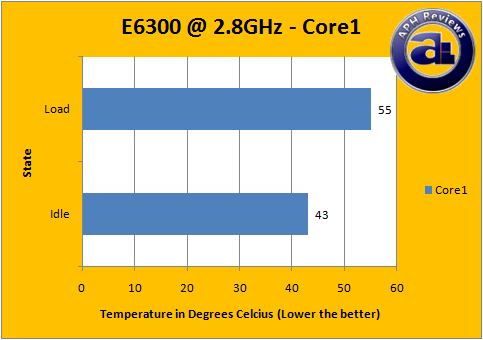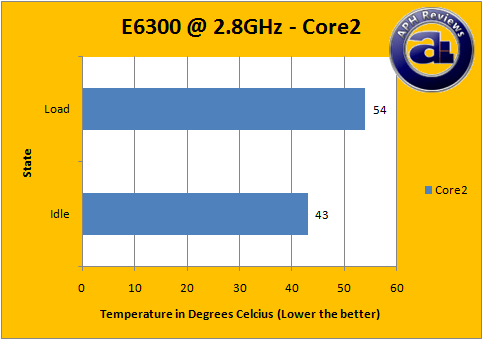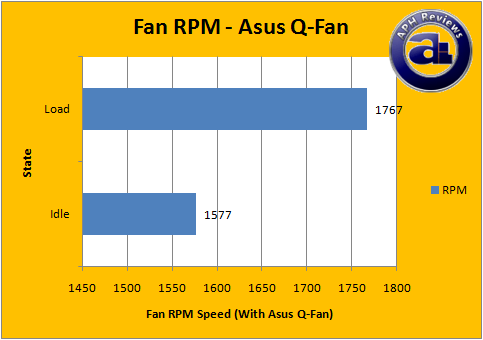 Idling temperature results were pretty good. Because of our low RPM fans inside our test system (I am a big fan of quiet computing), case temperature was roughly 37 to 38 degrees Celsius. At this rate, 5-6 degrees above case temperature is acceptable. Because we have Asus Q-Fan enabled on PWM/Silent Mode in the BIOS, the fan on the Asus Arctic Square moves at 1577 RPM +/- 5% idling -- therefore the result weren't bad.
Once we load down the CPU using Orthos, processor temperature on both cores rose to 55 to 56 degrees, respectively -- a 12 to 13 degrees Celsius increase over idle. This is certainly not the best result I've seen, possibly due to the fact that the 92mm fan needs is not as effective as a 120mm at 1200RPM even though the Arctic Square's fan is spinning at nearly 1800RPM.
Asus claims that it will cool down components surrounding the heatsink, as I've mentioned earlier -- such as bringing down VRM temperatures by up to 15 degrees Celsius. This is one aspect that has not been tested in this review, and I would regard this as a limitation factor.
Also, I did not compare this heatsink against other heatsinks because in my opinion, a heatsink is important in areas such as engineering, build, noise and performance in relation to idle/load. It's hard to simulate the exact two scenarios -- the same amount of paste, application pressure, and other temperature influential factors -- including time of day, airflow and circulation of room, as well as maintaining a constant temperature.
In terms of quietness, this heatsink is clearly not as quiet as the Scythe Infinity, even with Asus Q-Fan enabled on Silent Mode. However, the sound level at 1500RPM is acceptable, and performs at a decently quiet fashion. It's not the quietest, but it's certainly not loud at all. Therefore, I would rate the noise level on this product from 0 (Quietest) to 10 (Loudest), with a Noctua NF-S12-800 at 1.5, I would give the Arctic Square a 3.5, subjectively.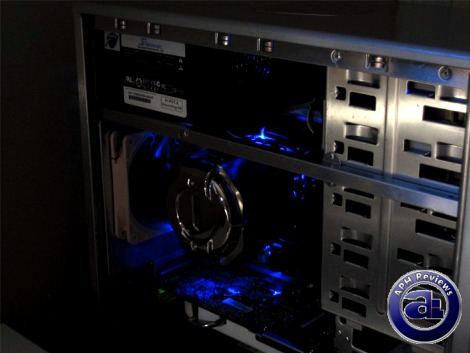 Blue LEDs at night.
In conclusion, the Asus Arctic Square is actually a pretty good heatsink. It's definitely not a disappointment. Although installation requires removal of a motherboard, such method will guarantee a tight attachment. Design is very unique; combined with an aesthetically pleasing implementation suitable for most windowed cases -- blue LEDs at the bottom is an added plus. Build quality is in general very good with regards to construction and welding; the lapping job on the heatsink base can certainly be improved -- as this would surely increase cooling performance. And, if they make a larger version with a quiet 120mm fan, it would be perfect. Or at least if the 92mm fan is quieter and slightly more efficient, that would certainly be welcomed as well.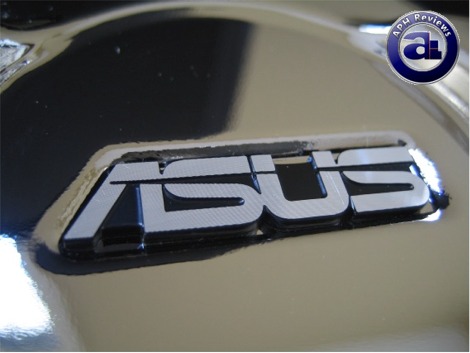 Special thanks to Asus for making this review possible.
Rating: 7.2/10
- The rating 7/10 means "Great product with many advantages and certain insignificant drawbacks; but should be considered before purchasing".
- The rating 8/10 means "Definitely a very good product with drawbacks that isn't likely going to matter to the end user".
- More information in our Review Focus.
Unique heatsink with a great design. Lapping job on heatsink base can be improved, along with a just slightly quieter fan.
Do you have any comments or questions about the ASUS Arctic Square? Drop by our Forums. Registration is free, and it only takes a minute!