By: Jonathan Kwan
January 12, 2008
NVIDIA's release of their G92 based graphics card has so far been nothing but a total success amongst enthusiasts. The die shrink not only permitted cards to run cooler and thus use less electricity, but also improvements have been made for higher efficiency reflected by its incredible performance. The first card rolled out is the NVIDIA GeForce 8800GT -- the card that outperformed the previous generation G80 based 8800GTS. Next came the G92 based 8800GTS that outperformed once a flagship graphics card from the company. A lot of times, I find myself looking for an excellent cooler in the market before digging for a video card; not for overclocking but for the silence. When I heard that Arctic Cooling's Accelero S1 that I have sitting on my Radeon X1950 Pro is actually compatible with the 8800GT, it did not take me long enough to realize that I had a truly winning combination for performance enthusiasts and quiet PC enthusiasts alike. Today, we'll take a look at the Asus version of the 8800GT -- the Asus EN8800GT TOP 512MB -- which is not just any 8800GT as it's pre-overclocked, under warranty, straight from the factory. Although factory overclocked cards aren't uncommon nowadays, this one is one of the fastest and most readily available 8800GT on the market today, comes with Company of Heroes: Opposing Fronts game, a plethora of cables, and a really, really big retail box. Let's see how the Asus EN8800GT TOP 512MB (Or what we will refer to as the Asus 8800GT TOP) runs through our tests today.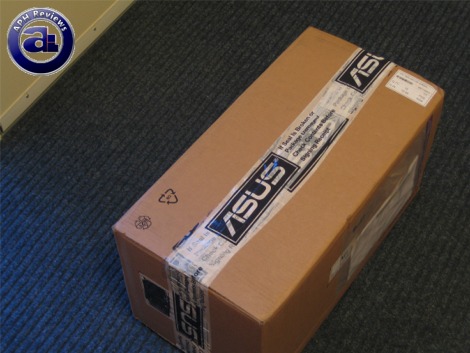 Our review unit of the Asus 8800GT TOP came in a huge, but rather light, corrugated cardboard box from Asus' offices in Fremont, California using FedEx International Priority. Everything inside was well packaged to contain our retail box of the Asus 8800GT TOP.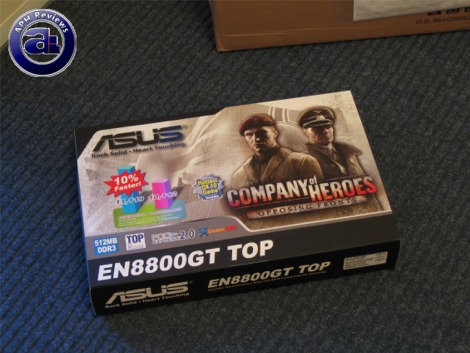 One of the 'biggest' things about Asus high end graphics cards is its absolutely huge retail box (Get it?) -- hence the reason for its large shipping box as well. Like the Asus branded 8800GTS we took a look at back in July 2007, the box is equally as large with a very similar design scheme -- along with the name of the graphics card, is also the promoted game printed all over the front. In this case, the Asus EN8800GT TOP comes with Company of Heroes: Opposing Fronts, a popular RTS game.
Inside the front flap is an Asus Gamer OSD promotion, and on the top surface of the box is a description of Company of Heroes with screenshots; a bit similar to retail game boxes itself. At the back of the box posts the card's features and other technical information in more than half a dozen languages.
Before we move on, let's take a look at the specifications of the Asus EN8800GT TOP 512MB, as obtained from Asus' website and modified by us for certain clarifications:
Graphics Engine: NVIDIA GeForce 8800GT (G92)
Bus Standard: PCI Express 2.0 - Backwards compatible
Video Memory: DDR3 512MB
Engine Clock: 700MHz
Memory Clock: 2GHz Effective
Memory Interface: 256-bit
DVI Max Resolution: 2560 x 1600
D-Sub Output: Yes - via DVI to D-Sub adapter (1 included)
DVI Output: Yes x 2 (DVI-I)
HDTV Output: Yes - YPbPr
HDCP Support: Yes
TV Output: Yes
Adapter/Cable Bundled: Yes (S-Video to Composite)
PCB size: 4.376 inches x 9 inches
Out of the box, you will receive the following:
- Asus EN8800GT TOP 512MB (NVIDIA GeForce 8800GT 512MB, factory overclocked)
- Component video cable
- Molex to 6-pin PCIe power adapter
- DVI to VGA adapter
- Company of Heroes: Opposing Fronts game DVD
- Couple of driver/utilities CDs
- Quick setup menu
- Asus CD/DVD case
---
Page Index
1. Introduction, Specifications, Bundle
2.
NVIDIA 8800GT Architecture
3.
A Closer Look, Test System
4.
Benchmark: FEAR
5.
Benchmark: Prey
6.
Benchmark: Half Life 2: Lost Coast
7.
Benchmark: CS:Source HDR
8.
Benchmark: 3DMark06
9.
Power Usage, Overclocking
10.
Noise Factor and Conclusion