Page 3 - A Closer Look, Test System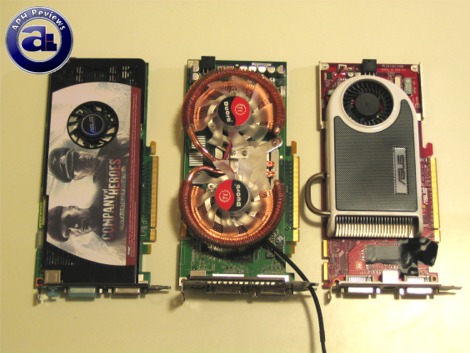 From the left is the Asus EN8800GT TOP 512MB, a modified 8800GTS 320MB with a Thermaltake DuOrb, and finally the Asus X1950 Pro with the unique Asus heatsink. Measured to nearly 23cm, the Asus 8800GT TOP is nothing new in terms of length -- it's no longer and no shorter than the rest of the cards as shown above. Most people should have no problems fitting those into their cases, which is definitely a positive. Any longer such as the 8800GTX would start to cause issues, but so far it's just fine.
The Asus 8800GT TOP's heatsink promotes a Company of Heroes: Opposing Fronts design on it. The relatively simple stock heatsink is the same as the rest of the NVIDIA stock 8800GT heatsinks with a small fan on the side; this one has the Asus logo on it with Asus' slogan of "Rock Solid - Heart Touching".
All possible unused connectors are capped on the Asus 8800GT TOP; including one DVI port, TV out, and the SLI bridge connector. Heatsink mounting method with a dozen of spring loaded screws scatter all over the PCB is used once again, as we've previously seen on NVIDIA boards. The only difference is... notice how thin it is? Yeah, I really haven't seen a single slot performance video card for quite a while!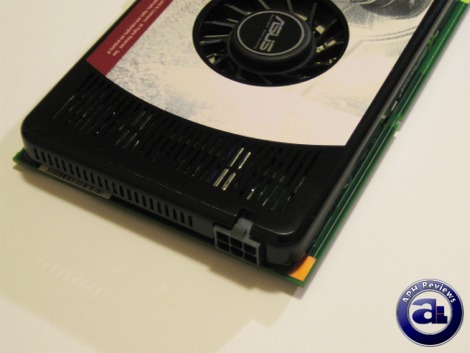 Vents are on one end of the heatsink opposite of the external connectors. The heatsink covers pretty much the whole graphics card to cover not only the GPU core, but also memory and VRMs. The 6-pin PCIe connector are located on this end as well; facing forward and located near the opposite side of the PCIe connector.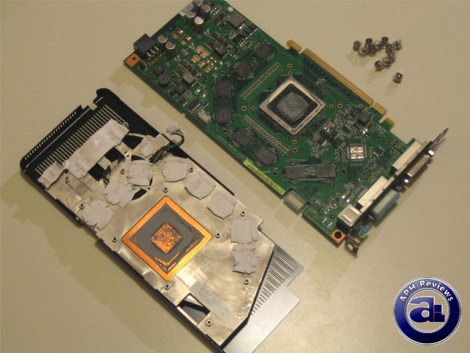 Taking off the heatsink reveals the relationship between the heatsink and the 8800GT board itself. As previously mentioned, the heatsink covers almost the entire PCB and contacts eight memory chips for cooling in addition to the GPU core and VRMs. White thermal pads are between the VRMs and RAM chips, while thermal paste is used on the GPU core.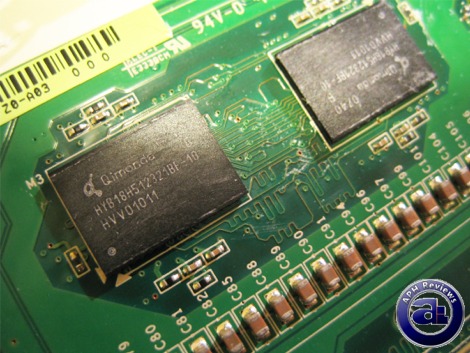 The Asus 8800GT TOP uses Qimonda HYB18H512321BF-10 memory chips; eight in total on the PCB. These GDDR3 RAM runs at stock 1GHz at 2.0V.
Specifications as obtained from the manufacturer's website:
- Densities: 256 Mb - 512 Mb
- Organization: 8Mx32, 16Mx32
- Speed: up to 1 GHz clock speed, 1.2 GHz coming up soon
- Bandwidth: up to 9.6 Gbytes/s
- Package: Chip Size Package JEDEC FBGA-136
- Matched Impedance I/O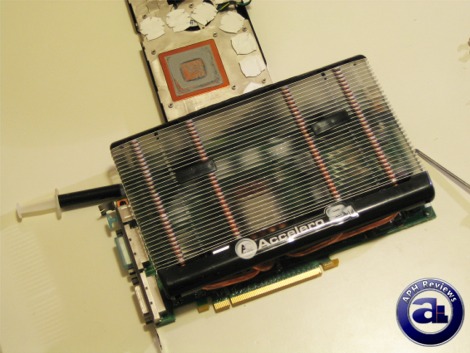 We've actually taken off the stock heatsink and modified it by installing an Arctic Cooling Accelero S1 to passively cool the card. It's really a great thing for me, especially when I am really into silencing my computer without sacrificing performance -- this really comes in handy.
The 8800GT works without any problems after a month of testing on this new cooler; Arctic Cooling claims that the VRMs does not need additional cooling -- we can confirm that it does work flawlessly even in this case. A minimum case airflow for negative air pressure that brings a bit of air over the fins of the heatsink is required, however.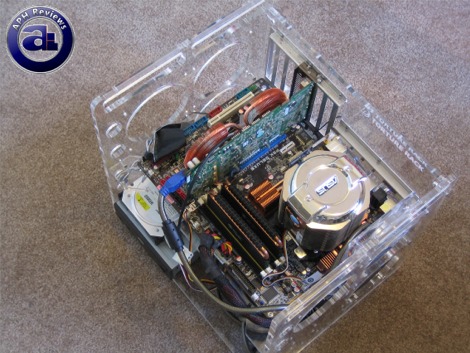 Our test platform showing a modified NVIDIA GeForce 8800GTS 320MB loaded up for the comparative benchmarks.
CPU: Intel Core 2 Duo E6300 @ 2.80GHz (400MHz*7 - 1600MHz FSB QDR)
CPU Cooling: Asus Arctic Square
Motherboard: Asus P5K-Deluxe/WiFi-AP
Chassis: Danger Den Torture Rack (1x Thermaltake 120mm LED Fan)
Power: Tagan TurboJet 1100W
Sound: Integrated ADI SoundMAX 1988B
Optical Drive: Liteon 16X DVD-ROM
Hard Drive: Western Digital Caviar 7200RPM 80GB 8MB Cache
Operating System: Microsoft Windows XP Professional SP2
Compared graphics cards:
- ATI Radeon X1950 Pro 256MB
- NVIDIA GeForce 8800GTS 320MB
- Asus EN8800GT TOP 512MB (NVIDIA GeForce 8800GT 512MB @ 700/2000)
All games were ran at maximum possible settings; the only manipulated variables are AA and AF.
---
Page Index
1.
Introduction, Specifications, Bundle
2.
NVIDIA 8800GT Architecture
3. A Closer Look, Test System
4.
Benchmark: FEAR
5.
Benchmark: Prey
6.
Benchmark: Half Life 2: Lost Coast
7.
Benchmark: CS:Source HDR
8.
Benchmark: 3DMark06
9.
Power Usage, Overclocking
10.
Noise Factor and Conclusion