By: Jonathan Kwan
December 15, 2007
Searching high and low for a new cooler for an NVIDIA 8800GTS, most people realize quickly that there aren't a lot out there even over a year of its release. What I am specifically looking for is something that's readily available, priced reasonably, performs decently, looks great, preferably doesn't occupy the next two slots below it, and above all, quiet. Thermaltake designed a product that on paper fits into all the categories I am looking for -- the Thermaltake DuOrb. Utilizing a pure copper design with heatpipes to distribute the heat around and two fans to blow the heat away, the Thermaltake DuOrb does not occupy any more space than the stock 8800GTS cooler. How well does the Thermaltake DuOrb fit our bill as a graphics card cooler in real life? Let's have a look at this unique heatsink/fan combination today.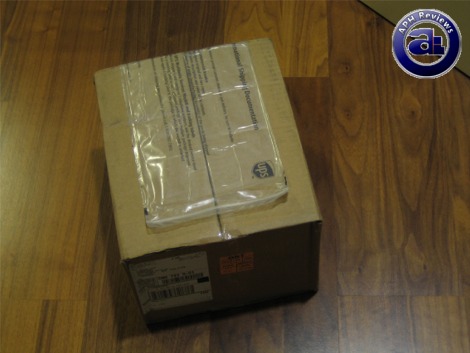 Our Thermaltake DuOrb arrived in a comparatively large cardboard box using FedEx International Economy (Interestingly, with UPS logos) from Thermaltake's USA offices in California. I did not realize until almost 10 in the evening that a package was residing outside my door -- until I opened my door to check haha.
Inside the box was filled with packing peanuts, securely to ensure that our Thermaltake DuOrb arrives in perfect working condition.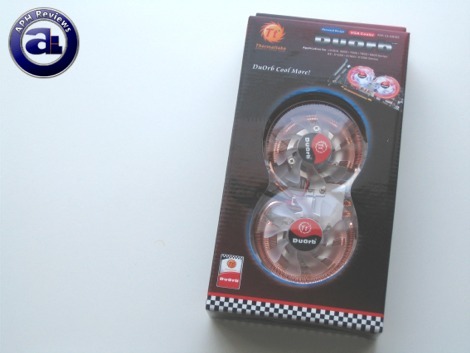 Our review unit of Thermaltake's DuOrb VGA cooler came in retail packaging, as usual from products from Thermaltake sent to us. With a red and chestnut color scheme, the approach taken by Thermaltake for its retail implements a tall vertically oriented design; with a center window cut and shaped to display the front face of the Thermaltake DuOrb itself behind a PET shell. Across the front is the slogan "DuOrb Cool More"; initially I was wondering why this caption is so familiar -- possibly in connotation to Intel's dual core slogans ("Dual core. Do more").
Diagrams, pictures, and product highlights are printed on the left and right side of the box; with specifications and features printed on the back. Since we are speaking of that, let's take a look at the product features and specifications, as obtained from Thermaltake's website:
P/N: CL-G0102
Compatibility:
NVIDIA 8800 GTS/GTX/Ultra
NVIDIA 7900 GS/GTX
NVIDIA 7800 GS/GT/GTX
NVIDIA 6800 GS/GT
ATI X1950 PRO/XT/XTX
ATI X1900 GT/XT/XTX
ATI X1800 GTO/XL/XT
Dimension:(L)180.5 x (W)98.5 x (H)30 mm
Heatsink Material: Copper base & Copper Fin
Heatpipe: 6 mm diameter x 2pcs
Fan Dimension: 80 x 15 mm x 2pcs
Rated Voltage: 12V
Started Voltage: 7 V
Max. Air Flow: 23.8 CFM
Max. Air Pressure: 2.9 mmH2O
Fan Speed: 2500 RPM
Life Expectation: 50,000 hrs
Connector: 4 pin
Weight: 324g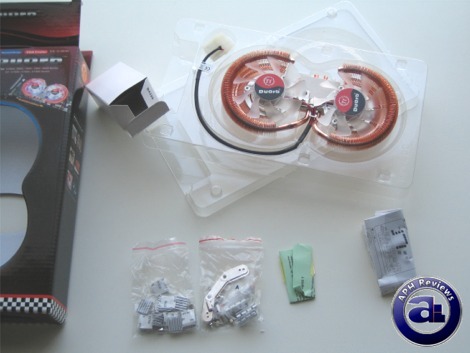 Out of the box, you will get the Thermaltake DuOrb itself, along with a plethora of mounting accessories and component heatsinks. Sliding out the PET shell from the box reveals two zipped bags of mounting accessories. Included mounting accessories allow you to mount the Thermaltake DuOrb on various ATI and NVIDIA graphics cards; an installation poster combined with instructions in various languages to direct the user on how and what accessories are to use in order to properly mount the DuOrb on corresponding graphics cards.
The Thermaltake DuOrb uses a 4-pin Molex connector. Personally, I would prefer a 3 or 4-pin motherboard connector instead for easier fan speed control, or at least an adapter -- we'll go over more of this later on.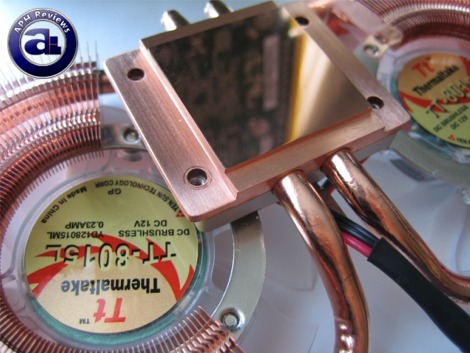 The Thermaltake DuOrb is constructed entirely out of copper for the heat dissipation segments. The copper base is designed with two copper heatpipes leading away from it; carrying the heat in different directions -- one right, one left -- since the Thermaltake DuOrb is like two heatsinks stuck together.
The heatsink base's lapping job is done pretty well with no obvious machine marks. In fact, it's pretty shiny, you can actually see the reflection of part of the 8800GTS PCB on the heatsink base.
RAM heatsinks are included out of the box as well; peeling the covers off reveals an adhesive surface on the contact area of the memory heatsinks. The adhesive material is heat activated; don't expect it to stick very well out of the box -- it was actually quite a hassle because they will keep falling off in the beginning before you can even get your graphics card into your computer. If your surface isn't clean enough, it will stop sticking -- I actually had to use a bit of some Arctic Silver Ceramique in between to make it stick. It worked quite well, since these aluminum pieces are quite light.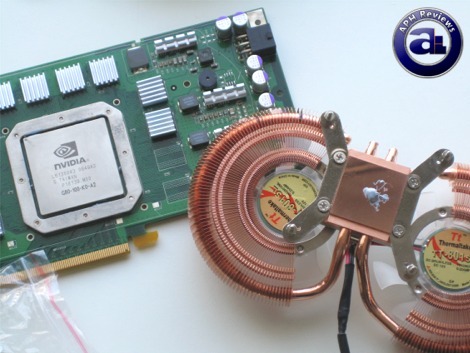 Held on by four screws, two standard mounting brackets are attached to the sides of the Thermaltake DuOrb heatsink base. Two different sets of mounting holes are located on the brackets correspondingly; for different graphics cards applications. Instructions on which set to use is located in the included installation poster.
For this article, I've used Arctic Cooling MX-2 thermal paste on the heatsink, as shown in the photo above.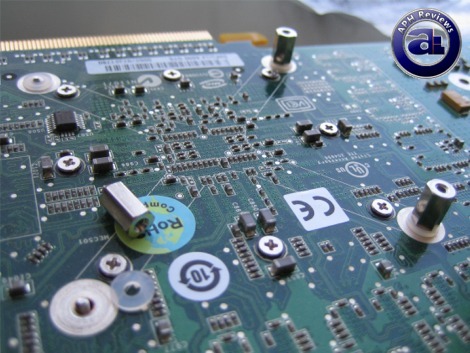 On the reverse side of our 8800GTS used for testing, the attached screws come through the stock mounting holes on the 8800GTS. Put on the included washers and the attachment nuts, and we are good to go.
The nuts are typically attached without the use of tools, so make sure you've got it on tight, as otherwise the heatsink would not function effectively due to inefficient contact with the GPU.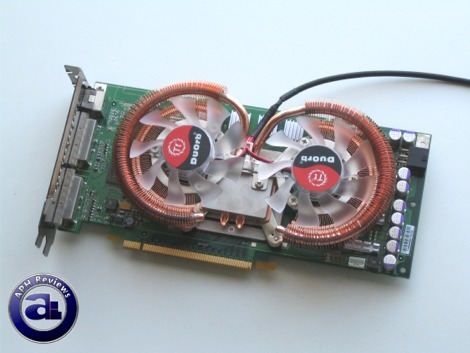 The finished product. The Thermaltake DuOrb is now installed on our test 8800GTS; covering a good portion of the unit. The design of the Thermaltake DuOrb draws air over the entire card through the heatsinks, which proves to be very efficient to cool the entire card -- especially in drawing air over the component heatsinks. Additionally, the Thermaltake DuOrb is quite light due to the low amount of copper used -- the fans are used primarily to dissipate the heat away quicky. Another major advantage is that it occupies no more space than a standard 8800GTS cooler does.
The Thermaltake DuOrb's heatsink base does not cover the entire IHS of the 8800GTS GPU, as shown in the photo above. However, it cools just fine and we did not experience any problems during usage.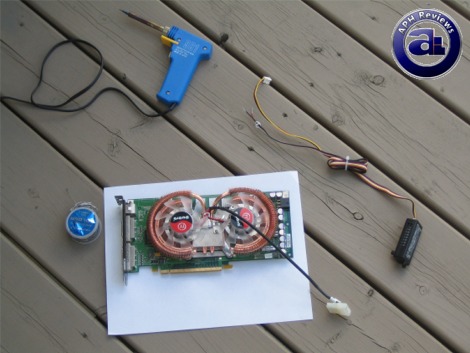 After installing the Thermaltake DuOrb into my computer and connected a 12V 4-pin Molex to the connector on the heatsink, I turned my computer on -- and I began to understand what a flight simulator without even using speakers meant. Much to my dismay, the Thermaltake DuOrb was, and still is literally one of the loudest coolers I've used -- it encompasses not one, but two loud fans. This is absolutely unacceptable for all quiet PC enthusiasts, and probably a good portion of performance enthusiasts -- I read a lot of reviews saying this heatsink is quiet and the such, but I have no idea how they got those results. Maybe sound is truly one thing that's entirely relative.
Being that, I wasn't entirely satisfied with the results -- and the 4-pin Molex is no help when it comes to speed control, especially when I don't use any fan controllers. Digging around, I found a 3-pin variable resistor I have laying around from a Zalman heatsink I bought long ago, so I ripped off the male end and exposed the wires -- grabbing a soldering gun, I soldered the wires into the active pins on the Thermaltake DuOrb's Molex connector. I then plugged the female end of the variable resistor into my motherboard.
The fan starts at 7V minimum, and the resistor still brought about enough potential difference to start the fan, except the LED is now noticeably dimmer. Regardless, problem solved -- now the Thermaltake DuOrb is now decently quiet for a good portion of quiet PC enthusiasts, and I am quite satisfied with the results even from a quiet PC enthusiast point of view. Problem solved, now onto our tests.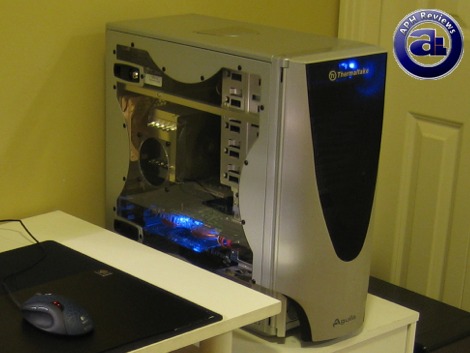 The Thermaltake DuOrb features two LED fans, which looks quite sweet in my opinion -- especially with a window. It surely adds to the design. Unfortunately, you can't turn those LEDs off even if you wanted to.
The tests are conducted with the Thermaltake DuOrb undervolted, since it is best to post the results of the heatsink reflecting real life scenario -- proper working settings -- rather than the fan on maximum and sounding like a dustbuster.
Our test system specifications as follows:
CPU: Intel Core 2 Duo E6600 @ 3.45GHz (383MHz*9)
CPU Cooling: Scythe Infinity on Noctua NF-P12 with Arctic Cooling MX-2
Motherboard: Asus P5E3-Deluxe/WiFi-AP@n
RAM: Super Talent Project X DDR3-1800 2x1GB
Graphics: Asus EN8800GTS 320MB
Case: Thermaltake Aguila (Noctua NF-S12-800 - Front; NF-S12-1200 - Back)
Power: Seasonic M12 500W
Sound: Creative X-Fi XtremeMusic
Optical Drive: NEC AD-7170A 18X DVD+/-RW
Hard Drive: Seagate 7200.10 320GB 16MB SATA2
Operating System: Microsoft Windows Vista Ultimate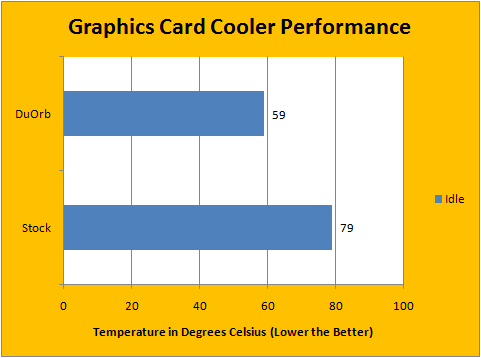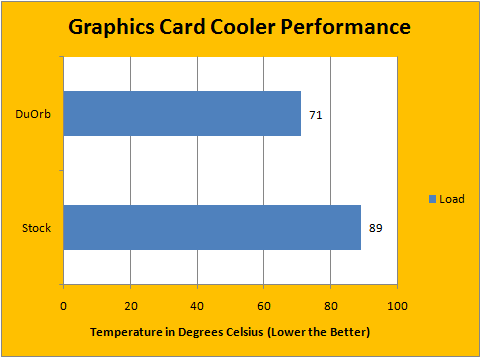 I don't have much to say here -- the charts speak for themselves. In idle conditions, the Thermaltake DuOrb on our 8800GTS, undervolted, reported a whole 20c lower temperature than our stock cooler with the same thermal paste. Under load, the change in temperature was 12c; resulting in 71c load temperature; also undervolted -- which is very impressive. These temperatures are reported by the GPU diode.
As you can see here, even with fans at low RPM (Although I don't know the numbers, since the DuOrb does not report data) it performs very well in both idle and load conditions. I don't see why Thermaltake designed it to run the fans at such high RPMs, as that's absolutely unnecessary and creates a ton of noise.
---
The Thermaltake DuOrb is a high performance cooler -- the idea is excellent, and it works very well in not only dissipating heat away from the GPU, but also drawing air over the entire graphics card. It's reasonably easy to install, and the cooler occupies only one slot below -- no more than a stock 8800GTS cooler. I also like the implementation of blue LED fans at the bottom; however for those who don't like it you can't turn it off. The biggest gripe to the Thermaltake DuOrb is that out of the box it's way too loud -- you'll want a fan controller to go with it, or at least some method of undervolting. It would be nice if Thermaltake made the DuOrb with a 3-pin motherboard connector, or at least a converter so I don't have to rip out my soldering iron again.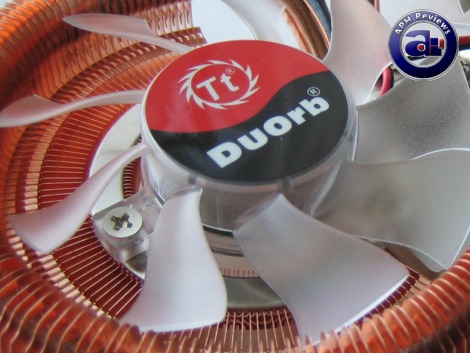 Special thanks to Ramsom over at Thermaltake for making this review possible.
APH Review Focus Summary:
7/10 means Great product with many advantages and certain insignificant drawbacks; but should be considered before purchasing.
6/10 means A product with its advantages, but drawbacks should not be ignored before purchasing.
-- Final APH Numeric Rating is 6.8/10
Please note that the APH Numeric Rating system is based off our proprietary guidelines in the Review Focus, and should not be compared to other sites.
The Thermaltake DuOrb is a well designed, high performance graphics card cooler with wide compatibility. However, a fan controller, or some method of undervolting, is highly recommended with the Thermaltake DuOrb -- unless you can stand the noise.