By: Jonathan Kwan
February 23, 2008
First came the 8800GTS, along comes the 8800GT, and then... the 8800GTS? Welcome to NVIDIA's latest naming scheme. With the original 8800GTS 320MB and 640MB is the 90nm G80 core; the latest wave of 8800 series cards include the 65nm G92 8800GT and 8800GTS -- typically distinguished by its nominal memory configuration of 512MB on board. The NVIDIA GeForce 8800GT was quite a margin faster than the original G80 based 8800GTS -- the Asus factory overclocked 8800GT TOP at 700/1000 is even faster. How about the G92 based 8800GTS, commonly known as the 8800GTS 512MB perform? Or, better yet, how will the Asus 8800GTS TOP, aggressively clocked and pretty much the fastest graphics card in its family at 740/1035, pull out on our benchmark graphs today? Besides that, we'll examine the noise factor as well as power consumption today. Let's jump right into the Asus EN8800GTS TOP 512MB review right now.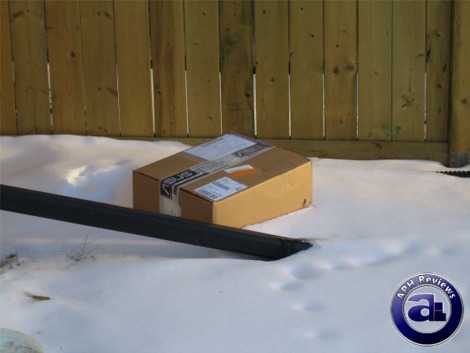 Our review unit of the Asus EN8800GTS TOP (We'll refer to it as the Asus 8800GTS TOP, NVIDIA GeForce 8800GTS 512MB, G92 8800GTS, or something to that extent in this review... yeah I know, it's confusing) came in a smaller cardboard box than last time. Using FedEx International Priority from Asus' offices in California, everything arrived safely. All except for the fact that the FedEx man dumped the package at a quite interesting fashion into my backyard, as shown above.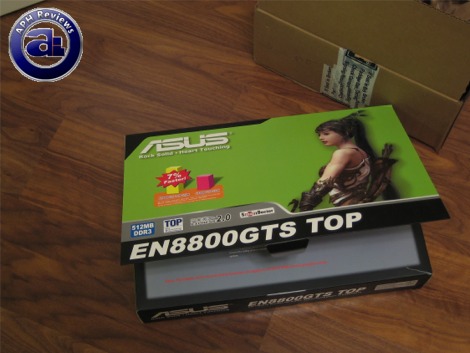 Anyways, after digging this electronic treasure out of the snow and cutting the shipping box open reveals the Asus overclocked version of NVIDIA's 8800GTS G92 in the usual large Asus retail box. Across the front brings back the design elements used on the Asus X1950 Pro we've reviewed last year, but with a new color scheme and aspects that continues the latest Asus large graphics card box design scheme. As with all TOP version, a vertical bar graph sits in front showing off the performance factor of this card against stock competitor products. No games are included out of the box, therefore there's no specific gaming scheme at the front of the box as we've seen with the original 8800GTS and Ghost Recon: Advance Warfighter as well as the Asus 8800GT TOP and Company of Heroes: Opposing Fronts.
Inside the front flap of the large retail box promotes Asus' two proprietary graphics card software -- one is the Gamer OSD, an Asus application for good stuff such as overclocking the video card, recording videos of in-game action, benchmarking FPS, or taking screenshots -- all without leaving the game. Then there's the Asus SmartDoctor -- basically a graphics card tweaking program from Asus.
Before we move on, let's take a look at the specifications of the Asus EN8800GTS TOP 512MB, as obtained from Asus' website and modified by us for certain clarifications:
Graphics Engine: NVIDIA GeForce 8800GTS (G92)
Bus Standard: PCI Express 2.0 - Backwards compatible
Video Memory: DDR3 512MB
Engine Clock: 740 MHz
Memory Clock: 2070 MHz (1035 MHz DDR3)
Memory Interface: 256-bit
DVI Max Resolution: 2560 x 1600
D-Sub Output: Yes x 1 (via DVI to D-Sub adapter x 1)
DVI Output: Yes x 2 (DVI-I)
HDTV Output (YPbPr): Yes
HDCP Support: Yes
TV Output: Yes (S-Video to Composite)
Adapter/Cable bundled: 1x DVI to D-Sub adapter, 1x HDTV-out cable, 1x Power cable
Software Bundled: ASUS Utilities & Driver
PCB Size: The card size is 4.376 inches x 9 inches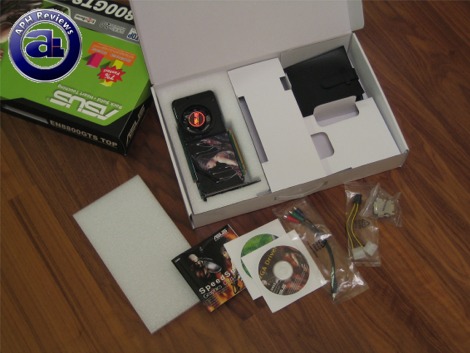 Out of the box, you will receive the following:
- Asus EN8800GTS TOP 512MB (NVIDIA GeForce 8800GTS 512MB, factory overclocked)
- Component video cable
- Molex to 6-pin PCIe power adapter
- DVI to VGA adapter
- Couple of driver/utilities discs
- Quick setup menu
- Asus CD/DVD case
---
Page Index
1. Introduction, Specifications, Bundle
2.
NVIDIA 8800GTS Architecture
3.
A Closer Look, Test System
4.
Benchmark: FEAR
5.
Benchmark: Prey
6.
Benchmark: Half Life 2: Lost Coast
7.
Benchmark: CS:Source HDR
8.
Benchmark: 3DMark06
9.
Power Usage, Overclocking
10.
Noise Factor and Conclusion