Page 9 - Power Usage, Overclocking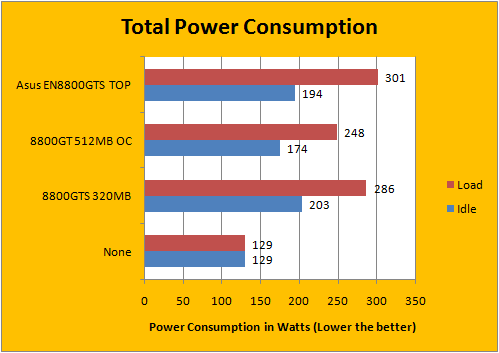 Our complete test platform with no graphics card uses 129W on idle. Being that, the load conditions cannot be measured against no graphics card since the entire system is under load, such as the CPU which will not limit to only graphics card power consumption. With that in mind, the G92 8800GTS had the highest recorded power consumption at 301W. Keep in mind that that's our maximum recorded value; the nominal power consumption for our entire test system is approximately 270W under graphical load. In idle conditions, 194W isn't bad -- with only 20W more power than the 8800GT and still roughly 10W less than the 8800GTS G80 in idle conditions. The change in power consumption is a whopping 107W when comparing idle against load for the 8800GTS G92, which is quite astounding. We do appreciate its excellent power management in idle conditions, however.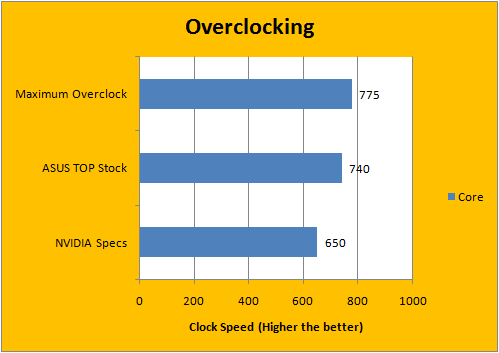 The core clocked fairly nicely to 775MHz stable; I checked my results against other users and it seems to be somewhat the norm for the Asus 8800GTS TOP. Being that, it's still quite a bit ahead of other cards -- these 'cream of the crop' GPUs really need to be good because not every single 8800GTS G92 can even hit 740MHz, although I've seen some users with rare units had their units overclocked past 800MHz -- regardless, every single 8800GTS TOP from Asus comes in at 740MHz, guaranteed. They'd better be good!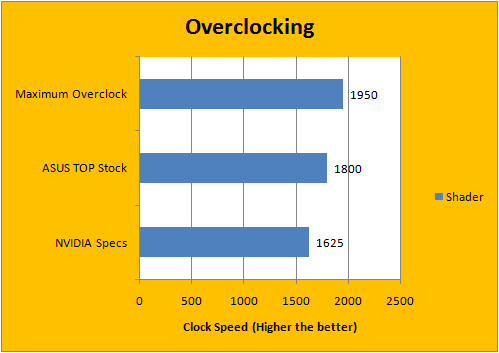 The shader overclock is pretty sweet as well. From default 1625MHz, Asus overclocked the 8800GTS TOP to 1800MHz off the bat -- seems to be a bit conservative; because most users report an average of 400MHz (25%) overclock on the shaders. Ours was no exception, however. 1950MHz isn't bad at all.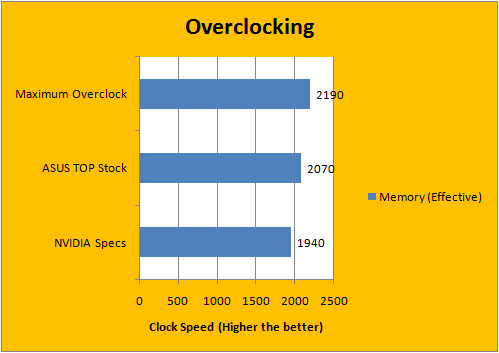 Lastly is the memory overclock. I was quite surprised at the 2190 result, because last time with our Asus 8800GT TOP which uses identical Qimonda chips only hit 2100MHz. In the overclocking world, every chip is different, and this certainly held true in this case!
---
Page Index
1.
Introduction, Specifications, Bundle
2.
NVIDIA 8800GTS Architecture
3.
A Closer Look, Test System
4.
Benchmark: FEAR
5.
Benchmark: Prey
6.
Benchmark: Half Life 2: Lost Coast
7.
Benchmark: CS:Source HDR
8.
Benchmark: 3DMark06
9. Power Usage, Overclocking
10.
Noise Factor and Conclusion