By: Jonathan Kwan
March 15, 2008
After going through several of the latest and hottest NVIDIA G92 based graphics card in the past few months, it does seem like we've been ignoring the other important player in the market -- AMD/ATI graphics cards. While they don't necessarily hold the performance crown in the single GPU market in attaining the highest FPS in games and benchmarks, they are extremely popular for the performance they give at the price you can get them for. After all, it's not always about buying the fastest video card, we all have limited budgets too, right? Nowadays, high-midrange video cards are amazingly powerful and offered at incredible price points. Of which one is the AMD Radeon HD 3870. Today, we'll take a look at the Asus factory-overclocked version of the Radeon HD 3870, and see how it stacks up in value and performance against NVIDIA GPU based boards we've tested. Plus, we can also find out how it stacks up against its previous generation cards, the X1950 series.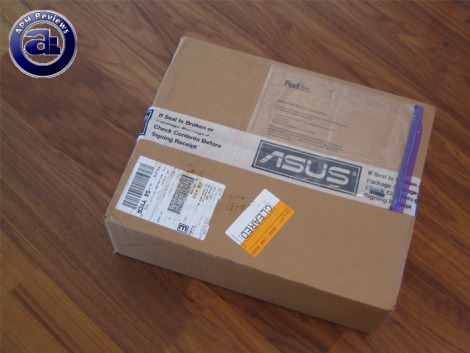 Our review unit of the Asus EAH3870 TOP (We'll refer to it as some derivative of 3870 in this review) came in a relatively smaller corrugated cardboard box from Asus' offices in Fremont, California. Using FedEx International Economy, everything arrived quickly and in perfect condition. FedEx kind of left it outside behind the pillar at my front doorstep, which was kind of snowy that afternoon -- but we are certainly glad to see the AMD 3870 -- especially since I haven't really used an ATI video card for quite a while now.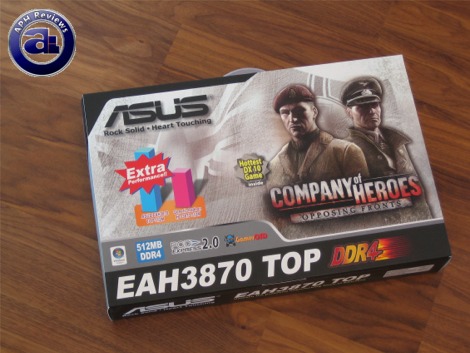 Our review unit of the Asus 3870 TOP was sent to us in its retail form; as usual from Asus. The cardboard box was large like the other graphics cards we've reviewed from Asus -- with a similar design scheme and identical box size; and this one features Company of Heroes: Opposing Fronts across the top along with the name of the graphics card. In this case, the Asus EAH3870 TOP comes with Company of Heroes: Opposing Fronts, a popular RTS game -- like the 8800GT TOP from the Asus as well.
Inside the front flap is an Asus Gamer OSD promotion, and on the top surface of the box is a description of Company of Heroes with screenshots; a bit similar to retail game boxes itself. At the back of the box posts the card's features and other technical information in more than half a dozen languages.
Before we move on, let's take a look at the specifications of this card, as obtained from Asus' website and modified for clarity:
Graphics Engine: ATI Radeon HD 3870
Bus Standard: PCI Express 2.0
Video Memory: DDR4 512MB
Engine Clock: 851 MHz
Memory Clock: 2.28GHz Effective (1.14GHz DDR4)
Memory Interface: 256-bit
DVI Max Resolution: 2560 x 1600
D-Sub Output: Yes x 1 (via DVI to D-Sub adaptor x 1)
DVI Output: Yes x 2 (DVI-I)
HDMI Output: Yes x 1 (via DVI to HDMI adaptor x 1)
HDTV Output (YPbPr): Yes
HDCP Support: Yes
TV Output: Yes (S-Video to Composite)
Dimensions: 4.376 inches x 9 inches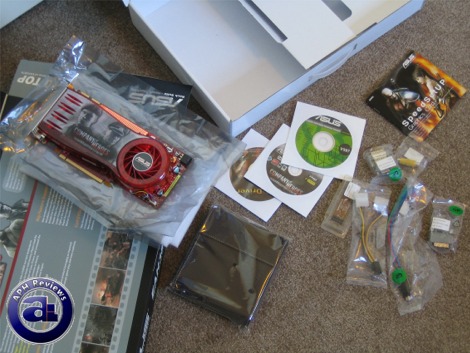 Out of the retail box of the Asus EAH3870 TOP, you will receive the following:
- Asus EAH3870 TOP (ATI Radeon HD 3870 Factory Overclocked)
- (2) DVI to VGA adapter
- DVI to HDMI adapter
- Crossfire bridge
- Component video cable
- Composite video adapter
- Molex to PCIe power cable
- The "updated" leather disc container
- Company of Heroes - Opposing Fronts disc
- Couple of Driver/Utilities disc
---
Page Index
1. Introduction, Specifications, Bundle
2.
AMD 3870 Architecture
3.
A Closer Look, Test System
4.
Benchmark: FEAR
5.
Benchmark: Prey
6.
Benchmark: Half Life 2: Lost Coast
7.
Benchmark: CS:Source HDR
8.
Benchmark: 3DMark06
9.
Power Usage, Overclocking
10.
Noise Factor and Conclusion