By: Jonathan Kwan
April 5, 2008
The last time we looked at a motherboard was the P5E3-Deluxe/WiFi-AP@n X38 motherboard from Asus roughly half a year ago. At that time, the X38 chipset was Intel's latest flagship chipset chosen to officially replace the tried-and-true 975X from last season. Lately, there's lots of news surrounding Intel's next generation flagship chipset -- the Intel X48. What makes this chipset so interesting, is that while it is not very different from X38 (It's really a cream of the crop X38, optimized with minor modifications such as official 1600MHz FSB support) enthusiasts still watched closely with Intel X48 based motherboards simply for its overclocking potential. Today, we'll take a look at Gigabyte's flagship DDR3 board featuring Intel's flagship X48 chipset, the Gigabyte X48T-DQ6. Gigabyte has been gathering tons of attention ranging from hardcore overclockers to the relatively casual everyday enthusiasts lately -- and with their latest flagship board with one of the best chipsets available on the Intel platform, what can Gigabyte's engineering team put together and run it through the factory to our testing platform? The packaging of a high end board, and tons of enthusiast oriented features -- as I gathered together tons of excitement, as well as nothing less than high expectations from the moment I laid my eyes upon this board, we'll see how the Gigabyte X48T-DQ6 steps up against the rest.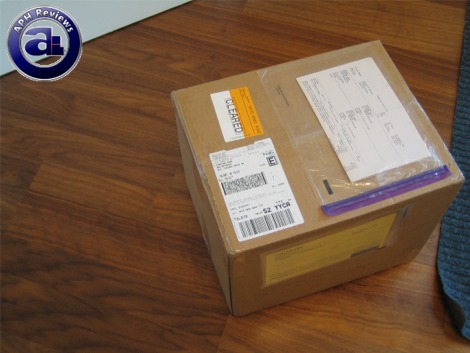 Our review unit of the Gigabyte X48T-DQ6 motherboard arrived in a large, almost cubic, corrugated cardboard box from Gigabyte's offices in City of Industry, California. Using FedEx International Economy, everything -- including the box -- arrived in perfect condition. Interestingly, the Monday would be the first of three times that FedEx ended up going to drop by us to deliver packages that week.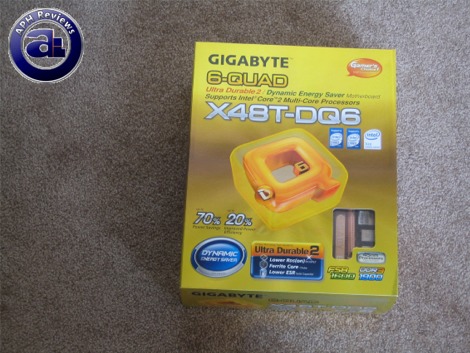 Our review unit of the Gigabyte X48T-DQ6 arrived in a large and heavy retail box -- something that even we haven't seen from Asus except for their video cards -- including the Asus 8800GT TOP, Asus 8800GTS TOP, Asus 3870 TOP, and a few others. Being that, the Gigabyte GeForce 8800GT TurboForce that tagged along in the same packing box used an average sized retail box only -- we'll take a look at that graphics card in a couple of weeks.
The large motherboard box carries a golden yellow color scheme primarily throughout the box, with Gigabyte brand logos highlighted throughout the other surfaces -- such as the "DQ6" logo at the front middle of the retail package. Feature highlights, along with model number, are printed across the front -- with further product highlights at the back of the box as well as the inside flap. The front flap, like high end Asus boards, are held closed by Velcro buttons. Clear plastic windows shows part of the motherboard physically inside. Talk about high end!
Opening the box further impresses me in terms of packaging. Inside the outside packaging is a thick, white corrugated cardboard box inside. What happens to be residing within is then separated into two boxes; with one clear plastic tray with clear plastic cover containing the motherboard -- and a dual section cardboard box with side flaps that holds all the accessories; such as cables and other standard miscellaneous items. It's really well packaged, neatly organized, and very convenient to repackage as well.
Before we move on, let's take a look at the specifications, as obtained from Gigabyte's website:
CPU
1. Support for an Intel® Core™ 2 Extreme processor/ Intel® Core™ 2 Quad processor/Intel® Core™ 2 Duo processor/ Intel® Pentium® processor Extreme Edition/Intel® Pentium® D processor/ Intel® Pentium® 4 processor Extreme Edition/Intel® Pentium® 4 processor/ Intel® Celeron® processor in the LGA 775 package
(Go to GIGABYTE's website for the latest CPU support list.)
2. L2 cache varies with CPU
3. 1600/1333/1066/800 MHz FSB
Chipset
1. North Bridge: Intel® X48 Chipset
2. South Bridge: Intel® ICH9R
Memory
1. 4 x 1.5V DDR3 DIMM sockets supporting up to 8 GB of system memory
2. Dual channel memory architecture
3. Support for DDR3 1900/1600/1333/1066/800/MHz, XMP memory modules.
Audio
1. Realtek ALC889A codec
2. High Definition Audio
3. 2/4/5.1/7.1-channel
4. Support for DTS (dts NEO:PC)
5. Support for S/PDIF In/Out
6. Support for CD In
LAN
1. Realtek 8111C chip (10/100/1000 Mbit)
Expansion Slots
1. 2 x PCI Express 2.0 x16 slots (The PCIE_16_1 slot supports x16; the PCIE_16_2 supports x16.)
2. 3 x PCI Express x1 slots (share with the PCIE_16_2 slot)
3. 2 x PCI slots
Storage Interface
- South Bridge:
1. 6 x SATA 3Gb/s connectors (SATAII0, SATAII1, SATAII2, SATAII3, SATAII4, SATAII5) supporting up to 6 SATA 3Gb/s devices
2. Support for SATA RAID 0, RAID 1, RAID 5, and RAID 10
- GIGABYTE SATA2 chip:
1. 1 x IDE connector supporting ATA-133/100/66/33 and up to 2 IDE devices
2. 2 x SATA 3Gb/s connectors (GSATAIIA, GSATAIIB) supporting up to 2 SATA 3Gb/s devices
3. Support for SATA RAID 0, RAID 1, and JBOD
- ITE IT8718 chip:
1. 1 x floppy disk drive connector supporting up to 1 floppy disk drive
IEEE 1394
1. T.I. TSB43AB23 chip
2. Up to 3 IEEE 1394a ports (2 on the back panel, 1 via the IEEE 1394 bracket connected to the internal IEEE 1394 header)
USB
1. Integrated in the South Bridge
2. Up to 12 USB 2.0/1.1 ports (8 on the back panel, 4 via the USB brackets connected to the internal USB headers)
Internal I/O Connectors
1. 1 x 24-pin ATX main power connector
2. 1 x 8-pin ATX 12V power connector
3. 1 x 4-pin PCIe 12V power connector
4. 1 x floppy disk drive connector
5. 1 x IDE connector
6. 6 x SATA 3Gb/s connectors
7. 1 x CPU fan header
8. 2 x system fan headers
9. 1 x power fan header
10. 1 x North Bridge fan header
11. 1 x front panel header
12. 1 x front panel audio header
13. 1 x CD In connector
14. 1 x S/PDIF In header
15. 1 x S/PDIF Out header
16. 2 x USB 2.0/1.1 headers
17. 1 x IEEE 1394a header
18. 1 x parallel port header
19. 1 x serial port header
20. 1 x power LED header
21. 1 x chassis intrusion header
Back Panel Connectors
1. 1 x PS/2 keyboard port
2. 1 x PS/2 mouse port
3. 1 x coaxial S/PDIF Out connector
4. 1 x optical S/PDIF Out connector
5. 8 x USB 2.0/1.1 ports
6. 2 x IEEE 1394a ports
7. 2 x RJ-45 port
8. 6 x audio jacks (Center/Subwoofer Speaker Out/Rear Speaker Out/Side Speaker Out/Line In/Line Out/Microphone)
I/O Controller
1. ITE IT8718 chip
H/W Monitoring
1. System voltage detection
2. CPU/System temperature detection
3. CPU/System/Power fan speed detection
4. CPU overheating warning
5. CPU/System/Power fan fail warning
6. CPU fan speed control
BIOS
1. Supports QuadBIOS
2. 2 x 8 Mbit flash ROM
3. Use of licensed AWARD BIOS
4. PnP 1.0a, DMI 2.0, SM BIOS 2.4, ACPI 1.0b.
Unique Features
1. Support for Dynamic Energy Saver
2. Support for @BIOS
3. Support for Download Center
4. Support for Q-Flash
5. Support for EasyTune
6. Support for Xpress Install
7. Support for Xpress Recovery2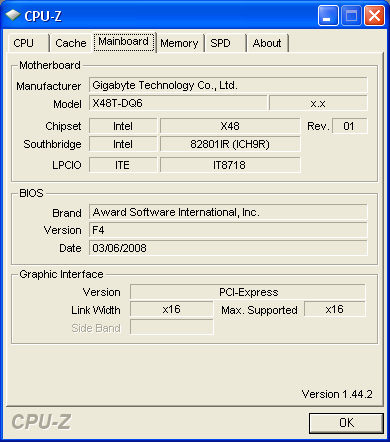 CPU-Z screenshot of the motherboard tab. We are using the latest stable version available on Gigabyte's website at press time; which is the F4 BIOS revision.
---
Page Index
1. Introduction, Features, and Specifications
2.
Bundle, Chipset, BIOS
3.
A Closer Look, Board Layout
4.
Test System; Benchmark: 3DMark06
5.
Benchmark: PCMark05
6.
Benchmark: Cinebench R10, SuperPI 1M
7.
Benchmark: EVEREST CPU
8.
Benchmark: EVEREST FPU
9.
Benchmark: EVEREST Memory
10.
Benchmark: EVEREST Memory Latency, HDTach 3.0.1.0
11.
Onboard Sound (RMAA 6.06) Analyzation
12.
Overclocking and Conclusion