By: Kenneth Kwok
January 14, 2011
We are less than half way through January, and we are already off to a great start with two new reviews for the year. To ramp things up in the next twelve months, we will try something new that we have not done before. In the past half decade or so, we have reviewed many different types of technology products. One of these products include the case fans. Interestingly, if you noticed it or not, all of these products previously reviewed were from the same company. Now Noctua is an excellent manufacturer of low noise cooling solutions. This fact is attested to with awards given to virtually every Noctua product we have ever evaluated. However, this time around, we will have something from a highly reputable manufacturer of everything from chassis to power supplies instead, and it is not Noctua. That company in question is no other than SilverStone, and they will be the second company to just send us case fans for evaluation (We have reviewed their cases and power supplies in the past). To be honest, at first I was a bit skeptical, because I did not really think SilverStone was really serious about making anything other than the run-of-the-mill case fan. But regardless of what I thought, I could not resist my interest in what this performance parts manufacturer had for us in store. So today, we have the SilverStone Air Penetrator SST-AP121-L for review, which is a 120mm fan with fancy LEDs. Let's see how this fan stacks up against the best in the industry.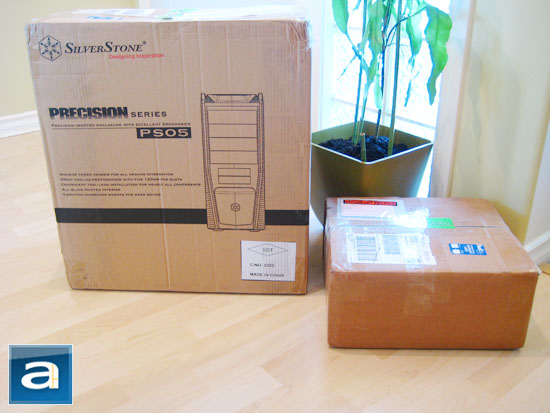 Our sample unit of SilverStone's Air Penetrator SST-AP121-L case fan came in a large brown corrugated cardboard box from SilverStone's American offices in California, USA. FedEx Ground was used to ship the package, which arrived within a week from the date on it was picked up at its origin. To the left of that package shown in our photo above is a SilverStone case we will be taking a look at in the coming weeks. Everything arrived in excellent condition, as there was a power supply inside that took up most the space in the same box. Any additional empty space was filled with packing peanuts. The only possible defects were minor scratches on the cardboard box, but that is to be expected.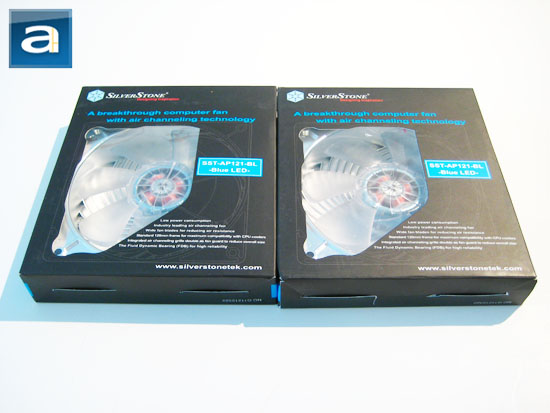 Our review sample came in retail packaging, which follows the same black, blue and white color scheme used on majority of SilverStone products, such as our SilverStone Strider Plus ST75F-P 750W we have previous reported on. A black background is used, while white and blue text is found all around in listing features, company messages and model numbers. The SilverStone logo can be found at the top left as expected. There is a small cutout on the left side with clear plastic to allow users to see the fan itself, making this great for retail displays at your favorite brick and mortar store.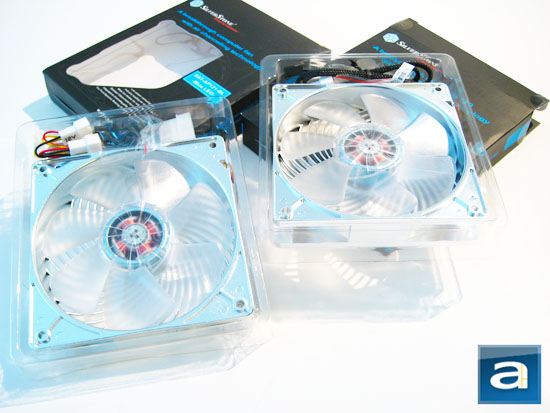 Out of the box, there are a few accessories found on the plastic tray, in addition to the fan, of course. This packaging is quite simple, since the accessories are just placed above the fan. That includes some screws, vibration dampeners, and 3-pin to Molex connector with three connectors on each. I know I am not making a lot of sense, but they are there because of the three speed setting -- I will be discussing that further on in the review. Surprisingly, there are no instructions or additional information. This does save trees, and it isn't exactly hard to install a fan anyway -- just screw it on and its ready to go. If you need anything else, it is already printed on the box.
Before we move along further, let's take a look at the specification, as obtained from SilverStone's website:
Model No:
-SST-AP121-BL
-SST-AP121-RL
-SST-AP121-GL
-SST-AP121-WL
Color:
-Transparent fan blades, silver frame
-Blue LED (AP121-BL)
-Red LED (AP121-RL)
-Green LED (AP121-GL)
-White LED (AP121-WL)
Bearing: Fluid dynamic bearing
Rated Voltage: 12V DC
Start Voltage: 5V DC
Rated Current: Max 0.33A (Actual) 0.09A
Rated Power: Max 3.96W (Actual)1.56W
Speed: 1500 rpm
Effective Airflow Range: 1 Meter
Airflow: 35.36CFM
Diameter: 120mm
Static Pressure: 1.71mmH2O
Air Speed: 2.5m/s (measured at fan exit)
Noise Level:22.4 dB(A)
Noise Reduction: Includes two speed reduction cables
Life Time: 62500 hours
Dimension: 120mm (L) x 120mm (W) x 25mm (H)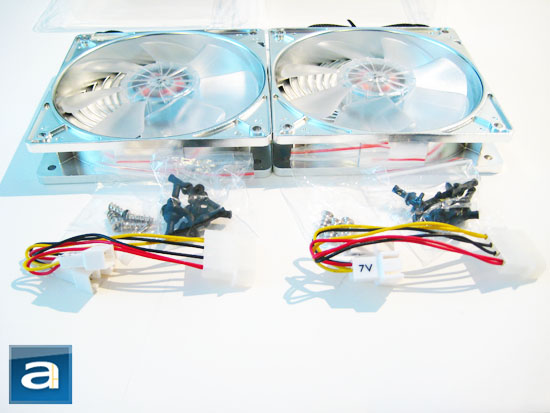 In our photo above, SilverStone sent us two identical Air Penetrator SST-AP121-BL (The "B" indicates blue LEDs) 120mm case fans for our review today. The fan itself is transparent, since there are blue LEDs embedded into it for aesthetic purposes. This will work quite well with chassis that come with a side window. The material used in the construction of the Air Penetrator SST-AP121-L is plastic, as pretty much all fans are made of it. It wouldn't exactly be wise to have spinning metal blades inside your computer, would it? Not to mention if you stick your "you know what" in there, things might not turn out so well (I am talking about your finger -- what were you thinking? [Good question. XD - Editor 1]). Anyways, the frame of the fan is painted with a metallic finish to give it a more polished look, instead of the usual plain old matte black found everywhere.
The most interesting part of the SilverStone Air Penetrator SST-AP121-L, as previously mentioned, is the adapter cable that allows for three voltage settings. These settings are used to control fan speed, which directly affects noise with airflow as its tradeoff. The three available settings are marked 5V, 7V, and 12V. Since the fan runs at 1500rpm at full voltage, then by voltage ratios it will run at 625rpm, 875rpm, and 1500rpm respectively. In a sense, this adapter is more convenient, since it combines all three connectors into one unit instead of having separate ones for each setting. However, when it comes to cabling, it would probably be better to have three cables and just to select one to reduce clutter and cabling mess. Either way, the option of having a low speed is good especially for people who enjoy quiet computing such as our Editor-in-Chief Jonathan Kwan.
In terms of blade geometry, the SilverStone Air Penetrator SST-AP121-L improves upon previous case cooling solutions from the company. The fan blades are enlarged by adding more width in conjunction with increased overlapping to provide more air pressure into the system. In addition, SilverStone claims the AP121 sends a more straightforward stream of air for faster cooling to a bigger area. This is further enhanced by a fan grille that helps focus air into a cone shaped vortex. However, even with the grille, it never hurts to add in an additional fan filter, as that further focuses the airflow, and also prevents dust from entering the system.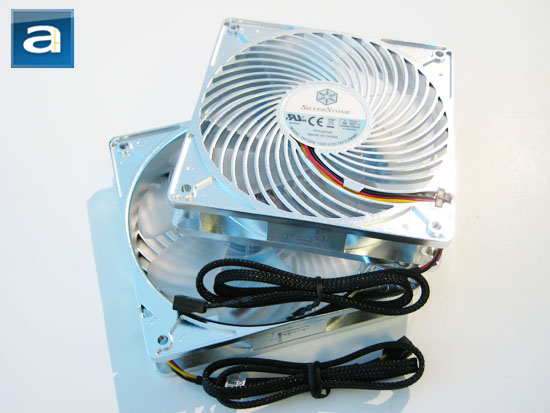 As with most products nowadays, the cable attached to the fan is sleeved -- which gives it that slick look, and feels better overall. I did not notice anything special by inspection with regards to the fan blades, and I believe some work can be done here to reduce its wind turbulence noise in application. We will go over than it just a moment Other than that, you will notice an array of integrated LEDs to give it a nice blue hue during operation. If you don't like blue, the SilverStone Air Penetrator SST-AP121-L is also available with red, white, or green lights. The cable itself is sufficiently long in most applications, and if it is not, then it is always possible to use the adapter to give it a slight boost in length.
One of the biggest challenges to a noise optimized product is to provide a high level of airflow to noise ratio, and even both of these cannot be objectively measured at all times. The most common unit of objective measurement is CFM (cubic feet per minute) of air for airflow, and dB noise, respectively. We will go over how application and CFM is related with regards to its standard measurements, but let's discuss perceived noise first.
dB (Decibels) is a logarithmic unit of sound intensity. While it provides what appears to be an objective measurement for the most part, it should be noted that perceived noise levels to the human ear, and actual sound intensity, could result in very different things. Human ears are more sensitive to particular frequencies, and when those particular frequencies are emitted from its source, it may appear louder than its numbers suggest. That same can be said vice-versa -- frequencies that human ears are less sensitive to can actually have louder dB measurements from a sound meter, yet the human ears does not perceive it to be as loud as the numbers suggest. Other factors such as turbulence noise are often not measured correctly, therefore, while it usually provides a good reference, it does not necessarily reflect real life performance.
In terms of the application and the CFM, in most cases it is usually the best to have a fan that has a high air volume flow rate, but as stated above, pure CFM values do not tell the whole story in terms of overall fan performance. Not all of it is about exactly how much air it can move per minute quantitatively, but it is also as important as how it is done in real world usage. Airflow to noise ratio is also another important aspect as aforementioned. Static pressure is also a very important part depending on the usage of it. Applications that require high resistance such as the much denser fins on a large heatsink requires a higher static pressure, while case fans needs less static pressure and faster airflow to circulate the overall system better. This is only for a difference in application so for our case fans, it would make sense to have lower static pressure and a faster airflow when using it as a case fan. On the other hand, if it is used on a heatsink it may be better to find a different alternative that has higher static pressure.
If the above few paragraphs do not sound like me, I did ninja them from Jonathan's previous reviews, haha.
-----------------------------------------
The Tests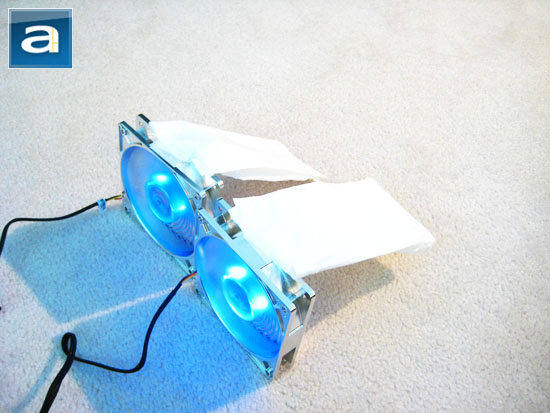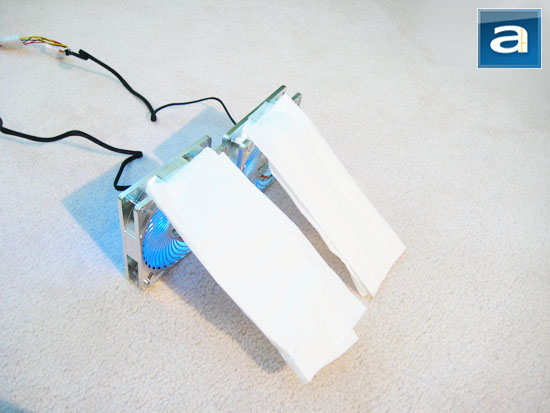 Using our tried-and-true APH proprietary 'scientific' method for measuring fan performance we devised back in 2007, it's no surprise that we're using it for this review as well. While it is not exactly the most objective method you can use (No kidding haha), there's a few attributes of fan performance that we can obtain clearly from our observations: Airflow, airflow consistency, and amount of static pressure generated. It visually portrays characteristics of each fan.
In our tissue paper test above, it is fairly obvious that the SilverStone Air Penetrator SST-AP121-L on the right moved much more air compared to the one on the left. This is because we used the 12V adapter for the right one, while the one on the left used the 5V plug on the adapter to contrast the two voltages and speeds to see how different they were. The one on the right at full speed had tons of airflow, and a relatively good amount of static pressure to keep the tissue paper floating in the air, while managing to keep the end off of the ground, due to the massive amounts of fast moving and stable air. The airflow is very consistent, and we noticed barely any fluttering.
However, the one on the left at 5V was not able to even lift up the tissue -- meaning there was a empirical lack of airflow in comparison. Since it is running at only 625rpm, it was not able to move enough air to lift it completely off the ground. The SilverStone Air Penetrator SST-AP121-L at this setting would not be the best in common application, but could be useful in some applications. The 7V setting seems to provide the best balance in its airflow to noise ratio, since it was able to lift up the tissue effectively by maintaining a steady flow of air, while generating minimal amounts of noise. Comparable case fans such as the NF-P12 seems to move a bit more air at better pressure at optimal noise settings, but the Air Penetrator is certainly no slouch in this regard.
Another important factor to a case fan is the perceived sound emitted from it. While my subjective standards may be somewhat different than what Jonathan used in his previous reviews, I have previously applied this to both case fans and power supplies for an accurate assessment of noise levels. To carry it out in practice, the fans were placed in an isolated room with no other background noise. The sound of our power supply was isolated as well to prevent inaccuracies. Upon listening to air turbulence noise in conjunction with motor noise, on a scale from 0-10 where 0 is the silent and 10 is the loudest, I found that at 1500rpm, the noise was quite noticeable -- obtaining a score of around 4.5-5.0 on the scale in my personal opinion. At 875rpm, it was down to a near inaudible 1.5-2.0, yet maintaining a reasonable amount of airflow. Finally, at 625rpm, it was nearly silent for a rating of 0.5-1.0. Although the noise level was low at 625rpm, it was simply not very practical to operate it at 5V. SilverStone could probably to lower wind turbulence noise and take it to the next level to give Noctua case fans a run for its money.
-----------------------------------------
So, after all these Noctua reviews, we finally found a viable contender in high performance, low noise case fans. While both takes a different approach in blade design for the ultimate silence, with the Air Penetrator, Noctua really have something to worry about when it comes to high performance silent computing. SilverStone did a commendable job at creating a cooling fan that will appeal to most consumers. With blue LEDs to give it that "cool" look in illuminating the case, as well as the metallic finish for a sleek modern appearance, we have no questions about its physical attributes. The SilverStone Air Penetrator SST-AP121-L also delivered adequate static pressure as well as very good airflow at the highest setting. Although it is quite audible at 1500rpm, the addition of the adapter with three voltage settings is a nice touch to reduce its noise level by slowing it down. The 875rpm @ 7V setting seemed to be just right by striking a balance in airflow, static pressure, as well as a low noise. The 625rpm setting was just not worth it in my opinion; it was simply too slow to make up for negligible noise differences. The problem with this approach is possible clutter in a case, due to other two adapters being left unused. On the other hand, the inclusion of all the accessories was a good move to make sure mounting the fan was easy, and vibration dampeners come in handy to eliminate associated noise. Overall, the SilverStone Air Penetrator SST-AP121-L is a very good fan. It does exactly what it should, and is pretty feature packed for an LED case fan. Retailing at around $18 at press time, the Silverstone SST-AP121 is a great choice for those a LED fan that performs as well as it looks.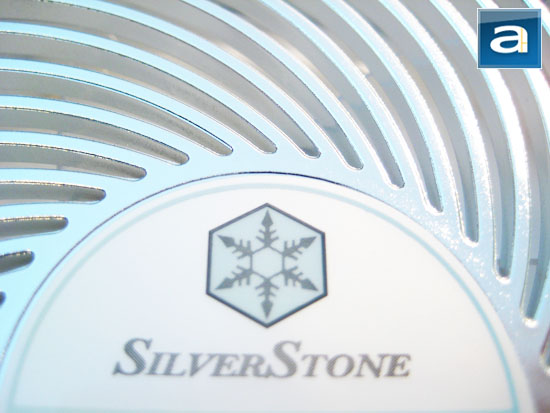 SilverStone provided this product to APH Networks for the purpose of evaluation.
APH Review Focus Summary:
8/10 means Definitely a very good product with drawbacks that aren't likely going to matter to the end user.
7/10 means Great product with many advantages and certain insignificant drawbacks; but should be considered before purchasing.
-- Final APH Numeric Rating is 7.7/10
Please note that the APH Numeric Rating system is based off our proprietary guidelines in the Review Focus, and should not be compared to other sites.
The SilverStone Air Penetrator SST-AP121-L is a great case fan for those who want a fan that performs as well as it looks.
Do you have any comments or questions about the SilverStone Air Penetrator SST-AP121-L? Drop by our Forums. Registration is free, and it only takes a minute!