By: Jonathan Kwan
Septmeber 8, 2007
It's been quite a while since we last took a look at a power supply. Power supplies are interesting products -- because often, reviews of products in this category are conducted and tested in methods that make it difficult to distinguish one power supply from another. Many aspects have to be taken into consideration -- of which certain criteria consists of efficiency, noise, power ripple, and of course the ability to pull out the rated specifications. Because many cannot afford such equipment to obtain results regarding those aspects, articles covering power supplies often come out with less than adequate information. We cannot say that we haven't once fallen into a similar trap, although we still stand by our recommendations -- because the products we've recommend were tested with professional equipment which already clearly demonstrated to us that they are indeed excellent products! However, we will go for a different approach as we report on the Tagan ITZ 700W power supply today -- let's have a close examination on the hardware aspects of it, and let other review sites with professional equipment show you the results. After all, the internet is the place for researching your hardware components!
Our evaluation unit of Tagan's ITZ 700W power supply arrived in a large corrugated cardboard box that also contained the Icy Box IB-220U-Wh we've reviewed last week. After picking up this large box from the post office -- which indeed is 5 minutes walking distance away from here, but I drove there anyway -- I opened it to reveal its contents. All gaps are filled tightly with an abundance of packing peanuts, to make sure everything inside arrives without bumps and rips. It did its job perfectly, and we are onto our report today!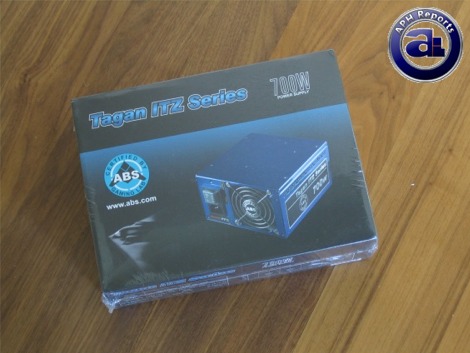 The film plastic sealed retail packaging of Tagan's ITZ 700W power supply is contained in thin cardboard box for its outer packaging. Simple black and baby blue color scheme design is used on the packaging to compliment the style of the power supply itself. A simple stock image of the power supply is displayed in front, along with information located in various other locations on the box itself.
Before we move on, let's take a look at the specifications of this product, as obtained from Tagan's website:
---
Overview
- Compatible with Intel EPS12V Ver.2.91/ATX12V Ver.2.2 and downward versions.
- Over 80% efficiency means money saving due to the reduction of heat loss.
- TSTC (tagan Silence Control Technology) keeps power supply running at "Super Low Noise" level.
- Four build-in PCI-E cables support SLI and Crossfire high-end graphic cards for perfect display.
- All Cables with mesh offer optimized airflow for system cooling.
- Internal Short-circuit, over current, and over voltage protection to save your devices.
Special Features
Up to Quad Card Support.
Patented 20+4 Cable Design.
Environmentally Friendly at Over 80% Efficiency.
Gold Plated connectors.
Thermal Control Cooling Fan.
REMI Technology for EMI Reduction.
Extra Ground Wire to Further Reduce Static Noise.
Advanced Pull-n-Push Heat Dissipation Architecture for Maximized Cooling and Noise Reduction.
Manual +12V TURBO POWER switch.
Low ripple and noise.
100% Hi-Pot Tested.
Titanium coating mirror case.
Detailed Specifications
Article Name: TG700-U33 ITZ Series
Article Number: 10074
Power Max: 700W
Protections:
Over Current/Yes, Over Power/Yes, Over Temp/Yes, Over Voltage/Yes
Under Voltage/Yes, Short Circuit/Yes
Type: ATX12V/V2.2 & EPS12V/V2.91
dB: 25@2210RPM
Fans included: 2x80mm
Connectors:
1xMain(20+4pin)
1x12V(4+4pin)
1xPCI-Express(6pin)
1xPCI-Express(6+2pin)
6xPeripheral Molex(4pin)
8xSATA(15pin)
2xFloopy(4pin)
1xGround Wire
Input Frequency Range: 50/60Hz
Input Voltage: 100-240Vac
Input Current: 12-6A
Output: +3.3V@24A, +5V@26A, +12V@56A(4 Rails), -12V@0.8A, +5VSB@3.0A
Approvals: TUV, UL, CE, CB, FCC, Semko, Nemko, Demko, and Fimko
Warranty: 3(yrs)
Gross Dimensions: 12.20*9.06*4.02(W*H*D, in)
Dimension:Standard ATX Size (Fits into any case)
Gross Weight: 7.54(lbs)
Packing Unit: 1(pc)
Contents of 1 carton: 6(pcs)
Country of Origin: PR China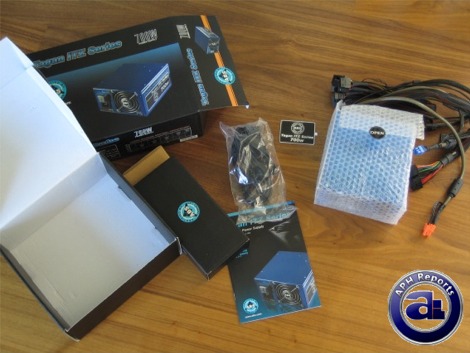 Inside the cardboard retail box are two things: The power supply itself enclosed in a pre-shaped bubble wrap, and another slim box to contain accessories. Only basic material is included with Tagan's ITZ 700W power supply -- a booklet, power cable, case sticker, and the power supply itself.
---
Page Index
1. Introduction, Packaging, Specifications
2.
Physical Look - Outside
3.
Physical Look - Inside
4.
Minor Tests and Conclusion