By: Kenneth Kwok
July 5, 2013
One night, while I was on Teamspeak, two of my friends got into an argument after a frustrating match in League of Legends. Before long, they were having a back and forth shouting match. Of course, they were not the only ones there, so the rest of us felt a bit out of place, and decided to let them go at it for a bit. However, after some time, they were still going at it, and it seemed like it would never end. Since the argument degraded into something that resembled fourth graders arguing over their favorite toy or game, I decided to chime in with my two cents. I said something along the lines of how they weren't being very mature, and definitely were not being anywhere near smart, which was a big part of their argument. One of them quickly retorted with possibly the most comedic response possible, "Well, you're smart..." The channel grew silent for a few seconds due to the awkwardness of the comment. Moments later, the room burst into laughter, as everyone realized how degraded the argument had become, and how bad the responses were. Speaking of being smart, this week we have a power supply from Thermaltake from their SMART series. Thermaltake is well known for their chassis, power supplies, and gaming products, so we look forward to taking a look at the Thermaltake SMART M750W PSU this week. The question is, is this a mature, high performance product, or something that has degraded into hilarity like my interesting encounter on the internet? Without further delay, let's drive right into this week's report on the Thermaltake SMART M750W.
Our review unit of the Thermaltake SMART M750W came in a fairly large brown corrugated cardboard box originally from Thermaltake's American headquarters in California, USA. The original shipping method used was UPS Standard, and was sent to our Calgary, AB headquarters. After that, the package was relocated to our Vancouver, BC office via Canada Post. Both of the carriers did a good job of keeping the product safe and in good condition by the time it arrived. Some packing peanuts were used to keep the Thermaltake SMART M750W from moving inside the shipping box.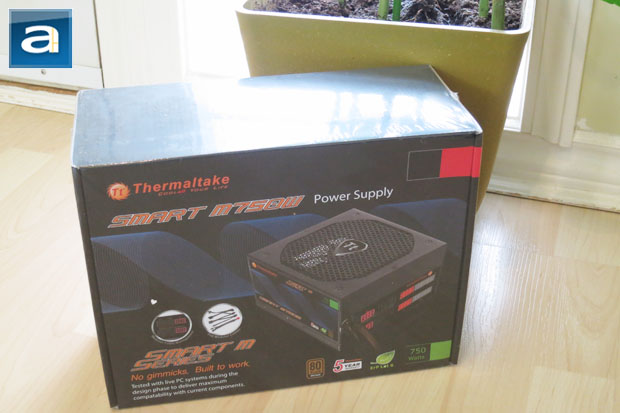 When it comes to retail packaging, the Thermaltake SMART M750W has a fairly simplistic design that fits quite well with the name of the product itself. The usual black background is used to contrast the rest of the design, which includes the Thermaltake logo near the top left, and the name of the product written on both the middle and near the bottom of the box. Other colors used for the design include the usual Thermaltake orange and white to further contrast the black backdrop. A picture of the Thermaltake SMART M750W can be found near the center right of the box in the front, and gives a look of the product itself. Other certifications and logos can be found near the bottom right of the box, which would include the 80 PLUS Bronze, a five year warranty badge, and an ErP LOT 6 logo.
Before moving further into the report, let's take a quick look at the specifications of this PSU as obtained from Thermaltake's website:
- P/N: SP-750M
- Model: SP-750AH3CCB
- Type: Intel ATX 12V 2.3
- Max. Output Capacity: 750W
- Peak Output Capacity: 900W
- Color: Black
- Dimension: 86mm x 150mm x 160mm
- PFC (Power Factor Correction): Active PFC
- Power Good Signal: 100-500 msec
- Hold Up Time: 16msec (minimum) @ 80% of full load at 115Vac/ 230Vac input.
- Input current: 10A / 5A
- Input Frequency Range: 47 Hz - 63 Hz
- Input Voltage: 100 Vac- 240 Vac
- Operating Temperature: 0℃ to +40℃
- Operating Humidity: 20% to 90%,non-condensing
- Storage Temperature: -20 ℃ to +70 ℃
- Storage Humidity: 5% to 95%, non-condensing
- Cooling System: 140mm Fan: 2300 R.P.M. ± 10%
- Efficiency :82-88% efficiency @ 20-100% load
- MTBF: 100,000 hrs minimum
- Safety Approval: UL/CUL/TUV/CE/FCC and BSMI
- PCI-E adaptor cable: PCI-E 6+2pin x 4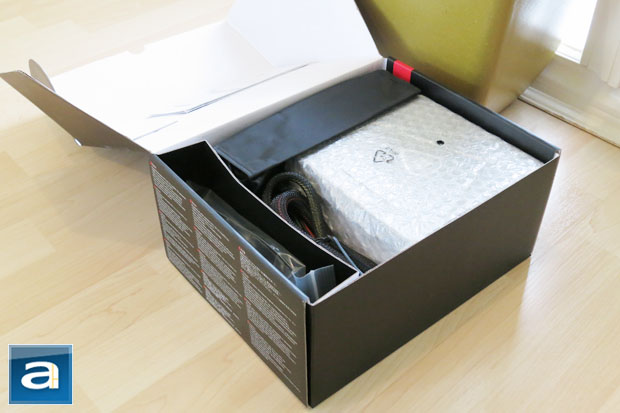 After opening the box, all of the following items can be found:
- 1x Thermaltake SMART M750W
- 2x Instructional manual
- 1x Power cable
- 4x Black colored screws
- 4x Zip ties
- 1x Thermaltake branded bag for holding cables
Everything included were accessories used mainly for installation purposes. Nice add-ons include zip ties, which are great for organizing cables inside your case, making cabling easier, and also preventing unnecessary clutter for better airflow. The most interesting thing has to be the small Thermaltake branded bag used for holding the modular cables. This seems like a good idea for keeping cables in a safe place for usage in the future, and makes them easier to find than sticking them in a random place. Overall, I applaud Thermaltake for including so many accessories that are definitely bonuses for a PSU of the budget class.
---
Page Index
1. Introduction, Packaging, Specifications
2.
Physical Look - Outside
3.
Physical Look - Inside
4.
Minor Tests and Conclusion