Page 3 - Physical Look - Inside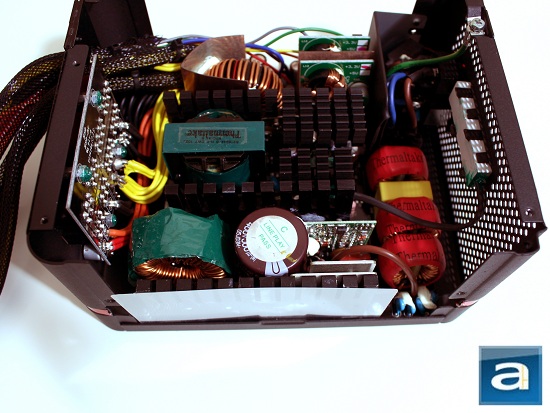 Unlike most power supplies these days, Thermaltake's Toughpower Grand 750W is securely held together by not just four Philips-head screws, but nine. It is clear Thermaltake never intended for their customers to crack open the power supply to take a look inside. Besides, there is a good seven-year warranty on it, and opening it would void it of its warranty. There are no user serviceable parts inside anyway, so for most people, this is really not a big deal.
At first glance, the internal components of the Toughpower Grand 750W seems to be quite densely packed, but it still leaves quite a bit of space at the top. This is necessary to accommodate the overhead 140mm fan to bring airflow over the internal components for heat dissipation, which is more than enough to keep temperatures in check. As well, this is a 80 Plus Gold certified power supply, and we know higher efficiency leads to lower heat production. Our photo above shows how clean and tidy Thermaltake has placed the internal components for best performance in cooling and dissipation of heat. I am surprised to see three small heatsinks painted black, as most power supplies in this range usually incorporate larger and taller toothed fins. For comparison's sake, The Toughpower Grand also comes in 650W and 850W variants; to which the 650W uses the same sized case to house the internal components, whereas the 850W variant is longer by an additional two centimeters. It is also good to know the OEM of the power supply is Channel Well Technology (CWT), a highly reputable manufacturing known for quality products in this category, and manufactures quite a bit of components by themselves. So without wasting your time any further, let's take a closer look at the different internal components.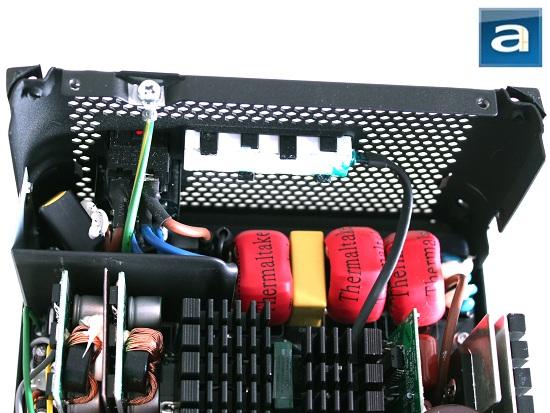 The transient filter stage is the first main part of any power supply, so let's get this out of the way first. Thermaltake has implemented two X-capacitor. a whopping six ceramic Y-capacitors, and three ferrite coils. The recommended amount for ATX power supplies is one X-capacitor, two Y-capacitors, and two ferrite coils. The good news does not stop here. Unlike the last few power supplies we have looked at, this one actually has a metal oxide varistor, otherwise known as a MOV. The MOV is important for removing spikes on the AC line. The MOV is well hidden out of view, however, in the photo above.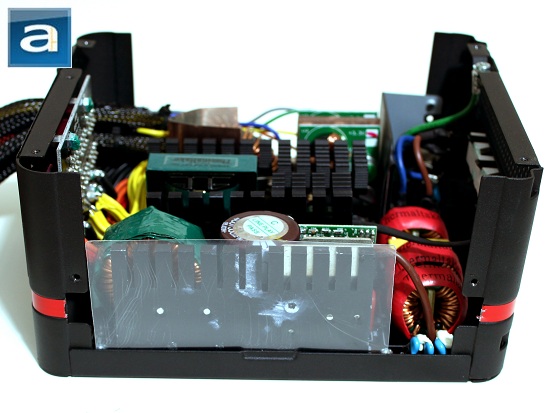 As we can see from the photo above, the primary side houses one of three heatsinks, obviously for the dissipation of heat. A single Japanese-made Nippon Chemi-Con capacitor is situated directly behind it with a capacitance of 560µF x 400V. This unit is rated at 105c, whereas typical power supplies usually incorporate capacitors rated at 85c.
We are also able to identify two DC-DC converters on the left side, which actually made it into our photo above, albeit barely. This generates the +5V and +3.3V outputs from the +12V rail. Each of them are controlled by an APW7093 PWM controller and houses two ME90N03 MOSFETs as well as two ME70N03S MOSFETs. The ME90N03 MOSFETs are rated 60A at 25c or 47A at 70c in continuous mode, and 240A at 25c in pulse mode with 9 mΩ RDS(on). The ME60N03S's are rated at 62A at 25c or 50A at 70c in continuous mode, and 100A at 25c in pulse mode with 11 mΩ RDS(on). Besides the Nippon Chemi-Con 105c electrolytic capacitors, you will also find solid state capacitors inside the Toughpower Grand 750W for maximum durability and reliability in the long run.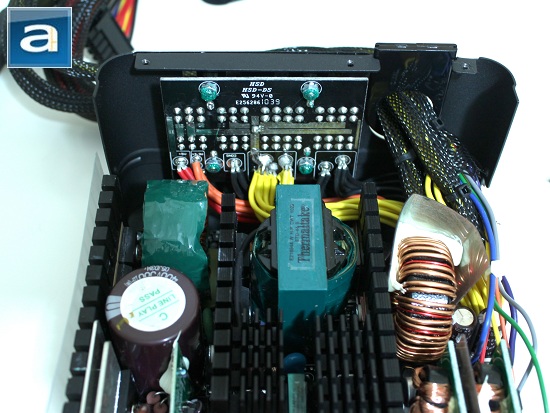 There are two SPW35N60C3 power MOSFET transistors on the heatsinks, and is in charge of the rectification process. Each SPW25N60C3 is able to deliver up to 34.6A at 25c or 21.9A at 100c of continuous drain current, or up to 103.8A at 25c of pulsed drain current. There are also two more SPW35N60C3 MOSFETs on the heatsink in the switching section (This is the heatsink in the middle), sending the count to a total of four SPW35N60C3 MOSFETs implemented. These transistors have a maximum resistance of 0.1 ohm when turned on. and a typical resistance of 0.081 ohm at 25c, according to the manufacturer's data sheet. These values are based on a constant drain current of 21.9A and a gate source voltage of 10V. The primary heatsink also houses an F3NK80Z MOSFET rated at 2.5A at 25c of continuous drain current, and is controlled by a Champion CM6800 active PFC/PWM controller combo.
On the back, we can see a daughterboard covering a good chunk of the rear panel for the modular sockets, and is connected to the mainboard via the sets of wires. It is quite clear that the manufacturer has done a commendable job on soldering the wires properly. The above photo provides a clearer angle of the two ferrite coils, with one on each side of the power supply; the Nippon Chemi-Con capacitor on the left, the three heatsinks, and the transformer labeled E216944-W H-P CWT 1022 smacked in between two of the heatsinks. We are also able to identify the three hardwired motherboard cables on the right corner of the power supply.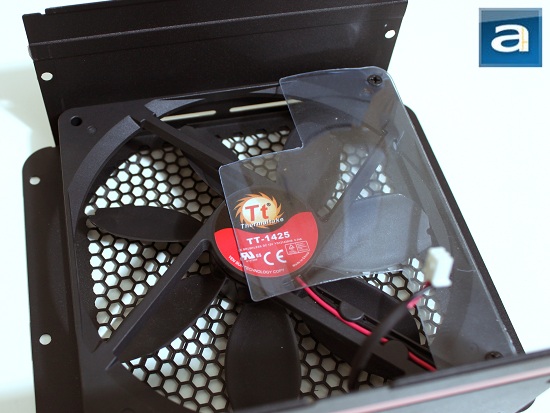 Lastly, we are presented with a large 140mm fan to provide cooling to the Toughpower Grand 750W's internal components. We have taken a glimpse at it on the previous page, but let's go into a little more detail here. It connects to the mainboard via a 3-pin connector. This is probably the largest fan that can fit into a standard ATX power supply, and a 140mm fan is desirable as it is able to provide optimal airflow at lower speeds for quieter operation. The manufacturer of this fan is Yen Sun Technology, commonly referred to as YSTech. Further inspection indicates its model number is YD121425HB, specified at 0.54A 12V. The fan is dual ball bearing in a flower shape. If you inspect the fan closely, you will notice a small inlet grove on the ends of each blade. Thermaltake claims its dual ball bearing design "enables longer lifespan and lowers overall noise output by dramatically reducing bearing frictions". We will see about its noise characteristics on the subsequent page.
---
Page Index
1.
Introduction, Packaging, Specifications
2.
Physical Look - Outside
3. Physical Look - Inside
4.
Minor Tests and Conclusion