By: Ben Joubert
July 15, 2016
It is always nice to have some extra control over something. I have always been quite attentive on having control over things that goes on in my life; doing so just made me feel more comfortable. As much as I sound like some kind of creepy control freak, step back for a moment and think: Who does not? When I first started driving, I did not like it, simply because I did not trust other drivers on the road. I still do not, but I actually like to drive around now, simply because I would much rather have control on where and when I am going somewhere rather than relying on somebody else. Now that I have been driving on my own, I sometimes feel weird when another person drives me somewhere, and it really is just because I have to give up control over the vehicle. I am sure many of you can relate, and it may not just be about going to places. As a computer enthusiast, it is always desirable to have more control over my computer, which the market is catering toward more and more every day. Many of the latest motherboards have extensive controls to allow you to change fan speeds and set different thresholds to increase or decrease its RPM in addition to options that allow you to tinker with its performance by overclocking. There are many different products on the market today to increase your control over your computer, one of which is a fan controller, even though 5.25" bays are quickly disappearing in modern cases. Today we have the Reeven Four Eyes Touch RFC-03 for review. Will it be useful and good enough to rationalize the elusive 5.25" bay for those who still have one? Read on to find out!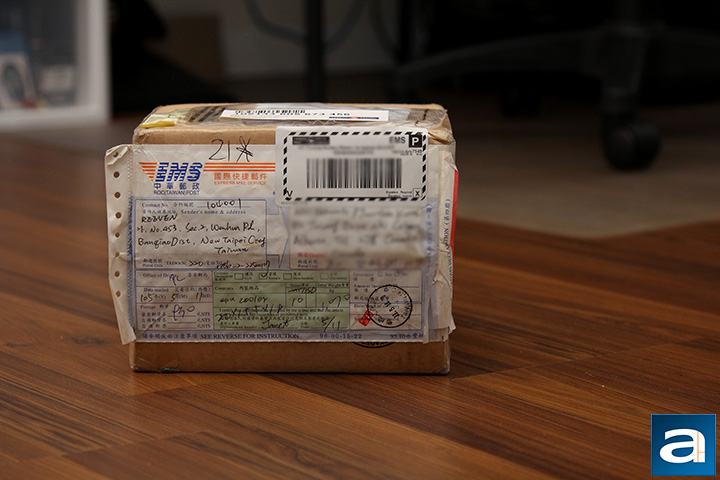 The Reeven Four Eyes Touch RFC-03 arrived in a small brown corrugated box, along with another product I will also be reviewing from Reeven. It arrived here to our APH Networks offices in Calgary, Alberta, in good condition, especially after considering it traveled all the way from Taiwan. There were only a few scratches and dents on the outside of the box, but the package was protected properly, so there was no damage to the product.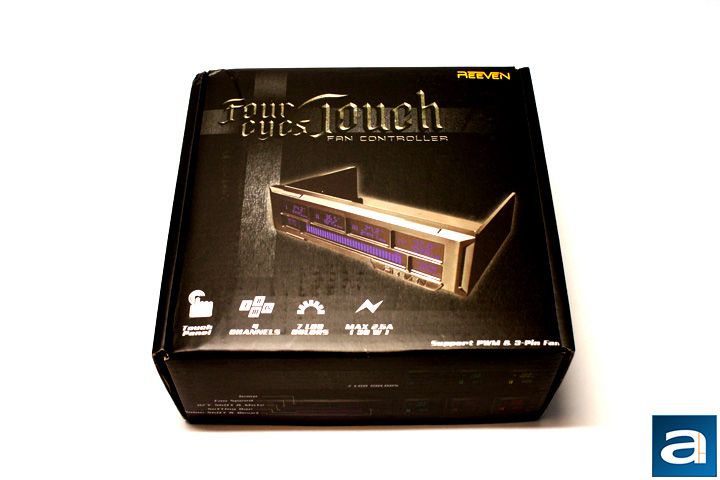 The Reeven Four Eyes Touch RFC-03 came in a rather small black box that opens via a flap top. The design of the box emphasizes a sleek product, with some pretty cool features. The font for the product name really makes it stand out compared to the rest of the writing on the same side, and since the name starts where the two grey lines on the box meet, most of the focus is brought toward that area. Other than the cool name, there is a picture of the product and four features are highlighted on the bottom left. On the sides of the box, you can find more specific information on the product, such as the dimensions, and the list of everything included from the factory. The back side has some cautions about installing and using the Four Eyes Touch.
Before we move on to the rest of the review, here are some specifications, as obtained from the manufacturer's website:
Specifications
Model Number: RFC-03
Dimensions: (W)148 x (H)42 x (D)100mm
DC Input: DC5V & DC12V
DC Output: 3.7V ~ 12V(±10%)
Output Ampere: 2.5A per Channel
Temperature Range: 0~99oC
Fan Speed Range: 0~9990rpm
Weight: 200g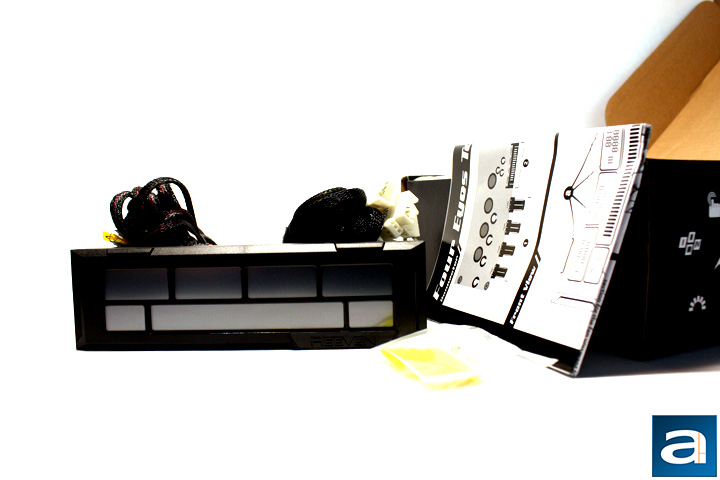 The retail box opens via a flap top, and after opening it, I was greeted with some Styrofoam. After lifting the Styrofoam tab up, I found all the different components. There is also more foam on all sides to cushion the product from any damage. The fan controller has a plastic covering to protect it from possible scratches, while all the other components are bundled together. Firstly, there are four 3-pin fan cables, but they can also accommodate 4-pin fans. These cables are braided, giving them a quality feel. Also included in the box are four temperature probes that are also braided. Their ends have a plastic cylinder for protection, but it can be easily removed. Overall, the packaging is good to keep everything together, and in place so during shipping everything would be kept safe.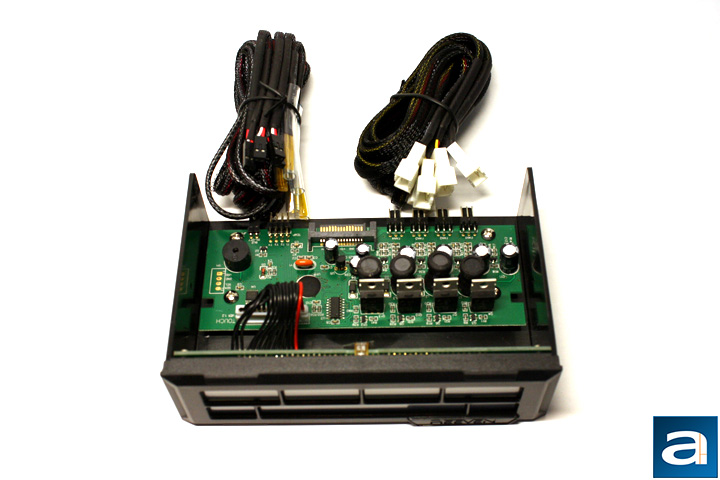 From this view, you can mostly see the entire fan controller, and how all of it fits together. The plastic bezel is mostly smooth with a few raised edges. The bottom right of the front features the Reeven name, and it is slightly indented. The plastic bezel itself is not really anything special, as long as the build quality is good. Thankfully, the Reeven Four Eyes Touch is. It is very light, which is expected because of the plastic construction, but still feels solid. A very obvious feature is the full sized touch screen, which works really well without any major hiccups.
The front touch screen is divided into seven different sections. The bottom left controls the sounds, which can be turned on or off, and toggle between the temperature display in either Celsius or Fahrenheit. The big bottom middle compartment is where you can change the fan speed by dragging your finger either backward or forward. The small compartment found in the bottom right controls the displayed color. There are seven different colors to choose from, including red, blue, teal, yellow, green, purple, and a lighter teal, which almost looks a bit grey. Pressing the screen here cycles through the different colors. The top row is where you find all the different fans, which are labelled with Roman numerals. Each of these screens display the temperature in either Celsius or Fahrenheit and the fan speed. Changing the fan speed is very easy. After choosing which fan's speed to change, you just press the corresponding screen, and use the large middle compartment to either pull backward or forward to adjust the rotations per minute. The biggest issue I have with this system is that it is not very precise, as it is hard to get an exact fan speed, which you will see later on in this review when I install the Reeven Four Eyes Touch RFC-03.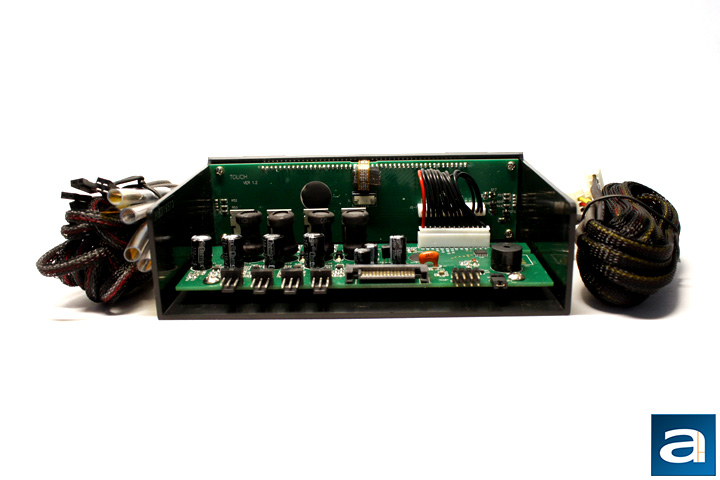 From this view, it is easy to see all the different plug-ins, and how the two PCBs are placed. To the left are four fan plug ins, and on the right is where the temperature probes are plugged in. In the middle is a SATA connection for power. As you can see in our photo above, on either side of the Four Eyes Touch are the included cables. The cables came bundled together, and all the fan connectors are labeled to make using the screen much easier after installation. The temperature probes are a little different, because they are not labeled, and so it is very easy to place them somewhere in the case and then forget which temperature sensor is being displayed by the fan controller. I mostly just tried to group each fan with a probe, so when I plugged in a fan, I would plug in a temperature probe to the corresponding fan, and then cable manage them as one unit, zip-tied together.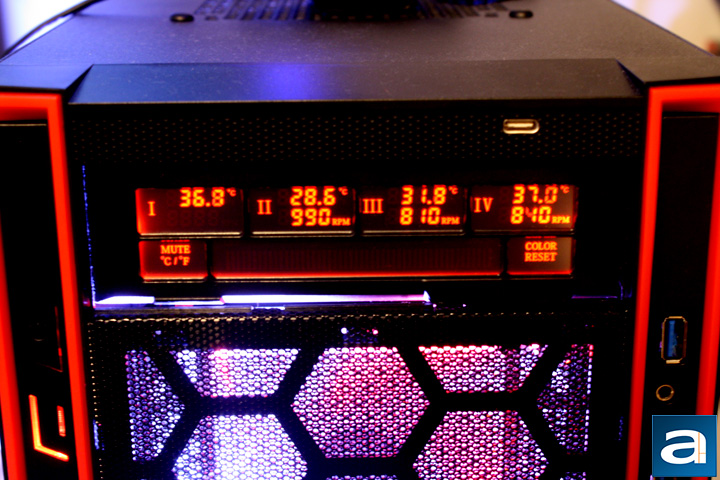 It was very easy to install the fan controller. I slid it into the 5.25" drive bay, lining it up with my case, and screwed it into place. I actually connected all the temperature probes and fans before I moved the fan controller into the drive bay. I then tried to place the temperature probes into different places around my computer, but I did not really use them that much. I placed one by my graphics card, one by the processor, one of them by the intake, and the other by my memory slots, which I always need to read the temperature of. The installation instructions were clear, and I had no issues with the overall installation. I especially liked the red color of the fan controller with the rest of my build, which can be seen more clearly in my review of the SilverStone Redline RL05.
Overall, I really liked using the Reeven Four Eyes Touch. Something that can be an issue with some screens are the viewing angles, but I had no issue with this. Using it daily, the overall functionality of the RFC-03 fan controller was great. I think my biggest issue would be wondering who I would want one in 2016. Most motherboards today make it really easy to change fan speeds in software, and set up different configurations for temperature control in the BIOS. Furthermore, many cases on the market do not actually have 5.25" bays anymore. But if you have a 5.25" bay and an older motherboard, I can still see a place for the fan controller.
-----------------------------------------
I do not think I have ever heard someone in the computer enthusiast realm say, "Nah, I do not want to customize all the settings of my computer more." Having more control over your computer is always welcome, especially over hardware. This is exactly where the Reeven Four Eyes Touch comes in. I really did not find any hugely outstanding issues with it. The build quality is good, and the interface works well. The installation process went smoothly, and the installation booklet was clear. I also quite appreciate the different backlighting colors for the controller to match the style of different builds out there. What I think could be improved upon is to have some support for more precise fan control, as well as be able to set different thresholds for the fans to increase or decrease their speed automatically, depending on the temperature. Whether this means implementing software or better physical controls is up to Reeven. Labeling the temperature probes will also make it more intuitive. While the screen is a really nice "touch", pun intended, and it looks great, it sometimes is hard to control the fan speed properly, as dragging your finger on it can feel janky. Overall, I enjoyed using the Reeven Four Eyes Touch, and I think it is a useful product, even though it lacks compatibility with cases lacking the optical drive bay. For about $50 at press time, it does require a little more than chump change, but there is a price to pay for its novelty and convenience.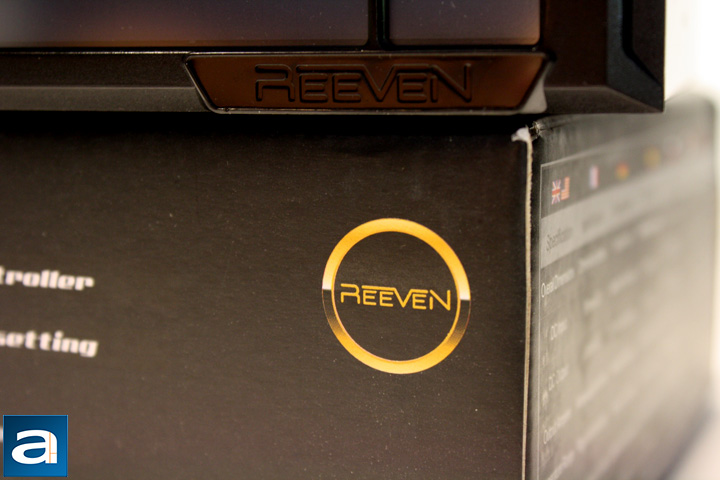 Reeven provided this product to APH Networks for the purpose of evaluation.
APH Review Focus Summary:
8/10 means Definitely a very good product with drawbacks that are not likely going to matter to the end user.
7/10 means Great product with many advantages and certain insignificant drawbacks; but should be considered before purchasing.
-- Final APH Numeric Rating is 7.2/10
Please note that the APH Numeric Rating system is based off our proprietary guidelines in the Review Focus, and should not be compared to other sites.
The Reeven Four Eyes Touch is a stylish fan controller to complement computers sporting an unused 5.25" drive bay, allowing you to choose how hot or cool your build is -- literally.
Do you have any comments or questions about the Reeven Four Eyes Touch RFC-03? Drop by our Forums. Registration is free, and it only takes a minute!