By: Ben Joubert
July 1, 2016
I am the youngest of three brothers, and the youngest by quite a bit. This means I am forced into a lot of compromises, which are not necessarily always fair for me. Being the youngest does have its advantages, but quite often, I got the short end of the stick; not that I am complaining though. These "compromises" were heightened during my recent vacation, where I got the small bed, and no matter what, I got the middle seat in the car. For this reason alone, long road trips could be quite tiresome. However, there are a lot of compromises that need to be made in life every day, and dipping into APH Networks dating advice column, compromises play a role in relationships as well. The business world is filled with compromises, and if any of you have taken a business course, it is easy to see how compromises come into play with products, and how well they are made. In most cases, the lower the price, the more corners have to be cut to get the product going, and vice versa. For myself, when I look for a new piece of computer hardware, I take into consideration the price in comparison with the performance, which I am sure everyone does. During this process, there are also compromises to be made, depending on what you are buying and if you really need it. I personally think this is quite evident with computer chassis. It is easy to look at a case and see a few small extra or missing features, such as rubber grommets or dust filters. Even the material of the case can be an easy giveaway of the type of compromises that had to be made to achieve a certain build quality. The most compromises are often found in budget case, one of which we have here today, the SilverStone Redline RL05. This chassis is aimed at enthusiasts building on a budget, while promising features found in higher end cases. Read on to find out if its merits outweigh the compromises!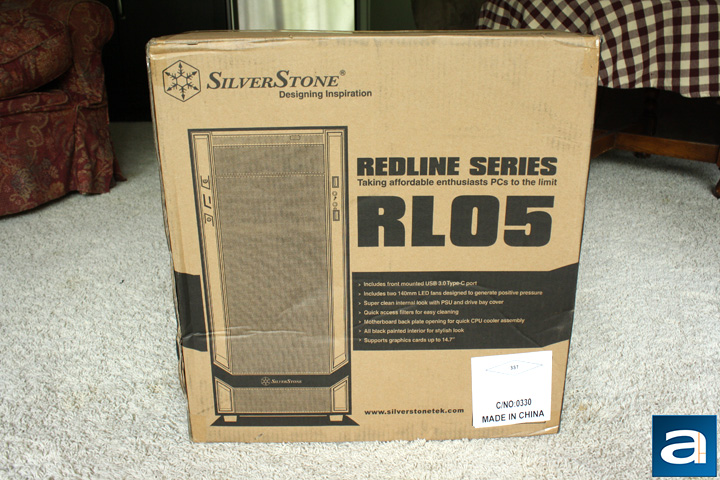 The SilverStone Redline RL05 arrived in a big brown corrugated box from Chino, California, USA. The front side had a big dent in it, but after opening up the box, there was no damage to the product. The shipping box has some information on the chassis. The front features the case, name, as well as the main selling features, such as the USB Type C and two 140mm red LED fans. The left side has all the technical specifications listed, while the right side has the features presented in a few different languages. The back side has a look at the case without the side panel to see all where all the hard drive mounts and cable management loops are. I proceeded to open up the packaging, and had a look at the SilverStone Redline RL05.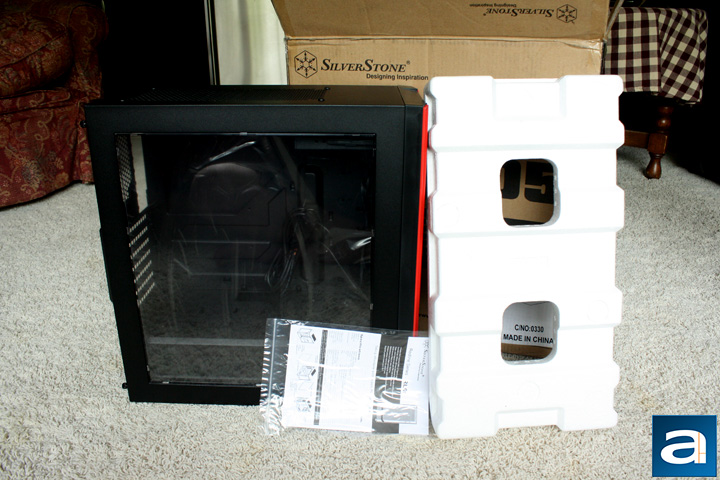 The packaging was very simple, and good enough to keep the unit safe. There are two big Styrofoam blocks to keep the Redline from moving around, and to give it some padding. The case itself is covered in a plastic bag, and then the plastic side panel had some more plastic to further protect it from any scratches. Included was a small booklet with installation instructions for all the different components. Inside the case was a small bag with all the required screws for the motherboard, hard drive, and other components. All of the packaging was chosen to keep costs low, while still providing enough padding to keep everything safe and sound during transport.
Before we move on, here are some technical specifications of the SilverStone Redline RL05, as obtained from the manufacturer's website:
Specifications
Model No.: SST-RL05BR-W
Material: Plastic panel, steel body
Motherboard: ATX (up to 12" x 10.2") , Micro-ATX
Drive Bay External: 5.25" x 1
Internal: 2.5" or 3.5" HDD x 2, 2.5" x 2
Cooling System: Front 120/140mm fan slot x 2 (includes 140mm LED fan x 2), 80mm slot x 1
Rear: 120mm fan slot x 1
Top: 120/140mm fan slot x 2*
Expansion Slot: 7
Front I/O Port: USB 3.0 Type-A x 2, Type-C** x 1, Audio x 1, MIC x 1
Power Supply: Standard PS2(ATX)
Expansion Card Support graphics card up to 14.7", width restriction - 6.4"
Limitation of CPU cooler: 165mm
Limitation of PSU: 220mm
Net Weight: 5.9kg
Dimensions: 210mm (W) x 465mm (H) x 450mm (D), 44.9 Liters
---
Page Index
1. Introduction, Packaging, Specifications
2.
Physical Look - Outside
3.
Physical Look - Inside
4.
Installation and Conclusion