By: Jonathan Kwan
February 21, 2020
If there is anything I should have been listening to my doctor about that I did not in recent times, it would be to never stick a cotton swab in my ears. In the end of 2018, I decided my left ear had a little too much earwax that I could hear them move around inside the canal. Now, while I intellectually knew sticking a cotton swab in my ears is a terrible idea, I did it anyway, because what could go wrong if I am careful? As it turned out, I made a classic mistake by pushing the earwax too far in and ended up blocking my hearing. I stopped immediately after realizing my mistake and called the doctor. Unfortunately, I could not get an appointment for another week or so. Therefore, for the first week of 2019, I could only hear out of one ear. When I finally got my earwax cleaned out by the doctor a week and a bit later, the first thing I said was, "whoa". There is nothing that could describe the experience of being able to hear out of both ears again after only hearing out of one ear for a long time. I personally would not recommend getting one of your ears stuck to experience the difference, but getting good earphones to listen to music you are familiar with will certainly give you a comparable level of awe. The 1MORE Stylish True Wireless features titanium composite dynamic drivers and aptX over Bluetooth 5.0 for the best audio experience. Will these earphones be able to impress you like being able to hear out of both ears again? Read on to find out!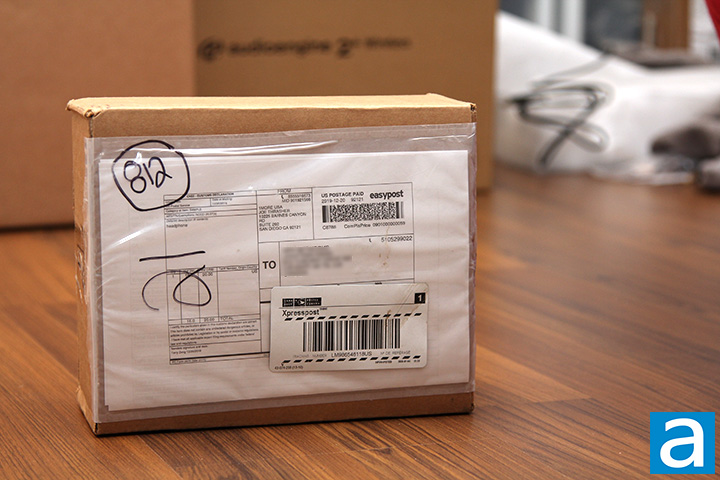 Our review unit of the 1MORE Stylish True Wireless came in a small brown corrugated cardboard box from the company's American headquarters in San Diego, California, USA to us here in Calgary, Alberta, Canada. The last time we reviewed something from 1MORE was in May 2018 with the Quad Driver. It did not seem that long ago, but it has been almost two years. Using USPS and transferred to Canada Post as it crossed the border, everything arrived in perfect condition for our review today.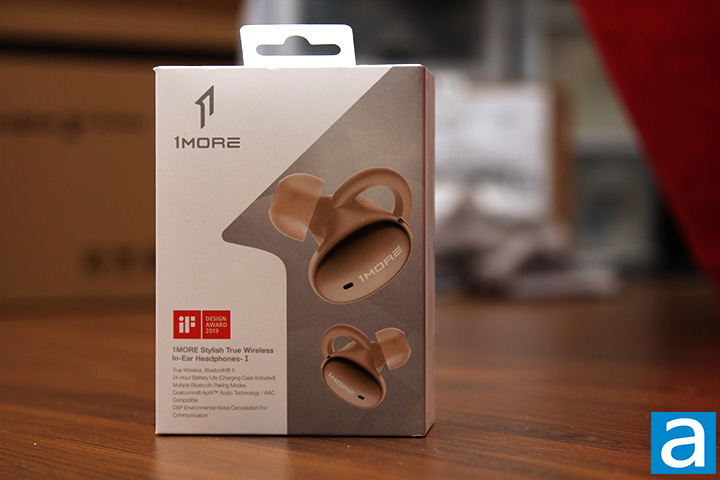 1MORE always had great consumer electronics packaging, and the Stylish True Wireless is no exception. The hang packaging looks clean and modern. In the top left corner, you will find 1MORE' logo in the white area. The product name, list of feature highlights, and an iF design award logo can be found at the bottom left corner. A photo of the earbuds in the color it comes in occupies the remaining non-white areas of the box on the right. As you can see, our particular unit was the gold version, but you can also get it in black, green, or pink. Feature highlights and specifications in multiple languages can be found at the back of the box.
Before we move on, let us take a look at the specifications of the 1MORE Stylish True Wireless, as obtained from the manufacturer's website:
Model: E1026BT-I
Headphone Weight (Single): 6.2g
Case Weight: 40.4g
Product Weight: 52.8g
Headphone Size: 27*27*23 mm
Case Size: 68*40*38 mm
Color: Black/Gold/Green/Pink
Impedance: 16 ohms
Wireless Range: 10m
Bluetooth Codec: aptX/AAC/SBC
Bluetooth: Bluetooth 5
Bluetooth Protocol: HFP/A2DP/AVRCP
Input: 5V 1A
Headphone Battery Capacity (Single): 55 mAh
Case Battery Capacity: 410 mAh
15-M Charge Enables 3-H Use
Headphone Charging Time: 85 mins
Case Charging Time: 85 mins
Battery Life
* Headphones fully charge
Talk Time: 6.5 hours
Music Plat Time: 6.5 Hours (50% volume)
* Headphones and case fully charged
Talk Time: 24 hours
Music Play Time: 24 hours (50% volume)
* These specifications are acquired from laboratory tested data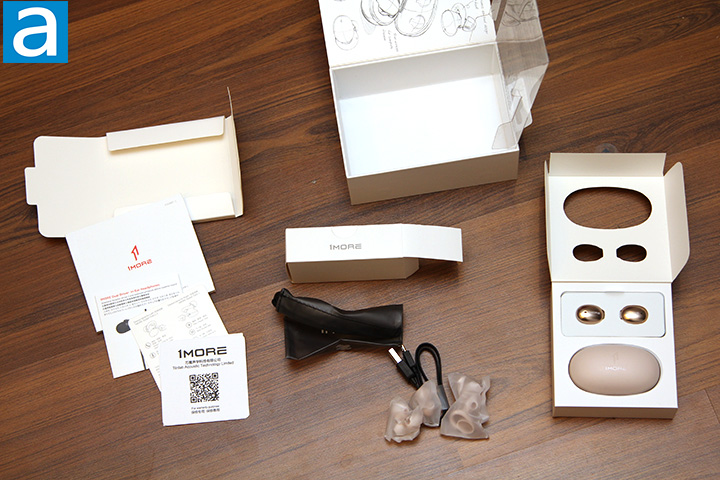 The box can be opened like a book cover, which reveals sketches of the 1MORE Stylish True Wireless on the inside flap. You will find everything in various boxes enclosed by a clear plastic cover. The bundle is quite straightforward was well; what you will get are the earbuds themselves, charging case, three additional earsleeve sizes in addition to the ones already installed, two additional O-hooks in addition to the ones already installed, plastic drawstring bag, and a USB cable for charging. The plastic drawstring bag is used to protect the charging case, which is very nice to see it included. Product literature included are a user guide in various languages, quick start insert, product line brochure, warranty card, and a sticker.
---
Page Index
1. Introduction, Packaging, Specifications
2.
Physical Look - Hardware
3.
Subjective Audio Analysis
4.
Conclusion