By: Jonathan Kwan
November 20, 2020
There are many stereotypes about Canada, but if someone comes to you and asks you to name two right off your head, what will it be? If I were to go around and ask, I think "everyone is very polite" and "really cold" will be the two that comes up the most often. As someone who has lived in Canada practically my entire life, I think we may be receiving way too much credit for being polite, and the reality is cold weather is mostly a few months out of the year. However, I think the majority of the population, especially those who live out west like me, tend to overemphasize the cold part and forget about the summer months. For example, if you ask someone if they need an air conditioner in Calgary, you will generally find two groups of people. The first group -- and probably most who live in this city -- will argue you will never need one because you only need it for two days of the year. The second group, no doubt a growing one, will swear by their air conditioner, because our summer months can get hot and an AC is necessary to maintain home comfort. I lived in a house with central air conditioning since 2006, and I belong firmly in the second group. According to my Nest thermostat, my central AC runs for definitely more than two days a year. In fact, it runs almost every day from the beginning of May to early September; most of the time for at least three hours a day. So why do most people say they do not need one? Well, those are also the same people who has simply never owned one. When it comes to earphones, we have the same issue. Most in-ear monitors are designed like earplugs and have passive noise canceling. However, many companies are now introducing active noise canceling to these products, which begs the question: Do we really need active noise canceling in something that intrinsically blocks out noise already? Since I have never owned one, I decided to keep an open mind to find out with the 1MORE True Wireless ANC.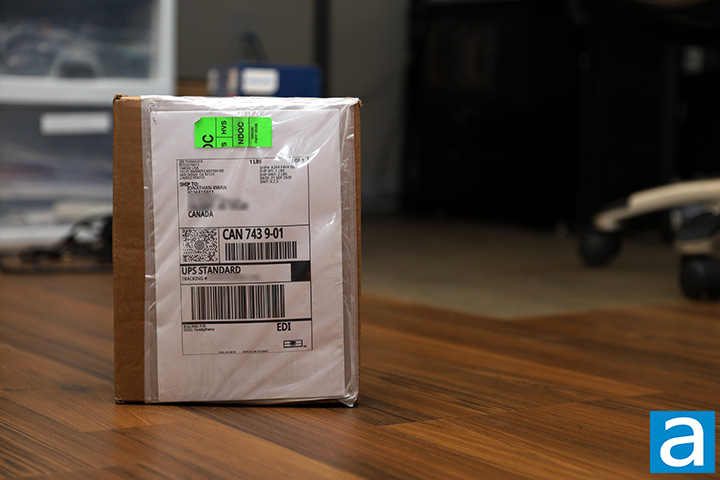 Our review unit of the 1MORE True Wireless ANC came in a small brown corrugated cardboard box from the company's American headquarters in San Diego, California, USA to us here in Calgary, Alberta, Canada. I have been trying to get my hands on these earphones for the better part of the year, so needless to say, I was excited. Using UPS Standard, everything arrived in perfect condition for our review today.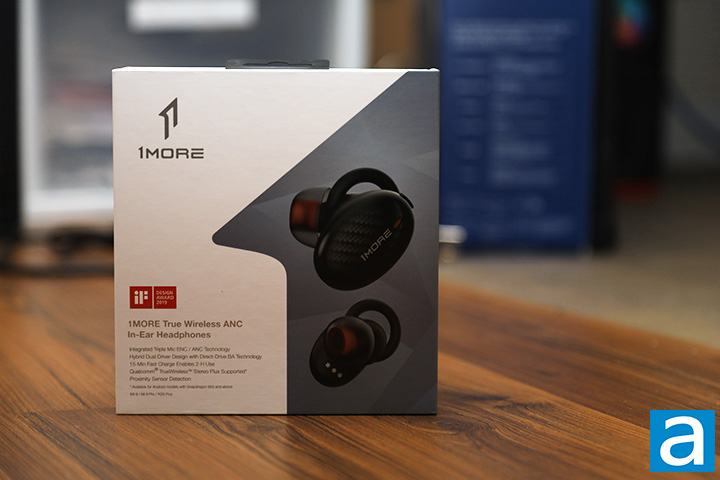 1MORE always had great consumer electronics packaging, and the True Wireless ANC is no exception. The hang packaging looks clean and modern. In the top left corner, you will find 1MORE's logo in the white area. The product name and list of feature highlights can be found at the bottom left corner. A photo of the earbuds occupies the remaining non-white areas of the box on the right. Feature highlights and specifications in multiple languages can be found at the back of the box.
Before we move on, let us take a look at the specifications of the 1MORE True Wireless ANC, as obtained from the manufacturer's website:
Model: EHD9001TA
Earbud Weight (Single): 7.9 g
Charging Case Weight: 63.2 g
Total Weight: 79 g
Earbud Dimensions: 38*18*28.5 mm
Charging Case Dimensions: 81.32*30*38.5 mm
Earbud Battery Capacity (Single): 55 mAh
Charging Case Battery Capacity: 410 mAh
Bluetooth Version: Bluetooth® 5.0
Bluetooth Protocol: HFP / A2DP / AVRCP
Input: 5V 1A
Impedance: 32 Ω
Bluetooth Range: 10 m
Earbuds Charging Time: 1 hour
Charging Case Charging Time: 2 hours
Battery Life
TrueWireless Stereo Plus Mode
* Headphones fully charged (ANC off) Playback Time: 6 hours (AAC / 50% Volume)
* Headphones fully charged (ANC on) Playback Time: 5 hours (AAC / 50% Volume)
* Headphones & case fully charged (ANC off) Playback Time: 22 hours (AAC / 50% Volume)
Bluetooth Connection Mode
* Headphones fully charged (ANC off) Playback Time: 5 hours (AAC / 50% Volume)
* Headphones fully charged (ANC on) Playback Time: 4 hours (AAC / 50% Volume)
* Headphones & case fully charged (ANC off) Playback Time: 18 hours (AAC / 50% Volume)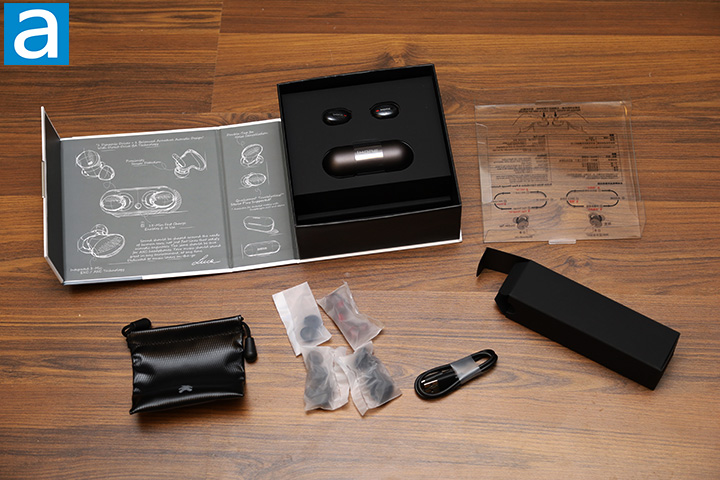 The box can be opened like a book cover, which reveals sketches of the 1MORE True Wireless ANC on the magnetically closed inside flap. You will find everything in various boxes enclosed by a clear plastic cover. The bundle is quite straightforward as well; what you will get are the earbuds themselves, charging case, three additional dome-shaped ear sleeve sizes in addition to the ones already installed, three pairs of cylindrical-shaped ear sleeves in various sizes, two additional O-hooks in addition to the ones already installed, plastic drawstring bag, and a USB Type-C to Type-A cable for charging. The plastic drawstring bag is used to protect the charging case, which is very nice to see it included. Product literature included are a user guide in various languages, warranty card, and a sticker.
---
Page Index
1. Introduction, Packaging, Specifications
2.
Physical Look - Hardware
3.
Subjective Audio Analysis
4.
Conclusion