By: Aaron Lai
April 25, 2014
Back in 2007, I remember receiving a Creative Zen, which was my first digital audio player. I have always enjoyed music in general, because it has a way of toying with emotions -- whether to relax myself during down times, or to keep me focused while studying for exams. From that day on, I would listen to my MP3 player on the way to school, if only to give me something to do on the daily bus rides. Of course, nowadays, I have stopped using my Creative Zen, and switched over to my smartphone. As for headphones, I had never really carried around anything expensive. I have a small fear that one day my earbuds will get stolen, and if they break, I will not cry over it, since they are easy to replace. Even at home, I use my respectable-but-budget Sennheiser HD439, which work great everywhere, as long as you remain inside the home. These set of cans are not meant to be traveling headphones, as they do not feature anything foldable, or even come with a traveling case. I often find myself tangled with issues when I am using wired headphones, because the wires get in the way and either get caught in my jacket zipper, or snagged on a desk. You know, first world problems. When Editor in Chief Jonathan Kwan approached me to review a pair of Bluetooth wireless headphones, namely the Adesso Xtream H2, I was excited to finally get rid of all my other earbuds. This is meant for traveling with its foldable design, includes a traveling case, and also removes any wire issues I have had in the past. They are not too pricey at a price of around $39 at press release. Is this really a suitable replacement for my cheapo earbuds, or is my excitement a bit premature? This question and others will be answered today.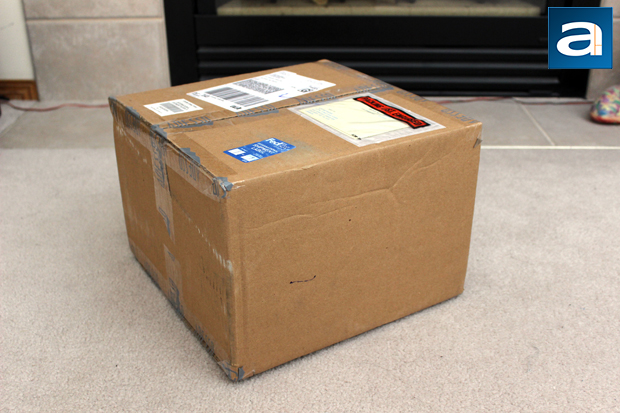 Our review unit arrived from Adesso's offices in Walnut, California via Fedex International Ground, along with the Adesso Xtream S2, a Bluetooth speaker that my colleague Jonathan Kwan will be reviewing later on. The entire box is filled to the brim with packing peanuts, which made opening the box almost comical. As you can see the entire box is also sealed with Adesso-marked tape, to ensure that there is no prior tampering of their goods. The box itself is in good condition, with no noticeable tears, dents, or holes on it. As well, when we pulled out the two products, they too were in pristine condition with no noticeable dents or bruises on the retail boxes.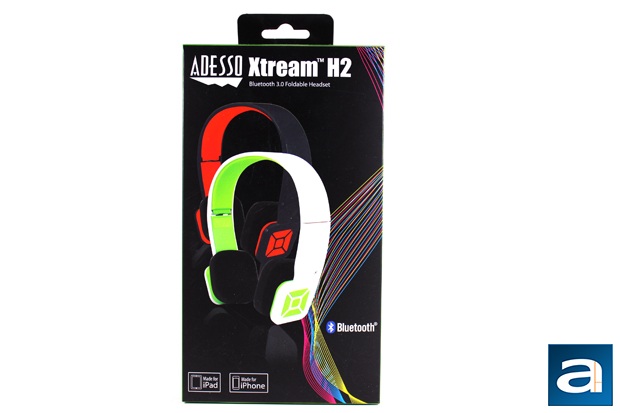 Grabbing the nearest pair of scissors, I quickly open up the box, and the first thing I pull out is the Adesso Xtream H2. This is the retail packaging of the headset, which showcases both of the available colors. The overall design of the box is decent, but also a bit too busy. The side panels are coated in a lime green color, making it identifiable and consistent with the Adesso Xtream S2 speakers, but do not look very appealing to me. Of course, beauty is in the eye of the beholder, and this is only my opinion. While we received the white/green version, there is also a black/red version, which somewhat reminds me of Beats by Dr. Dre, even if only by color. On the front of the box at the top is the name, as well as the description, "Bluetooth 3.0 Foldable Headset". Underneath the picture, there are the labels "Made for iPad" and "Made for iPhone". Obviously, this works with practically any Bluetooth device, but there are specific features available only to iOS users, and I will explain this later. On the side of the box, there are more detailed specifications in both English and French. The back panel reveals even more features about the Adesso Xtream H2. Of course, you readers are probably extremely interested in what specifications there are for this headset, so before we dig into the meat, I have quickly grabbed it from the manufacturer's website:
- Connection: Bluetooth 3.0+EDR
- Bass Sound: 30mm Neodymium Magnetic Drivers
- Bluetooth Protocols: A2DP, AVRCP, HSP, HFP
- Microphone Type: Omnidirectional
- Frequency Response: 140 Hz to 20 kHz
- Talk Time: Up to 11 hours
- Playing Time: Up to 10 hours
- Stand By Time: Up to 800 hours
- Charge Time: 4 hours
- Battery: 370 mA Rechargeable Polymer Battery
- Power Input: 5V
- Range: Up to 30'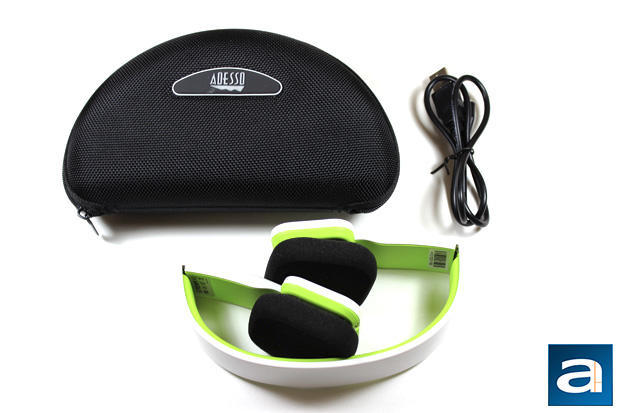 Opening up the retail box, and we are greeted by a hard travel case. This case is wrapped in nylon, and lined with a soft-felt like material on the inside. The zipper is also very smooth, and does not usually snag while zipping. Also included is a small user guide and a micro USB 2.0 cable, used for charging the device. Finally unzipping the travel case lets us obtain the Adesso Xtream H2. Of all the accessories Adesso have provided, I am most impressed at the travel pouch, as it feels quite solid and holds the headset and the cable quite snugly. Because of this case, I never felt worried about throwing my headset into my backpack while moving around with it. Oddly enough, after perusing the manual, it seems like there seems to be a discrepancy with the specifications. Specifically, the manual states a frequency response of 80Hz to 20 kHz, as well as an internal lithium-ion battery, both contrary to the specifications listed above. As for the purpose of this review, I will be referring to the website specifications.
---
Page Index
1. Introduction, Packaging, Specifications
2.
Physical Look - Hardware
3.
Subjective Audio Analysis, Usage
4.
Conclusion