By: Jonathan Kwan
May 23, 2014
Which is a better vehicle, a Honda Civic, or a Ford F-150? The way I see it, this is a pretty poor question, because it compares two completely different products for two completely different markets. If you are looking for a compact, economical, reliable, and fuel efficient sedan that is fun to drive, you would buy a Honda Civic. If you are looking for a truck for work that can easily move lots of things around, can rock in the mud as well as it can tow a trailer up the mountain, you would buy a Ford F-150. As you can see, this is a classic case of expectation versus categorical error. No one would reasonably choose a Honda Civic over a Ford F-150 to make rounds at Home Depot; nor would anyone do the opposite because they wanted something small and easy to park. You will have to choose the one that comes in the correct form factor to meet your needs correctly. If you have been following APH Networks for the last little while, you will realize we have covered quite a number of audio products recently. This ranges from the excellent Audioengine A2+ powered desktop speakers, Func's well received HS-260 gaming headphones, to Adesso's own Xtream H2 Bluetooth wireless headset. Of course, I am not going to sit here and pretend every product is amazing in its own way. Each product has its strengths and limitations, and some does its job better than others. On the other hand, being a passionate audio enthusiast at heart, it is also important to present a balanced case of expectation versus satisfaction. Today, we are going to take a look at Adesso's Xtream S2 Bluetooth wireless speaker. Measuring in at 17.7cm wide, 6.8cm tall, and 5.5cm deep, do we expect bass to rock the house and power that rivals my home entertainment receiver? Obviously not. But what can we expect from such a compact package that promises to deliver reasonably good sound without any wires, and even features a mic so you can take some calls on your phone? Read on to find out!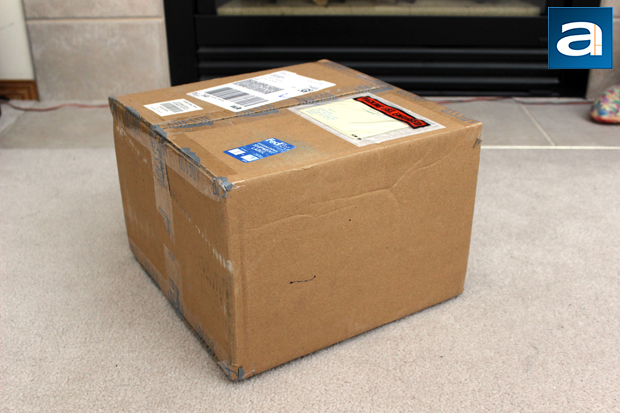 Our review unit of the Adesso Xtream S2 arrived from the company's American offices in Walnut, California. Accompanying it on its trip was the Adesso Xtream H2 Bluetooth headphones Aaron Lai reviewed last month. According to my colleague who opened the box, it was "filled to the brim with packing peanuts, which made opening the box almost comical" -- too bad I was not there to witness that! Using FedEx International Ground, everything arrived in excellent condition to us here in Calgary, Alberta, Canada for our review today. Cutting apart the Adesso-marked tape, I took out my camera, and got straight to work.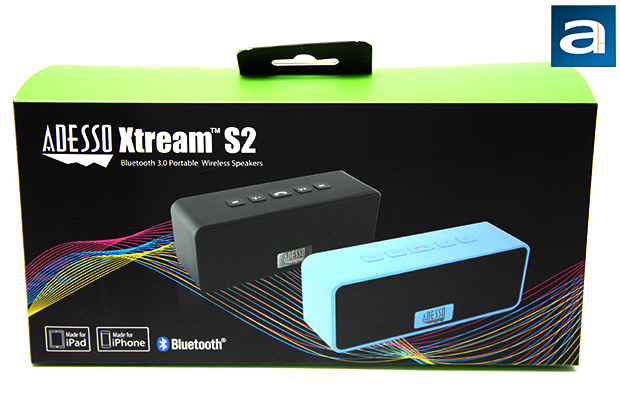 Our review unit of the Adesso Xtream S2 came in retail packaging. Right away, you will see familial resemblance with the Xtream H2. Adesso's logo can be found at the upper left corner, along with the product name and description immediately adjacent to it. Photos of two Xtream S2 Bluetooth speakers -- one in black and one in baby blue -- occupies a very prominent part of the box. At the same time, the black background is enhanced by rainbow colored streamers to give it a little more style. Shifting our eyes to the bottom left corner, you will find three logos, "Made for iPad", "Made for iPhone", and Bluetooth. We will go over what this means later on in this review. Overall, the retail box design is quite clean, and it does its job well. While my colleague Aaron was not a big fan of this style, I do not have a whole lot of beef against it.
Feature highlights and specifications can be found on the remaining sides of the box. We took the following table of specifications from Adesso's website, but it does not match the numbers on the box. Again, we will discuss this more in detail on the subsequent page.
- Connection: Bluetooth 3.0+EDR
- Bluetooth Protocols: A2DP, AVRCP, HSP, HFP
- Music Time: 10 Hours
- Charging Time: 4
- Battery: Rechargeable 1800mAh Li-polymer battery
- Talk Time: 11 Hours
- Microphone Type: Omnidirectional
- Standby Time: Up to 800 Hours
- Frequency Response: 80Hz 20kHz
- Power Input: DC: 5V/500mA
- Available Range: Up to 30' feet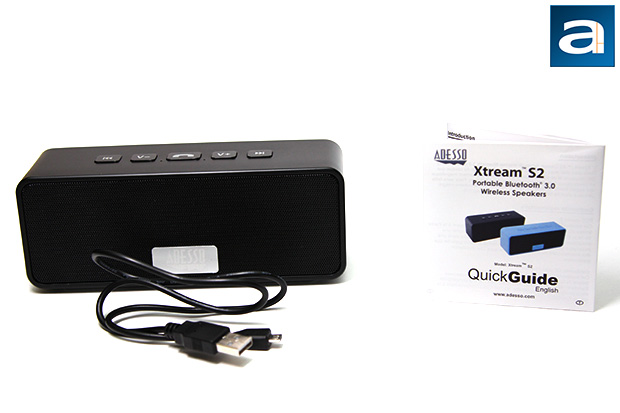 Out of the box, you will find the Adesso Xtream S2 Bluetooth wireless speaker neatly packaged inside, along with a USB cable used for charging, and an instruction poster. This is it. To run a little bit of commentary time, I do appreciate their conservative use of packaging; a plastic bag used for wrapping the speaker, and a cardboard partition inside was more than sufficient to ensure everything arrives safely in the hands of the consumer. Everything is recyclable. I am not environmentalist, but I am always a fan of doing my part in the context of social responsibility.
---
Page Index
1. Introduction, Packaging, Specifications
2.
Physical Look - Hardware
3.
Subjective Audio Analysis
4.
Conclusion