Page 2 - Physical Look - Hardware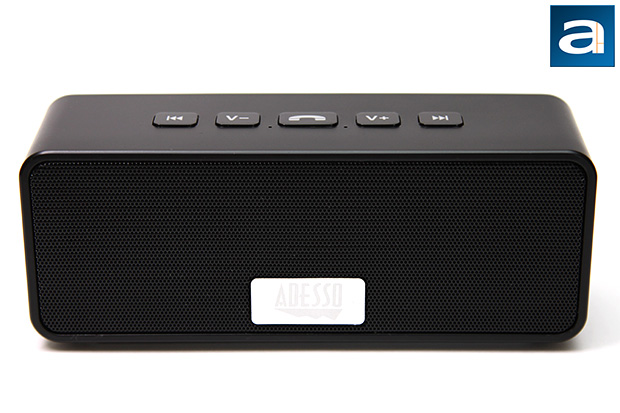 Unlike some products I have reviewed in the past, the Adesso Xtream S2 is clearly designed by someone who has more than just a ruler. What makes it so special? Well, that has got to be nothing more than the discovery of rounded corners. All jokes and pokes aside, I actually quite like the design of the company's wireless Bluetooth speaker. Its candy bar form factor measures in at 17.7cm wide, 6.8cm tall, and 5.5cm deep, making it relatively compact; tipping the scales at just one pound also makes it pretty lightweight. At this point, you may point out candy bars with these dimensions do not actually exist, because if they did, I really wish I had one in front of me with these dimensions right now -- but you get the idea. The Adesso Xtream S2 simple form factor makes it very easy to travel with, and its clean, inoffensive looks will sure fit in regardless of the situation.
That said, to add a little more flare to light the room up, the Adesso Xtream S2 is also available in blue, pink, yellow, and green in addition to the black colored one demonstrated in our review today. I did not know it actually came in pink until the product is already on our way, because, knowing APH Networks, we are huge fan of pink products -- we have a good history of some pretty flamboyant samples like the FSP NB Q90 reviewed by Jeremy To in late 2011, and the SilverStone Air Penetrator SST-AP121-USB my colleague Kenneth Kwok covered in early 2012. Either way, our conservative little black speaker still carries through many elements of modern design, even if it is not as out there as having a pink wireless speaker. The front grille covers pretty much the entire surface; residing behind it are two drivers for full stereo output. Adesso throws in a marketing plug of which they refer to as the "Double Bass Subwoofer Sound Technology", which I am willing to bet it has something to do with the bass, and I am not sure what makes me think that. Of course, as I have mentioned in the introduction of this review, do not expect it to rumble your room, because it will not. We will save the details for our standard audio tests on the next page. The speaker specifies a frequency response of 80Hz to 20kHz.
A quick glance at the top shows five glossy buttons, logically laid out each with its own icon reflecting its function. From the left, we have skip back, volume decrease, phone, volume increase, and skip forward. They do exactly what the icons suggest, except the phone button in the middle will require a quick glance at the instruction manual to figure out all the functions it has. To turn on the device, you will need to hold the phone button for three seconds. The Adesso Xtream S2, with a female voice, will say "Power On". To power it off, hold it for six seconds, and the same female voice will say "Power Off". If you want to enable Bluetooth pairing, start with the device off, and hold it for six seconds. "Pairing" will be said over the speaker. The phone button is also used to play or pause music, and, as its icon suggests, answer or end a phone call with a paired device. An integrated uni-directional microphone located on the front of the Xtream S2 allows you to make hands free phone calls. It is the same interface as the Adesso Xtream H2 my colleague Aaron Lai reviewed last month. While I agree it was quite counter intuitive for a headphone, I do not have any issues with the way it was implemented on these speakers. My only complaint is when you max out the volume on the Xtream S2, it will cut your music and beep you twice, which is quite annoying. I am sure it can just beep without cutting anything out.
A small red LED and small blue LED can be found to the left and right of the phone button, respectively. The blue LED will blink for one second when the Adesso Xtream S2 is turned on, while the red LED will blink for one second when the Adesso Xtream S2 is turned off. The two LEDs will blink alternately during a pairing session. During operation, the LEDs will also blink occasionally.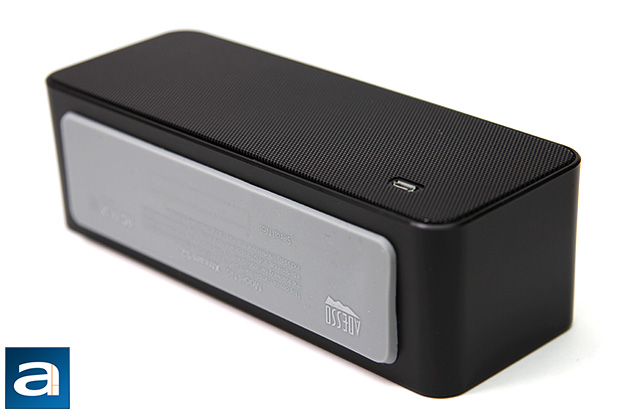 Here is a shot at the back and bottom of the Adesso Xtream S2. There is no speaker at the back; the grille is there for aesthetic purposes only. A micro USB input connector can be seen at the bottom right corner, which charges its non-removable 1800mAh Lithium Polymer battery. As far as the battery life of the Xtream S2 is concerned, as car manufacturers always like to say, "your mileage may vary" -- but I think even Adesso themselves are pretty confused. On the website, the specifications state 10 hours of music, 11 hours of talk time, and 800 hours of standby. However, on the datasheet and retail box, it says it has 6 hours of music, 9 hours of talk time, and 250 hours of standby. I don't know about you, but the variance is so large, we might as well be talking about two completely different products. The only that in common is the website states 4 hours of charging time, and 4 to 5 hours of charging time on the datasheet, but this is really not that helpful.
Back to the speakers themselves, the Adesso Xtream S2 only supports wireless communication over Bluetooth; there are no audio jacks on the device at all. What you will get, however, is up to thirty feet of range over Bluetooth 3.0+EDR, with A2DP, AVRCP, HSP, and HFP support. You can pair multiple devices with it, but it will only accept one audio stream at a time. One thing to point out is the Xtream S2 is designed specifically for iOS devices. This does not mean it will not work with your favorite Windows tablet or Android phone (The Bluetooth speaker sounds great with my Dell Venue 8 Pro), but the iOS battery indicator will only work with, well, iOS devices, at least that is what Adesso claims. For some reason, the battery indicator does not work with my iPhone 5. This is rather strange, because the battery indicator worked just fine with the Adesso Xtream H2. To see if it is just my iPhone 5 being funny, I tried it on another iPhone 5 with the exact same results. This is somewhat disappointing.
Lastly, we can spot a foam pad located at the bottom of the Adesso Xtream S2. Functionally, it dampens the base of the speaker, allowing improved bass response, while reducing vibration between the enclosure and the surface it resides on. It also has all the regulatory information printed on it, which, for most consumers, are stuff no one really pays attention to, but still required, because otherwise the product won't be legally sellable.
With all these things in mind, the hour of judgment has arrived: Speaker auditioning, APH Networks style.
---
Page Index
1.
Introduction, Packaging, Specifications
2. Physical Look - Hardware
3.
Subjective Audio Analysis
4.
Conclusion