By: Kenneth Kwok
February 3, 2012
It is hard to believe another year already passed by us, and January has come and gone. Sometimes it feels like it wasn't too long ago that we were making our New Year's resolutions, and trying our best to follow them. I'm sure, as most people know, that these resolutions are quite hard to keep. One of mine was to keep on top of my work schedule here at APH Networks, and trust me -- the Editor-in-Chief isn't very happy so far, haha. Just before the start of 2012, I starkly recall one memorable conversation with some friends while enjoying lunch at KFC. At the table, we were talking about some of the latest tech trends, and I decided to bring up some of the various USB devices we have today, and what would make a great (gag) gift during the Christmas season. Some people said things such as USB mini fridges, USB cup warmers, and other assorted USB devices. Cool, but they are all so, for a lack of better term, '2008'. Then, a specific friend of mine, while enjoying his food, said that there should be a USB cooling solution that would cool off his food. I kept that in mind during the holiday season, and decided to look for something along those lines as a product to write a lounge article on, since it has been a while since we last wrote about of this extent that doesn't fit into our normal review schemes. Lo and behold, we finally have said product that I distinctly recall talking about. Not only is it a USB fan from SilverStone, I also picked up an interesting version -- so to speak -- in tribute to my friend. Read on to find out what I mean!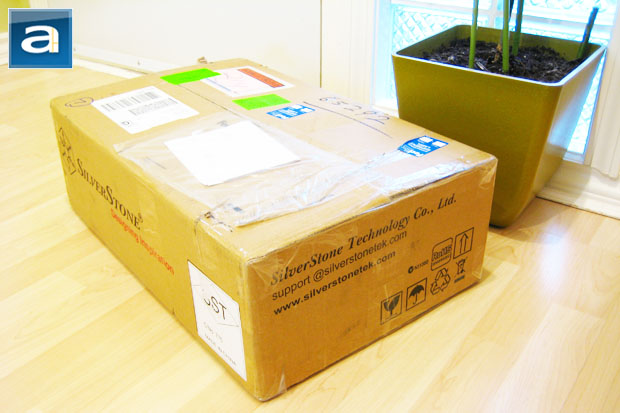 Our sample unit of the SilverStone Air Penetrator AP121-USB came in a huge, brown corrugated cardboard box. At first, I was puzzled by why the box needed to be so big for such a simple product, of course before I recalled there was also a power supply inside as well. The SilverStone Strider Gold Evolution 750W is something we will look at in the next couple of weeks, which made this box seem less daunting for the stuff included inside. Our package was sent using FedEx Express from SilverStone's American offices in California, USA. For a package of this size, it was kept in a relatively good condition, and was more than adequate in terms of protecting the products inside. A large amount of packing peanuts was used to transport the two products, and kept it in great retail condition upon arrival.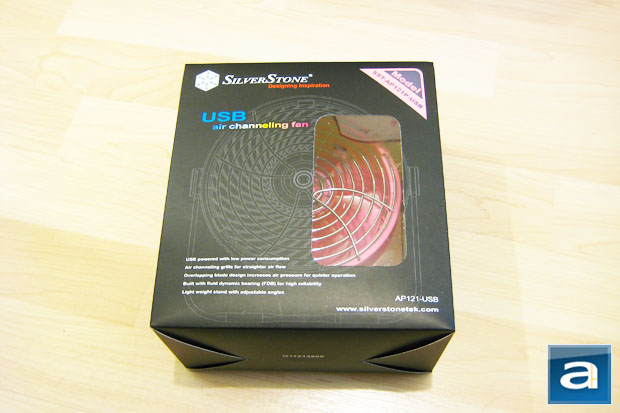 The SilverStone Air Penetrator AP121-USB came in retail packaging, as with the majority of the products we receive. With the usual standard SilverStone style of black background, the front is plastered with information. Focus is almost immediately placed on the fan itself at first glance, since there is a small plastic window on the right, revealing the product snugly fitted within. Around it is a drawing of the rest of the product in grayscale. To the top left is the familiar SilverStone logo, while the right has the model number of the product, which is evidently "SST-AP121P-USB". Keep in mind that the "P" may be quite significant. Found slightly below the SilverStone logo is the classification of the product as a "USB air channeling fan" in a four color gradient of blue, white, yellow, and pink. The SilverStone Air Penetrator AP121-USB is also available in all of the stated colors, which is a nice touch in terms of design. Finally, the bottom lists some of the features of the fan. The back of the box shows off the specifications and translated versions of the features, as well as a diagram showing the air flow pattern of this cooling fan.
Before moving on, let's take a quick look at the features and specifications, as obtained from the manufacturer's website:
Features:
- USB powered with low power consumption
- Air channeling grille for straighter air flow
- Overlapping blade design increases air pressure for quieter operation
- Built with fluid dynamic bearing (FDB) for high reliability
- Light weight stand with adjustable angles
Specifications:
- Model No:
* SST-AP121P-USB (pink)
* SST-AP121A-USB (azure blue)
* SST-AP121Y-USB (yellow)
* SST-AP121W-USB (white)
- Color: pink, azure blue, yellow, white
- Bearing: Fluid dynamic bearing
- Rated Voltage: 5V DC
- Start Voltage: 4.5V DC
- Rated Current: 0.2A (0.17A Actual)
- Rated Power: 1W
- Speed: 1500 rpm
- Airflow: 35.36CFM
- Effective Airflow Range: 1 Meter
- Static Pressure: 1.71mmH2O
- Noise Level: 22.4 dB(A)
- Air Speed: 2.5m/s (measured at fan exit)
- Life Time: 50000 hours
- Dimension: 143mm (L) x 155mm (W) x 51mm (H)
Out of the packaging, the SilverStone Air Penetrator AP121-USB is very basic, with just the fan itself in a simple plastic shell. No other products are included inside; not even a manual -- or anything else along those lines -- since most of information should be more than self-explanatory, or can be found somewhere on the box in a plethora of different languages anyway. In terms of size, the SilverStone Air Penetrator AP121-USB is just slightly bigger than the SilverStone Air Penetrator SST-AP121-L internal fan, which is the original member of the Air Penetrator series. (Man the jokes I could make here, I think it would be better to just let your imagination run wild). The SilverStone Air Penetrator AP121-USB is just the external USB version of the fan, and should deliver roughly the same performance. This is definitely a plus, as the original was smiled upon here at APH Networks.
The first thing that caught my eye was that the AP121-USB came in a rather pink color. Okay, I'll admit it. It's pink. I've had various people comment on this fan and the color choice, and I would have to say this definitely had the desired effect. When people talk to you quite a bit about your Lounge article here at APH Networks, you know you are doing it correctly. The SilverStone Air Penetrator AP121-USB is basically comprised of two main parts -- the base and the fan itself. The base is a simple metal piece that reminds me of a clothes rack for drying... well, clothes. The bottom is wrapped with four plastic feet for better grip. The fan above is held in place by the metal at two pivot points on the two sides. This design allows for 360 degree rotation of the fan, making it easy to point the fan to the desired location without much effort. Like I've previously mentioned, the pink color of the casing dominates the design. Although pink is a great color, the SilverStone Air Penetrator AP121-USB is also available in white, yellow, and blue. Specifically, this model is not for the faint of heart, as this may arouse more attention than necessary, and it is very flamboyant to say the least. One side of the fan as pictured above has an 8-ring metal fan grille. It's pretty clear that this was a good idea to prevent unwanted objects from penetrating the interior of the fan area and to prevent injury. As you can see, I am trying my best not to make that reference...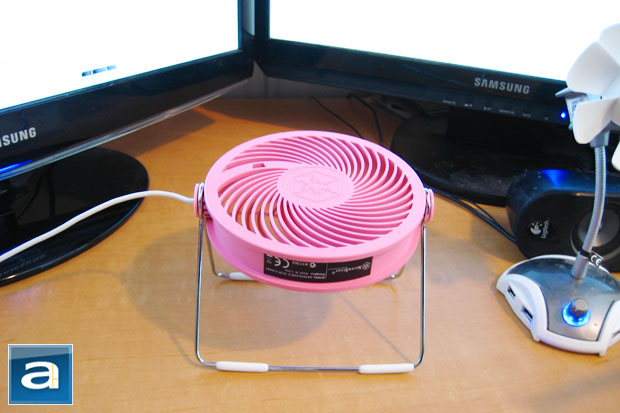 Looking at the flipside of the Air Penetrator USB, we can more clearly see the fan itself as well as the pink plastic covering on top. Our particular version is a very striking color, and does attract quite a bit of attention. Just imagine sticking this thing on your desk at work or bringing it to school one day. I'm sure this will help you get all the ladies, eh? With jokes aside, the fan blows air out on this side, while the intake is from the opposite with the metal grille. The internal fan is actually colored in a translucent pink as well, making it very hardcore pink. The USB cord is located on the left side from the circular plastic, and measures in at about 40" or 100 cm, which should be more than enough for most people. In terms of usage, since it is powered by USB, it is possible to take it on the go, utilizing products such as the Choiix Power Fort 5600 reviewed by my colleague Preston recently. With that in mind, it would be possible to pick up some girls where you never thought possible without a laptop before, and if that doesn't work, just think about all the attention you will receive just using this thing out in public. (Who knows, you can pick up some guys, too. - Editor)
When it comes to performance, the SilverStone Air Penetrator AP121-USB is no slouch, as with the SilverStone Air Penetrator SST-AP121-L, it delivers everything as expected, since it uses the exact same fan inside. Running at 1500RPM, the fan provides more than enough airflow for adequate cooling comfort to the user. Making a quick comparison against the ARCTIC Breeze Pro & ARCTIC Breeze Mobile, which fits in the same category, I have to say the SilverStone AP-121P-USB provides more airflow, and therefore more comfort as well. With the 360 degree rotation, it is quite easy to move it up and down for adjusting the optimal position, in which the cooling needs to be applied. However, as with the SilverStone Air Penetrator SST-AP121-L before it, there is an audible noise heard, since it will be running at the maximum speed of 1500RPM, although it is barely noticeable to the average user and is a small price to pay for this type of cooling comfort.
-----------------------------------------
When I first requested this product from Jonathan, our Editor-in-Chief, he was a little puzzled as to why I would want a product like this. My answer at the time was that it has been a while since we have written our last Lounge article. However, after spending some time with the SilverStone Air Penetrator AP121-USB, it actually brought along more publicity than expected, mainly due to the flamboyant color I chose. I can safely say it was more than worth the effort. Overall, the SilverStone Air Penetrator AP121-USB is a great desktop cooling fan with a great swivel design and great comfort cooling performance. As well, who could ever possibly deny its aesthetically pleasing pink color? However, if you are not much of a fan of pink, there are three other colors for you to choose from. Utilizing the previously acclaimed Air Penetrator fan was a good choice by SilverStone, as it provided very good performance compared to most other USB fans on the market today. This is not to mention the possibilities for this fan when used on the go with a laptop or a portable charger. The AP121-USB makes for a great conversation piece as well, and with Valentine's day that is fast approaching, this could be a great gift to consider, as it retails for only about $20 at press time.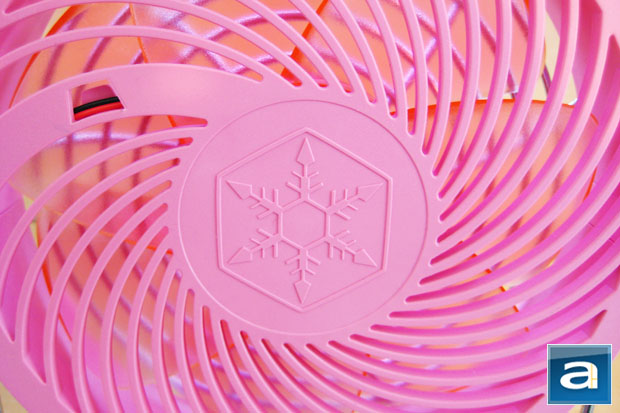 SilverStone provided this product to APH Networks for the purpose of evaluation.

Do you have any comments or questions about the SilverStone Air Penetrator AP121-USB? Drop by our Forums. Registration is free, and it only takes a minute!