By: Kenneth Kwok
July 30, 2010
It has been a while since we have done our last Lounge article, the last one being our 2009 Christmas Review Special of the Philips X-treme Power +80 high performance automotive halogen bulbs. Fast forward two more seasons, and we hit arguably the most exciting of them all -- well, at least for students everywhere, anyway. From the warm summer weather, vacations, and lots of cool treats, it is hard to argue that there is a better time for this Lounge writeup. This is especially since what we have in store today is most fitting for the warm summer weather. Today, we will be taking a look at both the ARCTIC Breeze Pro and the ARCTIC Breeze Mobile. Arctic Cooling has been long known for their extensive line of computer hardware cooling products. Recently, they have expanded their product line with products such as video game consoles, keyboards, and even audio products, such as the Arctic Cooling Arctic Sound E352 we reviewed a several months back. When I heard of the Breeze, one of their latest products, I was thinking some form of CPU heatsink/fan, or even possibly a GPU cooler. To say I was wrong would have been an understatement -- as the Breeze line of products is actually a series of USB fans for both desktop and mobile application. Without further delay, let's plunge into the rest of the details!
Our testing units of the ARCTIC Breeze USB desktop fans came shipped using FedEx International Economy from Arctic Cooling's offices in Hong Kong. The package arrived in less than stellar condition, with many dents and grooves into the rectangular corrugated cardboard box. This is unlike what we'd expect from FedEx on normal days. Thankfully, the contents of the box were left undamaged, thanks to the massive amount of bubble wrap surrounding our ARCTIC Breeze Pro and ARCTIC Breeze Mobile units.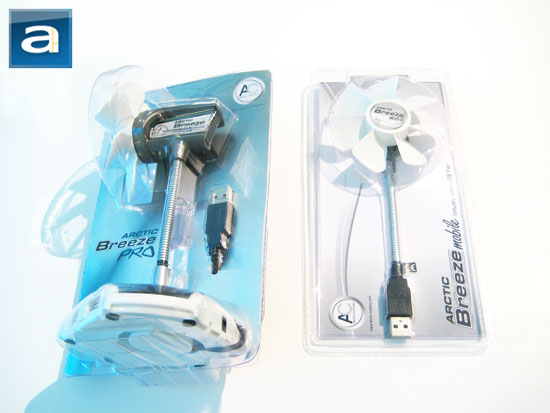 Both the ARCTIC Breeze Pro and ARCTIC Breeze Mobile came in retail packaging, which is centered around the gray, silver and white background, followed by a similarly clean design that has a small logo and the product name in bold black text on both sides. The actual product is placed to be shown in front, protected by the clear plastic enclosure. The Pro version is encased in a plastic clamshell-like design with tabs at the back, as well as some tape on the bottom to make sure the packaging does not open unintentionally during transport. As far as the Mobile version is concerned, it utilizes the harder-to-open blister pack design. Despite different types of packaging, both of these would look aesthetically pleasing enough in a retail store, and could be prominently displayed either on the shelf, or on a hook.
Before we move any further, let's take a look at the product specifications for both the ARCTIC Breeze Pro and the ARCTIC Breeze Mobile, as obtained from Arctic Cooling's website:
ARCTIC Breeze Pro
Features:
-Illuminated knob for power and fan speed (800, to 1,800 RPM)
-Energy-efficient motor, low noise impeller
-4-port USB hub included
-Flexible neck for easy positioning
-USB-powered, suitable for PCs, laptops and USB chargers
-External power adapter (optional) – for devices with high power requirements
Fan: 92mm
Fan Speed: 800 to 1800 RPM
USB Connector: USB 2.0
Cable: 1.8m
Weight: 362g
Warranty: 2 year
ARCTIC Breeze Mobile
Features:
-Energy-efficient motor and with low noise impeller
-USB-powered – suitable for laptops and USB chargers
-Lightweight, portable, slim design
-Flexible neck for easy positioning
-Perfect for frequent travelers
Fan: 92mm
Fan Speed: 1700 RPM
USB Connector: USB 2.0
Weight: 65g
Warranty: 2 year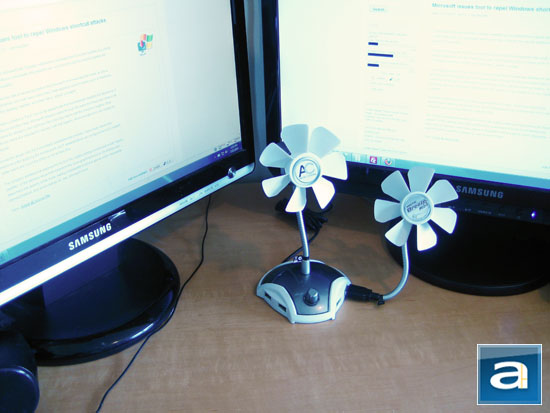 Out of the box, both of these products just come as shown in the plastic packaging. There are just the products inside each plastic shell, with no manuals included -- or anything else for that matter -- as most of this information is self-explanatory and/or written at the back of the box in a multitude of languages anyway. Sizing the two products up next to each other, they are almost identical, save for the fan attachment and base on the ARCTIC Breeze Pro. This can be seen in our photo above, where the ARCTIC Breeze Pro is located on the left side, while the ARCTIC Breeze Mobile is located on the right side.
Focusing on the ARCTIC Breeze Pro, it is easy to see that the base is colored using the standard white, gray and silver color scheme of Arctic Cooling. The plastic base is appropriately weighted, so it does not easily topple over or lean to one side when the top is adjusted. Located at the center of the base is, of course, where the fan is installed. Situated slightly below the fan is the RPM control knob in identical gray color. Surrounding the RPM knob is a translucent ring, which houses a blue LED inside -- just for that "cool looks" factor. On the front left and front right are four evenly spaced out USB ports for a four port USB hub, which is exclusive to the Pro version to provide extra desktop convenience. The white colored 92mm fan is attached using a flexible metal neck, which in turn is attached to a secondary plastic piece shaped to appear like a jet engine with a pseudo-exhaust at the back. Connected to the aforementioned is the fan powered by an enclosed motor inside the jet engine-like chassis. It is interesting to note that the fan is made out of hard plastic, with no bracket/cover for either the ARCTIC Breeze Pro or the Breeze Mobile -- therefore, it is generally advisable not to stick any fingers within close proximity of the USB fans. It would actually be quite embarrassing to say you suffered minor injuries from a desktop USB fan, haha. Speaking of which, all the blades are finished cleanly, with no places containing particularly sharp edges. Overall, the ARCTIC Breeze Pro is built quite solidly.
The ARCTIC Breeze Mobile is quite a bit simpler than the ARCTIC Breeze Pro for a number of obvious reasons, as it needs to be designed mobile enough to bring on the go. The bottom of the Mobile version starts off with a USB connector, and then leads up to the fan with the same flexible neck as the Pro version. The difference is that the flexible neck is slightly longer on the Breeze Mobile. On top of that is a circular plastic enclosure that houses a motor to turn the 92mm fan. This is the same fan used on the Mobile version, and it features no finger protection either, so it is wise not to attempt to remove it from the USB port while it is turned on. For a while, I pondered the usage of such a fan other than on a laptop. Then I took a look at the back, and it gave me an idea to use it with portable USB chargers such as the Choiix Power Fort. This certainly adds new dimensions of possible usages of this fan, allowing this portable cooling device to be available on camping trips or places without conventional power outlets. And you probably won't want to lug around a laptop just to cool yourself, haha. That's not to mention it looks a lot less geeky to have a USB fan on a portable charger than on a laptop.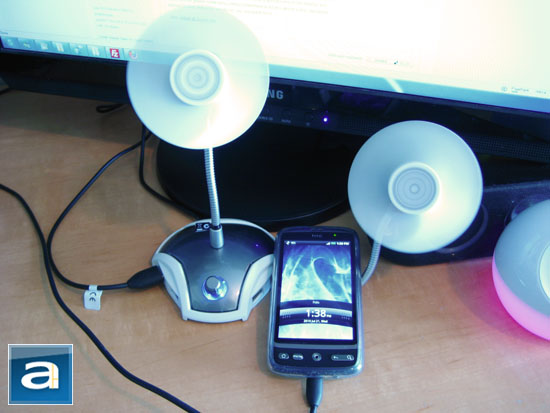 Performance wise, both of these products exceeded my expectations. Starting with the ARCTIC Breeze Mobile, the fan runs at 1700 RPM, and blows a fair amount of air to provide adequate cooling to the user. The slim design and the portability of it really delivers, and could be easily used anywhere with a USB port -- from laptops and netbooks, airplane USB power jacks, to portable chargers -- you name it! On top of that, the length of this fan makes it easy to tilt in all directions. Lastly, this 92mm fan is practically inaudible even at 1700 RPM; barely any sound can be heard unless you put your ear in the direction of the wind, or within very close proximity of the motor.
When it comes to the ARCTIC Breeze Pro, the same can be said about the performance. Using the RPM knob to go from 800 to 1800 RPM, the airflow can be adjusted to give an optimal cooling experience, not to mention the noise is practically imperceptible the same way the ARCTIC Breeze Mobile is. The integrated USB hub on the base is useful for things such as connecting your phone, charging your portable charger to use the mobile version, to plugging in your various USB devices. All in all, this fan is quite a breeze to use -- pun intended -- and has enough features to please almost everyone who needs a compact desktop personal cooling solution.
-----------------------------------------
To be honest, I never expected to even write an article on USB fans (Until Jonathan asked me to), but after doing so, to say I am not surprised would simply be a lie! Overall, I must say I was quite impressed by both the ARCTIC Breeze Pro and the ARCTIC Breeze Mobile -- from their intuitive design, good performance, to inaudible fans, these products are actually quite likable. It would be nice if there is more finger protection along the edges, so just be a little more careful right now. The Pro version makes for a very good desktop solution to personal cooling, and the included fan controller as well as the USB hub makes life easier, not to mention quite a bit "cooler" haha. The ARCTIC Breeze Mobile is exactly what it is advertised to be -- a portable USB fan. Its commendable build quality, slim design, and same virtually inaudible fan with good airflow really raise the bar of USB fan quality. That is not to mention the possibility of using the ARCTIC Breeze Mobile with portable chargers, such as the Choiix Power Fort Preston reviewed last week, or even Arctic Cooling's own ARCTIC C1 Mobile with a solar panel to boot. It would make an interesting combination to have a nice portable cooler while charging itself as you are enjoying the sun. The Mobile version is listed at a very reasonable $10 MSRP at time of writing, and for a fan with this level of quality, it certainly isn't too much to ask for. The Pro version, on the other hand, commands a price of $20 MSRP at time of writing. The cost is quite similar to many USB hubs at your local brick and mortar stores -- so why not pick this up with personal cooling as a bonus feature?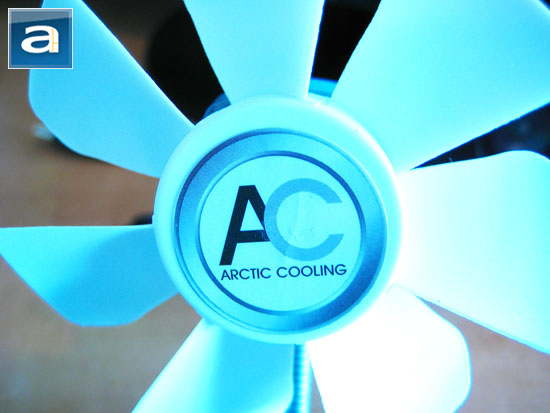 Special thanks to Eason over at Arctic Cooling for, well, cooling off our summers with a light USB Breeze.

Do you have any comments or questions about the ARCTIC Breeze Pro and ARCTIC Breeze Mobile? Drop by our Forums. Registration is free, and it only takes a minute!