By: Preston Yuen (Debut Review)
July 23, 2010
More and more people are becoming reliant on many different technological devices in everyday life. Some people may be businessmen, who run around with their Blackberries and HTCs all day. Others may be cell phone enthusiasts with their Nokias, Samsungs, Motorolas, or LGs, with over 200 applications on their phones (Okay maybe not THAT many, but you get the idea). And of course, those Apple fanboys have their iPhones, iPads, and iPods, boasting over 225,000 available applications at the App Store at press time. But imagine this: What would you do if you were one of the many that came across a battery-dead cell phone in the middle of the road? Well, Choiix, by Cooler Master, has a trick up its sleeves to bring your electronics back to life just about anywhere. Under the name of Power Fort (No, it's not Power Fart, I know what the 8-year-old inside of you is thinking haha), it arrives to the delight and joy of many electronics users. This portable device is not only useful to many people, but is also the consumer's best partner in the battlefield of technological devices. Its 2700 mAh Li-Po battery is sufficiently large to change many devices over. It also has an auxiliary flashlight just in case. Its slim and stylish design won't make it a chore to carry out the door in the morning. Simply put, this little bugger proves to be surprisingly useful, from somewhere as close as a walk to your friend's house, to somewhere as far as going to camp with no power outlets. Read on to find out more about this life saver!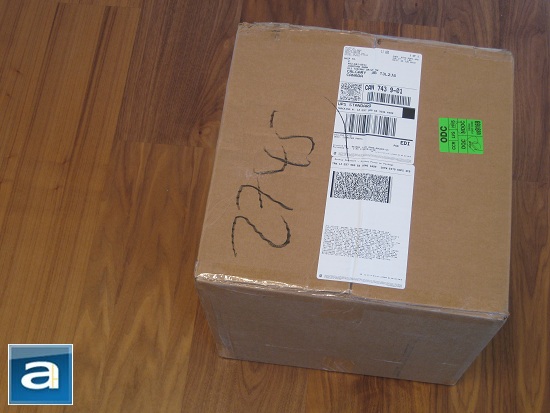 Our Choiix Power Fort came along with the Cooler Master Silent Pro Gold 1000W power supply, which will shortly be reported upon by yours truly. This was shipped in a cardboard box from Cooler Master's office in California, USA, using UPS Standard to our Calgary, AB office. Surprisingly to me, the cardboard box itself sustained next to no damage as compared to other personal products that I have obtained via UPS Standard. If you would like to know how much Styrofoam was used in this box for protection, stay tuned for the Silent Pro Gold 1000W article next week!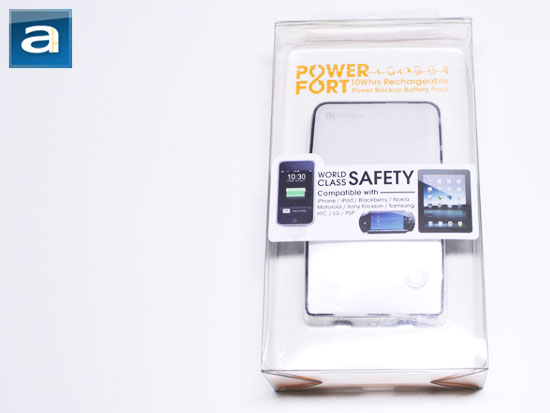 I found the Choiix Power Fort retail packaging simple, clean, and eye-catching. All its contents are neatly packaged in a clear hard plastic box. The front label shows its compatibility with the iPhone, iPad, Blackberries, and PSP, as well as products from Nokia, Motorola, Sony Ericsson, Samsung, HTC, and LG. Behind this label is the Power Fort itself. Everything is packed neatly in one convenient main box, with a secondary box located behind the Power Fort for the rest of the accessories. The dividing middle section is completely white, and is used as a background for the Power Fort, which is located in front of it as aforementioned. The 'Power Fort' product name is situated at the top, stylized with different icons for eye candy, with Choiix's logo printed at the bottom. Flipping the box around reveals its features, specifications, and package contents, as well as the estimated extra hours you will get for some of the devices. We've extracted a bunch of this information for you. So before we move on, let's take a look at the features and specifications of this product, as obtained from Cooler Master's website:
Features
- Slim curve design and light weight
- Special bypass circuit design prevents the battery from the damage
- Powerful 1A charges 30% faster than normal USB power
- Built-in LED flashlight for emergency
- Battery life LED indicators
- Up to 500 recharge times with 85% capacity remaining
- Quick recharge less than 3.5 hours
- Full protections built-in to avoid battery damage
- Ultra low self-discharge battery cell function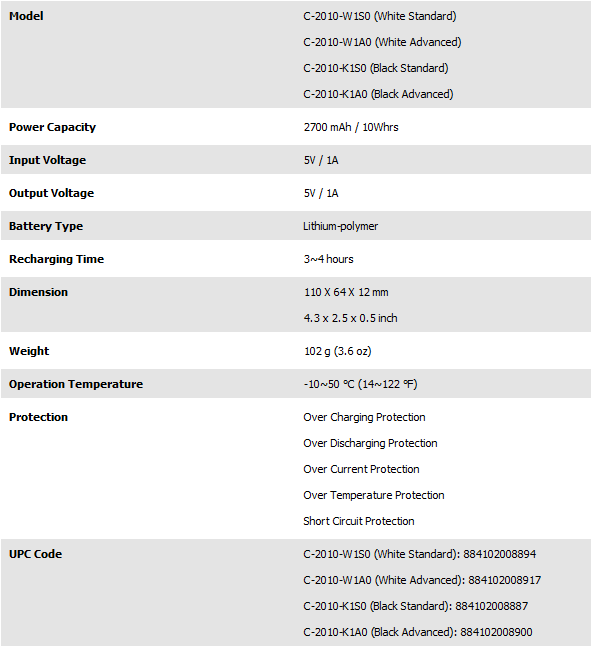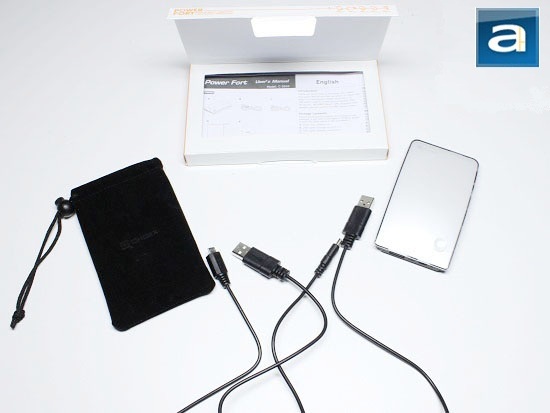 The accessory box houses two USB cables, an instruction manual/mini-guide, and a carrying bag. If observed closely, the inside of the carrying bag is conveniently partitioned into two sections -- one side for your Power Fort, and the other for your cables. The carrying bag is provided so Power Fort users do not have to worry too much about having all their cables separate from the charger itself. When purchased at retail stores, the Power Fort is also available in two different colors: one in black, and the other one in white. Our particular unit turns out to be white in color, which looks pretty for those who like to own good looking products (I mean, who doesn't? :P - Editor). The black one, however, looks very slick as well. The Power Fort also comes in two versions: Standard and Advanced. Like the one used in this review, the Standard version simply has one carrying bag and the two USB cables. The Advanced version provides the consumer with an extra car adapter in addition to other miscellaneous international heads for outlets if you're planning to travel outside the country with the portable charger.
When dealing with products, the consumer's attention is almost always first captured by the product's appearance. Look at how well Apple products are doing. Here, I will first go over into the overall features and looks of the Power Fort, before digging into the little details and technical information. The first thing the user would notice on the Power Fort is the sleek, curved, and clear coated hard plastic front. This design gives the Power Fort a very appealing first impression in my opinion, with nothing but a conveniently placed button on the bottom right side for easy access when placed on the palm of your right hand. Or at least, for many of us right handed people anyway. The dimensions of this portable charger measures in at 4.3x2.5x0.5 inches. Along with its 102g weight, this lets the Power Fort in as an easy fit to most people's bags, or even pockets without weighing their pants down.
On the front is nothing but one button. One click will activate the charge indicator LEDs on the Power Fort itself. A double click will turn on the flashlight, which can be found on the top/backside side of the portable charger. The charge indicator is composed of an array of four blue circular LED lights -- when the Power Fort is fully charged, all four lights will be on. When it is completely drained, all lights will be turned off, and when it is half charged, there will be two lights displayed, and so on.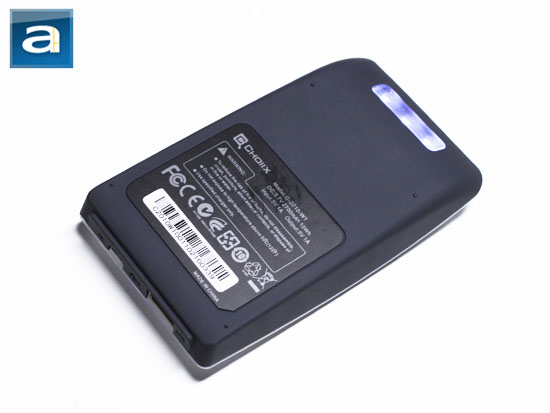 The black matte plastic used in the rest of the body gives it a clean, slick feel with a well-placed triple array of LEDs on the top/backside, so it won't be blocked by your hand in normal gripping positions, and works like any ordinary flashlight. The USB cables provided are not overly long so that you don't have to deal with tangled cables, but should be more than sufficient for regular usage. At the back, there are two USB connectors -- one mini-USB input to charge your Power Fort's internal battery, and one standard USB output to charge the connected device, whatever it may be.
Speaking of which, let me fill you in on the battery itself. The Power Fort contains a built-in 2700 mAh lithium-polymer battery; full name being lithium-ion polymer battery and commonly abbreviated as Li-Po battery, are a type of rechargeable batteries. Usually, these batteries made up of many secondary cells in parallel addition to maximize the discharge current capacity. A solid polymer holds the lithium salt electrolyte in place, creating cells with increased ruggedness, excellent shape adaptability, and potentially lower cost of manufacturing. The Power Fort's internal battery is also designed against overcharge, over-discharge, overheating, over-current, and short circuiting for reliability and safety purposes. Cooler Master promises up to 500 recharge times with 85% capacity remaining, which is extremely beneficial in the long run. How the Choiix Power Fort lives up to this claim, we will have to see about that in the future. Supplying 1A @ 5V, the charge time should be a bit faster than the standard USB port, which provides half the current at the same voltage.
-----------------------------------------
The Tests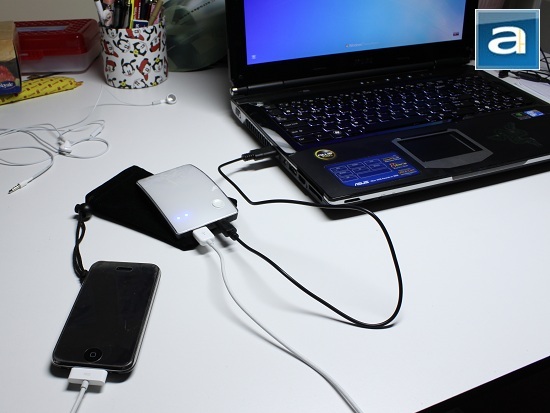 Since it is supposed to be a convenient device for charging, I charged it to full capacity from my Asus G51Vx-A1 laptop. All device charging tests are done without the Choiix Power Fort plugged into my laptop. This was done to see how long the Power Fort could last on a single run once it was fully charged. When charging the Power Fort itself, no devices were plugged into it. This was to gauge how long it would take to charge the Power Fort itself accurately.
When first charging it out of the box, I've noticed that it was already half charged from the factory. To optimize the performance of the battery for first use, I have charged the battery, drained the battery all the way down, and recharged it fully without interruption to prepare it for first use. Once the initial charge/discharge optimization cycles were completed, I unplugged it from my laptop and thought put it to the tests. I pulled out my Apple iPhone 3G, iPod touch, and Sony PSP and recorded the results.
Firstly, to get the bad news out of the way, I drained the battery on my PSP and tried charging it with the Power Fort through USB charge, a setting on the PSP where you could charge the battery using a USB cable. However, my PSP did not seem to like the Power Fort for some reason. The same configuration works when it is plugged into my computer, eliminating the possibly of incorrect settings on my PSP. Facing this problem, I had no solution to fix it, so I moved on to my iPhone and iPod touch. Other than that, any device that accepts standard USB charge should not have this problem. In testing the iPhone and iPod touch, I found that the results were virtually identical between the two. For reference, I used a wall charger and Choiix Power Fort to obtain charge time results. Both power supplies are designed to output 1A at 5V, so it would be fair in checking performance consistency against one another.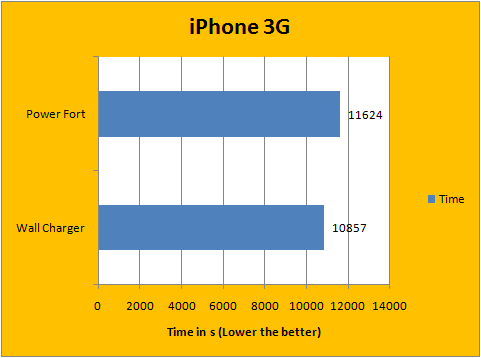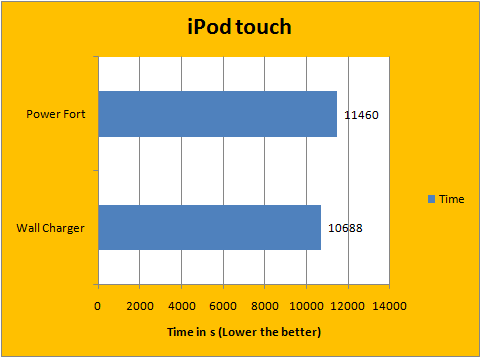 As expected, the results were quite similar and validated the performance consistency of the Choiix Power Fort. The wall charger (Also supplying 1A @ 5V) took approximately three hours to fully charge the iPod touch and iPhone from 0% to 100%. Both my laptop and the Power Fort took approximately 15 minutes longer to charge compared to the wall charger; generally speaking, the difference is quite negligible. I have also tested how many iPhone/iPod touch batteries it can fully charge from 0% to 100% on one fully charged Power Fort. It turns out it could fully charge the iPhone/iPod touch 2.5x over. Having said this, it means you could listen to many hours of music and have long conversations on your phone. Once I have drained the Power Fort, I hooked it back up to my laptop to see how long it will take to fully charge a drained battery. This took roughly 3.5 hours according to my tests, corresponding with what Cooler Master's specification table states.
Last, but not least, I have also tested how well long the LED flashlight lasts, as well as how well it works. For the first part, I fully charged the Choiix Power Fort, and then I left the LEDs turned on overnight. When I woke in the morning, it barely used a quarter of the Power Fort battery pack. This took approximately ten full hours for the flashlight to completely use up a quarter of the battery! This was significantly better than what I had expected it to last, which I guesstimated to be approximately eight hours for half the battery of the Power Fort (I am aware that LEDs are very power efficient, but still haha). Although this flashlight is not that powerful, it could also be used as a nightlight for reading or a search light if you dropped something on the ground that you need to find. This may be particularly useful if you are out camping. All in all, the flashlight feature is best used for close ranged illumination.
-----------------------------------------
In general, I find Cooler Master's Choiix Power Fort a very user friendly product. Its relatively big 2700 mAh lithium-ion polymer battery can boost the life of your devices by a supplying constant 1A @ 5V charge, which can charge an iPhone two-and-a-half-times while effectively matching the performance of my wall adapter. Other than that, setup takes no time at all -- as long as you have the right cables, and of course, having the Power Fort itself fully charged before leaving the house. An LED flashlight is present for all those emergency situations when you do not have adequate lighting, and its slim design makes it easy to carry around in the protective carrying bag provided. The most important feature is that it does what it is meant to do proficiently for the most part -- charge your device where you need it, when you need it. The biggest problem I had was that my PSP refused to work with it for some reason. The Power Fort claims compatibility with the Sony PSP, and although my PSP will charge when connected to my computer, it has failed to do so with this portable charger over USB. Other than that, it worked flawlessly with my iPod touch and iPhone 3G, and any device that accepts standard USB charge should work without complaints too. If you travel out of town and/or around the world quite a bit, it is probably a good idea to spend an extra $10 or so for the Advanced version, since it includes a more comprehensive set of cables to keep the Choiix Power Fort readily available for its next big mission, rather than limited to a USB charge only. In my opinion, the extra money is well worth the difference. After all, if even your portable charger is dead, there's nothing much you can do about it! All in all, the Choiix Power Fort is a sleek and stylish device with a large battery to keep your electronics rolling -- and the large 2700 mAh battery is more than enough to extend the battery life of most cell phones running several times over. If that is what you are after, the Choiix Power Fort is worthy contender for your hard earned cash.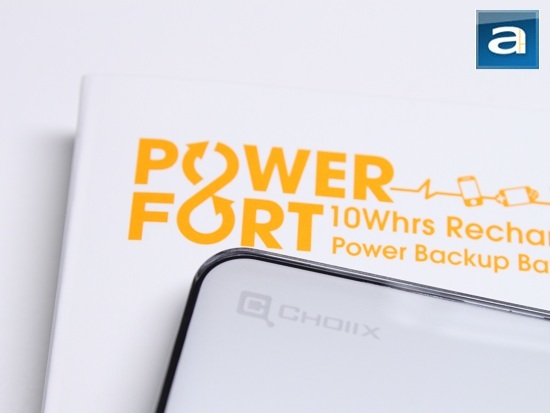 Special thanks to Lulu over at Cooler Master for making this review possible.
APH Review Focus Summary:
8/10 means Definitely a very good product with drawbacks that aren't likely going to matter to the end user.
7/10 means Great product with many advantages and certain insignificant drawbacks; but should be considered before purchasing.
-- Final APH Numeric Rating is 7.4/10
Please note that the APH Numeric Rating system is based off our proprietary guidelines in the Review Focus, and should not be compared to other sites.
The Choiix Power Fort is a sleek and stylish portable charger that does what it promises proficiently, and comes with a convenient LED flashlight.
Do you have any comments or questions about the Choiix Power Fort? Drop by our Forums. Registration is free, and it only takes a minute!