By: Jonathan Kwan
April 2, 2010
Quick -- name an earphone manufacturer. While Arctic Cooling probably isn't the first company that comes to mind when it comes to personal audio, the company actually has had a pretty complete line of budget to entry level performance earphones for some time already. Until this point, Arctic Cooling is a well known manufacturer for making excellent computer cooling solutions for very reasonable prices. Products including the Arctic Cooling Freezer64 Pro CPU cooler, Arctic Cooling Accelero S1 graphics card cooler, and Arctic Cooling MX-2 thermal paste, reviewed by us between 2006 to 2007, were all very well regarded among PC enthusiasts, and coincidentally all received the 'APH Recommended' award as well. When I heard that Arctic Cooling began marketing their Arctic Sound line of earphones, I was both surprised and intrigued. For one thing, it is not common for a company specializing in computer cooling solutions to start selling personal audio products in a completely unrelated market. And not only that -- they claim to deliver earphones with high sound quality in every respect. The company's current flagship in their audio lineup is the Arctic Sound E352 in ear monitors, which Arctic Cooling advertise to be precisely engineered by Swiss and German audio experts. Combined with a wooden chassis for enhanced natural response, and continual emphasis on its excellent sound characteristics, how well does the E352 step against well established players in the realm? Would it appeal to true audiophiles and establish Arctic Cooling's reputation in the earphone market? We've got you covered with our full range of tests on the Arctic Sound E352 here at APH Networks!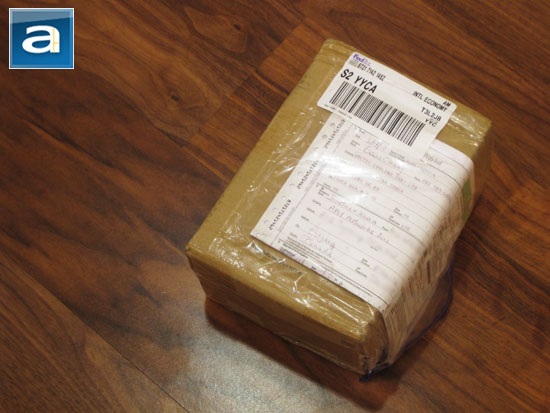 Our review unit of Arctic Cooling's Arctic Sound E352 earphones arrived in a small, brown corrugated cardboard box from Arctic Cooling's Hong Kong offices at Tsuen Wan. Using FedEx International Economy, everything arrived safely and securely in commendable condition from the other side of the world. I excitedly cracked open the box, and began our review today!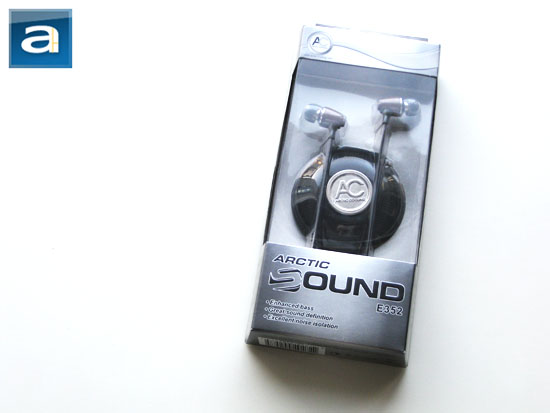 Arctic Cooling provided us with a retail package of their Arctic Sound E352 earphones. Incorporating the standard silver and white color scheme to denote its 'arctic' thematic branding found across Arctic Cooling's product line, the retail box is actually designed pretty well aesthetically. Arctic Cooling's logo is located at the top, while the company's Arctic Sound branding is stylized text is printed boldly across the bottom. This is followed by the E352 model name for easy recognition. Product highlights include 'enhanced bass', 'great sound definition', and 'excellent noise isolation', as seen printed on the package in our photo above. Meanwhile, a large plastic window occupying the majority of the front face reveals the Arctic Sound E352 earphones in physical form, as well as the included zippered case directly behind it. I found that very convenient for the consumer, since it gives the potential buyer a physical look of the product without even opening the package. Specifications and further product highlights are printed at the back of the box, which are as listed below:
- Warm sound definition by exquisite wooden chassis
- 3 sets of silicone caps (S, M, L) minimize ambient noise and enrich bass response
- Ultra-soft material fits gently in your ears providing hours wearing comfort
- Gold-plated stereo plug for uncompromised signal transmission
Frequency response: 18Hz - 22kHz
Impedance: 32 Ohm
Sensitivity: 104 dB/mW
Output power: 15 mW
Cable: 1.3 m with 3.5mm stereo plug
Weight: 5g
Warranty: 2 year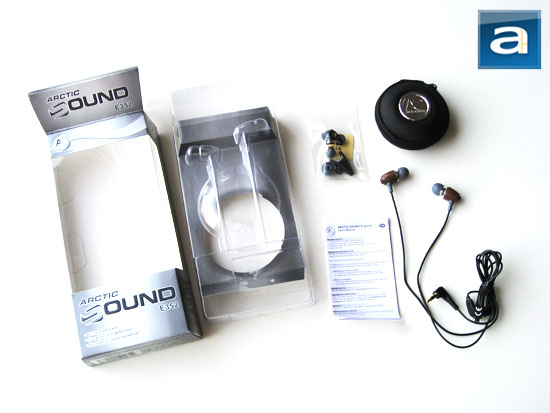 Opening a flap at the top and sliding out the clear plastic shell encased within the package reveals its internal contents. Out of the box, you will receive one set of the Arctic Cooling Arctic Sound E352 earphones, one round zippered carrying case, one user manual (Which is really a folded sheet of paper, with information printed in ten different languages), one shirt clip, two additional sizes of ear tips, and one Arctic Cooling case sticker. Generally speaking, the company included no excess amounts of accessories; only necessary materials are provided, which should be sufficient for most users.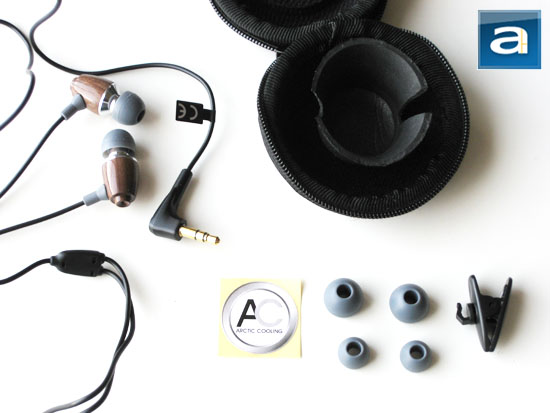 The Arctic Sound E352 earphones are available in only one design -- a textured wooden finish, as shown in our photo above. The company claims that the wooden chassis "reveals a warm sound definition" for those who "prefer natural audio performance". We will dig into that claim in our subjective performance evaluation later on in this review. Meanwhile, it is important to note the actual texture of the E352s are much closer in our photo above than stock photos on Arctic Cooling's website -- whereas Arctic Cooling's stock photos seems to denote much more sophistication and quality to the product in question, the actual earphones have a fake looking wood trim complete with a cheap glossy finish. It practically reminds me of low quality faux wood trim found on many new Toyota vehicles.
Compared to other earphones, the Arctic Sound E352s are surprisingly light with a manufacturer rating of only 5g. The earbuds go straight into the user's ears in standard configuration, but it is possible to mount them by wrapping around behind your ears as well. I would like to commend Arctic Cooling for making such lightweight earphones for improved comfort, but I did find them a little large -- both in physical length and width -- for optimal fit in my ears. The end result is that they stick out the side a bit during usage, and it directly affects to comfort and noise isolation performance. In the end, I went with the medium sized ear sleeves, after trying out the small eartips, for best fit out of the three. As with all IEMs, users with different sized ears will be happy to know that the company has included three different sized sleeves for best seal. However, the sheer size of these earbuds as aforementioned will not negate their tendency to stick out from anything less than large ears.
The Arctic Sound E352 earphones connect to your audio output device via a 90 degree 3.5mm connector. I personally prefer angled connectors over straight connectors as offered on the E352s, because they are inherently easier to disconnect from a source as they are easier to grip. I also like the fact that the cable is 130cm long, which should be more than sufficient for most users. As far as quality is concerned, this is where we need to talk. For one thing, the connector is extremely generic, to the extent that it looks like it came out of a value parts bin at an OEM manufacturer's factory in China. Combined with one of the thinnest plastic coated black cables I have seen in a while, I can safely say that at this point it is basically the same stuff found on earphones sold at your local dollar store. The same thing goes with the plastic Y-split junction at the center of the cord, which should be very familiar to those who are currently using low quality personal audio products. The only difference is that Arctic Cooling's logo is stamped on both the junction block and 3.5mm connector, which you will not find on generic dollar store merchandise. All in all, build quality is where Arctic Cooling can significantly improve on -- especially for something that commands a price of MSRP $69.95.
On the positive side, the 'NVH attributes' of its cord properties is actually slightly better than the V-MODA Vibe IIs, and are somewhat comparable to the Maximo iMetal iM-590s. During usage, like all IEMs, microphonic noise is inevitable -- but it is not as significant issue that interferes with its usage and purpose on the Arctic Sounds. An included shirt clip can be attached to the cable to the location of your choice -- this is very convenient if you're working out, and it is preferable to clip the wire at the top of your shirt rather than the middle. The Arctic Sound E352's cable is also lighter than the V-MODA Vibe II's cable, which is definitely a plus in this particular context. However, I can definitely still see some potential room for improvements in this area.
Arctic Cooling included a round zippered carrying case for use with the E352 earphones, almost identical to the kind that Shure and Maximo includes with their retail products. Its tough nylon exterior offers durability and protection, and the soft interior provides protection to the contents. While round zippered case offers significantly more practical utility, I have always found that a center wraparound to be inconvenient in loading/unloading situations. It is also way too thick and heavy to place in your pocket most of the time. Additionally, it is important to note that competition offers similar cases with solid plastic centers, Arctic Cooling decided to reduced cost in this area as well, and used cheap flimsy foam for the center wraparound. Of all things to use... seriously, foam?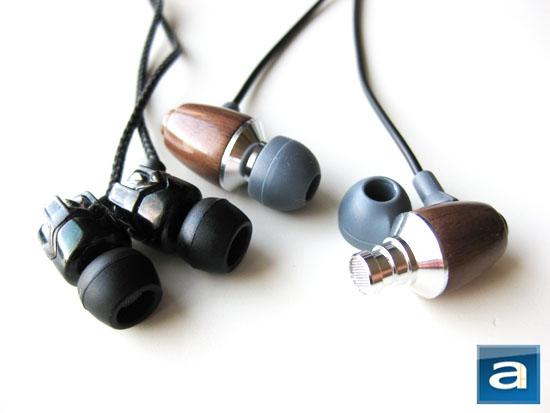 A quick comparison photo: V-MODA Vibe II (Left) and Arctic Cooling Arctic Sound E352 (Right).
A closer look at Arctic Cooling's Arctic Sound E352 earbuds. As the E352s incorporate a wooden chassis for natural sounding characteristics as claimed by the manufacturer, the rear part of the earbuds itself comes in a wood grain finish, as shown in our photo above. I firmly believe that it is possible to design earphones with a wooden chassis to be highly sophisticated and classy on the exterior. Unfortunately, I am not quite pleased with the end result of the E352s, since the texture and finish looks generally fake as aforementioned. The above photos should provide a more clear view of what I was asserting earlier on in this review. My other complaint is that these earphones aren't even labeled left and right! On the positive side, while the E352s utilizes a very thin plastic cable as discussed earlier, the joints are done correctly and are securely attached to both driver enclosures.
Like many modern earphones, the 9mm drivers aim directly into your ear for a more 'direct' and 'transparent' sound reproduction characteristic. At the same time, it makes the earphones much easier to clean in the long run too. The sleeves assist the aim into the user's ear canals; and since these earphones are designed for a closed configuration, the Arctic Sound E352s are made for passive noise canceling.
------------------------------------------
The Tests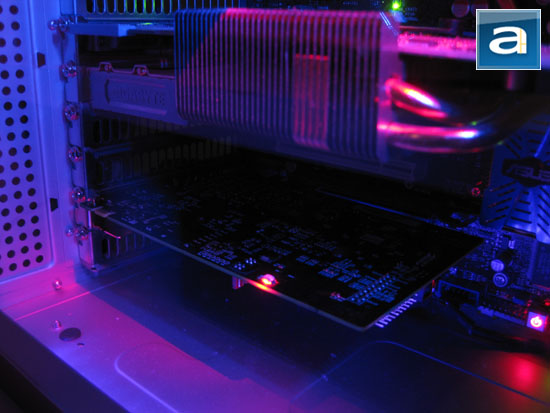 Like I said a couple weeks back, there are really no true objective measurements for earphone sound quality. As the reviewer, however, I'll put it through a series of subjective tests to try to come up with the most objective rating possible (Yes, it's quite a paradox haha). The tests were conducted primarily with the Auzentech X-Fi HomeTheater HD sound card with the Arctic Cooling Arctic Sound E352s plugged in directly to the dedicated amplified headphone output. (Creative CA20K2 DSP/APU, National Semiconductor LME49720NA OpAmp, JRC NJM4580 signal buffers, Cirrus Logic CS4382A DAC, Nichon MUSE ES capacitors.) This sound card is probably the best consumer/prosumer computer sound cards out there in the market today, and will reduce its potential to be a limiting factor in our benchmarking today, especially with its dedicated amplified headphone output circuitry -- rather than using a traditional line out connection. For mobile testing, I used my Apple iPhone 3G 16GB as a reference.
After over 150 hours of break-in time (Well above typically required period), we put the Arctic Sound E352s to the tests. All tracks are uncompressed CDs, FLAC, or LAME encoded MP3s at 192kbps or higher.
The following IEMs were used for reference benchmarking and not necessarily directly compared:
- Maximo iMetal iM-590 (Approximately $40 at press time)
- V-MODA Vibe II (Approximately $80 at press time)
- Arctic Cooling Arctic Sound E352 (MSRP $69.95; no retail pricing information at press time)
Arctic Cooling makes many bold claims about the E352 earphones. Being the flagship product of the company's Arctic Sound product line, excerpts from the product page include statements such as "wooden chassis and large driver coil represent high quality audio output with warm and natural sound", "outstanding earphone delivers high sound quality in every aspect", and "precisely engineered by Swiss and German audio experts". It seems to be clear that Arctic Cooling knows what they are talking about, and significant amounts of effort has been put into the development of the E352s for defined performance at the price range. I was given a very positive first impression of the Arctic Sound E352s, not to mention the number of websites that has given this product a great review -- I have to say I definitely had high expectations for these earphones, even before I tried them on.
The key phrase being, before I tried them on.
Reviewing audio devices require extensively trained ears and lots of experience. Even for audiophiles, it may prove challenging at times to obtain an accurate evaluation of a product without a thoroughly familiar product to use as a simultaneous reference. While I am not going to even try to claim that I am the only trustworthy or best reviewer for sound, it is fact that most computer review sites have editors that are insufficiently trained in reviewing earphones. Give them practically anything and all you will read about goes along the line of "good bass, nice midrange, awesome treble, really clear sound, 10/10". While there are many knowledgeable audio reviewers at various respected online media outlets, these are by far the minority.
I said all of the above for a reason, but let's get straight to the point. Right off the bat -- the Arctic Sound E352s are generally poor earphones regardless of the way you look at it, and to list a MSRP of $69.95 on their website is actually pretty funny. I wouldn't pay more than $10 for something of this quality. Heck, I'd think twice even if they want five bucks! Why? Well, here we go.
Let's go over the basics with regards to the frequency reproduction alone, before we move on to more technical aspects of audio performance that audiophiles like to discuss. The bass is somewhat existent at the lower end, but fundamentally a huge gap exists between the bass and the upper midrange portion. On the positive side, the bass is generally acceptable for being somewhat rounded and solid; however, it is not particularly deep. Skip over the nearly non-existent lower midrange as aforementioned, and once you move into the upper midrange, you will notice that it is significantly amplified beyond listening comfort, knocking the E352s completely out of any category of acoustical balance. We got some treble going on at the higher end of the frequency spectrum, but it is almost completely drowned out by the overboosted upper midrange that it is hard to hear and distinguish accordingly. The treble is also a bit recessed, and it is not sharp, not wet, and not distinct at all.
I would normally cover frequency reproduction in a little more detail before moving onto frequency separation and layering, but the particular sound reproduction characteristics on the Arctic Cooling Arctic Sound E352s makes it more logical to integrate the two sections in this regard. The reason is because frequency separation is virtually non-existent across the board on the E352s. So let's not even talk about layering, since it is not even relevant in this situation. The overamplified upper midrange (Which is most of the stuff you will hear on the E352s anyway) completely lacks definition and detail, making a large blob of low resolution noise that makes me cringe every time percussion instruments kick in on a large scale. It sounds very dry, and very hollow. The lack of detail is appalling, and to say that it is extremely messy is only a layman's term of describing it. Generally speaking, the upper midrange is totally wrong from a sound design standpoint; combine that with a missing slab of lower midrange, and we have a pretty big problem. Vocals are distorted, unnatural, and sound somewhat muffled. These earphones have no precision at all, and whether you are into classical/instrumental or rock music, the Arctic Sound E352s will certainly disappoint. Turn your entire music library into 64kbps MP3 files, mess around with the equalizer on a low quality sound card, and you will kind of get the idea of what the E352s are like.
Furthermore, a side effect of significantly overboosted upper midrange is that it will cause listening fatigue very fast. All in all, the Arctic Cooling Arctic Sound E352s lacks depth, richness, and solidity for full range sound reproduction. The sound is unbalanced, hollow, and coarse. I know Arctic Cooling designed this with a wooden chassis in attempt to make these earphones sound natural, but in all honesty, it doesn't. It is actually quite the opposite.
Soundstaging is equally as bad. Actually, with the complete lack of detail and cleanness as described earlier, you can probably guess that these characteristics' indirect correlation with soundstaging performances makes this section very unfavorable as well. There's really nothing much to talk about, other than the fact that direction is unknown for all instruments. Soundstaging is overall very narrow, if it exists at all. To sum it all up, even if you don't know much about sound, it is obvious that the listening experience that the Arctic Sound E352 provides is very poor as the sound quality itself is admittedly also very poor.
In terms of noise isolation, this is the only area I can reasonable say good things about the Arctic Sound E352 earphones. While I am not in Hong Kong like I was with the V-MODA Vibe II review last year to benchmark its capabilities against an interesting array of real life situations, our simulated test conditions here at APH Networks puts the Arctic Cooling Arctic Sound E352 just a notch below V-MODA Vibe II. The reason is because the V-MODA Vibe IIs are lighter and smaller, and provide a better and more secure fit for optimal sound blocking. The Arctic Cooling Arctic Sound E352 are longer and larger; hence the fit is not as secure, despite the fact that I have tried several different sized tips. Additionally, the V-MODA Vibe IIs are also more comfortable for this very reason. On the positive side, Arctic Cooling also had one thing under the Arctic Sound E352's imaginary belt: The cable is lighter than the V-MODA, and thus less susceptible to lateral acceleration while you're moving around. It feels better this way, but then again, the cable feels very cheap at the same time, as previously discussed in this review.
Interestingly, I gave the Arctic Sound E352s to various individuals that aren't necessarily audiophiles to see what they have to say, without first telling them what they are and what I think. This includes a quite few of my friends, and even my mom. I also handed them the V-MODA Vibe IIs as their cross listening reference as well, carefully instructing them not to directly compare between the two, but to rate the E352s in relative to the V-MODA Vibe II's performance. All of them came up with surprisingly similar impressions. As one of my friends remarked, "The wooden earphones doesn't SEEM THAT bad the first time you hear it, but once we got an appropriate reference point, then I realized how poor it was." It doesn't take an audiophile to realize the shortcomings of the E352s. Anyone who can hear can certainly tell.
------------------------------------------
The Arctic Sound E352 is one of Arctic Cooling's first entries into the entry level performance earphones market, and I would like to take the time to commend them for taking the time and effort to introduce competition into this market. However, even as a reviewer, is it often very challenging to disregard a product a team of people worked so hard to engineer and design. Unfortunately, and I have to say this in all honesty, is that in my opinion the Arctic Sound E352s are nothing more than $2 earphones in much fancier packaging. For the most part, it feels cheap, and it sounds cheap. The looks aren't anything to write home about either, as they are quite distorted from the marketing photos on Arctic Cooling's website. The company's claims of "outstanding earphone [that] delivers high sound quality in every aspect", and "precisely engineered by Swiss and German audio experts", couldn't be further from the truth. I expected Elliot Scheiner-level of audio tuning excellence seen in Acura vehicles, but instead we got Toyota-grade interior wood trim, and some of the poorest sounding earphones I have heard in a while. For MSRP $69.95, it is pretty funny; in the real world the price is just one decimal too far to the right haha. For about 60% of the Arctic Sound's MSRP at press time, you can pick up the vastly superior Maximo iMetal iM-590, or pay about thirty extra dollars over the E352's suggested price, and you will get the infinitely better V-MODA Vibe II. Whether you want to pay more or pay less, there is absolutely no reason to buy these earphones. But this is one of Arctic Cooling's early attempts to venture into the entry level performance earphones market as aforementioned, and it is not out of the ordinary for a company to go back to the drawing board after just the first try. Feel free to give this product a go if you're really into it, and whatever your respectable opinion may be, please do let me know -- I would be extremely interested in what you have to say. For now, we'll be keeping this product safe and secure in our storage, and we'll be anxiously anticipating what kind of new, improved products Arctic Cooling's Arctic Sound brand has in store for enthusiasts and consumers alike!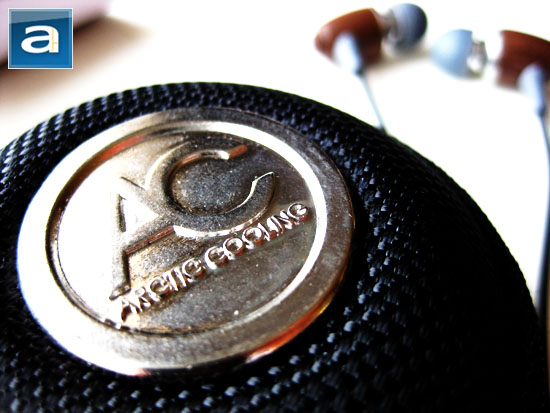 Special thanks to Eason over at Arctic Cooling for making this review possible.
APH Review Focus Summary:
1/10 or lower means Don't get this product unless it is absolutely essential for a specific purpose. The disadvantages interfere significantly to the product's function. In general, there are better things out there for your money.
-- Final APH Numeric Rating is 1.0/10
Please note that the APH Numeric Rating system is based off our proprietary guidelines in the Review Focus, and should not be compared to other sites.
The Arctic Cooling Arctic Sound E352s are premium priced earphones that fall short in every regard -- whether it be looks, feel, or sound quality.
Do you have any comments or questions about the Arctic Cooling Arctic Sound E352? Drop by our Forums. Registration is free, and it only takes a minute!