By: Jonathan Kwan
August 10, 2009
When a few of my friends asked me casually, "Hey chc, what's your next review?" a while back, I answered without much thought. "The Maximo iMetal iM-590 earphones," I answered without much hesitation. Later on, I noticed that there are two particular ideas that stood out when I finally decided to give it a little more thought. Firstly, it's interesting (To say the least, anyway) how people call me by my screenname in real life, and that I actually answer -- not only that; it happens pretty frequently too. Secondly, this is my fourth consecutive audio equipment related review since my Radius Atomic Bass article I've wrote since late April this year! From the latter statement, this can be expanded into two additional associated ideas too haha. Firstly, I'll admit I've been very lazy and slow with regards to writing reviews compared to, say, last year. Secondly, I noticed whether it's by chance, or by specific interest, I have been focusing specifically on portable audio equipment ranging from the highly regarded by us and excellent V-MODA Vibe II earphones to the emerging Eagle Arion iDock iPod speaker system. Nevertheless, despite the fact it's a pain in the arm for me -- literally -- to write each audio review, it's actually a lot of fun and very satisfying to test lots of new earphones often and sharing my thoughts with you, the reader. The reason behind is because I personally like to spend a lot of time writing the test results. Two years ago, when we reviewed the Maximo iMetal iM-390, we were very impressed by its excellent price to performance ratio. When I witnessed the release of the latest Maximo iMetal iM-590 earphones recently, I was more than excited to test it out; and Maximo was glad to provide me with an evaluation unit. Therefore, after a month of rigorous testing, let me present to you the Maximo iMetal iM-590 earphones -- and see what MSRP $59.99 can bring you.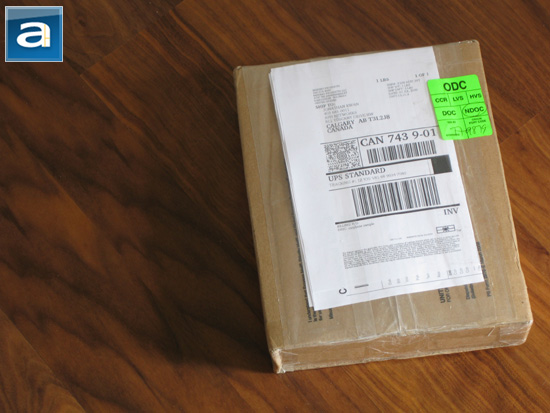 Our review unit of the Maximo iMetal iM-590 earphones arrived in a small, brown corrugated cardboard box from Maximo's headquarters in Vancouver, Washington, USA. A little funny thing to bring up is that, during our email exchanges, they said they'll use UPS instead of USPS because 'UPS seems to work a lot better'. As always, I very much appreciate that. But I didn't really pay much attention to what that statement really meant, until I pulled up my iM-390 review today and read about how I complained about how USPS took three weeks to get it across the border. It's funny due to the fact they can remember it better than I do haha! Therefore, as aforementioned; using UPS Standard, everything arrived safely and quickly to our doorstep for our review today.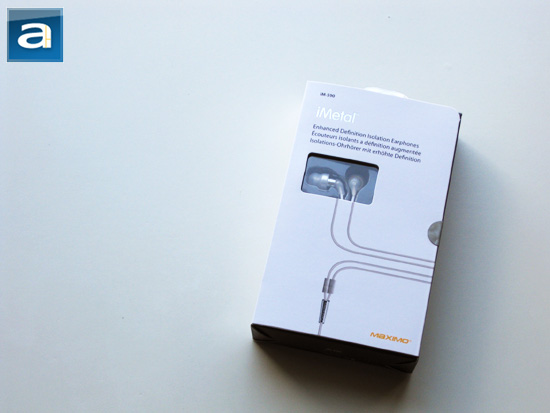 Popping open the well packed shipping box, all its contents were in pristine condition. I was then immediately greeted, as well as pleasantly surprised, by how much progress Maximo has made with regards to the retail packaging of their products. Whereas they used a blister pack for their otherwise decent iM-390 earphones back in the day, the 2009 version is now an elegant, modern, and clean box for their latest iteration of the iMetal product line. Gone are the cheap-impressing blister packs and background inserts that clearly lacks style. If a company has learned a few things about classy packaging without copying anything from V-MODA, Maximo's got it right -- and it's no doubt original.
First impressions are very important, and we always like to highlight the significance of good product packaging on APH for this very purpose. While it does not influence the outcome of our review by any means (Since we are looking at the product and not the packaging), it does influence an average consumer's purchase decision at a retail store -- or possibly even bias what they think of the product if they bought it online. And to be honest, with this kind of design execution, I certainly do not see the Maximo iMetal iM-590s as a product that can be purchased for around $40 online at press time.
The front of the retail box is a flap that incorporates a complete white background; where its color extends cleanly to its adjacent side on the box. The rest of the package surfaces area are all black in color; creating a distinct contrast of modern color usage. The front of the flap -- which is also the front of the box -- most prominently promotes the 'iMetal' brand at the top in reflective silver. Meanwhile, Maximo's logo resides at the bottom right corner in orange-yellow. The iM-590 model is listed in smaller black font at the opposing upper left corner. With the slogan "Enhanced Definition Isolation Earphones" listed boldly in three different languages across the front, it's clear what Maximo wants to achieve, and what they want the consumers to keep in mind when they designed the iMetal iM-590s.
Conveniently placed is a cutout to reveal a window behind, which displays the earbuds itself. The appearance is made to look integrated with the photo of the earphone cable printed on the box. Quickly turning the classy magnet-enclosed flap reveals a full cutout in the box that shows all its included contents secured behind a PET shell. Specifications and list of package contents are located at the back of the flap, and at the back of the box, respectively; in various languages. Overall, packaging design is simple yet excellent -- I am impressed!
Before we move on, let's take a look at the specifications of the Maximo iMetal iM-590 earphones, as obtained from the manufacturer's website:
-----------------------------------------
Lightweight alloy metal earphones with enhanced definition audio. Proprietary eartip design provides optimal noise isolation and extended comfort. Two choices of color: platinum white and graphite black. Performance with style and comfort.
- Earphone drivers: 9mm neodymium
- Frequency response: 12Hz-22KHz
- Sensitivity (1KHz, 0.1V): >100dB
- Maximum SPL output: >120dB
-----------------------------------------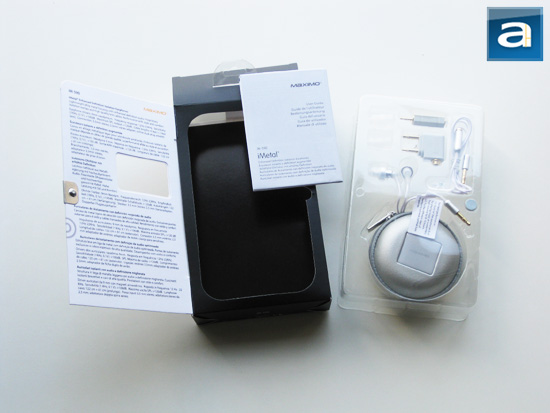 By disengaging a locking flap at the top of the box, and opening the main flap (Is there a better word to use? Haha.) its PET shell as aforementioned that contains everything can then be slid out. Out of the box, you will receive the following contents, as seen in the photo above:
- Maximo iMetal iM-590 earphones
- 4 sizes of eartips
- 2.5mm stereo plug adapter
- Airline dual-plug adapter
- 2-ft extension cable
- Shirt clip
- Carrying case
- User guide
It appears to be that the accessories list is pretty thorough. Cable not long enough? They've got a two feet extension cable for you. Need an airplane adapter? It's included! Got a device that has a 2.5mm jack? No worries, it's covered. Included ear sleeves? Four different sizes comes out of the box. Fact is that they could probably reduce the cost by not including accessories such as an airplane adapter, since many planes are now fitted with standard 3.5mm jacks nowadays anyway. Regardless, for MSRP $60, things looks excellent so far -- with more accessories than you can possibly ask for. My only complaint is that this type of clear rubber sleeves usually discolor very quickly; and when they do look yellow after a couple months, your friends will mistake you for having dirty ears. And that's not very true (Most of the time, anyway).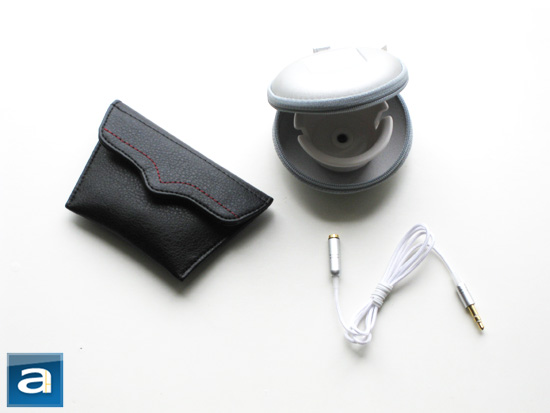 Before we examine the physical attributes of the Maximo iMetal iM-590 earphones itself, let's take a look at two particular included accessories. Shown in the photo above is the round zippered case; with the V-MODA Vibe II's included leather pouch as a reference on the left. This is the exact same kind of case Shure used to include with their earphones as well; I am not entirely sure what they have with their newest models. While the round zippered case offers significantly more practical utility, the way it is designed with its center wraparound proves to be inconvenient in loading/unloading situations. It's also way too thick and heavy to place in your pocket. Meanwhile, the V-MODA case looks clean and elegant, simple and convenient to use, and it's slim and light enough to fit in your pocket for everyday use. I asked a few "normal" people, and all of them indicated that the V-MODA case has much more class to it. I concur.
A two feet extension cable, also shown in the photo above, is also included right out of the retail packaging. That's around 61cm for those who prefer the metric system, such as myself. For aesthetics purposes, it's made of the same material and color as the rest of the earphones. With both combined, it should have more than enough length in addition to the 123cm long cord, measured end to end, on the iMetal iM-590s. If you need more than approximately 184cm from your pocket to your ears, you might just be suffering from the I am way too tall syndrome.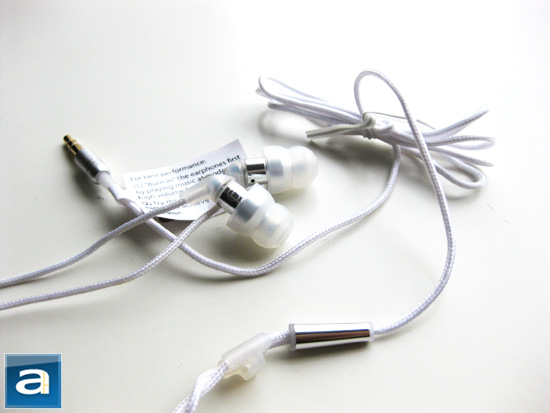 The Maximo iMetal iM-590 is available in Platinum White and Graphite Black; which is, as you've guessed, fancy names for white and black, respectively. Judging from the photos, I personally found Platinum White iM-590s to be more fashionable and stylish; while Graphite Black colored units are more conservative looking -- but easier to maintain. However, regardless of what you get, your iM-590 earphones will still incorporate a quality, fully braided, color matched cord. The only reason why I am mentioning that is because my beautiful Platinum White iMetals already has stain marks on them before I even got anywhere with it. Not a good sign!
That's also to say that, because white earphones are so commonly associated with Apple iPods and iPhones, regardless of what you have in your ears, people would automatically assume that you have one. For those who wants to reduce their flashiness in that regard, go for the black colored iM-590s. It does not stand out as eagerly on the streets to reflect what you have in your pocket -- whether it's an Apple digital media player or not.
On the positive side, the 'NVH attribute' of its cord properties is actually better than the V-MODA Vibe IIs. While we complained about significant microphonic noise issues with the V-MODA Vibe II earphone's cords, the Maximo iMetal iM-590 seems to be better in this regard. During usage, like all IEMs, microphonic noise is inevitable -- but it is not as significant issue that interferes with its usage and purpose on the iMetals. An included shirt clip can be attached to the cable to the location of your choice -- this is very convenient if you're working out, and it's preferable to clip the wire at the top of your shirt rather than the middle. The iMetal iM-590's cable also feels lighter than the V-MODA Vibe II's cable, which is definitely a plus. I can definitely see some potential room for improvements in this area.
At the junction of the Y-cable split, is a little metal tube encasing its connection, with the Maximo name printed on it as a nice little touch. On top of it is a sliding cable guide to vary the location of its Y-split within a predefined limited range. Adjusting this appropriately also reduces rubbing noise. At the end of the cable is a straight 3.5mm connector. For one thing, I would guess it is fairly limited to being a straight connector only because it needs to integrate properly with the extension cord. Unfortunately, the extension cord's male connector is also straight, and in my opinion it does not have the restriction as aforementioned. Either way, I wish it has an angled connector with increased grip, because we all know how hard it is to unplug something that has a straight and round input jack. Its only saving grace is that the surface finish isn't very smooth, so it still allows some grip for the end user.
A little tag is attached to the cord to recommend the consumer to 'burn in' their earphones for at least ten hours for optimal performance. Personally, I think that's an excellent suggestion as well as valuable information for those who are less experienced in this particular area. For reference, here at APH Networks we break-in our earphones for at least 30 hours before our subjective audio tests -- our Maximo iMetal iM-590 earphones has experienced over 75 hours of break-in time!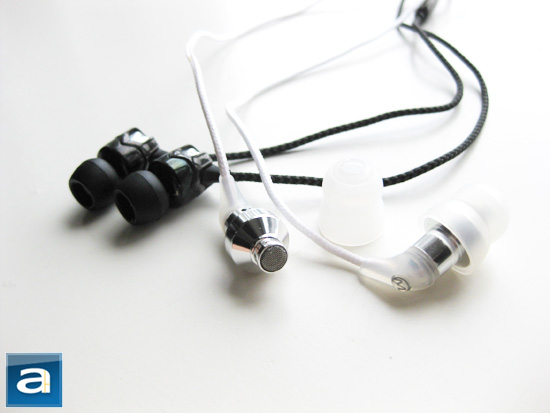 A quick comparison photo: V-MODA Vibe II (Left) and Maximo iMetal iM-590 (Right).
Like many modern IEMs, Maximo designed their iMetal iM-590 earphones with the 9mm drivers directly aiming into your ears; using the sleeves' gap between as a sealed sound traveling path aim. This provides a natural advantage to earphone design for a more 'direct' and 'transparent' sound reproduction characteristic. At the same time, it makes the earphones much easier to clean in the long run too -- because the driver's flat mesh can be directly accessed; and the external sound canal (Which are really the ear sleeves) can simply be removed and washed.
A rubber guide positioned at a fixed 45 degree from the horizontal leads the braided earphone cable into each earbud. Maximo's logo is cleverly placed at the back; while its 'Left' and 'Right' labels are printed towards the inside on the rounded tubes -- in which extends approximately half a centimeter in length, by the way.
Meanwhile, all of the included ear sleeves are sectioned into two (But not necessarily a double flange design) to accommodate the physical shape of the earbuds itself, as well as enhancing its seal when in use. The smaller part extends into the user's ears for a snug and comfortable primary seal, while an expanded area molds around to accommodate the physical shape of the earbuds, as aforementioned; for a secondary external seal. Theoretically speaking, this should provide a more complete solution to passive noise canceling along with its closed design -- we'll show you our test results shortly in our next section.
This design isn't without its fault, though. For one thing, implementing a two section seal extends the length and increases the size of the earbuds itself. Secondly, the half centimeter tube section between the cable lead-in and its expanded area also significantly increased the length of the iM-590 driver section. The result? The functioning configuration of each earbud is a whopping 2.5cm approximate measured length -- add or subtract a few millimeters, depending on what size of sleeves you're using. Either way, you'll have some really long IEMs sticking out of your ears, and with the 45 degree angled cable input, it looks pretty odd, to say the least. Generally speaking, it is highly detrimental with regards to the Maximo iMetal iM-590's aesthetics during normal usage. I also found that it does stays in my ears properly during use, but weight distribution can also be improved (And it is not particularly necessary to use the over-the-ear method; although it's up to user preference). They're stylish -- if only it was half a centimeter shorter haha. Either way, a possible remedy to both of these issues is to reduce its length as aforementioned. And it's probably fixable with some clever engineering, and not even ruin the two-stage seal!
-----------------------------------------
The Tests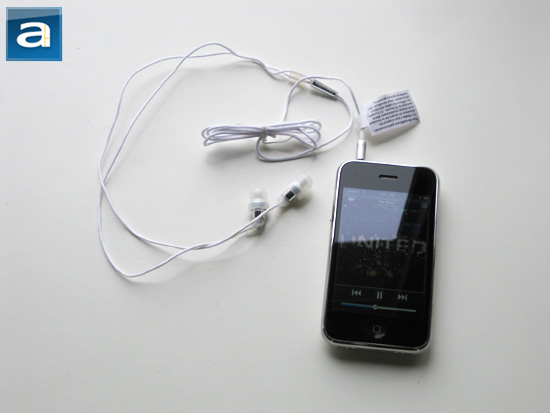 As always, there are really no true objective measurements for earphone sound quality. As the reviewer, however, I'll put it through a series of subjective tests to try to come up with the most objective rating possible (Yes, it's quite a paradox haha). The tests were conducted primarily with the Auzentech X-Fi Prelude sound card with the iMetal iM-590s plugged in directly. (Creative CA20K1 DSP/APU, Exilinx XC9536XL CLPD, Atmel AT89C2051 CMOS controller chip, Asahi Kasei AK4396 DAC, National LM4562NA and Texas Instruments OPA2134 OpAmps.) This sound card is arguably one of the best consumer/prosumer computer sound cards out there in the market today and will reduce its potential to be a limiting factor in our benchmarking today. For mobile testing, I used my Apple iPhone 3G 16GB as a reference.
After over 75 hours of break-in time (Well above typically required period), we put the Maximo iMetal iM-590s to the tests. All tracks are uncompressed CDs, FLAC, or LAME encoded MP3s at 192kbps or higher.
The following IEMs were used for reference benchmarking and not necessarily directly compared:
- Shure E2c (Approximately $60)
- Maximo iMetal iM-390 (Approximately $30)
- Radius Atomic Bass (Approximately $30)
- V-MODA Vibe (Approximately $60)
- V-MODA Vibe II (Approximately $100)
When Maximo bold stated the iMetal iM-590s as 'Enhanced Definition Isolation Earphones' across the front of its retail box, I was a bit skeptical at first. However, after going through all of our tests, it's very understandable when they stated both 'Enhanced Definition' and 'Isolation' earphones. But to what extent, and in what regard? To make a long story short, it's more than what anyone would expect $60 MSRP/$40 retail (Approximate; at press time) normally gives you. I won't take any more of your time -- let's jump to our usual battery of detailed-details.
Since we've mentioned the 'Enhanced Definition' aspect first, let's carefully examine what it really means in application, and how it performs with regards to the Maximo iMetal iM-590s. As far as I am concerned, I'll cover a few specific areas that I particularly care about that provides a perception of sound definition: Soundstaging, layering, frequency separation, and sound purity/cleanness.
Characteristically speaking, I found the iM-590 earphones to emphasize highly from the midrange to the upper midrange portion. If I wasn't consistently referencing the V-MODA Vibe IIs and other earphones throughout my tests -- do keep in mind that I am not directly comparing them since they are in a different price range -- to ensure objective accuracy, it would have easily biased my subjective testing results, thanks to some pretty smart engineering aspects. Since this particular spectrum is particularly audible to the human ear, it provides an excellent perceived advantage to the 'enhanced definition' claim of the Maximo iMetal iM-590s to many people.
However, in my opinion, this knocks the iMetals out of an inherent balance for natural and warmly saturated sound that the V-MODA Vibe IIs are able to produce. Its sound design emphasis for an amplified midrange to upper midrange is clearly stronger than the treble and bass to lower midrange in volume; which may sound slightly odd to audiophiles looking for frequency-magnitude balanced audio. That's to say that the vocals are therefore better than the V-MODA Vibe IIs to an extent; standing out better and more distinctively from the background instruments -- which may actually be a good thing to some.
All this comes at the price of reducing its naturalness as well as audio harmony, unfortunately. The amplified midrange to high-midrange is clearly detrimental to both of the factors above. Theoretically, audio harmony, naturalness, and balance are closely related. Any emphasized area in particular usually results in reduced cohesiveness (Which is also related to its sound layering properties -- we'll get to that in just a second). Since the balance is affected as aforementioned, the entire spectrum of music will sound less integrated together, as seen in this case -- thus works in lesser harmony. In the end, it will simply sound less natural. But if you're within the 'sweet spot' midrange to upper midrange area, it is clearly where Maximo's 'Enhanced Definition' claim comes into play.
In that context, I found the iM-590s to have surprisingly good soundstaging and depth of sound for its price range it resides in. In fact, it's significantly better than what I expected. The depth is relatively noticeable from origins of sound; soundstaging is leaning on the wider side -- a good thing. While it's not exactly a V-MODA Vibe II in this regard, it's at least 75% as wide as the V-MODA Vibe II's soundstage. Since the V-MODA Vibe IIs are known for its particular excellence in this area; this automatically puts the Maximo iMetal iM-590s into the upper portion of earphones on soundstaging performance amongst its peers. I would even step it up a notch and compare it favorably against some earphones that costs more twice as much as the iM-590s, too!
Since I've discussed non-stop about the effect of the Maximo iMetal iM-590's midrange to upper midrange, let's take a look at this area more closely on how it actually is. The reason why I said it was iM-590's "sweet spot" is not only because its quantity is amplified, it's because it's brilliant. There's one thing I haven't mentioned once though: That's the lower midrange. Why? Because it is slightly lacking.
Again, theoretically speaking, a full spectrum of midrange (Lower-midrange, mid-midrange, and upper-midrange in simplified terms) is essential to create a sense of warm, saturated sound; as well as creating cohesive and complete vocals. With its slightly lacking lower midrange, vocals will appear thinner and lighter. That's exactly the case here. If you examine carefully, the vocals in question are saturated and cohesive in the 'sweet spot' only -- which is done very well; as mentioned earlier -- but it doesn't sound that way when it all comes together overall. It definitely perceives a sense of definition and detail, but it doesn't provide a sense of thorough saturation when all the instruments kick in, yo. (I had to add that in, haha.)
Bass and treble are both decent on the Maximo iMetal iM-590 earphones. Bass is relatively rounded, acceptably solid, and distinct; each kick and each riff is well articulated too. I don't know if it is a side effect of the amplified 'sweet spot', or due to its missing lower midrange -- but I felt that it is slightly lacking, and more or less off-balance from the rest. It also sounds a bit disconnected. On the other hand, thanks to its great upper midrange performance, treble delivered to your ears are distinct, clean, and sharp for well-mastered tracks (But may get messy if the tracks are not properly mastered). It's not very wet sounding though; and it's slightly recessed, like our V-MODA Vibe IIs. This characteristic may cause the iM-590s to be uncomfortable to listen to for extended periods of time.
Layering is generally good, but only when the contrasting frequencies are far enough from each other. The best terms to describe this is that its frequency precision and detail is not as well as its first impression gives you. Optimally, the layers need to be as thin as possible; separated for cleanness and detail yet cohesive enough for naturalness and harmony. The cleverly done 'sweet spot' makes it seem better than what it actually is at first. Once you look at the bigger picture, you can see that its sound is generally clean, and frequency separation is generally good, but there are limitations of what the 'sweet spot' can give you perceptibly. The layers are acceptable for its price range, but thicker than optimal; and it's missing some between the bass and midrange -- which is where the practical challenge lies.
When it all comes together, the sound is cohesive to the extent of being excellent in the 'sweet spot' in particular. It provides a good perception of detail and cleanness because the mid to upper range is engineered well and designed cleverly, but its bass seems to be slightly disconnected from the rest. You can see what they did here to "trick" the user into thinking the iMetals are better sounding than what they actually are, by trading some frequency emphasis and creating a 'sweet spot'. As such, the Maximo iMetal iM-590s are on the 'bright' sounding side to a certain extent (Mainly due to its midrange to high-midrange emphasis), but at the same time not necessarily punchy. It's more or less sharp in the 'sweet spot' -- and overall being on the 'tame' side. These are no doubt great sounding earphones for what you pay for; and very impressive for what they can do away with $40 retail cost at press time. That's not to mention it still includes a pair of well built earphones; along with a plethora of accessories, and doesn't come wrapped in a bunch of flyers they picked off the street. In fact, it's not even Wal-Mart packaging. It's a quality, classy retail box.
In terms of noise isolation, the dual stage seal proved to work very well. While I am not in Hong Kong like I was with the V-MODA Vibe II review to benchmark its capabilities against an interesting array of real life situations, our simulated test conditions here at APH Networks puts the Maximo iMetal iM-590 roughly on par with the V-MODA Vibe II. The reason is because the V-MODA Vibe IIs are lighter and smaller, and provides a better and more secure fit for optimal sound blocking. The Maximo iMetal iM-590s are longer, larger, and heavier; the less optimal fit also canceled out its dual stage seal advantage in motion. Additionally, the V-MODA Vibe IIs are also more comfortable for this very reason. On the positive side, Maximo also had one thing under the iM-590's imaginary belt: The cable is lighter than the V-MODA, and thus less susceptible to lateral acceleration while you're moving around. It feels better this way.
-----------------------------------------
After reading my testing results above, it is natural to ask, "Is the Maximo iMetal iM-590 good enough to challenge the V-MODA Vibe II?" Before I directly answer your question, I recall mentioning that the V-MODA Vibe II IEMs are good enough to compare against some products that costs at least twice as much. Deriving from this, it's equivalent of inquiring about whether the Maximo iMetal iM-590s are capable of comparing against products costing more than four times as much. To be absolutely honest, I would actually have to say "No" haha. But what you do get for around $40, at press time, are earphones that costs approximately 40% of the V-MODA Vibe II's retail cost at press time, for about 70% of its performance -- sans the microphone, of course -- which is left for the iMetal iM-595 (Based upon the iM-590) to fill. And that's pretty darn good. Combining a well built product with great packaging, that comes with a plethora of accessories, and undercuts the competition by a very attractive price, the Maximo iMetal iM-590 probably isn't a bad choice for someone who wants better sound and excellent noise isolation on a limited budget. What I want to see improvement on, is the reduction of size of the earbuds, and using something other than a straight 3.5mm connector for convenience and ease of use. Sound quality wise, I won't reiterate much -- but generally speaking, I would like it to have better frequency coverage overall that's more balanced, saturated, and natural for some true 'Enhanced Definition'. I would trade a few unused accessories for these improvements any day!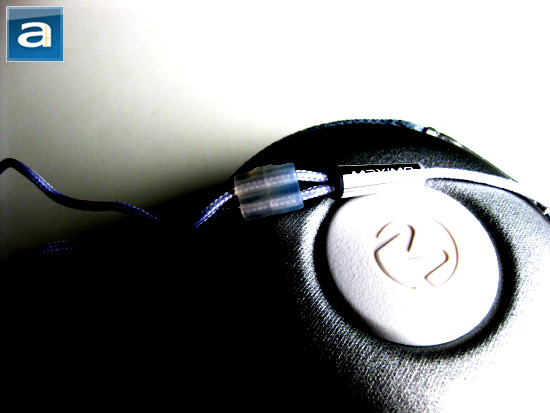 Special thanks to Andrew and Marisa over at Maximo Products for making this review possible.
APH Review Focus Summary:
7/10 means Great product with many advantages and certain insignificant drawbacks; but should be considered before purchasing.
8/10 means Definitely a very good product with drawbacks that aren't likely going to matter to the end user.
-- Final APH Numeric Rating is 7.1/10
Please note that the APH Numeric Rating system is based off our proprietary guidelines in the Review Focus, and should not be compared to other sites.
The Maximo iMetal iM-590 is a surprisingly good package for consumers with a limited budget who want better sound, and decent noise isolation.