By: Jonathan Kwan
April 29, 2009
"Jonathan Kwan, where are the reviews!?" - "Dear the chc, where have you been lately? I really miss your reviews :(" - "WHY ARE YOU SO LAZY JON!" -- there have been more than a handful of similar feedback I've received lately. Before we get started on this review today, I would really like to thank our readers for taking the time just to send me a few messages, as well as just giving me a 'push' to continue my job. Well, here we are today, and I'm back to it, renewed and refreshed. After a month of breaking in and intensively testing the Radius Atomic Bass earphones (See, I wasn't THAT slack), I'd like to put forth a spoiler for you right now. These earphones are actually pretty darn good! When I first heard of the Radius Atomic Bass, the name seemed to have developed a sense of negative connotation for me. This mainly resides in the aspect of calling them 'Bass' by Radius, because the first thing that comes to my mind are those so-called 'audiophiles' that believes a piece of equipment is 'the shizz' when all they have is a 20-inch triple sub configuration and a pair of $10 generic computer speakers for everything else. To be honest, I was afraid that one of the major characteristics of Radius' Atomic Bass earphones would have a similar effect as aforementioned with your favorite digital audio player plugged in and the IEMs in question residing in my ears. Fortunately, that's not the case -- a pleasant surprise. If you're wondering what is it really like, then it's is a very good reason for you to continue reading.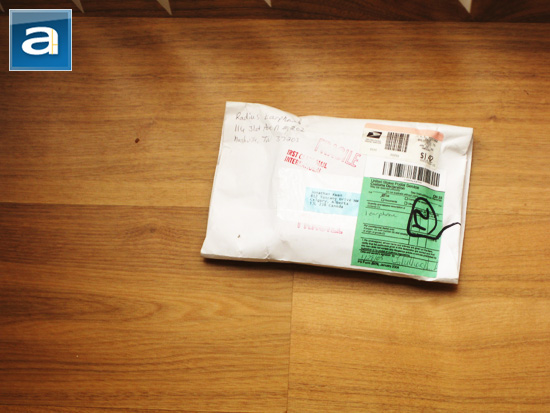 Our review unit of the Radius Atomic Bass earphones arrived in a small envelope transported by United States Postal Service and then transferred to Canada Post when it crossed the border. With proper packing material, everything arrived in pristine condition; which is a good sign of it being handled properly during transport, and not damaged as a result of it. We cracked the retail package Radius included it in open, and were on our way.
Like the Maximo iMetal iM-390 earbuds we reviewed a year and a half ago, the Radius Atomic Bass carries an asking price of $39.99 USD. You'll probably be able to buy them for lower than that price. While these two products are technically in the same price category, the companies has taken different approaches with regards to the retail package design. And personally I believe that it is very important that products are packaged and marketed wisely in order to create a positive first impression on the consumer whether the product is truly good or not. (Think about Bose, or even Apple.)
Anyway, a very simple box with a shelf hanging clip wraps around the contents of the Radius Atomic Bass earphone package. The box is clean and sleek; and carefully denotes the earphones and connector through the triple section front windows enclosed around a holographic ring. Icons labeling the Atomic Bass' Y-style cable, 3.5mm standard plug, and three included ear sleeves are printed on both the left and right side of the box. These three icons are also repeated at the back along with two paragraphs of product information and its specifications listed below it. Now here's the interesting part -- the large logo emphasizes 'Radius Japan', but then on the other hand the user can clearly see under the barcode that mentions "Developed in Japan, made in China" in much smaller text. Hmm.
Personally I've much appreciated the Radius Atomic Bass' no-frills package of which is very easy to open and access without ripping anything other than the sealing tape apart. A few things inhibited my first impressions though. As aforementioned in the introductory paragraph, the "Atomic Bass" name seems to deter the interest of audiophiles. The font and neon-green 'Bass' word across the front further emphasized this, and while there's nothing wrong with the shiny ring in the middle, this combination denoted too much of the overused 'alien-esque' that even ten year olds are tired of already. The shelf clip at the top dedicated flap simply makes the Atomic Bass seems like $5 generic headphones off a Wal-Mart shelf. And that's not a good idea because the Radius Atomic Bass does not belong to that category.
Below are the specifications of Radius' Atomic Bass IEMs, as it appears at the back of the retail box:
Driver Unit: 10mm Neodymium Magnet
Sensitivity: 103db/mW
Frequency Response: 20 - 20,000Hz
Impedance: 32ohm
I'm actually quite surprised by the high impedance of this product, which is pretty much twice as high as comparable units. However, during our tests we observed that the high impedance had noticeable but not significant perceived volume differences than those of lower resistance.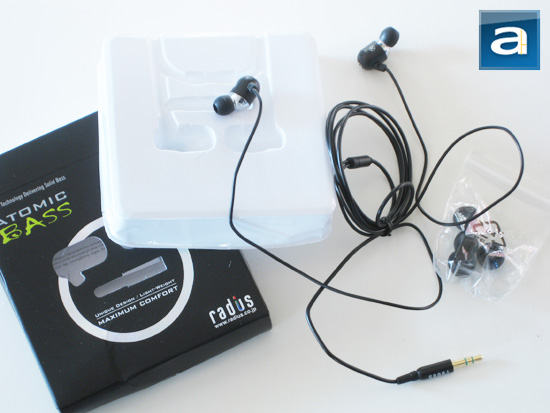 Open the flap either at either the top or bottom of the box permits the user to slide out the contents tray. Out of the box, you can expect the Radius Atomic Bass earphones itself, two additional pair of ear sleeves inside a small resealable plastic bag, and, well, that's it haha. It's good there's no excess, and I'm sure we don't need an instruction manual to find out how to use these. Pass on the savings to the consumers and lessen waste is always a positive thing in my books.
Like the similarly priced Maximo iMetal iM-390 earphones, the Radius Atomic Bass set also comes with three pairs of ear sleeves as mentioned earlier. Even the form it is presented in is the same -- just sized large, medium, and small for different sized ears; as they are all of the same type, unlike what you would expect from Shure. Thankfully these are the type I like and I am not complaining for the same reason.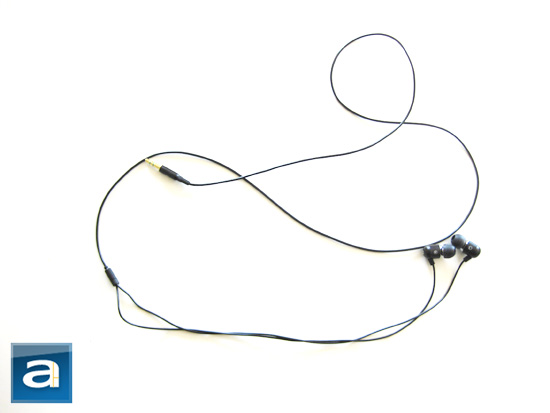 The reasonably long cable measures to be approximately 121cm (+/- 1cm) according to my ruler, connector to earphone. For those who aren't used to the metric system, that's approximately 4 feet end to end. That should be sufficient for most people, unless your name is Yao Ming -- in which you would probably be buying something else anyway haha.
The Y-shaped wire that Radius' Atomic Bass earphones incorporates is thin and flexible. The positive side is that it's very lightweight, and that's a positive asset for your ears that it resides in -- especially if you're working out with the Atomic Basses (Again, unless your name is Yao Ming!). The downside is that they tangle relatively easily due to this nature. I would also like to commend Radius for properly designing the wires so that rubbing the wires won't send parasitic noise to your ears; as many IEMs in this price range shares this problem. Either way, I wouldn't call the wires 'cheap' by any chance, but they can probably improve the quality feel to it a bit more.
The wire attachments are pretty average for this price segment. The straight 3.5mm standard connector labels the brand's logo on the side; retaining a decent wire reinforced output flex at the end for protection. The round, thin untextured plastic piece is a bit hard to grip, so if your hands are anything but clean, it would require more effort to disconnect it from the source.
At around two-thirds up the cable is the Y-cable split. Like the connector piece at the end, it's made out of lightweight plastic. The input end incorporates a small reinforced flex location for protection; although I found it to be not very effective. None of which is protecting the two cables on the other hand, but since the cables themselves are pretty thin and flexible, I don't think it would be a huge issue.
The cables leading into each respective driver contains a pseudo-wire-protector, except for the fact that it doesn't flex... haha. Since this is a very important area of which most cable flex and potential damage can occur, personally I would prefer more real flex reinforcements in these two places.
Generally speaking, the build quality of the Radius Atomic Bass is decent and more than sufficient for daily use, but there is room for improvement in this area.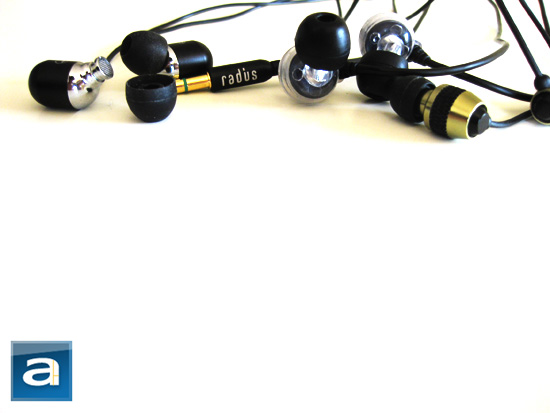 From the left: Radius Atomic Bass, Shure E2c, and V-MODA Vibe.
The Radius Atomic Bass features traditional dynamic drivers that aims directly into your ears; with the process sealed inside your choice of three different sized sleeves. This implementation for IEMs is very popular as such demonstrated by the V-MODA Vibes as well, shown above. This makes the drivers and ear sleeves easy to clean, unlike the Shures with an inaccessible tube.
The two-tone casing design of the Radius Atomic Basses are constructed entirely of ultra lightweight aluminum. This makes the earphones very light and fits snugly and securely. It's also designed to aimed at angle into the user's ears for optimal comfort and fit. These earphones fit the same way as the Shures -- it wraps around the back of your ears for better weight distribution. Personally, I found the fit to be better than both the Vibes and my E2cs, but feels much less substantial. The biggest gripe I had is the fitting of the sleeves onto the unit -- while they are very easy to remove, it's pretty hard to put them on. The easiest way for me is to flip them inside out, stick my finger in between and attempt to obtain the engagement point.
-----------------------------------------
The Tests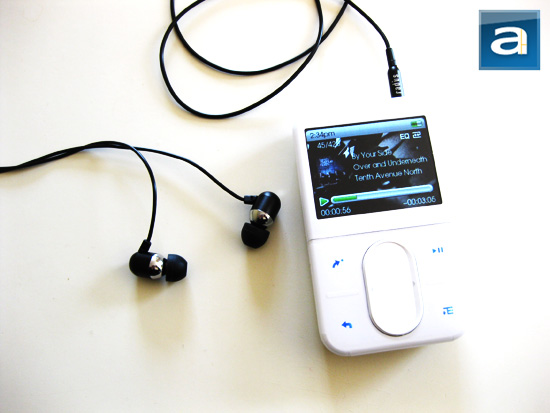 Since there's no true objective measurements for earphone sound quality, but as the reviewer I'll put it through a series of subjective tests to try to come up with the most objective rating possible (Yes, it's quite a paradox haha). The tests were conducted with the following equipment:
- Creative Zen Vision:M 30GB (Digital Audio Player)
- Auzentech X-Fi Prelude (Computer Sound Card) Creative CA20K1 DSP/APU, Exilinx XC9536XL CLPD, Atmel AT89C2051 CMOS controller chip, Asahi Kasei AK4396 DAC, National LM4562NA and Texas Instruments OPA2134 OpAmps.
The following IEMs were used for reference benchmarking and not necessarily directly compared:
- Shure E2c (Approximately $100)
- V-MODA Vibe (Approximately $100)
- Maximo iMetal iM-390 (Approximately $40)
After over 100 hours of break-in time (Well above typically required period), we put the Radius Atomic bass to the tests. All tracks are uncompressed CDs, FLAC, or LAME encoded MP3s at 192kbps or higher.
Most of my listening tests were done on my Auzentech X-Fi Prelude sound card (Plugged in directly) to ensure that it's not going to be a limiting factor. That's arguably one of the best consumer/prosumer computer sound cards out there in the market today.
Since these are called the Radius Atomic Bass, it's pretty hard for me not to start off with that. And dang, it's amazing. Firstly, let me clarify this: unlike other 'bass' labeled products, the bass on these earphones are far from overwhelming and unnecessarily excessive. The low frequencies on the Radius Atomic Bass are clean, layered, distinct, and rounded. It produces deep and low frequencies with the punchy-ness and the soft-edged roundness that is only replicated in much more expensive earphones. And the bass is so clean and articulated while at it that I cannot stop praising the excellence of these earphones in this area. Guys, this is not cheap rumbling muddy crap. This is the real deal. And it's for forty bucks. I'm very impressed.
And unlike other value oriented products that emphasizes the area of bass, the Radius earphones are much more balanced than I would ever expect it to be. While the treble is a bit recessed especially when compared to the V-MODA Vibes, it is evidently present and reasonably sharp. It doesn't reach very high, nor sounds wet, but the atmosphere is present. I wish that the high range is more layered, sharper, thicker, and wetter.
Midrange is also acceptable, but not spectacular. The range of these earphones are bass-biased (No kidding eh) and doesn't go all the way up, but as I have mentioned the bass is not overwhelming. What I am trying to say is that the layering of different frequencies are present but doesn't go very far. That said, it's more than adequate, again for the price range it resides in. On the positive side, the sound is still cohesive across the range. The problem is that it is thick but narrow in this area contributing to a perceived recessed midrange that is sometimes dominated by the highs and lows. It's not bad for the price range and for the 'bass' name it carries, but I can sense that it can receive some attention by the sound engineers in this area.
With regards to detail, the Atomic Bass proved to be very responsive to low frequency detail, but as it works the way up the very small areas seems to be left out. With the Atomic Bass, you can tell apart all kinds of low frequencies that are cleanly separated from each other. But the treble and midrange seems to lack specific detail and distinction. Of course, we'll have to pull up the price card again and I can honestly tell you that for earphones in this price range, it's not trailing anything other than some midrange. Ask yourself: Are you willing to trade some midrange performance for a lot of bass improvement? Personally I might think twice since I prefer balanced audio properties, but I don't represent the whole population.
Overall, the sound character of Radius' Atomic Bass is classified dark to neutral in my opinion.
Now, let's discuss soundstaging. To be honest with you, the V-MODA Vibes has significantly wider soundstaging compared to the Radius Atomic Bass earphones; of course the V-MODAs are known for being awesome in this area -- not to mention that the price tag is more than twice as much as the one reviewed in question. Meanwhile, the Shure E2cs that I referenced are comparable to the Atomic Bass in this respect. It's lacking. It brings the instruments up, but not 'alive' very well. I would have to dock marks for this area, but then again, if you're paying less than $40 for a pair of earphones, I can assure you that it matches its competitors in this area as well.
Thanks to the decent ear sleeve fitting, small angled design of the Radius Atomic Bass, along with the lightweightedness of the product, it not only fits very well, but also provides good sound isolation. Plugged into my ears through bus rides, house vacuuming, and standing at the church foyer after service (It's loud when more than a hundred people's talking to each other), it proved itself well and are almost as good as my Shure E2cs. I am a huge fan of noise isolating IEMs, and the Radius Atomic Bass did not disappoint me.
-----------------------------------------
Overall, I'm pleasantly surprised by the audio performance of the Radius Atomic Bass. Presenting some window shattering, neighbor angering bass in this package and price (Which, of course, any of the listen won't actually happen because it's not a full scare home audio system), regardless the bass is still jaw dropping awesomeness. And the good thing is that it's not overwhelming at all, unlike some competing products. I feel that it could use more treble and midrange, along with wider soundstaging and attention to detail. But that would put the Radius Atomic Bass in a completely different class of earphones. The audio quality of these earphones are incredibly competitive in all areas for its price range -- plus a spectrum of absolutely untouchable bass. Other than that, I would want Radius to improve the packaging of the Atomic Bass to give the consumer a better first impression. Also, the build quality definitely has a lot of room for improvement. It gives the product a much better feel, and the last thing I would want is to rip apart its awesomeness after a couple months of usage!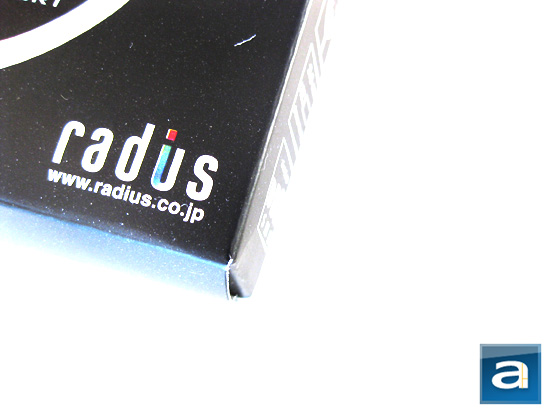 Special thanks to Radius Earphones for making this review possible.

APH equal.balance Award | APH Review Focus Summary:
7/10 means Great product with many advantages and certain insignificant drawbacks; but should be considered before purchasing.
8/10 means Definitely a very good product with drawbacks that aren't likely going to matter to the end user.
-- Final APH Numeric Rating is 7.2/10
Please note that the APH Numeric Rating system is based off our proprietary guidelines in the Review Focus, and should not be compared to other sites.
The Radius Atomic Bass earphones are surprisingly capable earphones for its price range, and on top of that plus some mind blowing bass. The build quality has room for improvement.