By: Jonathan Kwan
October 6, 2007
With the popularity of digital audio players in today's society, I've always wondered this: Why would the consumers, the people who can afford such products exceeding $300 use personal audio output devices such as earphones that are worth roughly 1% of that $300 they've spent? Of course, casual listeners would have a hard time justifying a budget of over $100 for a pair of earbuds, while audiophiles may say otherwise. Maximo Products, a relatively new and unknown player in this market so far, hopes to meet the consumer half way -- they provide such a product that claims offer to a package to compete with entry level to midrange boutique brand products from companies such as Shure and V-MODA, yet at less than half the MSRP. How competitive are the Maximo iMetal iM-390s, and are they the ones that you would want to dump some cash on to accompany your digital audio player? We'll find out for you in our review today.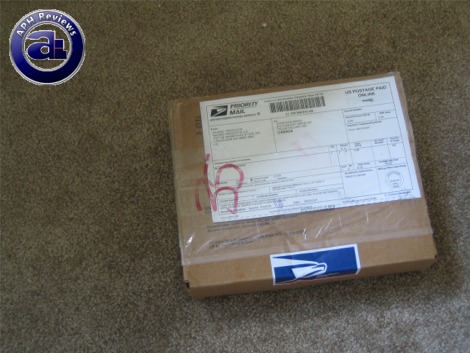 Our review unit of Maximo Product's iMetal iM-390 earphones came in a fairly small box using USPS standard. Despite the fact that it took almost three weeks to get to us from Vancouver, Washington, everything arrived in great undamaged condition -- including the shipping box itself.
But we all know how the wait is twice as long, especially due to the fact that I was actually quite excited for the iM-390 earphones. Claims scattered over the web are the iMetal iM-390s are an impressive set that extends beyond its typical price range. I realized at that instant that I just couldn't wait to try them out!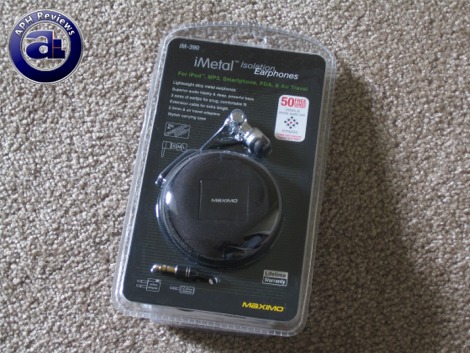 Well packed inside the shipping box, a retail package of Maximo Product's iMetal iM-390 earphones are revealed along with several other sheets of product information to let the reviewer obtain a better understanding of the product. The retail packaging that encloses Maximo's iM-390 inside is a blister pack. Although it is effective at displaying the contents inside, as well as giving potential retail customers a firsthand look, it will require a little more effort than normal to open -- meaning a boxcutter would be highly recommended.
Maximo Products chooses a rather simple approach when it comes to packaging. The blister pack displays a simple black background with primarily green and white color scheme; which in my opinion failed to give the iM-390 a sense of eliteness, and the 'class' of a high end product -- the reason why I mention this is because of the aim of the iMetal iM-390 package (Quoting Andrew at Maximo, that includes earphone's sound, style, design, build quality, included accessories, and level of support) is to compete with a class higher than its price range. The so-called classification of 'generic packaging' created an initial impression of a product that is indeed low cost, but also nothing spectacular when it comes to everything else as described -- in fact, it led me to somehow believe it's just 'another regular $40 pair of earphones'. Great packaging is something of what I believe is absolutely essential in creating a positive and effective initial impression of this product. Creation of brand identity on this product is also unapparent. It all comes to marketing; and unfortunately the blister pack isn't any help either.
That aside, features and specifications are clearly printed on the insert inside the blister pack, as also outlined here below:
• Light-weight aluminum alloy bod
• High-fidelity 9mm neodymium drivers
• 3 pairs/sizes (L,M,S) of eartips
• Gold-plated 3.5mm stereo plug
• 2.5mm and air travel plug adapters
• 2-ft extension cable
• Premium carrying case
• Lifetime warranty
• Frequency response: 18Hz-22KHz
• Sensitivity (1KHz, 0.1V): > 100dB
• Maximum SPL output: >120dB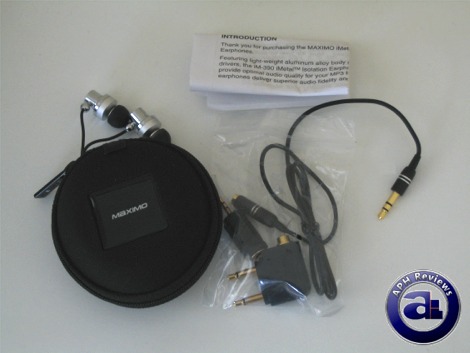 Out of the retail package, accessories provided include a 2-feet, 3.5mm female/male extension cable, 3.5mm to airplane adapter, as well as a 3.5mm to 2.5mm adapter. That's quite a bit of useful accessories included; in fact even when it comes to something of one up in the market segment provides typically less accessories than this!
Besides the included manual in poster format, the Maximo iMetal iM-390 earphones have the drivers physically exposed out of the carrying case, but the rest of the cable hidden inside.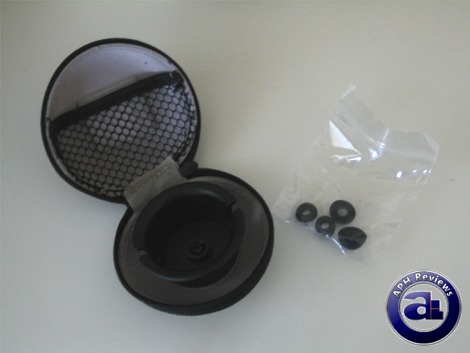 Opening the carrying case not only reveals the rest of the iM-390 earphones themselves, but also a small resealable zipper bag containing two additional sleeves (Eartips). Unlike Shure products, you won't get a plethora of different sizes and types -- but the black rubber sleeves are my favorite regardless, and three sizes are provided for different ear sizes -- so I won't make any complaints here. A good advantage of the black sleeves is that they don't discolor; a lot of people I know (myself included) experienced discoloration of clear silicone sleeves -- they turn yellow after a while with perfectly clean ears and it cannot be washed off, so it is a discolor in general.
Looking at the included carrying case reminds me of something -- yes, it's almost an exact replica of Shure carrying cases -- excluding the Shure E500PTH, which utilizes a different one out of the box. The outer material is different as juxtaposed to Shure carrying cases, and of course the logo is different; but the center wraparound is identical. The circular design and circumference zipper implementation is also identical to those of Shure's.
Maximo's carrying case adds a mesh pocket to the top, but that's about it. I am not saying that it is a bad thing, but personally I would prefer Maximo to come up with something unique -- such as how V-MODA came up with V-MODA Vibe's cable wrap and pouch.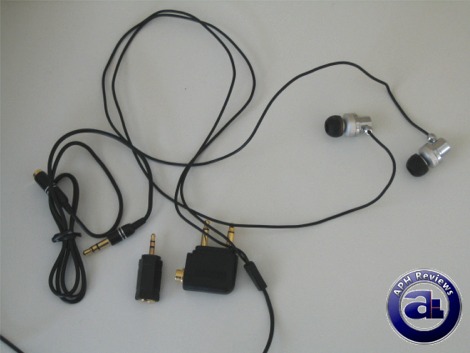 Another shot at the iMetal iM-390's included accessories. While the standard attached cable is reasonably long, a two feet extension cable is included just in case you need a little more. Adapters for both 2.5mm jacks (Such as certain cell phones), and airplane adapter is also included.
The cables are generally thin, light, and simple, which are quite similar on the outer level as the V-MODA Vibes. The thin and lightweight implementation which allows it to stay in the user's ears relatively easier during relatively more intense physical activities -- whereas typical Shure thick cables may not deliver in this area. However, it is more prone to being tangled.
Regarding the cable, I have noticed that rubbing the cord with the earphones in ear will bring noise to both ears. Although I've seen other IEMs vulnerable to this, the iM-390s can definitely improve in this aspect.
The 3.5mm jack is a straight connector, not an L-shaped connector as seen on other products. I am fairly neutral on this, and this is just for reference purposes only. Build quality is generally good, but the 3.5mm straight jack cover section may become easily loosened/disengaged, especially when pulled out of tight ports.
The Maximo iMetal iM-390 builds on a Y-split with equal cable lengths for both ears. The Y-split connects the initial cable to a mini plastic enclosure and splits into two cable out, clean and solid. Quick tugs are unlikely to destroy the black block or the cable.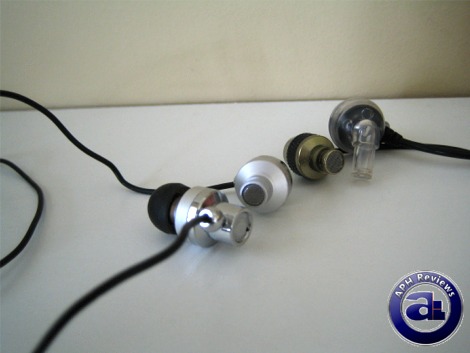 The Maximo iMetal iM-390 earphones, as compared to the V-MODA Vibes and Shure E2c. The traditional dynamic drivers aim directly into your ear; which is basically designed physically identical to the V-MODA Vibe. This will provide more direct sound into your ears without sounding like a hollow tube; and the integrated earwax protection is not bad at all. Any cleaning required is directly accessible and the sleeves are washable like other IEMs.
The silver/grey color scheme of the Maximo iMetal iM-390 is separated into three subsections of design regarding the earpiece itself. The wire lead in is designed in the shape of a sphere, while left/right ears are labeled on top as well as the Maximo logo.
---
The Tests
Although the testing is quite subjective and with everyone having opinions that may differ, it has to be done. After all, a lot of things are based off performance and can extend quite beyond looks, and here is what's on paper.
What I can tell you is that the Maximo iMetal iM-390 are soooo awesome, in fact they roxor your boxors. They are omg soooo loud! lol! I mean its so loud I cant even hear myself after 15 minutes of listening. Thats what that makes it so awesome!!!11!
Okay, anyways, we were just kidding ;) Because perceived loudness has little in relation to do with performance and sound quality, and it actually is dangerous to listen to music at high volumes.
Moving into serious notes, tests were conducted on the following equipment:
- Creative Zen Vision:M 30GB (Digital Audio Player)
- Creative X-Fi XtremeMusic (Computer Sound Card)
- Asus Xonar D2 (Computer Sound Card)
The following IEMs were used for comparison:
- Shure E2c (Approximately $100)
- V-MODA Vibe (Approximately $100)
- Maximo iMetal iM-390 (Approximately $40)
After 30 hours of break-in time (Well above typically required period), we put the Maximo iMetal iM-390 to the tests. All tracks are uncompressed CDs, FLAC, or LAME encoded MP3s at 192kbps or higher.
Regarding noise isolation, the Maximo iMetal iM-390s performed beyond my expectations. However, even at sleeve sizes I usually use with IEMs, I found that creating a good seal with proper fitting will take a bit of time, effort, and experience. If this is not done correctly, noise isolation would not work properly and it will sound a lot different. At volume 8/25 on my Creative Zen Vision:M with Bass Boost and equalizer setting at 0-0-0-4-12, ambient noise is generally filtered out. Most regular talking cannot be heard at this level when the person is at a range of roughly 1-2 meters or more. Wind noise is also minimal -- I tried (Please don't try this otherwise, this is dangerous because you can't hear anything around you haha) driving with my windows down at 80km/h with earphones on and tightly sealed; road noise and the effect of wind noise is one of the best with regards to audible sound output. This level of isolation is nearly, if not as good as Shure E2c earphones rated at 20dB noise isolation.
With great noise isolation, its credits go to the fact that these earphones are built on a closed design. While V-MODA implemented on the Vibes a semi-open design for extremely wide soundstaging, the closed design of the iMetal iM-390's is a contributing factor to making its soundstaging performance not very commendable. There's minimal space feel of where each instrument is from -- many instruments sound like it's almost from one undefined location somewhere; there's a hint of distance and direction but in my opinion that's not good enough. We feel that there is definitely room for improvement in this area -- but we must still keep in mind that these are MSRP $40 earphones.
The way of how the drivers are implemented usually has a relationship in how direct the sound output sounds to the ears. In a nutshell, it does sound direct like the Vibes from V-MODA; unlike Shure E2c earphones -- which to an extent sound like it is coming from a hollow tube. This is excellent -- however the degree of clean, separated, and layered sound is not present on the iMetal iM-390s. Therefore, I would say that the sound is not very transparent and layers are not distinct in both levels of between the highs, mids, and lows as well as within the highs, mids, and lows.
The Maximo iMetal iM-390s by default are not the 'punchy' type with contrasted sharp treble and tight, deep bass. This approach is quite similar to Shure's earphones, in which the off-the-box settings make the iM-390 more neutral sounding. Despite its emphasis on midrange frequencies, I found that the Maximo iMetal iM-390s responds to equalizer settings fairly well -- making its maximum bass potential (With a proper seal with your ears) solid and rounded; generally adequate but not super deep, low, and punchy like the V-MODA Vibes. On the higher frequency side, percussion instruments did come out noticeably, and somewhat sharp but not very clean and distinct -- partially due to its lack of apparent layering in sound. In general, it hits the tones generally well, but the layering is not distinct enough and sound is not very 'clean'.
According to my tests, I can confidently say that the Maximo iMetal iM-390s are definitely low resistance earphones -- in which we would normally consider V-MODA Vibes to be in this category, the iM-390s are even more so -- so feel free to use a lower volume output to achieve the same actual output to your ears during daily usage. You'll probably save yourself some battery life too haha.
---
Despite what I said in the testing section, do not take it the wrong way -- because one very important factor to consider is that the Maximo iMetal iM-390s carries a MSRP of $40 USD, and not the $100 price tag our compared Shure E2c's and V-MODA Vibes takes on. We are using them as a reference and stating the facts of performance of these earphones in general. Would you expect a Toyota Yaris to somewhat put out what an Acura TSX offers? Probably not -- but what I can say is that if you aren't picky enough, you are getting something in between for less than half the price (By the way, the Maximo iMetal iM-390s are a lot better than a Toyota Yaris in equivalent, by far). The Maximo iMetal iM-390's performance is beyond what I expected at that price range; and that if you aren't picky enough on the details and just want something for daily listening at a bargain price, the Maximo iMetal iM-390 are the earphones you've been looking for in a while. Give it a chance! It doesn't cost much either -- and you would be surprised that these are only for $40.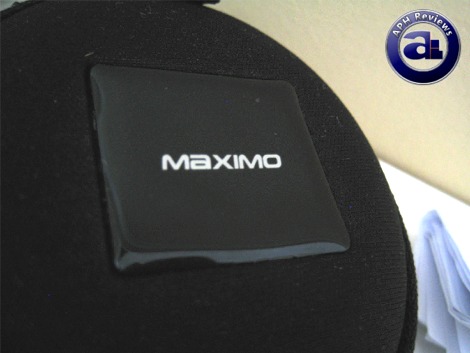 Special thanks to Andrew over at Maximo Products for making this review possible.
APH Review Focus Summary:
7/10 means Great product with many advantages and certain insignificant drawbacks; but should be considered before purchasing.
-- Final APH Numeric Rating is 7.0/10
Please note that the APH Numeric Rating system is based off our proprietary guidelines in the Review Focus, and should not be compared to other sites.
The Maximo iMetal iM-390s are excellent earphones considering its MSRP of $40. The performance extends well beyond what we expect at that price point. If you want generally acceptable performance without spending much, the iM-390 earphones surely offer a great bang for your buck.