By: Jonathan Kwan
May 26, 2009
When Bart Simpson in the episode Simpsons Bible Stories starts dreaming and sees himself as King David, he discovers that his 'oldest friend Methuselah' (Who is presented by his grandpa Abe Simpson) has been stabbed in the back, and dies in front of him. Bart then asks Grampa Simpson who killed him, of whom promptly said that it was "Goliath". Bart replies with an element of surprise as he says, "But Goliath is dead. I smolt him myself. I smolt him good." Grampa then quickly answers with surprising speed, "No, it was his son, Goliath II." Instantly, Bart screams, "NOOOOOOO", and added that "Goliath II is going to pay. And this time, it's Biblical." I'm not going to tell you the entire story, but here's the thing: While the story is very loosely based on the Bible's account of the event (And by loosely, I mean very loosely with regards to its near zero Biblical factual accuracy) here's one thing: After approximately one and a half years upon the introduction of the excellent V-MODA Vibes, the market has become much more competitive in its price range. I can't go as far as the original Vibes are dead by any means, but while they were largely excellent -- pun intended -- and shocked the enthusiast market during its debut, its road to perfection still retains a short distance. There are certain areas that can definitely be improved whether it'd be its sound characteristics or physical design. Fast forward to the present, here's the rightly named Goliath II -- or in this case, the loosely related name V-MODA Vibe IIs. Combined with all the improvements upon the areas that I've complained about in the past, and adding a microphone, it transformed from an already large giant to an impressive hundred feet gigantic giant -- like it is in the Simpsons episode. And here's the good part: The Goliath II story is fictional, and Goliath II in the story dies in the end. The V-MODA Vibe IIs are not fictional. And the V-MODA Vibe II earphones too good to be killed off that easily. It is just so much better than the original Vibes in my opinion; you just got to experience it to believe it. Or you can read my review, whichever comes first.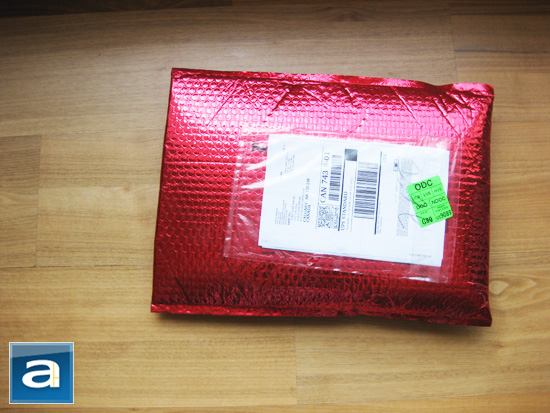 Three days before I leave to travel halfway across the world to Hong Kong, V-MODA's package arrived punctually at my door -- just in time for me to carry them with me for reviewing on my 'vacation'. Like it was a couple years ago with the V-MODA Vibes, our new set of V-MODA earphones came in a large red bubble envelope; with the retail packaging and press material inside. However, unlike two years ago, they've sent it using UPS Standard rather than a DHL service. And we all know how we have this love/hate relationship with DHL. If you don't know what I am talking about, feel free to message the guys who have been on APH for a long time!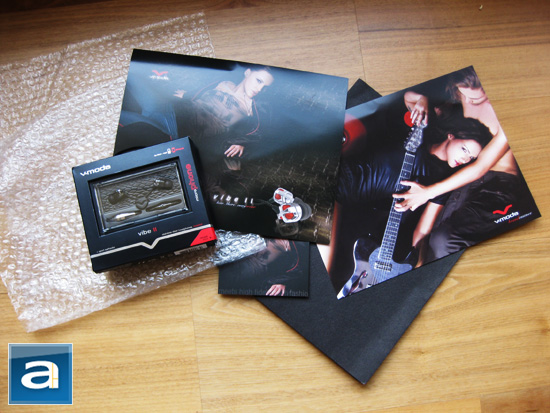 As aforementioned, our review unit of the V-MODA Vibe II earphones arrived in retail packaging along with a series of press material for my reference. Wrapped behind an additional layer of bubble wrap, an extra step was taken to ensure everything arrived in pristine condition for our evaluation. That's to say that there's not even a single blemish on the retail packaging itself either, thanks to the good packing and no (appeared) abuse during transport.
V-MODA has always been known to be a boutique "lifestyle" portable audio equipment maker based in California, USA. V-MODA gained immense popularity amongst audio enthusiasts with the original Vibe earphones for its excellent physical design, as well as being regarded for its great sound quality for the price.
All this starts off with one very important thing -- the packaging. The packaging of the same product can differentiate it so significantly that one could appear it's a $5 off-the-shelf from Wal-Mart, or a $500 premium product from a high end retailer. I'm not saying that V-MODA products are superficial in this regard, because what's enclosed inside is truly a world class product -- we'll get to this later -- but it does go a long way. I can confidently say that, if anyone needs to learn how to do packaging right, they should take a lesson from the excellent designers at V-MODA.
The relatively compact box carries an elegant matte black color scheme, with a neat array of red and white highlights. These colors are used very effectively by the text and graphics. Occupying a large surface across the front is a well implemented cutout as a window to the enclosed transparent plastic case behind. Inside the transparent plastic case are the V-MODA Vibe II earphones themselves neatly aligned and placed to display the actual product in a stylish fashion. The perimeter around the entire box is cleanly designed for an extremely modern look.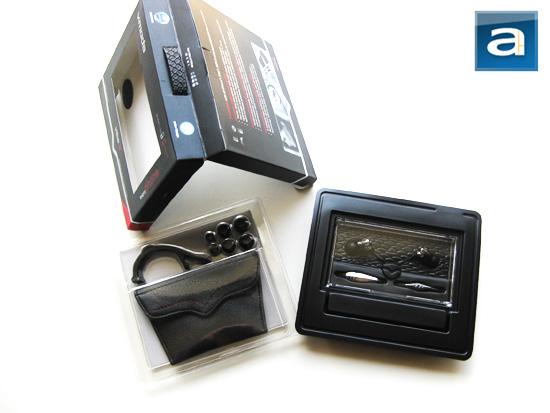 And that's not it -- the box actually consists of two parts; a sleek fold out crosses the middle like an upside-down "V" when looked at from the side; as shown in the photo above. A little handle is located at the top of the box. Its contents can be easily slid out the sides like a tray -- where the front windowed compartment holds the Vibe IIs themselves, and the rear quarter encases the included accessories. The back of the box discusses more detailed information on this pair of earphones in perfectly sized text and placement.
Two internal shells must be cracked open before the user can enjoy their new V-MODA Vibe II earphones. It didn't take me long for me to find out that these blister packs are pretty hard to open; especially the one that locks the earphones itself down for display. I couldn't find any meaningful way to disengage them, so I ended up whipping out a boxcutter to solve all my problems. Generally speaking, the packaging is top notch in appearance, but it's slightly challenging to get everything out. I am not complaining much here though -- the eye candy is too undeniably good. It gives the Vibe IIs class.
Before we move on, let's take a look at the specifications of the V-MODA Vibe II earphones, as taken from the manufacturer's website:
- Frequency Response: 12 Hz – 22 kHz
- Speaker Driver: 8mm V-MASQUE dynamic technology, neodymium rare earth magnet
- Cables: Kevlar® reinforced, 32" plug to y-connector, 13.5" even-length earphone cables
- Plug: 24k gold-plated, 3.5 mm (1/8") stereo plug
- Weight: 22g
- Warranty: One year V-MODA premier warranty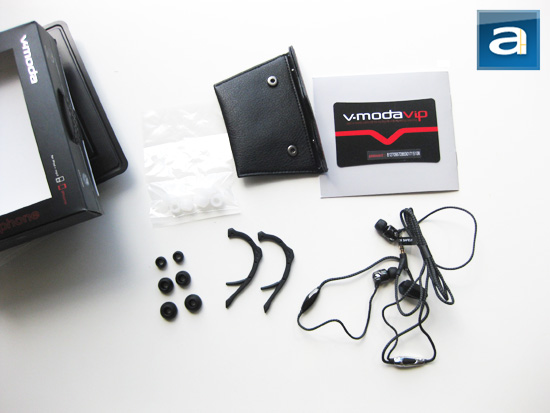 Out of the retail box, you will receive the following:
- Vibe II with Microphone headphones/headset
- Detachable sport earhooks
- Eight pairs (XS,S,M,L) of silicone ear fittings in clear and black
- Designer carrying case
- VIP Card
The leather 'designer carrying case' is significantly improved (Not to mention practical) over the ones that came with the original Vibes. It provides adequate protection and style to compliment the Vibe IIs with no significant restrictions in use. The original Vibe case's opening is a bit too small; not to mention the 'boomerang V' cable wrap will cause the cables to curl more than necessary. The new case permits better organization, as in, 'put it in your own way', if you know what I mean. The "V" shaped flap (For "V-MODA") is a pretty subtle yet nice touch to the design.
The sport clips are another very nice addition to the package. While the Vibe IIs are relatively lightweight and will stay in your ears during exercise, the cables rubbing against your cheeks would generate an abundance of annoying low frequency noise. The sport earhooks serves as stabilizers around your ears to reduce this noise, as well as providing additional support for them to stay in.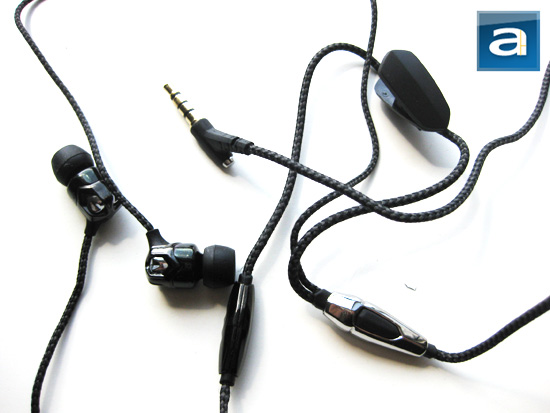 The V-MODA Vibe IIs are available in two colors: Nero (Silver highlights) and ChromeRouge (Red highlights). My unit is the former. In my opinion, the Nero color scheme proves to be more conservative in styling for universal acceptance; while the ChromeRouge highlights provides an evidently more edgy look for a distinct fashion statement. Both look great regardless of what you choose!
The earbuds themselves are very compact and light at 22g, as always with the company. The earphones go straight into your ears in standard configuration. However, it is converted to a wraparound style when used with the sport earhooks to enhance support, and reduce noise due to vibration. With the abundance of ear sleeves provided by V-MODA out of the package to accommodate a large array of end users, I chose the medium sized, black colored sleeves for personal use. The reason I chose this set is because they usually feature negligible color degradation in the long run, as well as giving a decent seal for optimal noise isolation.
I think I've implicitly defined this already, but I'll make it very clear here: The Kevlar reinforced braided cords looks and feels excellent in all respects. It gives the earphones a sense of higher level refinement and quality, and the way it is executed for this purpose is done very well. The 81.3cm cable is about average and should be more than sufficient for the common population. However, the "NVH" of the Vibe IIs seems to be pretty limited. (I borrowed the term -- NVH means Noise, Vibration, and Harshness in automotive lingo haha.) The sport earhooks reduces such -- and so does the shirt clip -- because when you are in motion without either, the V-MODA Vibe II's cord rubbing does provide excessive wire noise. My personal problem: I lost the shirt clip on the first day of testing after taking the photo above for some reason. So I ended up just holding the cable.
Complaints aside, the Vibe IIs works very well with my Apple iPhone 3G 16GB (Yes, I bought an Apple product. It's quite a surprise. No sarcasm.) The Y split near the upper middle provides not only an excellent quality connector, but proves to be very well implemented too. It works just like the stock iPhone set, except it feels much better. It goes with the standard click once to answer call, play/pause music, and click twice to skip the track, etc. That's not to mention that the mic works very effectively in transmitting the right thing when aimed correctly -- it's very important if you've ever been to the Hong Kong MTR station in Mong Kok during rush hour!
What I really liked is the rubber coated, unique 45 degree angled 3.5mm connector at the end. Back in the days of the original Vibe earphones, I have complained about the stylish but impractical connector that's almost impossible to disconnect due to an inherent lack of grip. The Vibe II doesn't even have a trace of this problem with the revised connector.
All in all, the microphone and remote aspect of the Vibe IIs are excellent, and a must-have if you have an iPhone in my opinion. I'll talk about the most important part of this review -- the sound quality of the V-MODA Vibe II earphones -- in just a moment. Other than that, at first I found it very weird that the V-MODA Vibe IIs works with almost everything I've tested it on -- the Auzentech X-Fi Prelude, or even my Lenovo T400 laptop -- but it simply won't work with my Zen Vision:M digital audio player. I had to hold down the middle button for music to play properly. To see if this is V-MODA's design problem or otherwise, I plugged in the crappy Apple iPhone stock earphone/mic set into my Zen Vision:M and demonstrated the exact same problem. In conclusion: Apple design spec hates Creative digital audio players, or the Zen Vision:M just has issues?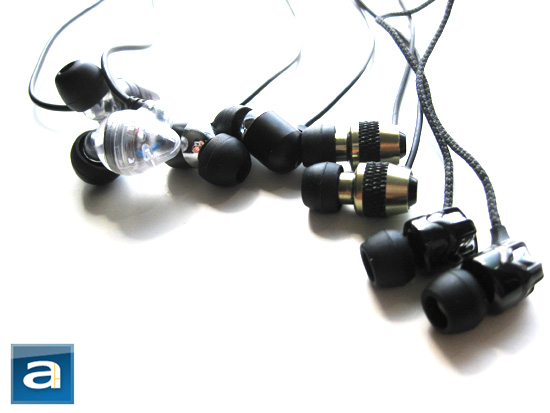 From the left: Shure E2c, Radius Atomic Bass, V-MODA Vibe, V-MODA Vibe II.
Like previous V-MODA products, the wide cone canal diameter drivers aim directly into your ear for a more 'direct' and 'transparent' sound reproduction characteristic. At the same time, it makes the earphones much easier to clean in the long run too. The sleeves assist the aim into the user's ear canals; and since these earphones are designed for a closed configuration, the V-MODA Vibe IIs are made for passive noise canceling.
While the V-MODA Vibe IIs still establishes a design statement of its own, I feel that it's actually a step back from the original Vibes. The original Vibes presents a fresh and clean look to the earphone market; giving a sense of contemporary elegance and design uniqueness that isn't defined by the competition. The Vibe II's design seems to be an attempt to enhance its aggressive presence to redefine this statement, but in my opinion this complexity makes it look a bit generic to an extent rather than the sharp and sleek look I have hoped for. If they worked more along the line of the original Vibes, or even just tinkered with a few details, it would have been classified as 'done right' in my books. On the other hand, Anthony, one of our news editors, found the new one to be an improvement -- the old one is a bit too conservative in design in his opinion.
However, that's not to say that the Vibe IIs aren't visually pleasing. The problem is that its predecessor is done too well!
-----------------------------------------
The Tests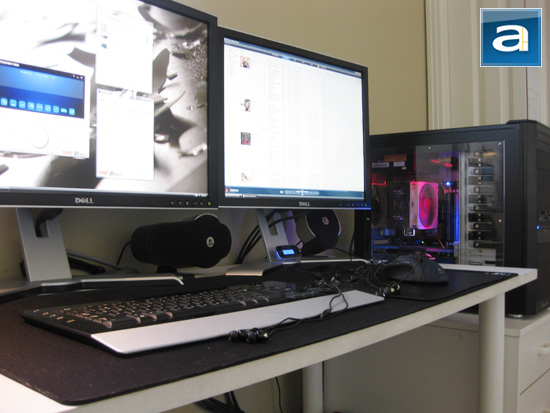 If you wonder, that's my benchmarking photo in Calgary before I left for Hong Kong. Hong Kong places simply don't look like that haha.
Like I said a couple weeks back, there are really no true objective measurements for earphone sound quality. As the reviewer, however, I'll put it through a series of subjective tests to try to come up with the most objective rating possible (Yes, it's quite a paradox haha). The tests were conducted primarily with the Auzentech X-Fi Prelude sound card with the Vibe IIs plugged in directly. (Creative CA20K1 DSP/APU, Exilinx XC9536XL CLPD, Atmel AT89C2051 CMOS controller chip, Asahi Kasei AK4396 DAC, National LM4562NA and Texas Instruments OPA2134 OpAmps.) This sound card is arguably one of the best consumer/prosumer computer sound cards out there in the market today and will reduce its potential to be a limiting factor in our benchmarking today. For mobile testing, I used my Apple iPhone 3G 16GB as a reference.
After over 150 hours of break-in time (Well above typically required period), we put the V-MODA Vibe IIs to the tests. All tracks are uncompressed CDs, FLAC, or LAME encoded MP3s at 192kbps or higher.
The following IEMs were used for reference benchmarking and not necessarily directly compared:
- Shure E2c (Approximately $100)
- Maximo iMetal iM-390 (Approximately $40)
- Radius Atomic Bass (Approximately $40)
- V-MODA Vibe (Approximately $100)
From the moment I placed the V-MODA Vibe II earphones into my ears forward, there's only one thing I can say about this product: It's unbelievably amazing. Not only does it exist in the same price bracket as its predecessor but with more features, it's obviously a class in performance above the Vibes and beyond. The V-MODA Vibe IIs puts forth an audio experience that is absolutely phenomenal -- is comparable to IEMs that costs significantly more.
That's to say without doubt that the Vibe IIs has everything over the original Vibes. While I have complained that the product it replaces is a bit lacking in layers especially when it comes to the easily suppressible midrange, but still feature superior bass and treble for a punchy sound overall, the Vibe II IEMs is a true winner in all areas thanks to its excellent balance. Out of the box, these earphones are tuned right with proper sound balancing (In my opinion, and for my likings, anyway) that messing around with the equalizer simply disturbs this distribution. You'll save some battery life and convenience on the way too. Plus all Apple digital audio players don't have custom, user adjustable EQs anyway, so this would complement each other perfectly as it was meant to be.
Delivering relatively clean and cohesive sound across the range, frequency separation is decent; yet the layering is precise and also abundant across the entire range -- this creates the sense of balance and detailed sound reproduction I described a short moment ago. Overall, the general characteristic of the V-MODA Vibe IIs came from a level of rock instrumental punchy and bright sounds of its predecessor, to its current level of neutral-yet-balanced punchiness that fills strongly across the spectrum for some spectacular listening enjoyment to the end user. I'm not saying that there isn't anything better -- but it's important to understand that the Vibe IIs provides awesome performance while keeping your wallet fat (Or credit card bill low). It's not the "I pay a lower price so I don't expect much" kind of thing. It the "I expect a lot, yet the price is surprisingly competitive" philosophy that the V-MODA Vibe IIs strongly adhere to.
As such, while the Vibe IIs does not deliver bass to the quantity as well as the Radius Atomic Bass, this pair of IEMs are no slouch in this regard either. Delivering well articulated, rounded, solid, and distinct bass, it is definitely not as amplified nor emphasized as much as the Radius; but instead arrives in a very sensible and balanced package. It provides clean thumps at an enjoyable level for many. And it's better than the original Vibes, which is quite a bit to say.
As expected from V-MODA, soundstaging is wide with the V-MODA Vibe IIs -- as in 'good', in layman terms -- like its predecessor. I couldn't really say that it's noticeable better than the Vibes, however (The Vibes were very good regardless). On the other hand, it is without doubt that this is more of an engineering achievement to achieve this result -- because the Vibes are open design IEMs, whereas the current incorporates a close design, so it does not have the natural advantage of the open design. It's kind of sad sometimes I get disillusioned by what's real and what's not real around me when I listen to music on my V-MODA Vibe IIs, that I actually had to look to verify. Is that normal!? lol... I mean... haha.
The most significant improvement with the Vibe II earphones addresses the area of midrange sound reproduction. As I have briefly discussed this earlier, its predecessor is a bit lacking in this area to say the least. However, the weakness of the Vibes turned out to be one of the highlights for the company's second iteration -- much to my surprise. When I first opened the V-MODA Vibe II package, I did not expect much from the midrange aspect. I was very pleasantly surprised but the improvements V-MODA implemented to ensure a balanced and enjoyable listening experience. The midrange is clean, thick, saturated, and cohesive for the upper-mids, mid-mids, and lower-mids for a wide range of good, natural vocal performance. They're surprisingly good for the class it resides in. Now I can enjoy some Kelly Clarkson music (Yes, my favorite artist :P) at a new definition!
The highs of the Vibe IIs are well defined in its own area. The reproduced treble are wet, distinct, clean, and sharp -- giving a clear definition to the presence of the virtual-percussion instruments and other high frequency sounds. However, I feel that it is still slightly recessed like the V-MODA Vibes -- even though improvements are clear from before, there is still a bit of room to kick it up a notch on the road to approach the perfection asymptote.
As I am in Hong Kong at the moment, I've had more chance to experience the V-MODA Vibe IIs in different scenarios that I ever had before. This isn't to say that it is any more accurate or less accurate than my previous reviews with regards to noise isolation, but it gives me the chance to provide you, the reader, a clearer idea of the Vibe II performance in real life (The evaluation accuracy does not change, however). I have outlined the V-MODA Vibe II earphones paired up with my Apple iPhone 3G 16GB onboard the Boeing 777-300ER for 13 hours, on various extended public buses trips, on the MTR (Hong Kong subway) and its stations, and walking in noisy and busy locations both outdoors and indoors -- to add to my standard battery of benchmarks that I usually conduct.
The closed IEM design along with a seal created by the included various sized sleeves for maximum compatibility, provided excellent environmental sound isolation. In an office or home environment, I never had to have my iPhone turned up past 31% (5/16) before I could barely hear anyone around me. In most relatively noisy locations, such as sitting at the back of the bus, 6 bars was good enough (38% volume) for me. The loudest of all 'normal' settings -- the MTR at full speed underground with a mass amount people chatting all around me -- 7/16 (44%) was the maximum I ever needed. The same goes when I was on the plane. Wind noise is also not a problem with the Vibes. I'm a huge fan of excellent isolating earphones, and the V-MODA Vibe IIs provided a level of isolation I expected from the best. It certainly did not disappoint. Noise isolating earbuds, in general, goes a long way to help protect your ears with lower volume; in the meantime makes your music more 'pure' as it is less affected by the surrounding environment. Lower volume also reduces battery consumption of your digital audio player. To say the least, I'm impressed!
-----------------------------------------
I cannot deny that the V-MODA Vibe II earphones are one of the most impressive earphones for its price range that I have experienced recently. Combining a level of excellent packaging for high product image, executing very good industrial design practices as the company is known for, as well as justifying brilliant performance along with superior aesthetics, the Vibe II proves to be an uncontested winner for its category, and possibly above, too. The V-MODA Vibe II IEMs are fully featured for very good phone compatibility (Especially the iPhone it's designed for), thanks to the integrated Y-split remote and microphone. My only major complaint is the cord, which is very poor in reducing parasitic rubbing noise; I would prefer an inherent physical property solution rather than artificial compensation (such as the sport earhooks and the shirt clip) -- not to mention that the shirt clip is lost too easily. The looks are a step back from its predecessor, but that's my subjective opinion only and not a major issue. Otherwise, the V-MODA Vibe IIs offers brilliant performance for a price that you won't normally expect. The V-MODA Vibe IIs are the real deal for 2009. And very likely beyond. Do you believe this? Words may mean nothing to you. You just got to try one out for yourself.
Special thanks to Amanda representing V-MODA for making this review possible.

APH Recommended Award | APH Review Focus Summary:
9/10 means Excellent product with very minor drawbacks that does not affect the overall product.
8/10 means Definitely a very good product with drawbacks that aren't likely going to matter to the end user.
-- Final APH Numeric Rating is 8.2/10
Please note that the APH Numeric Rating system is based off our proprietary guidelines in the Review Focus, and should not be compared to other sites.
Yes -- that's an "8" category product from APH Networks! To be honest, I am not really the type that writes 'glowing' reviews, because all too often it has poor credibility for various reasons. The V-MODA Vibe IIs are one of those rare products that excel in pretty much every category. It well deserves praise from every credible media outlet!