By: Jonathan Kwan
July 11, 2009
When it comes to Apple iPod and iPhone accessories, there is certainly no lack of such in the market today. And there's a very good reason why: Considering the iPod occupies the major market share in digital media players, and the iPhone carrying on the momentum of success of its iPod cousins -- the once proprietary connector that resides at the bottom of every portable Apple product has interestingly become a commonplace standard for many consumer households. As a technology enthusiast myself, I don't necessarily adhere to a certain brand loyalty belief as much as upholding the virtues of capitalism in buying the best product for my money. This is directly juxtaposed with companies building a strong brand loyalty with strategic marketing that sells products for an otherwise uncompetitive price. You should know who I am talking about by now haha. Regardless of my views on Apple as a company, when it comes to picking up a new smartphone, there's no excuse for me to admit that the new generations of Apple's iPhone is undeniably the best for my personal needs -- combined with excellent industrial design, wide application compatibility (Plus jailbreaking unlocks further limitless possibilities), excellent user interface (Again, jailbreaking and slapping on Winterboard unlocks excellent customizability), and equally as excellent media player, it captures my enthusiast heart other than the $$$ dumped for a factory unlocked version. Then it comes the time for iPod/iPhone accessories. Just like its abundance of compatible applications for every purpose, I am just learning to reap the benefits of owning a paradox-sounding 'proprietary standard' device with a wide selection of accessories for every purpose. When Eagle Tech contacted me to take a look at their new line of speakers in which they advertise in the area of awesome in performance and great prices, it didn't take me more than a moment to "spit out the rice to answer"!
You may realize that the images in this review are a bit different in dimensions from our previous articles. I'm not changing the standard photo size of APH articles -- it's just that my regular Canon compact camera that I typically use is still currently being 'repaired' by the company (Since the idea of customer satisfaction never really crossed their heads, and they're really taking their time since mid-June to fix a few non-electronic build quality problems on my camera. Heck, they ignored quite a few of my emails too, and when they did reply on a 2:1 ratio, they addressed to practically nothing I wrote). Therefore, I'm out and about with my (ironically) Canon dSLR camera this time, and I am too lazy to resize them unproportionally to the APH standard 4:3 aspect ratio rather than the dSLR's default 3:2 ratio haha. But at least you can see better quality images throughout this review.
Yes, I am that lazy -- but the real question bestows in, am I any more unproductive than Canon's RMA department? ;)
Anyway, jokes aside, our review unit of the Eagle Arion ET-AR402IR-BK 2.1 iDock speakers arrived in a small brown corrugated cardboard box from Eagle Tech's offices in California, USA. Using UPS Standard, everything arrived safely and securely with no physical damages on the shipping box at all. Eagle Tech took extra care to blast the gap between the shipping box and the retail box with extra packing peanuts to ensure everything arrives in absolute pristine conditions into our hands.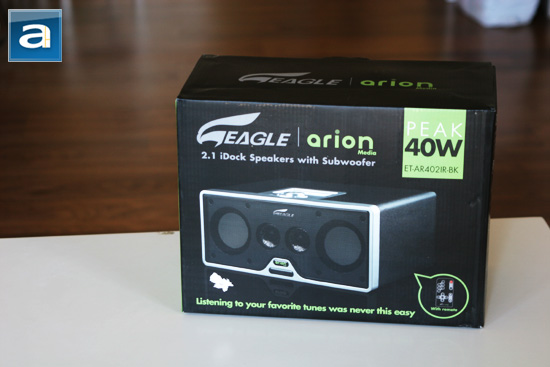 Eagle Tech provided us a unit of their Arion ET-AR402IR-BK 2.1 iDock speakers in retail packaging. The color scheme of the box design incorporates primarily of black, white and green; where its solid black saturates the background with white and light green for contents highlight. Predominantly visible is its ribbon near the top right corner highlighting its 'Peak 40W [output]' boldly. I was like, Wow. That's some ground shattering, house booming, neighbor instigating power right there.
That aside, the specified power -- at least on paper -- isn't bad considering the size and purpose of the speakers. I'm more concerned about quality rather than sheer over amplified power with an inherent lack of quality. We'll get to that later on in this review.
Right beside the ribbon is Eagle's logo along with the Arion brand; the descriptive product name slides straight below the aforementioned. A stylish, large photo of the iDock speakers itself from its front 3/4 view resides in a prominently visible surface of the box. A little speech bubble advertises that the iDock, does indeed, include some advanced wireless technology known to the modern home called the remote control haha.
At the right side of the box provides information on the package contents and speaker specifications, as follows:
Contents
- ET-AR402IR-BK speaker system
- Remote control with battery
- User manual
- 3.5mm to RCA audio cable
Specifications
• Total RMS Power: 20 Watts
-Satellites: 5 Watts RMS x 2 (into 4 ohms, @<=1% THD)
-Subwoofer: 10 Watts RMS x 2 (into 4 ohms, @<=1% THD)
• Total Peak Power: 40 Watts
• Frequency Response: 30Hz to 20kHz
• Drivers:
-Satellites: Dual 3-inch full spectrum drivers with solid wood enclosure
-Subwoofer: 4-inch driver with solid wood enclosure
• Speaker Dimension: 4.72" x 11.02" x 7.67"
Printed on the left side of box is a paragraph on overview of the product and its feature highlights:
Overview
Rediscover your music! Twin, full-spectrum speakers coupled with a powerful subwoofer give you a faithful sound reproduction and tonal fidelity across wide range of frequencies that is nothing short of immersive and impressive. By using high quality cone materials that are lighter and stronger, you get seamless overall imaging and soundstage of the music. Wooden enclosure with carefully positioned apertures increases power handling at very low frequencies. Its clean lines, small footprint and sizeable performance fit nicely just about anywhere at home or on the go.
Features
• Stiff and light cone materials for precise vibrations
• Exceptional tonal fidelity and low harmonic distortion
• Solid wood enclosures accurately amplifies overall sound level
• Dedicated subwoofer and midrange for high decibel output
• Compatible with wide range of iPod/iPhone
• Great for MP3 player, CD, PC, video gaming system, home audio system or just about any other audio sources
• USB 2.0 port connects to iTunes (PC/Mac)
• RCA audio input
• Adjustable volume, treble, bass
• Control, play and charge your iPod/iPhone from the top loading dock
• Remote control and browse your iPod/iPhone from anywhere in the room
Finally, at the rear of the box is a feature highlight diagram -- Point 1 mentions that it has RCA inputs for universal audio in, Point 2 describes the fact that the iDock can control, play and charge your iPod/iPhone, and Point 3 highlights that it has a remote control. Yep.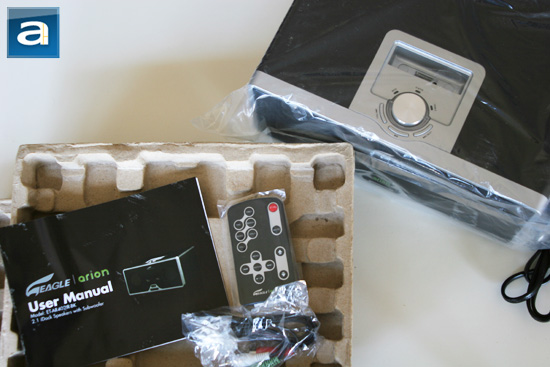 Opening the flap at the top permits the user to access the box contents. Sliding out what appears to be recycled cardboard trays; all its contents are clamped between on its sides for maximum protection and shipping stability. Everything inside are individually packaged in clear plastic bags to further enhance this. As listed earlier, out of the box, you will receive one of each of the following:
- ET-AR402IR-BK speaker system
- Remote control with battery
- User manual
- 3.5mm to RCA audio cable
Speaking of which, I believe that the model name "ET-AR402IR-BK" is better left off being a part number rather than a part of the name of the product. A simple and memorable name is absolutely essential to the success of one product.
Anyway, only essential accessories are included with no excesses noticed -- always a good sign of the manufacturer passing savings to the consumer by not incorporating unnecessary costs into each product. The entire set retails for around $80 online, so we are so far happy to say that things do look good on paper so far.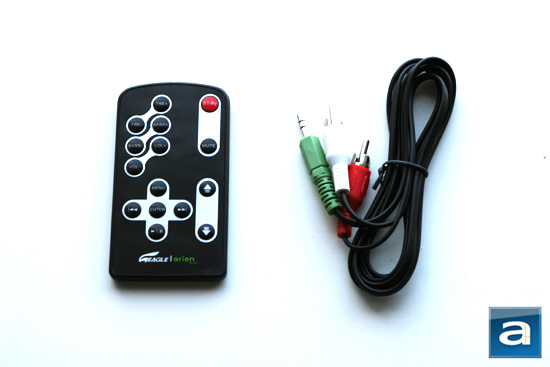 Before we take a close look at the physical attributes and subjective listening tests of Eagle's Arion ET-AR402IR-BK 2.1 iDock speakers, let's examine the two included accessories. As displayed in the image above, shown on the left is the remote control; while situated on the right is an included 3.5mm to RCA adapter cable. The latter is used to allow virtual universal input into the iDock speakers -- there's nothing you haven't seen before, so I won't waste too much time talking about it.
Meanwhile, the included remote control is very thin and light; featuring what I call 'airplane style' buttons -- the kind that curves little domes out of the otherwise flat surface. I have to be honest with you -- I hate these kinds of remote controls because they return very poor tactile feedback and control response. It simply feels cheap in my hands and is not a pleasure to use.
That aside, its core idea functionality actually isn't bad. The six angled buttons at the top left corner features control to the iDock's bass and treble levels; while its volume keys directly adjusts your iPod/iPhone's output volume. Once again, I have a complaint: While they're labeled clearly on what they do, it's very easy to hit the wrong button subconsciously thanks to its unnecessarily done obtuse angles.
Residing below the six volume keys is what appears to be shaped like a D-pad -- but is designed to more or less reflect the renowned iPod touchpad -- sans the touch and scroll part, of course. From the top is "Menu", "Enter", and "Play/Pause"; the wingers are "Repeat" and "Skip" at the left and right, respectively. The dedicated up/down buttons are placed on the right it. Finally, at the top right corner are two buttons: "Standby" for putting the iDock and your iPod/iPhone into standby, and "Mute" mutes the speaker output since there's no real mute function on Apple's digital media players.
Remote usage requires a direct line of sight, as expected from IR remotes. Range is reasonably well. If Eagle Tech can improve the remote control's look and feel, it would greatly improve the user experience of their Eagle Arion ET-AR402IR-BK 2.1 iDock speaker system.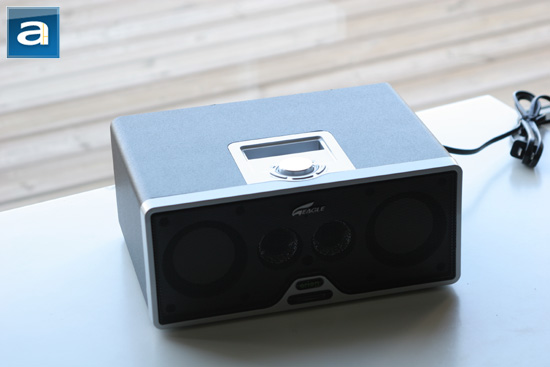 Measuring 28cm wide, 12cm tall, and 19.5cm depth, the Arion iDock is reasonably compact for what you get. The black painted solid wood enclosure encases two 5W RMS satellite speakers and a subwoofer rated at 10Wx2 RMS for a peak power output of 40W (Remember that RMS value is always lower than peak value). With rounded off corners on all four sides, this Eagle Arion is without doubt built to a degree of excellence with a very solid feel to it consistently across the product.
Wrapping the perimeter adjacent to the front is silver colored plastic lining holding the front metal speaker mesh in place. Behind its mesh, two 3-inch full spectrum drivers can be seen near the outer edges; while the middle two assists output of lower frequencies. Eagle Tech's logo badge is upper-centered affixed on top of the mesh. A curve at the bottom makes place for the prominently displayed Arion brand logo. These two elements provide adequate brand recognition -- while the inconveniently long model number is not displayed at all. It is clear that Eagle Tech wants the consumers to remember the "Arion" brand of speakers, rather than its confusing specific name we've talked about earlier on in this review.
Carrying on its consistent black and silver color scheme, the contrasting iPod/iPhone dock with controls sits at the top -- as expected from these type of speakers (After all, where else can you put it?). Controls are relatively simple. In the middle is a large knob that allows the user to adjust the bass/treble/main volume when pressed; which adjusts the volume respectively when turned. A cool blue ring surrounds it for both aesthetics and visibility purposes. At the top are three LEDs labeled 'Bass', 'Status', and 'Treble' from left to right. The 'Bass' and 'Treble' LEDs indicate that the respective volumes are being adjusted by the user, while the 'Status' LED just flashes when the connected device is in use.
The recessed iPod/iPhone dock is actually quite big in order to accommodate a wide array of different generations of iPods. If you don't have an uber thick iPod, this feature is also useful: It is necessary if you have a newer generation iPod/iPhone, but implemented some thick protection to it. It's not going to be able to accommodate very thick skins, but it has an acceptable degree of tolerance in this regard.
For iPhone users, your device will prompt you to notify the user that the Arion iDock is 'Not designed for iPhone' and ask if you want to turn on airplane mode to reduced interference every time. It works fine with airplane mode off; but I noticed specifically when WiFi is active (Like when it fetches new emails from server), it will cause significant interference to the speakers.
I would like to note that the quality of the connector may be a bit questionable. A closer look indicates that there's a 2mm gap between the casing cutout and the Apple proprietary connector. Our initial unit from Eagle Tech has significant contact problems with my Apple iPhone 3G (Possibly due to a loose connector); Eagle Tech has then sent us a replacement unit which exhibits no such issues -- however both dock connector location appears to be identical. What does the 'Quality Control' sticker on the back really mean?
Either way, I am not disregarding the possibility of this being an isolated incident since this is a very new product -- but it is my responsibility to mention it for your reference. If your Eagle Arion ET-AR402IR-BK 2.1 iDock has this problem, Eagle Tech would be happy to replace your product free of charge.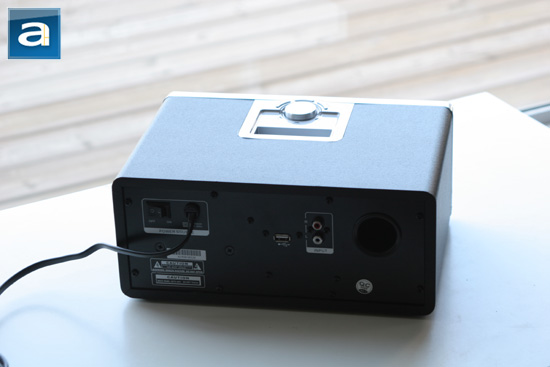 The back is relatively simple. Since this is an all-on-one device, all you really need is to connect your iPod or iPhone, plug in the power, and you're good to go. Therefore, the only permanently attached cable at the back is a power cord.
On the other hand, Eagle designed the ET-AR402IR-BK 2.1 iDock with a little more than just Apple digital audio player compatibility. Two RCA inputs can be seen at the back; a standard stereo 3.5mm to RCA cable is included out of the box for universal audio input. Of course, you'll lose most of the customized controls, but it sure makes these speakers very useful for universal compatibility and appeal.
You might now be wondering, "What about the USB port at the back?" The USB port allows the user to connect double end Series-A USB cable to a host computer for iTunes synchronization pass-through. Great addition, but it would be nice if they used USB Type-B (Printer) or USB Mini-B (Digital camera) since those cables are more readily available.
A bass reflex port can also be seen near the right of the Arion iDock.
Overall, I believe that the Eagle Arion ET-AR402IR-BK 2.1 iDock feels very solid and built very well with the exception of its dock connector -- where its build quality can be considered questionable. Otherwise, as far as design and implementation goes, it's great to see that Eagle Tech is able to get two speakers and a subwoofer into a reasonably sized package, as seen here.
-----------------------------------------
The Tests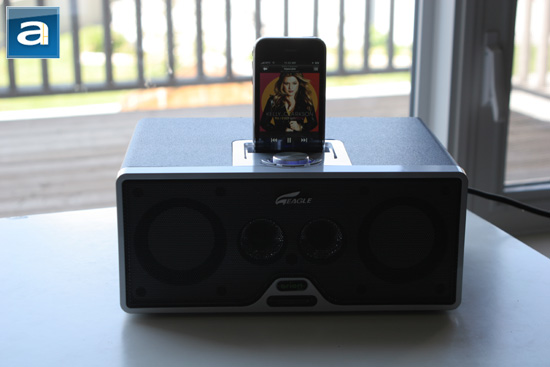 Shown with my Apple iPhone 3G with every guy's favorite album on the screen, Kelly Clarkson's 'All I Ever Wanted' haha.
As we had always liked to say, there are really no true objective measurements for speaker sound quality. As the reviewer, however, I'll put it through a series of subjective tests to try to come up with the most objective rating possible (Yes, it's quite a paradox haha). Since the Eagle Arion ET-AR402IR-BK 2.1 iDock speakers highlights its iPhone/iPod functions. The tests were conducted primarily with my Apple iPhone 3G 16GB with no alterations to its standard line out output function. For DAC bypass to determine the maximum capability of the speakers itself, we used our Auzentech X-Fi Prelude sound card (Creative CA20K1 DSP/APU, Exilinx XC9536XL CLPD, Atmel AT89C2051 CMOS controller chip, Asahi Kasei AK4396 DAC, National LM4562NA and Texas Instruments OPA2134 OpAmps) plugged in directly using its onboard analog input. This sound card is arguably one of the best consumer/prosumer computer sound cards out there in the market today and will reduce its potential to be a limiting factor in our benchmarking today.
After over 150 hours of break-in time (Well above typically required period), we put the Eagle Arion ET-AR402IR-BK 2.1 iDock through our tests. All tracks are uncompressed CDs, FLAC, or LAME encoded MP3s at 192kbps or higher.
From the moment I hit the play button, there's one thing I know: The Eagle Tech ET-AR402IR-BK 2.1 iDock doesn't sound nearly as good as it looks. Its audio quality isn't rightly suggested by its otherwise excellent construction. And to further add to that, Eagle Tech's statements regarding the performance of this product isn't anywhere near what they have suggested. Nothing has changed significantly after break-in. And I'll tell you why.
During this review, I often struggled to ensure that I would make a fair comparison and rating for this product. Aspects taken into play include physical size limitations of these speakers, along with its retail cost to performance ratio -- and to make sure I am not comparing this product unfairly against full scale setups that are significantly more expensive. As such, it is important to understand that my statements below have already taken the above two major factors into account.
First things first, it is actually physically and economically possible to make adequate sounding speakers as such in the case of Eagle Arion ET-AR402IR-BK 2.1 iDock speakers. Therefore, a certain expectation from me is already predetermined for this evaluation of what is considered to be a "good" speaker system in that regard -- but there are many reasons why the iDock, in my opinion, has fallen significantly short of what is considered a reasonable expectation. I can almost definitely testify that the results below were not as a result of a defective product, because both units we've received exhibited no noticeable performance differences.
Let's start with the basics -- bass, midrange, and treble in its simplest form of subjective audio reviewing. As the Eagle Arion iDock features an integrated subwoofer to quality for its all-in-one '2.1' configuration, these certainly provide a significant advantage against units that do not feature a dedicated sub driver. However, this advantage is quickly defeated when it is put through our tests. Regardless of where and what I placed the Arion iDock on, the bass came out very muddy, inarticulate to every extent, weak in presentation, no solidity and authority, and obviously lacks pretty much all definition and depth. To put it in simple terms, every low frequency ends up being exactly the same -- you can barely kick drums from the bass guitar. And when it does try to be punchy, it just pops and kicks inadvertently as if it's not even designed for this purpose. I ended up turning the bass volume down with my remote control, but then it pretty much just defeats its own purpose.
Moving on, let's discuss some midrange output performance. With its lower midrange, I can actually put in a good word and compliment that it is actually not bad -- vocals were actually clear if it happens to be in this particular area; along with a relatively sharp, distinct presentation. Unfortunately, moving up the frequency ladder wasn't all gardens and roses. The upper midrange proved to be poor in my books with, like the bass, a lack of definition and depth; the sound was not clean at all -- with every instrument and vocals in this area stuck together into one indistinguishable blob of noise. The treble, by default volume, lacks distinction at all times -- when it's turned up, it mixes up with the upper midrange to further accentuate its indistinguishable blog of noise into a spectrum of ear-tiring frequencies. It's not even about its treble's wetness, sharpness, and the organized array of percussion instruments. Unfortunately, it's simply next to non-existent for us to even discuss in the first place.
To illustrate my point, I'm going to go off topic slightly. I recall test driving a Kia Spectra5 (I'll even admit it was not necessarily for purchase purposes, haha) a couple months back. It's known to many people that Hyundai-Kia has been making significant strides in the automotive business for the last decade or so, and with that belief I was very curious to see what kind of newfound excellence we have in the market today. So I walked into a local Kia dealership, took out a relatively mainstream economy vehicle, and took it for a spin around the block.
Now let me tell you this -- I actually follow professional automotive press reviews and news on a daily basis; and pretty much every car magazine is pulling out very positive reviews for most Hyundai and Kia nowadays. Mainly for its 'price', to be honest. Put that aside for a moment, and I've actually driven besides the new totally crazed over Hyundai Genesis Coupe 3.8L V6 6MT as well; that's another story for another day. But I can honestly say this with regards to the Kia I've driven in question, is that there's nothing it has against Honda, or even Ford. I can say this objectively -- unlike some publications -- because I am evaluating this with absolutely no conflict of interest. The car has a spartan, cheap 1990s interior. The handling can simply be described as 'poor'. The manual transmission setup was clunky and pathetic. The engine was peppy, but very coarse and unrefined. I came out extremely disappointed as it was so far from where I expected it to be from the impression I was given from the automotive press; and sadly found that my 3rd generation Honda Odyssey had significantly more engaging driving dynamics and refined performance. A minivan. The sad thing is, the Kia Spectra5 I tested wasn't even much cheaper than my 8th generation Honda Civic when similarly equipped. The Kia is drivable, but it is not enjoyable.
The reason why I told you that story, is because it's the same way I felt about the Eagle Arion ET-AR402IR-BK 2.1 iDock speakers.
It sounds very promising, has even garnered positive reviews, appeared great on paper, and offers competitive pricing. I was more biased towards the good side than the bad side. What went wrong? Personally, I would think it's the execution.
Needless to say, as aforementioned the iDock provides very unclean sound as everything sounds just mashed up together. Frequency separation was bad. Very little layering was noticed. Every bit of the produced sound seems to go its own way for very poor sound saturation be... it just doesn't sound, harmonic and natural to the listener's ears. If you were to ask me whether the iDocks are bright, warm, dark, or whatever, I can't even tell you -- because the lack of harmonic coordination and saturation in sound reproduction left me pretty confused to even give a definite answer!
One thing I noticed was that Eagle Tech advertises heavily on their speakers' soundstaging performance on their website. While I cannot speak for other products under this brand, I think they confused the definition of 'soundstaging' for the Eagle Arion ET-AR402IR-BK 2.1 iDock. With little harmony, little saturation, and the biggest essential of all, no real depth -- it's very hard to provide the listener with a perceived virtual stage if it can't even get past the basics. In my opinion, the soundstaging was very narrow; and certainly did nothing to enhance the listening experience.
On the other hand, I would say that distortion is not really a problem for the Eagle Tech ET-AR402IR-BK 2.1 iDock. The iDock projects sound confidently and audibly across an average living room in North America -- no complaints. Actually, I used the Arion iDock to teach a class with around 25 people and I am impressed by its ability to amplify sound effectively throughout the classroom. The sound is pretty much the same quiet as it is loud; its distinct characteristics we've discussed in this article are just easier to perceive as volume increases.
-----------------------------------------
I actually felt pretty bad for various reasons. It was really hard for me to write a review on a product that has as many shortcomings as the Eagle Arion ET-AR402IR-BK 2.1 iDock inherits, and disregard a product in this manner that a team of designers and engineers alike spent countless hours to just put one in a consumer's hands. To be honest, it is much easier to give a glowing review of any product than to be completely honest with a product that has just so much room for improvement. But feelings cannot override a reviewer's accuracy and objectiveness at all times. And as an APH reviewer, I would like to say that I am proud to be a part of a truly excellent team, and to work with manufacturers like Eagle Tech and consumers like you to make informed purchases on every product we review. But I am sad to say that the Eagle Arion ET-AR402IR-BK 2.1 iDock leaves so much to be desired at this point in time that I cannot honestly recommend this item. In general, the build quality is commendable, and its design is appealing in my eyes. But the sound quality is lacking in pretty much every respect in my personal opinion. But this is Eagle's first attempt to venture into the consumer audio market, and it is not out of the ordinary for a company to go back to the drawing board after just the first try. Feel free to give this product a go if you're really into it, and whatever your respectable opinion may be, please do let me know -- I would be extremely interested in what you have to say. For now, we'll be keeping this product safe and secure in our storage, and we'll be anticipating anxiously for what kind of new, improved products Eagle Tech has in store for enthusiasts and consumers alike!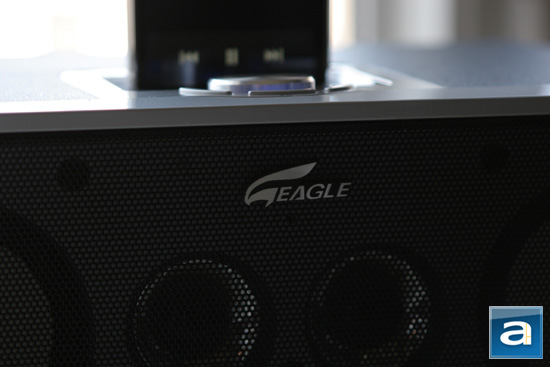 Special thanks to Chester over at Eagle Tech for making this review possible.
APH Review Focus Summary:
2/10 means The advantage is not clear and the disadvantages are too obvious or significant to be ignored. The disadvantages interfere with the overall product function. We highly recommend you to get better alternative products if available.
3/10 means Disadvantages are pretty significant, and seriously considered before purchase. Disadvantages interfere with the product purpose, and if better alternatives are available, get the better alternative.
-- Final APH Numeric Rating is 2.5/10
Please note that the APH Numeric Rating system is based off our proprietary guidelines in the Review Focus, and should not be compared to other sites.
Often times, it is very hard even as a reviewer to disregard a product a team of people worked so hard to engineer and design. Unfortunately, the Eagle Arion ET-AR402IR-BK 2.1 iDock's sound quality leaves a lot to be desired -- thus inhibited our rating.