By: Jonathan Kwan
March 26, 2010
For the longest time, Creative has been the standard in manufacturing sound cards. From entry level products to flagship high performance units that encompass both the casual user and gaming enthusiast market alike, the company has it all covered. Realistically, before acceptable integrated sound came with every motherboard available on the market, the only way to obtain good audio on your computer was to purchase a Creative sound card. I still remember my very first Creative sound card back when I was in elementary school -- the Creative Sound Blaster PCI 16 -- which offered, well, three 3.5mm analog audio jacks for stereo output, line in, and microphone. Nowadays, it is quite safe to say that any modern motherboard's integrated sound has significantly more features, and delivers significantly higher performance than the aforementioned product. As today's relatively high performing integrated audio pretty much renders all budget sound cards obsolete, dedicated audio has recessed to more of a niche market for users looking only for the best of the best. Throughout history, gamers embraced Creative's solutions primarily because of their powerful DSPs, but true audio enthusiasts resented the company's products because of their relatively low quality DACs and OpAmps. When Creative opened up the market a few years back and let third party manufacturers license their excellent X-Fi audio processor for the first time, Auzentech arrived onto the scene and created the ultimate sound card -- the X-Fi Prelude -- which took the best of both worlds by implementing the brilliant X-Fi digital signal processor, high quality Asahi Kasei AK4396 DACs, and a combination of National LM4562NA/Texas Instruments OPA2134 OpAmps into one awesome product. The end result was a product that was legendary among gamers and audiophiles alike! Fast forward to today, and the company has created a second iteration of their flagship sound card. The Auzentech X-Fi HomeTheater HD incorporates elements that made the X-Fi Prelude such a success, as well as new technologies such as the ability to output bitstreams of high-definition, multichannel audio from Blu-ray Discs with no downsampling. Is the Auzentech X-Fi HomeTheater HD the new ultimate in high end PC audio? We composed this 12 page review for you today, so read on to find out!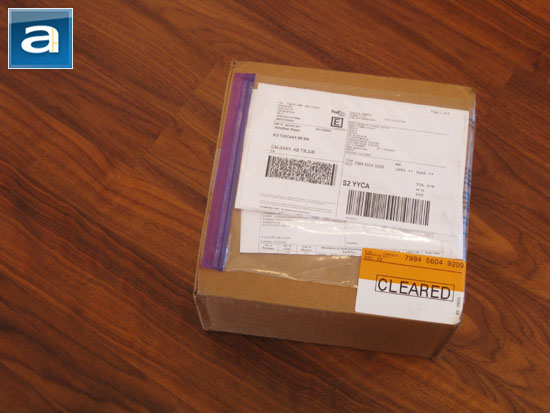 Our review unit of the Auzentech X-Fi HomeTheater HD came in a relatively small, brown corrugated cardboard box from Auzentech's offices in Santa Clara, California, USA. Using FedEx International Economy, everything arrived safely in excellent condition for our review today. Coincidentally, quite a few of my recent product reviews are multimedia related. I am especially excited in getting my hands on the X-Fi HomeTheater HD -- that's especially due to a considerably limited supply in the market right now, which really makes this sound card something special!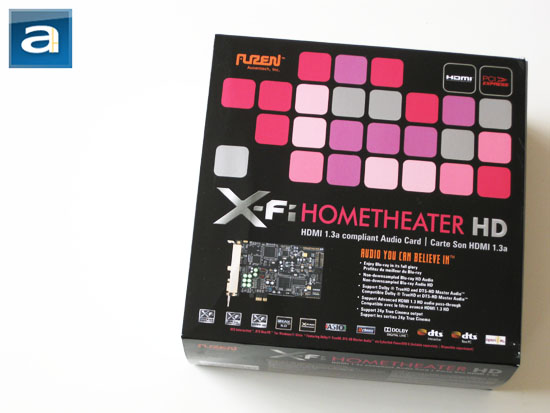 Auzentech takes on a somewhat unique approach to packaging the X-Fi HomeTheater HD. Unlike those typical long rectangular boxes that are oh-so-familiar for those used to building their own computers, the HomeTheater HD's retail box is shaped like a square from top view. A matrix of magenta, pink, purple, and gray rounded squares occupy most of the room at the upper half of the front face for design purposes, while stated boldly across the center is "X-Fi HomeTheater HD" in stylized text, as shown in our photo above. Auzentech also highlights its HDMI 1.3a support underneath the model name. An image of the sound card itself can be seen near the bottom left corner. Adjacent to the picture of the card is a list of feature highlights written in both English and French. Finally, extending the whole way across the bottom of the box is an array of icons that highlights the sound card's features such as the X-Fi chip, EAX 5.0 support, X-RAM, Creative ALchemy, Dolby Digital Live support, DTS Neo:PC support, and such. Further feature highlights can be seen at the back of the box in seven different languages, as well as a connectivity diagram showing how the X-Fi HomeTheater HD can be configured to go with your audio system setup. An interesting 'Grading System' table is printed at the top of the package -- Auzentech gives the sound card four stars for various listed 'ideal for' categories including Music, Movies, Games, and HDMI 1.3, but only one star for [Audio] Creation. It is nice to see that a company is honest in the intention and purpose of their product!
Before we move on, let's take a look at the specifications of the Auzentech X-Fi HomeTheater HD sound card, as obtained from the manufacturer's website:
Interface Core
Audio Processor:
- Creative 20K2 PCI Express audio processor
- X-RAM 64M bytes of DDR-SDRAM for audio processing
HDMI Interface:
- Silicon Image HDMI 1.3 chipset
PC Interface:
- PCI Express 1.1 Compliant Interface
Supported audio resolution and sampling rate:
- 16/24-bit / up to 192kHz (HD Audio playback)
- 16/24-bit / up to 96.0khz (Multi channel playback)
- 16/24-bit / up to 96kHz (Recording)
API Supports:
- WDM, ASIO2.0
- EAX® 5.0, Direct Sound®, Direct Sound 3D®, OpenAL
Supported Operating Systems:
- Microsoft® Windows 7
- Microsoft® Windows Vista™
- Microsoft® Windows XP™ *
- Note: High Resolution Audio Output not supported on Windows XP.
Analog Audio
Level:
- 3.0Vrms, +12.0dBu max, deviation +/- 0.1dB
Dynamic Range:
- 109.0 dB A-weighted (1kHz @ -60dBFS, 24-bit/48kHz) for Analog outputs
- 98.0 dB A-weighted (1kHz @ -60dBFS, 24-bit/48kHz) for Analog inputs
Total Harmonic Distortion + Noise:
- 0.001% A-weighted (@ -3dBFS) for Analog outputs
- 0.003% A-weighted (@ -3dBFS) for Analog inputs
Frequency Response:
- 10Hz to 22kHz, +/- 0.02 dB @ 48kHz
- 10Hz to 42kHz, +/- 0.02 dB @ 96kHz
- 10Hz to 94kHz, +/- 3dB @ 192kHz, Stereo
Impedance:
- Headphone load impedance 16Ω ~ 600Ω
- Line output impedance 330Ω
- Line/Aux input impedance 10KΩ
Microphone:
- Support Stereo and Balanced Mode
Connectivity
HDMI:
- 1 x HDMI Type A output connector
- 1 x HDMI Type A input connector
- 1 x Internal Video connection
Analog Multi I/O Cable (D-SUB):
- 4 x 1/8" Stereo mini phone jack for Line outputs
- 1 x 1/8" TRS mini phone jack for MIC input
- 1 x 1/8" Stereo mini phone jack for Line input
Headphone:
- 1 x 1/8" Stereo mini Phone jack for Headphone output
Front Audio:
- 1 x 10-pin(5x2) Front audio header with Intel® HD Audio Compatible
Digital I/O:
- 1 x RCA/TOSLINK Combo jack for S/PDIF transmission
- 1 x 2-piS/PDIF input connector
Extension:
- Creative proprietary AND_EXT, DID_EXE connector for X-Fi I/O driver
HDMI
HDMI Standard:
- HDMI 1.3a Compliance
Content Protection:
- HDCP 1.2 compatible
Video:
- Supports deep color 30/36-bit color depth
- Support 24p True Cinema output
- Resolutions up to 1080p @ 60Hz or 720p/1080i @ 120Hz
- Color space conversion between RGB, YCbCr 4:4:4 and 4:2:2
- CEA-861D video resolutions(DTV)
- Standard PC resolutions
Audio:
- Supports IEC60958 2-channel PCM or IEC61937 compressed audio (Dolby® Digital, DTS, etc.)
- Supports 8 channels, 192 kHz PCM or High bit rate audio (Dolby® Digital Plus, Dolby True HD, DTS-HD Master Audio)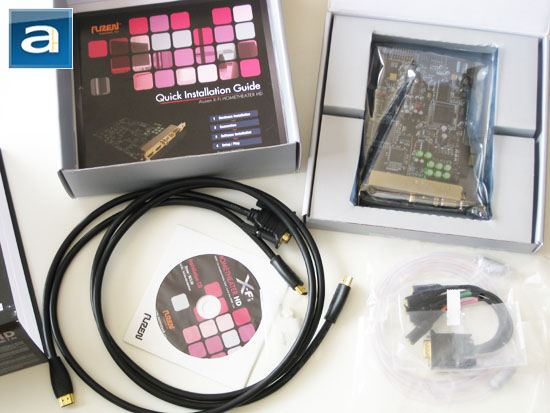 Packaged neatly inside the two independent boxes are the following items:
- 1x Auzentech X-Fi HomeTheater HD Board
- 1x Quick Start Guide
- 1x HDMI type A to HDMI type A cable, (6.6 feet / 2 meter)
- 1x Optical TOSLINK to TOSLINK cable, (6.6 feet / 2 meter)
- 1x Analog Multi I/O cable (D-Sub)
- 1x DVI-to-HDMI cable (1 feet/0.3 meter)
- 1x Optical adaptor
- Installation CD
---
Page Index
1. Introduction, Specifications, Bundle
2.
A Closer Look - Hardware
3.
A Closer Look - Software
4.
16-bit/44.1 kHz Frequency Analysis
5.
16-bit/48 kHz Frequency Analysis
6.
16-bit/96 kHz Frequency Analysis
7.
16-bit/192 kHz Frequency Analysis
8.
24-bit/44.1 kHz Frequency Analysis
9.
24-bit/48 kHz Frequency Analysis
10.
24-bit/96 kHz Frequency Analysis
11.
24-bit/192 kHz Frequency Analysis
12.
Subjective Listening and Conclusion