By: Jonathan Kwan
May 2, 2014
To the angel of the church in Laodicea, Revelation 3:15-16 says, "I know your deeds, that you are neither cold nor hot. I wish you were either one or the other! So, because you are lukewarm -- neither hot nor cold -- I am about to spit you out of my mouth." While I am not about to dig into some theological exegesis on this passage today, here is one thing we can all live by: Either you don't do it, or you go all the way. (If you come from a Chinese background, this is an also a rough dynamic translation of an old saying, "一不做, 二不休".) So with a small fusion of Biblical wisdom and a good old Chinese saying to start off your day, where am I going with this? Well, sitting on my desk right now is a set of Audioengine A2+ powered desktop speakers. As a bunch of discerning audio enthusiasts, over the years, our team here at APH Networks has reviewed quite a number of audio products. There were a handful of such that we have held in high regard, but at the same time, we have not one -- but two -- tying for the lowest score awarded of any products reviewed in this history of this website. When I first heard of the Audioengine A2+, I was excited. When you see something that looks like a pair of compact bookshelf speakers, comes in a boring black or white enclosure designed by someone with a ruler, has nothing visible other than a woofer and a tweeter, and costs almost as much as my pair of my budget-but-decent Polk Audio Monitor 65 tower speakers in my living room, you know this is serious business. Ladies and gentlemen, these are not your $20 desktop speakers. Taking it all the way to $250 at press time, will the A2+ blow you away in sound quality, or will its price tag blow you away from the store? Well, let us find out.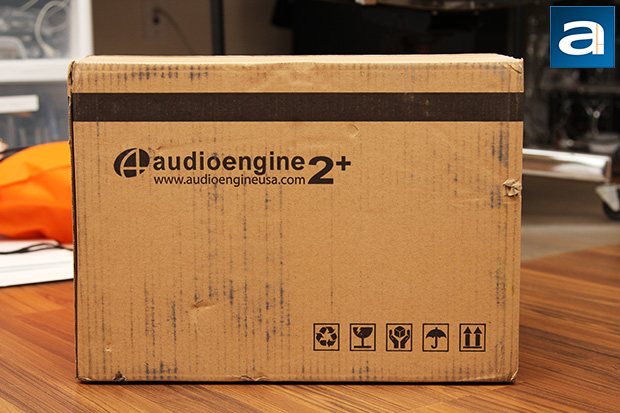 Unlike the majority of products that arrive here at APH Networks for review, our review unit of the Audioengine A2+ did not come from California. In fact, it is not even from the United States. Instead, it came from the marijuana capital of Canada, Vancouver, which explains some unidentified white powder on top of the box. (Just kidding -- I made the last part up.) Audioengine's Canadian distributor, Atlantia, provided us with the sample for review. Using a custom branded brown corrugated box, and traveling via Purolator Ground, everything arrived in excellent condition to us one province over in Calgary, Alberta for our evaluation today.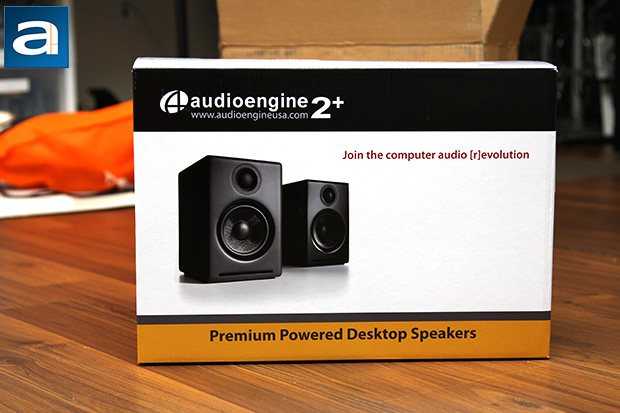 To be honest, after so many years of being a reviewer, there are not many products that I am truly excited about when they arrive. I have had products where it has remained in its shipping box until the week I review it, but the Audioengine A2+ certainly was not one of them. In fact, I was so excited for the Audioengine A2+, I literally opened it and got everything set up on the day it landed on my doorstep. This really tells you something. So when it comes to the retail box, how much of it do I remember about? Absolutely nothing; until I took a look at the photos again until now, because I was too excited about the speakers. As you can see in our photo above, Audioengine keeps the packaging simple, just like the speakers. All you will get is the branding with model in the top left corner, a slogan with a photo of the speakers in the middle, and a line that tells you what is inside at the bottom. That is it. On the other side, you will get the exact same thing, except the A2+ is white in the photo. Stuff like a feature list, color checkbox, and more photos can be found on other sides of the box.
Before we move on, let's take a look at the specifications of the Audioengine A2+, as obtained from the manufacturer's website:
Type: 2.0 powered (active) multimedia desktop speaker system
Amplifier type: Dual class AB monolithic
Power output: 60W peak power total (15W RMS / 30W peak per channel), AES
Drivers: 2.75" Kevlar woofers, 3/4" silk dome tweeters
Inputs: 3.5mm stereo mini-jack, RCA, USB
Outputs: RCA variable line-out
Main voltages: 110-240V 50/60Hz auto-switching
SNR: >95dB (typical A-weighted)
THD+N: <0.05% at all power settings
Crosstalk: -50dB
Freq. response: 65Hz-22kHz ±2.0dB
Input impedance: 10K ohms unbalanced
DAC: TI/Burr Brown PCM2704C
Input bit depth: up to 16 bits native
Input sample rate: up to 48KHz native
USB device class: type 1.1 or above
Protection: Output current limiting, thermal over-temperature, power on/off transient protection
Dimensions (each): 6"(H) x 4"(W) x 5.25"(D)
Weight (LEFT speaker): 1.6Kg/3.55lbs
Weight (RIGHT speaker): 1.4Kg/3.15lbs
Shipping weight: 4.6kg/10lbs per pair
Shipping box dims: 10.5" (H) x 15" (L) x 7" (W)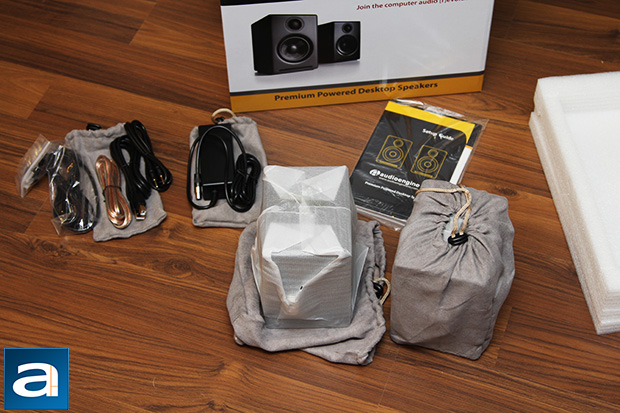 Out of the box, you will receive everything you need to get you started. In addition to the Styrofoam brackets, you will also find both speakers, cables, and power supply all come in a reusable microfiber drawstring bag. I have to say, that is pretty classy, haha. With that in mind, here is a list of what you will receive in addition to the Audioengine A2+ speakers itself:
- Speaker wire (16AWG), 2 meters (~6.5 feet)
- Power supply
- AC power cord
- Mini-jack audio cable, 1.5 meters (~5 feet)
- USB cable, 1.5 meters (~5 feet)
- Microfiber speaker bags
- Microfiber power supply bag
- Microfiber cable bag
- Setup guide
- Product line brochure
---
Page Index
1. Introduction, Packaging, Specifications
2.
Physical Look - Hardware
3.
Subjective Audio Analysis
4.
Conclusion