By: Jadon Lee
June 18, 2021
Lately, I have been getting into the oddly expensive hobby of custom mechanical keyboards. It is really interesting to start learning and understanding the manufacturing process and what makes them good. Just look at the keyboard case as an example, there are many characteristics about how a good keyboard case is designed, whether it is the mounting configuration, materials being used, or general outlook. The mountings' design changes the installation process and sound signature of the keyboard itself. The materials also help with acoustics. An important factor about the material is the weight it provides. Often times, the case will be built mainly out of aluminum plus a brass weight, adding a bit of heft to the end product. The heft is a good sign of quality. The overall design will help with the general look and feel of the typing experience. Of course, nobody wants an ugly item on their desk, and a good typing experience is the whole point of building a custom mechanical keyboard. The case of a keyboard is essential to the build of one, just like how the desktop computer case is essential to the build of a PC. Today, I got to try out the Antec DF700 FLUX. This is a chassis designed with airflow as a priority while maintaining a decent look. Will this mid-tower provide both looks and performance? Keep reading to find out!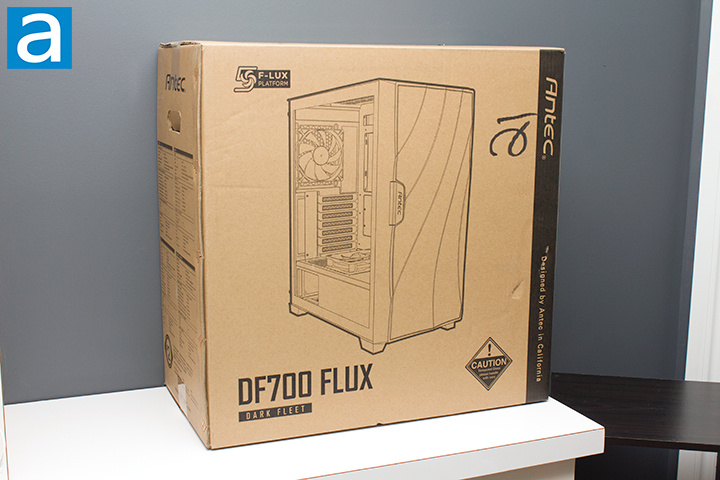 The Antec DF700 FLUX arrived via Canada Post Expedited in its retail box from Newegg, an online retailer most of us should be familiar with. The box arrived in relatively decent condition, having few marks, dents, and scratches. There were no marks brutal enough for me to be worried about the product. The package arrived in one piece, so Canada Post did a good job in keeping this package secure. I was happy with the shipping and have no complaints.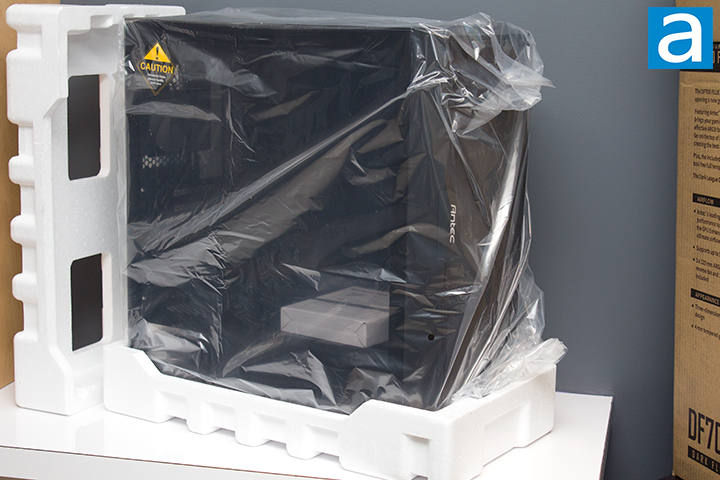 Antec used two large Styrofoam blocks on the top and bottom of the case to absorb any impact that may have occurred in transit. This is very common for most cases, but is especially important for cases with tempered glass panels. The DF700 FLUX itself was wrapped in plastic to prevent scratches. There was another additional layer of plastic on the glass panels to prevent dust or prints that would dirty the glass. Inside the case contains all necessary manuals alongside all the screws needed for installation in a box that was safely tucked away in the drive bay. The packaging was good, and the case sustained no damages.
Before we continue, here are the specification for the Antec FD700 FLUX, as posted on the manufacturer's site:
Case Specifications
Dimensions: 467 x 220 x 486 mm (DxWxH)
Form Factor: Mid tower
Materials: Steel + Plastic
Mainboard Support: ATX, Micro-ATX, Mini-ITX
Front Access & Controls: Power, LED Control Button, 2 x USB 3.0, HD-Audio
Side Panel: 4 mm Tempered Glass Side Panel
Expansion & Drive Bays
Expansion Slots: 7
3.5"/2.5" (convertible): 3/2
2.5": 3
Fans
Front: 3 x 120mm / 3 x 140mm
Top: 3 x 120mm / 2 x 140mm
Power Supply Shroud: 2 x 120mm
Rear: 1 x 120mm
Radiator Support
Front: 120/240/280/360mm (≤ 55mm thickness when fans are installed outside of front panel) (≤ 30mm thickness when fans are installed inside of front panel)
Top: 120/240/280/360mm
Rear: 120mm
Clearance
Max GPU Length: ≤ 405mm
Max CPU Height: ≤ 175mm
PSU Support: ≤ 205mm
Miscellaneous
Dust Filter: Top/Bottom/Right Hand Side
Net Weight: 7.4KG
Gross Weight: 8.6KG
Warranty: 2 years
---
Page Index
1. Introduction, Packaging, Specifications
2.
Physical Look - Outside
3.
Physical Look - Inside
4.
Installation and Conclusion