By: Jonah Chow
March 26, 2021
I am a big fan of the John Wick film franchise. They are among my favorite movies with the first one probably being my favorite one of all time. While a lot of other moviegoers would agree John Wick films are fun to watch, I can understand they are not for everyone. I think that is the best part of this series though. The directors and writers understand John Wick is not supposed to be a deep character study or thoughtful art house movies with profound messages, and the movies never try to be those things. Instead, the films are filled with high-paced action that catches the attention of action fans with mesmerizing fight choreography and impressive stunts. The Antec P10 FLUX is similarly a product that might not be for everyone due to its lack of tempered glass or any RGB fans to show off. However, Antec understands that the P10 FLUX is not supposed to be a flashy case and caters directly to those who are simply looking for a silent build at a reasonable price for their PCs. How well does the P10 FLUX pull off a silent PC case at a reasonable price without all the modern frills? Let us read on to find out!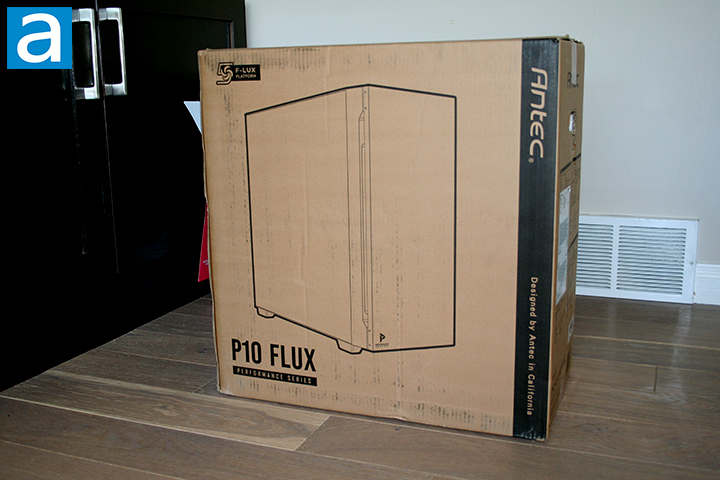 The Antec P10 FLUX arrived via Purolator Ground from Amazon's distribution center in Vancouver, BC. This box served its purpose of being both the shipping and retail package. While the box itself was not in terrible condition, it was not exactly clean either. Dark scratch marks can be seen on the edges of the front side and there was also a noticeable tear on the right side just below the handle. Luckily, this did not cause any issues when carrying the box. There was some Styrofoam between this tear and the product itself, so I was not concerned about the chance of any scratches or marks on the actual case itself -- the tear only cut through to reveal some of the Styrofoam. In an ideal world, there would not be any scratches deep enough to reach the Styrofoam. I think Purolator could have done a better job, but overall, the case made it here in one piece. The front of the box contains an image of the case, showing the right and front sides. The Antec logo is printed on the top-right side of the box while the P10 FLUX label can be seen on the bottom left side just below the case image. Specifications can be found on the side and back for retail customers to view before purchasing.
Speaking of which, here are the manufacturer specifications of the P10 FLUX from Antec's website:
Case Specification
Dimensions: 477 x 220 x 486mm (DWH)
Form Factor: Mid Tower
Materials: Steel + Plastic
Mainboard Support: ATX, M-ATX, ITX
Front Access & Controls: Power, Fan Control Button, 2 x USB3.0, HD-AUDIO
Side Panel: Sound Dampening Panel
Expansion & Drive Bays
Expansion Slots: 7
5.25": 1
3.5" /2.5" : 3/2
2.5": 3
Fan
Front Fan: 3 x 120mm / 2 x 140mm
Power Supply Shroud: 2 x 120mm
Rear Fan: 1 x 120mm
Pre-installed Fan: 3 x 120mm silent fans in front, 1 x 120mm reverse fan on PSU shroud, 1 x 120mm fan in the rear
Radiator Support
Front Radiator: 120 / 240 / 280 / 360mm
Rear Radiator: 120mm
Clearance
Max GPU Length: ≤ 405mm
Max CPU Cooler Height: ≤ 175mm
Max PSU Length: ≤ 205mm
Miscellaneous
Dust Filter: Front / Bottom / Right Hand Side
Net Weight: 7.3kg
Gross Weight: 8.6kg
Warranty: 2 years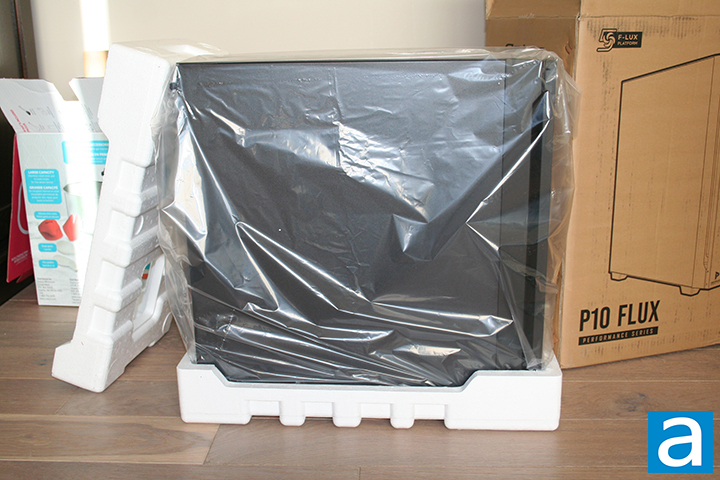 Two Styrofoam blocks are used to pad the case inside the packaging, which I think is always very good practice. Along with the Styrofoam blocks, the case itself is wrapped in plastic to prevent it from experiencing any scratches during shipment. The Antec P10 FLUX arrived in very good condition when I eventually unwrapped it, showing no signs of physical damage anywhere. The case comes with various screws for mounting all the necessary PC components along with zip ties for cable management. The reverse fan comes inside a white box zip tied to the PSU shroud. Documentation can also be found inside the case for the user's convenience.
---
Page Index
1. Introduction, Packaging, Specifications
2.
Physical Look - Outside
3.
Physical Look - Inside
4.
Installation and Conclusion