By: Aaron Lai
February 7, 2020
As I am still learning chords on a guitar, I think the hardest ones are the F and B chords. Most of the difficulty comes from the fact both of these chords are traditionally bar chords. My fingers do not have as much strength to consistently push down multiple strings all the time, which is why barred chords are difficult for me. You can probably play these chords using different fingering and thus avoiding the need to bar multiple strings, but there are other problems that come with the alternatives. For the longest time, when I wanted to play songs with these less than preferable chords, I would instead play in a different key and use a capo to transpose it back to the original and avoid the chord altogether. It probably is not a good idea to do so when learning the guitar, but I think it is useful for beginners and those just trying to make playing songs easier. As such, if I were starting to learn a guitar, a capo would be among one of the accessories I would purchase in addition to a guitar strap and tuner. On the other hand, when we look at computer cases, there is one "accessory" or feature that is often included with most cases, and this is the humble case fan. This is probably a convenience feature for majority of users, since it means they do not need to worry about buying more fans to add to their build. However, what happens if a case manufacturer decides to remove this altogether? This is the situation we have today with the Antec P120 Crystal. What happens when we take out the case fans in what looks to be a premium case? Is it worth the purchase despite the omission? Let us read on to find out!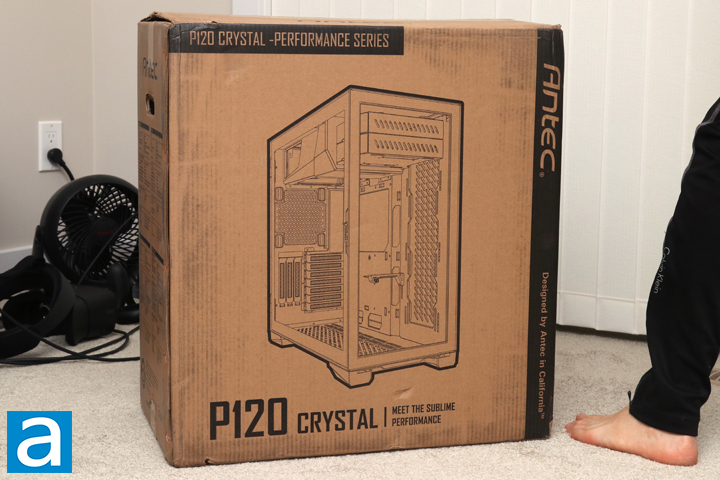 Today's review unit of the Antec P120 Crystal arrived from Antec's offices in City of Industry, California. Traveling with UPS and their Standard ground service, this box arrived in excellent condition with no dents or bruises to be concerned about. My colleague Jonathan Kwan hand-delivered this box to my place so of course, he decided to get his foot in the photo for our review -- literally. Even so, this box doubles as both its shipment box as well as its retail box. As such, this is a typical brown corrugated cardboard box with black printing on it. It shows off the case in a scaled-down look. Antec's logo can be found down the right side, while the P120 Crystal name is found at the bottom. A tagline of "Meet the Sublime Performance" can be found nearby. Otherwise, around the sides we have some specifications of the Antec P120 Crystal for you to view before you buy.
In case you are interested, we have grabbed these specifications from the manufacturer's website for your perusal:
Case Specification
Dimensions: 476 x 234 x 485 mm (DWH)
Form Factor: Mid Tower
Materials: Steel
Mainboard Support: E-ATX, ATX, M-ATX, ITX
Front Access & Controls: Power, Reset, White LED USB3.0 x 2, HD-AUDIO
Side Panel: Tempered Glass
Expansion & Drive Bays
Expansion Slots: 7 ( Horizontal ), 3 ( Vertical )
5.25": None
3.5" / 2.5": 2 / 1
2.5": 3
Fan
Front: None
Bottom: 3 x 120mm / 3 x 140mm
M/B Side: Up to 3 x 120mm or 2 x 140mm ( 1 x HDD bracket needs to be removed when installing 3 x 120mm )
Rear: 1 x 120mm or 1 x 140mm
Radiator Support
Bottom: Up to 360mm ( ≤ 28mm thickness )
Rear: Up to 120mm ( Limited Radiator Length ≤ 160 mm )
M/B Side: Up to 360mm ( All HDD bracket needs to be removed when installing 360mm )
Clearance
Max GPU Length: ≤ 450 mm
Max CPU Cooler Height: ≤ 185 mm
Max PSU Length: ≤ 294 mm
Miscellaneous
Dust Filter: Bottom / Right Hand Side
Net Weight: 10.4 Kgs
Gross Weight: 12.4 Kgs
Warranty: 2 Years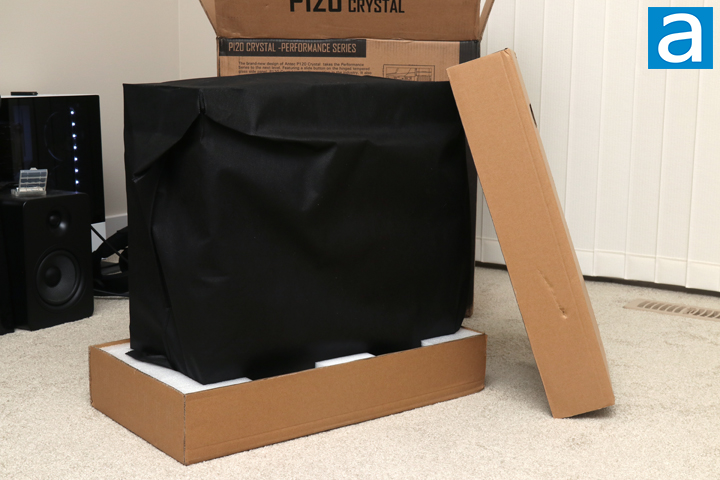 Out of the box, the Antec P120 Crystal is packed in a really nice fashion. For one, the case is placed between two thick and solid pieces of packing foam. The foam is also enclosed in cardboard to prevent it from breaking apart. Next, the case is also placed in a black fabric bag to prevent scratches or dings from hitting the case while in transit. These small things show off the premium impression Antec is intending to make with this case. Otherwise, all of the documentation and tools can be found inside the drive trays as we will see later on. For your information, Antec offers a two-year warranty with their P120 Crystal, which is pretty standard compared to other cases.
---
Page Index
1. Introduction, Packaging, Specifications
2.
Physical Look - Outside
3.
Physical Look - Inside
4.
Installation and Conclusion