Page 4 - Installation and Conclusion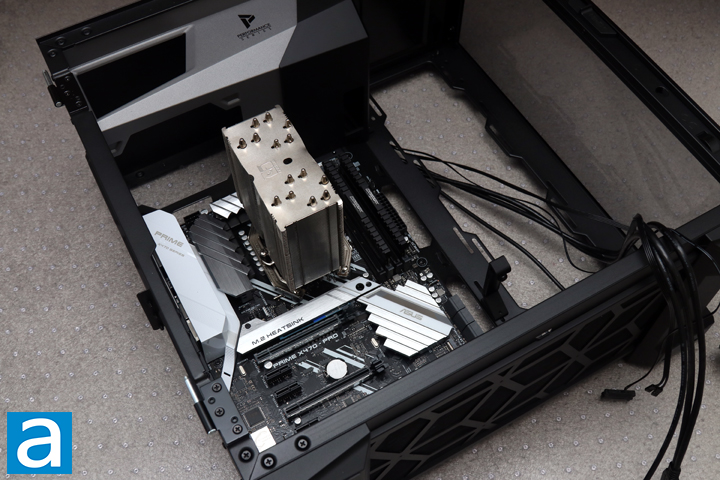 Unlike what I usually do, I started with installing my motherboard into the Antec P120 Crystal in addition to other things plugged into the motherboard. This means mounting the ASUS Prime X470-PRO with an AMD Ryzen 7 3700X installed. I also put the Ballistix Elite DDR4-4000 2x8GB memory kit and a Western Digital Blue SN500 NVMe SSD 500GB to use here. On top of the processor, I mounted the Noctua NH-U12A here. At a height of 158mm, this cooler fits within the maximum 185mm height specified by Antec. As we have already mentioned, you could also go the liquid cooling route, especially with the two locations for radiators as large as 360mm.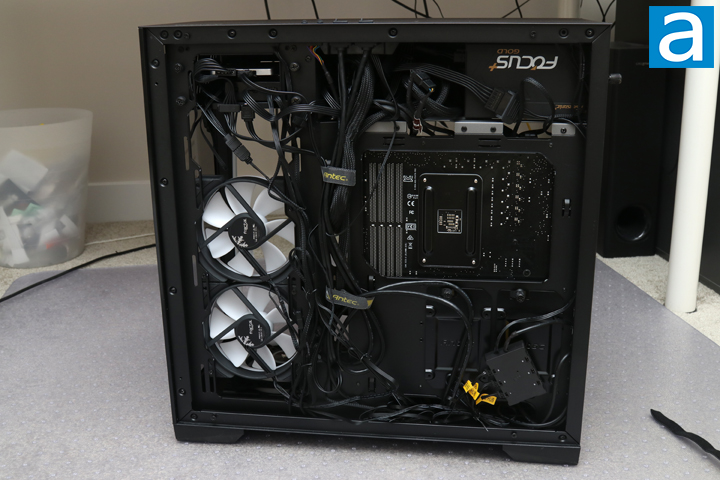 Afterwards, I installed the power supply and multiple sets of fans. At the top, you can see the Seasonic FOCUS Plus 850 Gold 850W power supply. Antec recommends power supplies up to 294mm in length, which is over double the length of my Seasonic unit here. I routed all the necessary cables, though it was a bit strange with the power supply mounted at the top. I am used to the CPU power cable being a bit short when it stretches to the top, but now I have a lot more cable with the unit located at the top. Other cables, such as the power connector for the graphics card or the motherboard 24-pin connector had similar cabling lengths to what would normally be a bottom-mounted power supply. As for the fans, I first installed the three Fractal Design Prisma AL-12 fans on the side as well as one at the back. For more intake and color, I mounted three Corsair iCUE QL120 RGB fans at the bottom. As such, you can see I have the Corsair lighting controller on the bottom right side where two 2.5" drives could have been mounted. Otherwise, I have also installed two 2.5" solid-state drives, the Patriot P200 512GB and OCZ ARC 100 240GB, in the two drive caddies at the top.
Otherwise, cable management at the back is one thing I think Antec could improve upon. For one, there seems to be a limited amount of ways to tie cables down. Antec did include quite a few Velcro straps to hold a large amount of cables in place or bundle excess cables, but the lack of a cable valley to place thicker cables means you have to be more intentional about tidying up this area. This is even more annoying with the many cables from the RGB fans. Increasing the space behind the motherboard tray would also have gone a long way to alleviate this problem. Also, the front I/O cables seem to be quite a bit longer than usual, which only compounded the lack of cabling space. Finally, covering the cabling holes with rubber grommets would have been appreciated to hide the extra cables from showing through the glass panes.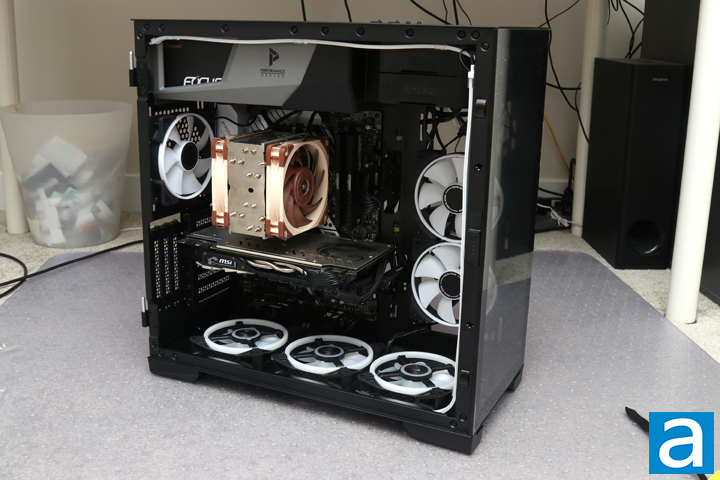 From this angle, you can see almost everything is installed in the Antec P120 Crystal with extra LED lighting strips at the top and bottom, courtesy of SilverStone, and two Noctua fans attached to the heatsink. You can also see I have now mounted my MSI GeForce GTX 1070Ti Titanium here. While I do not have a vertical mounting plate to take advantage of the three slots in this case, Antec has included an aluminum bracket inside to prevent video card sag. It mounts near the side ventilation and slips under your video card to prop it up. This is an easy-to-use implementation and it stays hidden while performing its job. It is also pretty adjustable for various card thicknesses and should extend out enough for both longer and shorter cards. Otherwise, with all of the lights and fans here, I put the swinging door and sliding panels back on, plugged in my machine, and hit the power button.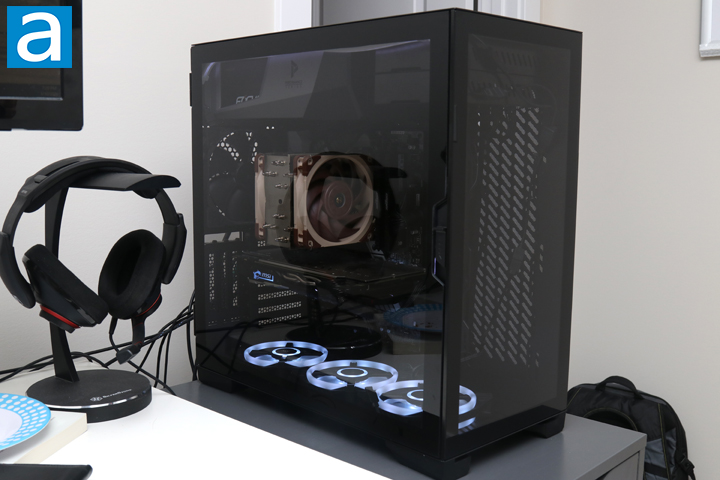 Unfortunately, due to some complications with fan controllers and lack of fan headers on my motherboard, I ended up removing the Fractal Design fans and sticking with just the Corsair ones at the bottom. Not to leave Fractal Design out of my build, I ended up swapping out my exhaust fan for a Venturi HP14 PWM. Otherwise, I think the Antec P120 Crystal really looks stunning in its final form. The full glass exterior is definitely a looker while allowing users to see the build from the outside. As for sound levels, according to the standard APH Networks sound scale, where 0 is silence and 10 is loud, the Antec P120 Crystal is technically a 0/10, because there are no fans included with the case. It does not really do much to silence internal components such as CPU coolers, fans on video cards, or other components, though I felt like it was pretty average compared to other glass and steel cases.
-----------------------------------------
While it may be true that Antec has not included any fans with the P120 Crystal, there are many good things that would make me forgive or even overlook this omission altogether. The Antec P120 Crystal brings a lot of excellent items in its build and style that really make it stand out from the rest of the cases, even if it features a similar design from its competition. Its multiple tempered glass panes are complemented well with the solid and sturdy steel panels on the other sides. Antec also installed a swinging door with a sliding switch to quickly access your components inside. This keeps the clean and subtle overall exterior design. I also really like the two lights around the front USB ports for use in darker environments. Internally, the case provides plenty of clearance for taller CPU cooling options, longer video cards, and multiple positions for large radiators. All in all, I do not think you will have too much trouble fitting your system inside here. There is also a sufficient amount of drive bay options as well as large filters at every fan intake area. The top mounted power supply holder may seem different from other cases, but it works in giving users some extra room to store additional cables. Other positive features include a solid aluminum video card support bracket and vertical GPU slots with triple slots for more front clearance. If there were any areas to improve upon, I think most of it would come from cable management. While spacing can be increased at the back, I think I would have liked to see some sort of integrated valley for excess cables as well as some rubber grommets to hide the open holes. I also think there is no excuse to not have USB Type-C on a case in 2020 anymore. Finally, I think Antec could decrease the amount of metal located at the fan mounting points for better intake airflow. At review time, the Antec P120 Crystal is available for $100 USD, making it a good value for a case even with the lack of case fans. One could say the money is saved so you can buy whatever case fan you want rather than forced to use whatever came with your case. If you are looking for a premium case with a modern design and clearance space to spare, the Antec P120 Crystal is a solid option.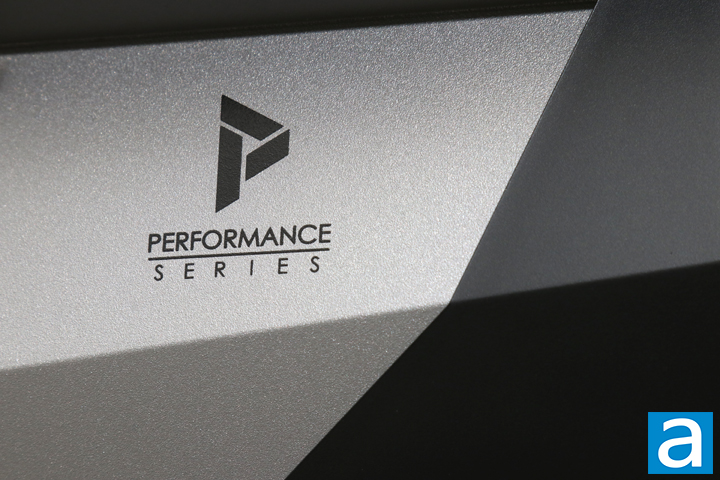 Antec provided this product to APH Networks for the purpose of evaluation.
APH Review Focus Summary:
8/10 means Definitely a very good product with drawbacks that are not likely going to matter to the end user.
7/10 means Great product with many advantages and certain insignificant drawbacks; but should be considered before purchasing.
-- Final APH Numeric Rating is 7.6/10
Please note that the APH Numeric Rating system is based off our proprietary guidelines in the Review Focus, and should not be compared to other sites.
The Antec P120 Crystal is a stunning glass and steel concoction that is built well and should fit practically anything most users would throw into it.
Do you have any comments or questions about the Antec P120 Crystal? Drop by our Forums. Registration is free, and it only takes a minute!
---
Page Index
1.
Introduction, Packaging, Specifications
2.
Physical Look - Outside
3.
Physical Look - Inside
4. Installation and Conclusion