By: Aaron Lai
April 19, 2019
As you may have read from my hot potato game I am currently in, I left off the story with the pink and purple castle in my camera bag. I knew I had to plan for a way to return it to my competitor, named Esther, without her figuring it out. I decided the only way I could hide the figurative potato somewhere sneaky without drawing suspicion would be to get a friend involved. Esther was in the senior high group and I was helping with the younger group, so I also chose someone who would see her more. That same evening, I found my accomplice and approached them while all the youth were playing games. As I was doing so, I turned around and saw Esther behind me, filling her cup with water and ominously drinking water while staring at me. At that moment, I thought she saw through all my plans and grew nervous if my plans would even work. Instead of bailing, I decided to distract her. Whipping out my camera, I showed my accomplice the things I had taken pictures of that day. The time seemed to pass slowly by, but she finally finished her water and left. I quickly transferred the castle to my friend, praying Esther would not find this plush until later. Sometimes when we look at computer air cooling and heatsinks, we may think bigger is better. In some ways, this can be true. Noctua thinks otherwise with the NH-U12A. As the number in the name denotes, this is a 120mm radiator, with two 120mm fans included. However, Noctua claims this cooler can deliver 140mm class performance. Despite its smaller appearances, are their claims actually true? Or are they just distracting us with fake information? I guess we can read on to find out!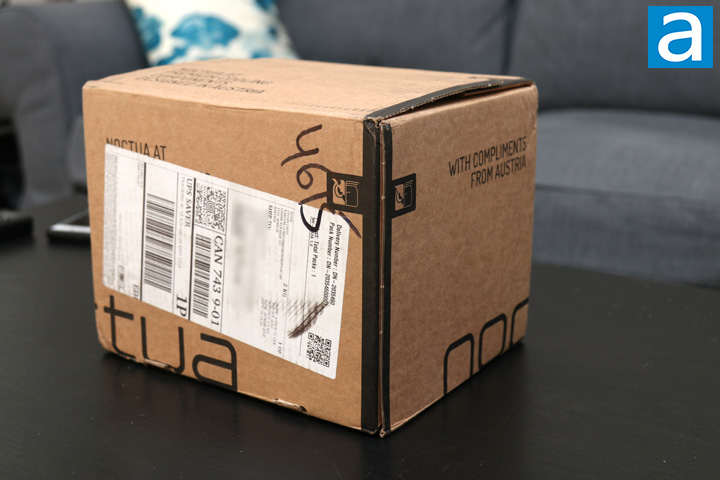 Just like our review unit of the Noctua NT-H2, the NH-U12A arrived from Noctua's offices in Vienna, Austria. Traveling to our APH Networks location here in Calgary, Alberta, this box arrived with very little damage on its outside. There is a small bruise in one corner of the box, but it is quite clear UPS and their Saver shipping kept this box in good condition. Once again, we also have a Noctua marked box that looks nice and just feels a bit more special compared to a standard box.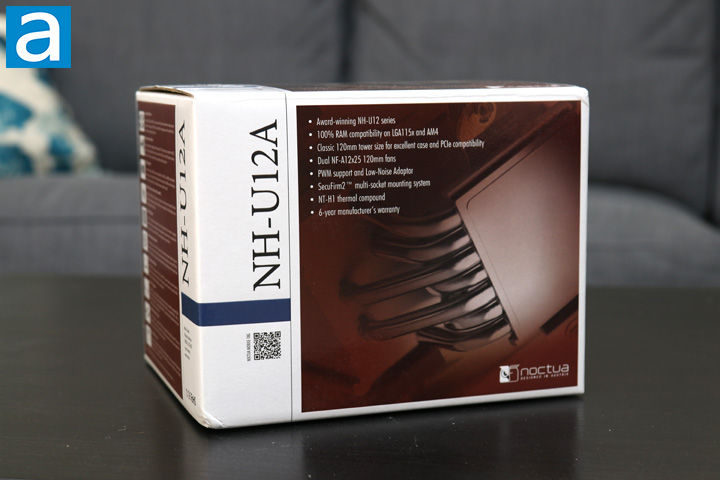 Noctua does not generally change their formula much for their retail box design and this is the same with the NH-U12A. On the left side of this panel, you can see the name of the product with several bullet points about the product. This includes points about RAM compatibility and included fans. On the top, there is also one more sticker with a claim of "140mm class performance in 120mm size". Otherwise, the rest of the box is in typical Noctua brown and white. One other side panel shows off some specifications of the included fans, heatsink, and the box contents. There is not a whole lot more else to look at, so let us take a look inside.
Before we do so, I have grabbed the specifications from the manufacturer's website for your curious eyes:
Heatsink Specifications
Socket compatibility: Intel LGA1150, LGA1151, LGA1155, LGA1156, LGA2011, LGA2066 and AMD AM4, AM3(+), AM2(+), FM1, FM2(+)
Height (without fan): 158 mm
Width (without fan): 125 mm
Depth (without fan): 58 mm
Weight (without fan): 760 g
Height (with fan): 158 mm
Width (with fan): 125 mm
Depth (with fan): 112 mm
Weight (with fan): 1220 g
Material: Copper (base and heat-pipes), aluminum (cooling fins), soldered joints & nickel plating
Max. TDP: see CPU compatibility list
Fan compatibility: 120x120x25
Scope of delivery:
- 2x NF-A12x25 PWM 120mm fan
- 2x Low-Noise Adaptor (L.N.A)
- 4-pin PWM y-cable
- SecuFirm2™ mounting system for Intel and AMD
- NT-H1 thermal compound
- Noctua Metal Case-Badge
Warranty: 6 Years
Fan specifications:
Model: Noctua NF-A12x25 PWM
Bearing: SSO2
Max. rotational speed (+/- 10%): 2000 RPM
Max. rotational speed with L.N.A. (+/- 10%): 1700 RPM
Min. rotational speed (PWM, +/-20%): 450 RPM
Max. airflow: 102,1 m³/h
Max. airflow with L.N.A.: 84,5 m³/h
Max. acoustical noise: 22,6 dB(A)
Max. acoustical noise with L.N.A.: 18,8 dB(A)
Voltage range: 12 V
MTTF: > 150.000 h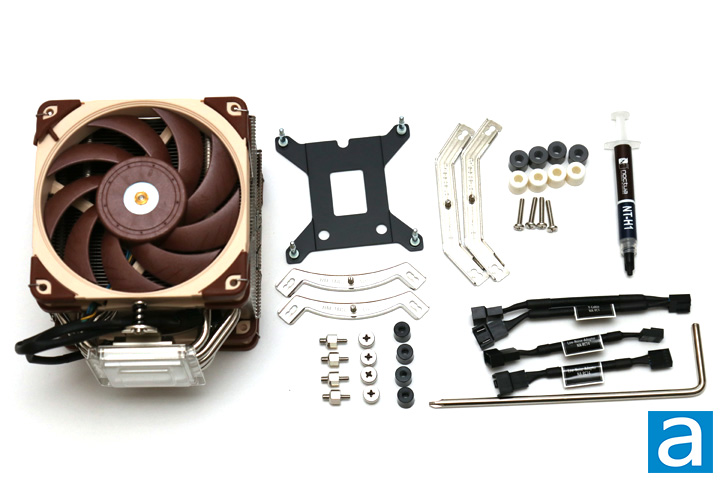 I have praised Noctua in the past with how they package their products, even if they do not necessarily have the least material ending up in your recycling bin. Noctua has made it better by only having two main boxes, one to hold all of the accessories for both AMD and Intel mounting parts, and the other to enclose the Noctua NH-U12A. Out of the box, you can see we have the heatsink with the two NF-A12x25 PWM fans attached with wire clips. In the separate accessories container, we have all the included mounting parts such as a backplate, arms, screws, nuts, and washers. Noctua has also included a long L-shaped Philips head screwdriver, a Y-fan splitter, two low noise adapters, and a tube of their venerable NT-H1 thermal paste. It would have been nice to see the updated NT-H2 come packaged with new coolers, but this may also raise the cost of the product as a whole. With all of these accessories, you can mount the Noctua NH-U12A on Intel LGA115x, LGA2011, and LGA2066 sockets, as well as AMD AM4, AM3/+, AM2/+, FM1, and FM2/+ sockets. Full compatibility with processors and their specified thermal design power can be found through Noctua's website. The only notable exclusion from this list is AMD's TR4 or Threadripper 4 socket, which is understandable considering how much larger the processor is. Otherwise, some other documentation is included with Noctua's accessory box, including installation instructions and warranty information. Noctua includes a standard six year warranty, which is one of the longer ones in the industry.
---
Page Index
1. Introduction, Packaging, Specifications
2.
Physical Look - Hardware; Installation
3.
Test Results
4.
Conclusion